The Loop
New TaylorMade CEO Ben Sharpe: 'People want us to be the renegade'
TaylorMade's Thursday night launch in New York City of its new R15 and AeroBurner lines of metalwoods also served as a coming-out party of sorts for CEO Ben Sharpe, who was available for interviews for the first time since moving into his new job in April.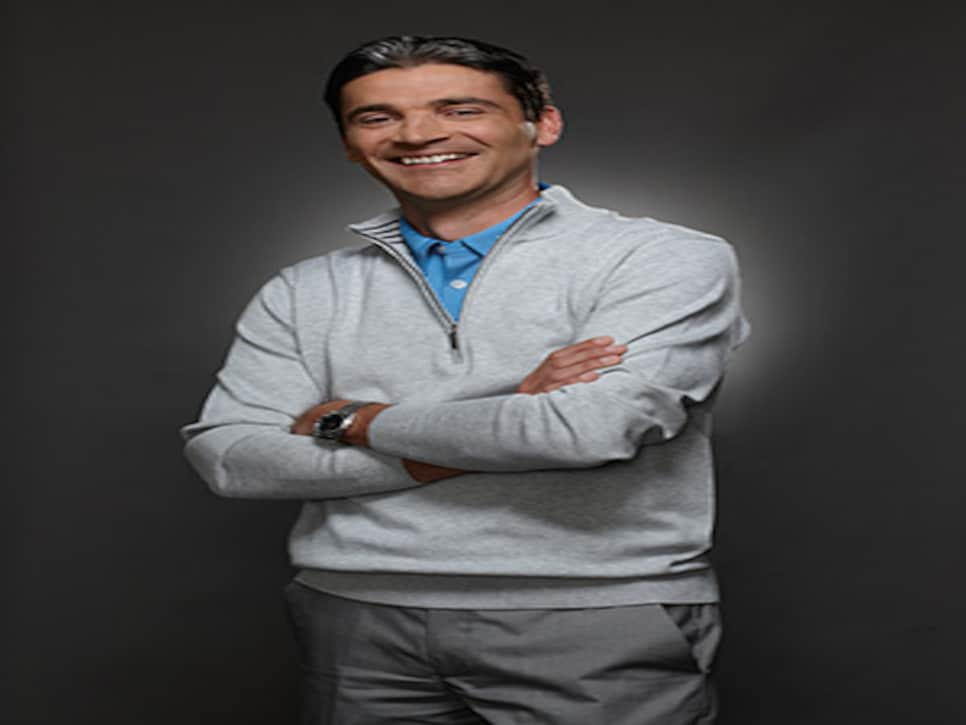 Golf Digest got the first interview with Sharpe, who laid out his plans for both TaylorMade and Adams Golf and how to expand golf's base without changing the fabric of the game.
Golf Digest: You spent 100 days speaking with a lot of people about TaylorMade and the brand. What did you learn?
Ben Sharpe: What surprised me is that things aren't quite as bad as everyone is making them out to be. I think there is a big difference between perception and reality, and things are never quite as bad as they seem. Or quite as good as they seem. The positive thing I heard was how excited people are about what we are going to do with TaylorMade going forward and how they are going to support us and how important we are to the industry. In short, they want us to succeed.
Some things came out consistently. One is whether it be retailers, tour players or media, people want us to be the renegade. People want us to be the innovator -- to come out with new and exciting ideas -- and when we come out with them, to speak about them in a big way and in a different way that engages consumers.
GD: Is part of that enthusiasm driven by your stated goals of managing inventories and less cascading down of prices?
Sharpe: They want us to lead that charge, but in a responsible way. Still, talk is cheap and you get judged by what you do, not by what you say. All I ask is that we get judged by what we do. We want to address the challenges, but also introduce product in a cool way. Something that hits a nerve with every golfer -- like what we did with the introduction of the RSi irons -- where the golfer says, "Yeah, that could be for me."
GD: What's the path to do that?
Sharpe: Getting back to who we are: cool, exciting and [with] technologies that are better than their predecessors. And the marketing campaigns that are around those really need to strike to the core of the golfer. That's what it is all about and maybe, over the last 18 months, we got a little bit away from who we are. Sometimes I think we got a little bit carried away with our messaging. But I think what you saw with RSi and what you'll see with R15 and AeroBurner is that we're right on point.
__GD:__Is the average consumer confused? Bored? Angry? Eager?
Sharpe: If you listen to the people on the blog sites I'd say they are angry. But if you listen to the golfers out there -- because a lot of people who are on the blog sites are our competitors -- I would say there is some confusion. What product is the best one for me? Why is this one better? And why does this one cost this much and why does the other one cost that much? That's not an angry emotion. They're just a little confused.
GD: What's the plan for Adams Golf?
Shapre: We had an employee question-and-answer session the other day, and one question was, "Why do you love golf?" Some people said they love to compete. Others said they searched for the perfect shot. Others said they wanted to have fun or play with their pals. So there are different reasons and there are different purchase decisions that go with that. So with TaylorMade and Adams, we can spread those brands out across all those constituencies to attract a larger portion of the golf market. I think there is an opportunity to move Adams into that fun, friendly environment, a social, easy-to-play and put-a-smile-on-your-face brand, and keep TaylorMade as the zero to 4-handicap, aspirational, tour-validated, great-technology brand. And that's the value of having both. That's the reason we brought Adams to Carlsbad. It allows us to have those conversations every day on positioning.
GD: So you know exactly what you want to do with Adams?
Sharpe: We do. It's going to be different, but will still be able to be played by the best players in the world. Their hybrid technology is fantastic, and we will continue to develop that. But Adams can stand for more than just golf products. It can stand for movement to introduce a new demographic of people who want to play rather than compete.
GD: Nonconforming equipment, perhaps?
Sharpe: We can explore that. I'm not ruling anything out. But when you look at Adams I think I just want people to smile. There are six opportunities to get in a players' bag: Driver, fairway wood, hybrid, irons, wedges and putter. If you ask people to choose five or six cars, they wouldn't just have Aston Martins. So there's some room for the Adams brand to live.
GD: Is that space beyond golf clubs?
Sharpe: Yeah, I think it can be. But we are a golf equipment company at the moment and that's what we know. So that will be the focus for now.
GD: What about Hack Golf? Where does that stand?
Sharpe: Hack Golf was an interesting exercise for us. Unfortunately it was perceived as a TaylorMade marketing initiative, and it didn't get buy in because no other company wanted to get involved. So we learned that we cannot lead that charge. But we would like to be involved in anything that will improve the health of golf and grow the sport. We're working with the PGA of America and supporting some initiatives and will continue to have the Hack Golf website and if there are any good ideas we will continue to help fund those. It's an honest attempt to address a problem.
Golf is an aspirational sport and always should be. And always will be. But if you get the net wider you can still have your country clubs and all that. People shouldn't fear growing the game. It doesn't mean that it has to change the fabric of it or the integrity of the sport. Two of my most enjoyable golf experiences are seeing my 7-year-old boy hit the ball 100 yards at a nine-hole municipal course. The other is playing a private, members-only golf club and seeing no one in front of me and no one behind me for 18 holes. And I love them equally. And you can still have both of those experiences. Just because you're trying to do something new doesn't mean you have to lose that. And I think that may be a fear and why some things aren't being embraced.
GD: What about the tour and its role for TaylorMade given the investment and the return on that investment?
Sharpe: It's a conversation we have every year and review it to make sure it is relevant. And I'm sure in 10 years our tour strategy will be different than it is today. But at the moment I think the stable of players we have and the position we have in count in metalwoods and irons is a strong message. We talked about how the facts can be exciting. And the fact is since 1979 when took something made out of wood and made it out metal, we've been the innovator in that space. And the fact is the best players in the world have embraced those innovations in a big way. No one comes close to us in that area. So in terms of why you should play this product, it's because if it's from this company it's the best innovation because we've proven that's what we do. And it's because the best players in the world rely on this equipment to put food on their table. That's two compelling reasons to buy a product.
GD: You've said you want all of TaylorMade's employees to have a voice. What is the benefit of widening that net?
Sharpe: The great thing about our industry is that it is in sport. And most people that play in sport are competitive and play to win. And we want to win together. I'm a team player and I've played team sports all my life. I kind of like winning, and I think we're going to give it a shot again.