The Loop
NCAA stunningly gets something right, amends elbow brace rule for Purdue's Isaac Haas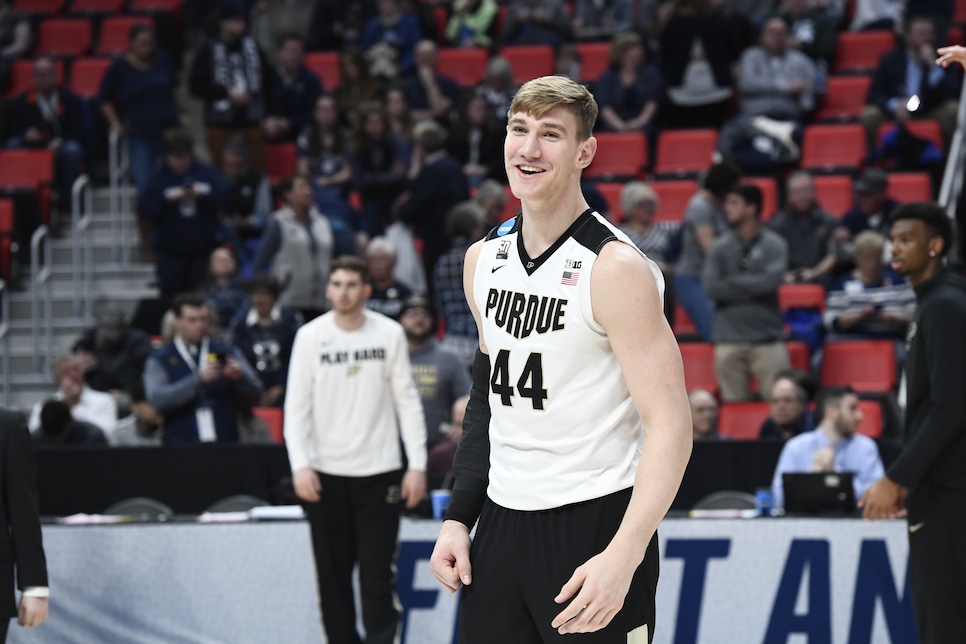 When Purdue center Isaac Haas went down in the Boilermakers first round NCAA Tournament game against Cal State Fullerton, it was a crushing blow for a team that appeared Final Four-bound. The senior started all 35 games this season, averaging 14.7 points and 5.7 rebounds per game. To make matters worse, Haas fractured the elbow late in the second half of the Cal State Fullerton game, one that was all but over when it happened.
After making it clear he still wanted to give it a go in Purdue's second-round game vs. Butler, Haas went through a warmup with an elbow brace that the NCAA would soon deem prohibited in typical NCAA fashion. Per the NCAA's website, Rule 1-26.2 reads:
"Elbow, hand, finger, wrist or forearm guards, casts or braces made of fiberglass, plaster, metal or any other non-pliable substance shall be prohibited." Furthermore, Rule 1-26.4 states that, "Pliable (flexible or easily bent) material covered on all exterior sides and edges with not less than 1⁄2-inch thickness of slow-rebounding foam, may be used to immobilize and protect an injury."
While the torches and pitchforks were immediately drawn, it didn't really look like Haas was going to play anyway, and if he had it didn't appear like he'd be effective:
But, thanks to Purdue's three-point win over Butler in the Round of 32 last Sunday, the Haas saga stretched into this week, leading Purdue engineering students to build their own brace for Haas in the most Purdue engineering students story of all time.
Heading into its Friday night Sweet 16 matchup with Texas Tech, it still looks highly unlikely Haas would even play if the NCAA changed the rule, something Purdue head coach Matt Painter all but confirmed. Shockingly, the NCAA did amend the rule on Friday, according to Andy Katz, which means the Haas saga lives on!! Will Haas suit up? Will he be effective if does? Will he risk more injury? All valid questions that will now bleed late into the night as the Purdue-Texas Tech tip-off is not until 9:57 p.m. ET and will likely be later depending on how long the West Virginia-Villanova game takes at TD Garden in Boston.
The main takeaway here, of course, is the NCAA potentially getting something right and using common sense. Good for them, maybe they're not so dumb after all.