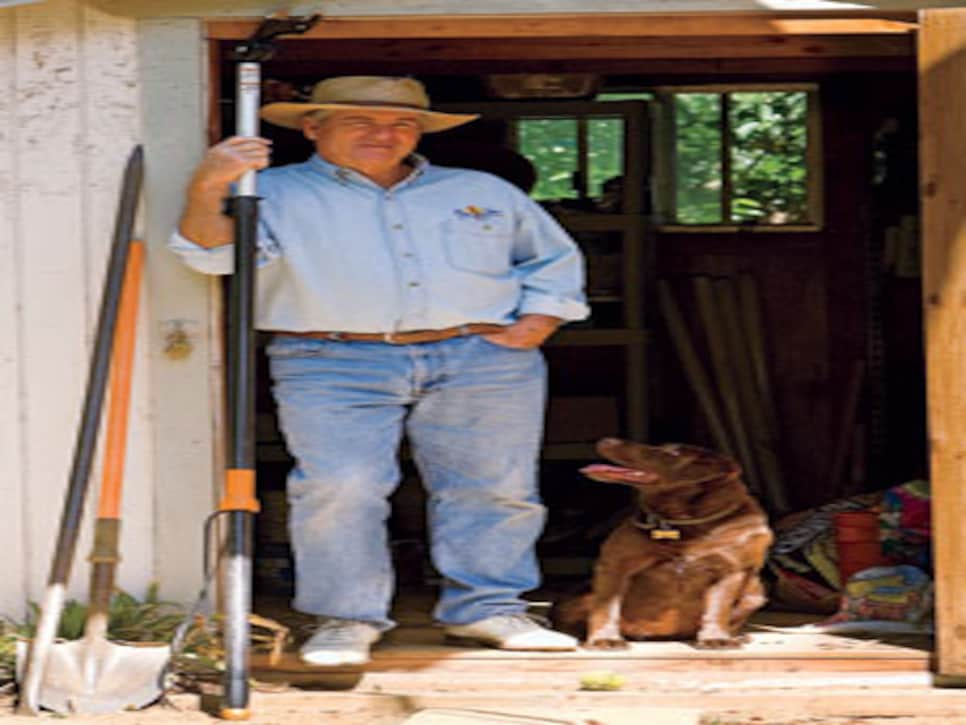 Dave Stockton, photographed June 20, 2006, at home in Redlands, Calif.
Age 64 1991 U.S. Ryder Cup captain Redlands, California
At the time of the 1991 Ryder Cup at Kiawah Island, we'd just finished the Gulf War. Patriotism was running high, and I wanted to take advantage of that. Heck, the camouflage hats, that was my idea. We even had a team song, Randy Travis' "Point of Light." I wanted my team to bond. But I was troubled by the label "War by the Shore," and after that Ryder Cup, things sort of got out of hand. After Tom Watson was named the next captain, he said, "I want the Ryder Cup to get back to what it should be." I was offended by that, because that Ryder Cup, unlike any other, before or since, elevated the level of public interest tremendously.
The captain's picks are crucial in the Ryder Cup, and as Kiawah Island got closer, Golf Digest published an insert card that readers could fill out and mail to offer me support. Boy, did I get a lot of those cards. I stopped counting at around 4,000. Some people wrote in advice and wanted me to choose John Daly, who had just won the PGA Championship, and Jack Nicklaus. About 15 people included their home phone numbers. Well, I called every one of them, and we talked it over. I explained something about chemistry: Who would I pair Daly with? At the end of the day, the captain's picks are not a popularity contest, and after narrowing my choices to Tom Watson, Tom Kite, Chip Beck and Raymond Floyd, I settled on Beck and Floyd. They were good choices.
Momentum is a funny thing. In the Sunday singles, I believe in sending your strongest players out first and last, positioning the guys who aren't playing well in the middle. So I led off with Payne Stewart and Raymond going off first, and darned if Bernard Gallacher didn't put the strongest part of his lineup in the middle. And when Payne and Raymond fell behind, I thought we might be in trouble. But Mark Calcavecchia, who went off third, was just burying Colin Montgomerie, at one point going 5 up. The rest of the team was really inspired by that and played great. Calcavecchia lost the last four holes, of course, and halved his match, but by then the momentum had been established. So even though Mark felt humiliated, his performance really was our greatest weapon.
Two buses had been arranged to transport the respective teams to the closing dinner. As our guys start to board our bus, Ian Woosnam calls out, "Hey, Stockie, can't we all fit on one bus?" I stammered that it probably was possible, if a few guys didn't mind standing. "All right then!" says Woosie, and he picks up Corey Pavin and carries him onto the bus. So we all came and left together. I was tremendously impressed by the sportsmanship of the European players. They were devastated, but they never lost sight of what it was all about. This "War by the Shore" stuff, the ugly things that came about, they all happened later.
After it was over, Gallacher wrote a book that revealed some real paranoia. For example, he'd had some problems with their walkie-talkies, and he suggested that maybe we'd sabotaged them. Hell, I can barely turn on the TV, let alone monkey with radio signals. It was a silly accusation, and I couldn't help but take it personally.
Whatever [U.S. captain] Tom Lehman does, I hope he remembers to match players with similar games in the alternate shot. It's easy to overthink it and put long hitters with short hitters, great putters with so-so putters, thinking they'll offset each other and so on. But it doesn't work. You want long hitters with long hitters, because they're both used to hitting short irons after big drives. Short hitters should play together, because they're used to long approach shots and can putt the eyes out of the hole. It's a firm-and-fast rule, and if you violate it, you're just asking for trouble.
After I won the PGA Championship in 1970 and got a 10-year exemption on tour, I started revolving my schedule around corporate outings. There were years when I'd play in only 18 tournaments but do as many as 80 outings. Each one was like winning a tournament. That might sound odd, but I took tremendous pride in them. My goal was to knock four strokes off the game of each attendee, and if you talk to the people who've been there, I succeeded. I took pride in being called The King of the Corporate Outings.
Ever tried brushing your teeth left-handed? The incredible awkwardness is very similar to what happens when you tell yourself you need to par the last hole to break 80 for the first time, or that you have to make a putt because it's to win the match. When you inject the word "try" into golf, you'll start to feel like you're brushing your teeth left-handed. It's been said a thousand times, and it's true: There is no place for conscious effort in golf.
Say you've got 150 yards to the hole. I'm convinced that most amateurs would hit that shot closer to the hole if there were a medium-size tree directly on their line, about 120 yards from the green. See, the obstacle forces you to become decisive about the type of shot you have to play. If you fade the ball, you'll for sure take one more club and start the ball to the left instead of shooting straightaway with less club, hoping you'll hit the ball solid and not fade it. Try playing one round imagining the tree is on your line. I'll bet you anything you play better.
My father, Gail Stockton, was a good player, an individual conference champion when he played at USC and later a pro and an outstanding teacher. There's a picture on my wall of him conducting an exhibition with Walter Hagen. When I took up the game seriously, Dad gave me one rule I was to never violate, and that was to never hit more than five balls in a row with the same club. He was a demon about that, and I haven't come across a better practice rule since. It makes practicing more challenging and less ego-fulfilling because you don't have time to get grooved with that one club. But it makes your practice 10 times more productive.
I learned early on the importance of responsibility and keeping a commitment. At the 1976 PGA Championship at Congressional, play on Sunday was washed out and the final round was rescheduled for Monday, which worried me because I was supposed to do an outing for American Airlines in Washington, D.C., that day. Well, after I made a 15-foot putt on the last hole to win by a shot over Ray Floyd and Don January, I looked at my watch. After I got finished with the press interviews and the presentation ceremony, I showered up and got a ride to D.C. The American Airlines people were getting ready to leave when I strolled in with the trophy and even the oversize check they gave me. I talked for an hour and a half. You've never seen a more grateful group of executives in your life.
Golf should feel as natural as driving your car. But in competition, most amateurs suddenly start playing as though they just spotted a cop in their rearview mirror. What came naturally suddenly becomes mechanical—they place both hands on the wheel, check the speedometer and so on, all the while taking their eyes off the road to steal glances in the mirror, feeling uncomfortable as they wait for the lights to start flashing. The trick, of course, is to see how far you can go before you notice the cop. And when you do see him, summon the nerve to keep one hand on the wheel and not check the speedometer.
I'm proud to say I never noticed the cop. When I made the 15-footer to win the 1976 PGA, I felt no pressure at all. I really didn't. I treated that putt the same as any other and just made as good a read and as nice a stroke as I did normally. Now, I didn't have a career like Jack Nicklaus or Arnold Palmer, but it wasn't because I played like I had the cop in my rearview mirror. I just couldn't drive the car like those guys could.
I won two majors and nine regular tournaments. I played on two Ryder Cup teams and captained another. I finished second in the 1974 Masters and the 1978 U.S. Open. But I haven't come close to getting in the Hall of Fame. It was sort of heartening seeing Larry Nelson get in, because he had a great career and one that was similar to mine in terms of accomplishments. But it hasn't happened, and I haven't really come close. It bothers me a bit that Lanny Wadkins, Hubert Green and I haven't received the required number of votes, but on the other hand, I could take it or leave it. It's not the sort of thing they put on your gravestone.
Annika Sorenstam and I were doing a corporate outing years ago, and she asked for help with her putting. Annika's problem was, she was too technical, too mechanical, and she didn't let her creative side come into play. Once she learned to do that—improved her green reading and her imagination, went from hitting the ball to stroking it more smoothly, and one or two other secrets—she became a very good putter. That's when she began her dominant run. She gave me a very expensive rifle as a present.
Here's one of the secrets I gave Annika: You do not focus your eyes on the ball when you putt. You pick a spot one inch in front of the ball that you want the ball to roll over, and that's where you look. My whole career, I knew whether the ball was going into the hole within a split second after it left the face of the putter, because if it went over that spot an inch in front of the ball, it was going in the hole. Try it for a week, and I can all but guarantee you'll putt better than you ever have.
Never rely on a tip for more than a week. Tips—those great little thoughts that get great results—never last longer than seven days. About five days into that tip, you better start looking for a fresh tip, because the first one is about to run its course.
My wife, Cathy, owns what I believe to be a world record. She has a scorecard with every score from 1 through 8 on it. In her round of 89, she had a hole-in-one, a birdie, a par, some bogeys and a collection of "others."
Cathy has had both knees replaced, and to understand why, just know that she and I once hiked 38 miles into the back country of Alaska to hunt sheep. We hiked in and hiked out. She's a crack rifle shot who has half the Grand Slam of sheep. This is the same woman who was a Maid of California, a beauty queen, the best mother our two boys could have, and my constant travel partner throughout my 42-year career. I've told her it's the cement of the shopping malls that brought on those knee replacements, but deep down I know that wasn't it.
__In Alaska once, we were tramping through brush about six feet tall when I encountered a moose standing 130 yards away that had to be the biggest moose God ever put on this earth. His knees were a good 4 feet off the ground, and from there he just went straight up. It was a little frightening; we were 20 miles from the nearest road. He could have been 10 feet tall, not counting the rack, and I was so much in awe I stood there gazing at him for 40 minutes. People have said, "If he were that special, somebody would have shot him." But in Alaska, whatever you shoot, you have to carry out. And there was no way five men could have carried this creature out of there. __
One year at Greensboro I was paired with Gary Player and was really looking forward to the round because of an article I'd read in the newspaper. In it, Gary claimed to have gotten up and down out of bunkers 73 out of 79 times in the past year. Gary also claimed that of the six times he did not get up and down, two of them were for circumstances beyond his control—he said that on one occasion a spectator suffered a coronary while Gary was lining up his bunker shot, and that the fan had tumbled into the bunker and there was a delay removing him, which distracted Gary. I thought, What a bunch of B.S.! I was looking forward to Gary not getting it up and down out of the sand just once, so I could walk up and say, "Hey, Gary, what was the reason you didn't get up and down that time?"
On this Sunday, Gary hits it in the sand on Nos. 2, 7 and 11, and he hits every shot to within three feet and makes par. On the 14th hole he's in the bunker and blasts poorly to 20 feet but makes the putt for his fourth straight sand save. On the 16th hole, a real long par 3, he's in the bunker again, this time with a perfect lie and plenty of green to work with. I'm starting to think that maybe Gary was absolutely truthful in that article, and that he's probably going to hole this shot. And then Gary proceeds to move his ball all of two feet, leaving it in the bunker. Without a word he hit his next shot to a couple of inches.
As we're walking off the 17th tee, Gary says, "Laddie, maybe you didn't see it, but I got a horrible break on that bunker shot." I say, "Yeah, Gary? What happened?" He says, "There was a rock this big directly behind my ball." And he forms a circle with his hands to illustrate a rock as big as your fist. Well, I was standing as close to Gary when he hit that shot as I'm sitting to you now, and believe me, there was no rock. Gary was just making it up. I was speechless.
On that 17th hole, Gary was in another bunker, this one very deep, the shot almost impossible. And he holes it for a birdie. My head was just swimming; I didn't know what to think. Later, it dawned on me that he absolutely has the right approach to self-talk in golf: Never blame yourself. Tour pros realize it, and it's why they tamp down imaginary spike marks after missing short putts. Blaming outside agencies for a bad shot is much better for your frame of mind than telling yourself you're a lousy hack.
Not long after Tiger Woods turned pro, we were at an outing together. Tiger came over and said, "Mr. Stockton, would you mind watching me hit some wedge shots?" I said, "Sure, Tiger," and observed him hit a bunch of 50- to 60-yard shots. He was having an awful time controlling his distances and asked for my opinion. "Tiger, the problem is, you're hooking every one of them," I said. "You're hitting those wedges with a swing that's shaped more like your driver swing." I got him standing closer to the ball. Had him stand taller. Had him hit his wedges with a swing that was more head-on as opposed to coming from the inside. I gave him seven different things to work on.
Months passed. At the Skins Game, I was playing in the portion before the actual competition, and Tiger saw me. He rushed up all excited. "Mr. Stockton, I want you to check this out." He proceeded to name the seven things I'd told him, and gave me a demonstration of distance control that would knock your socks off. Then Butch Harmon came up and thanked me for helping Tiger, for telling him things in a way he hadn't. Talk about rewarding.
One last bit of advice to Tom Lehman: If our team wins, the Ryder Cup captaincy will have been the highlight of your career and the greatest honor you'll have ever received. If you lose, it'll hurt for a while, but all of the above will still be true. So regardless of the outcome, I'd just like to say, congratulations.