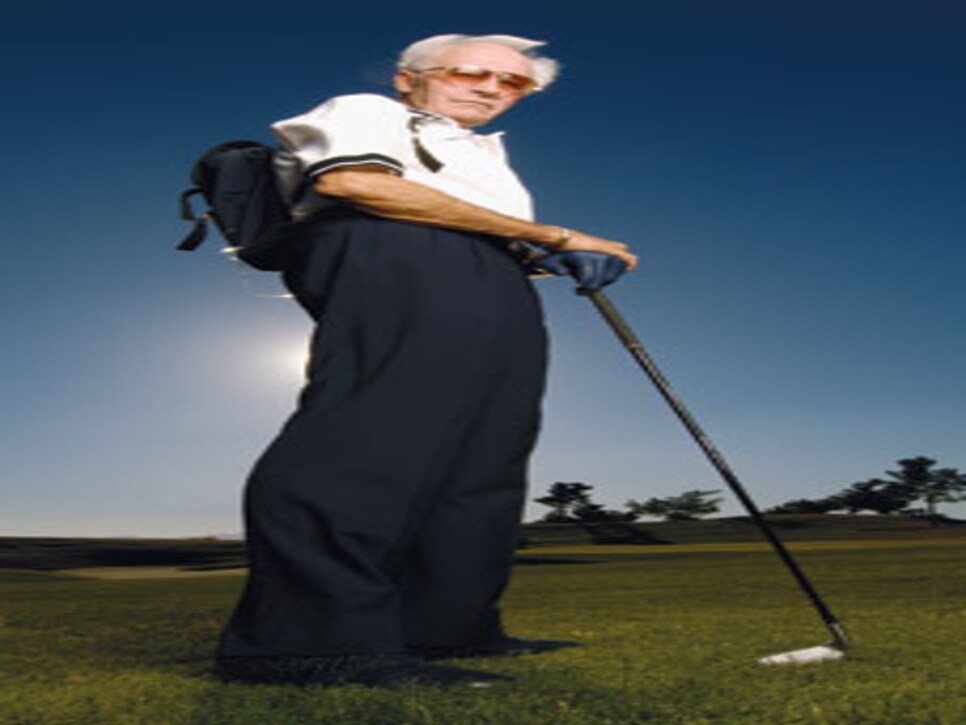 Evel Knievel, photographed with his oxygen tank on May 23, 2005, at Stallion Mountain Country Club in Las Vegas.
I'd make a jump on a motorcycle before I'd jump with a golf cart again. In the mid-'70s I played a lot of golf at Rivermont in Alpharetta, Ga. The 17th hole there is a par 3 that's steeply downhill. The path has a series of hairpin turns, and if you ignore them you'll just keep going over a huge ledge. The guys I hung out with down there pointed out that if you gathered enough speed you could go over the cliff and land where the path resumes farther down the hill. For days they dared me to make the jump, and when I came to the hole in a foul mood one afternoon—I wasn't playing well—I just went for it. Halfway down the hill I realized I'd made a mistake. You have no idea how unstable a three-wheel golf cart is when it becomes airborne. By the grace of God I made a perfect three-point landing, but the tires were like basketballs, and the cart bounced like an SOB. When I got the thing stopped down near the green, I immediately got a royal chewing out from my wife. I couldn't blame her. She'd been in the passenger seat the whole time.
Carts are unstable on the ground, too. Some years ago my son Kelly had just finished playing the front nine with friends at a course in San Diego. The starter asked if a single, a guy from Japan, could join them. Kelly said sure, and the guy strapped his bag on the cart and jumped in. It was the last thing that poor guy ever did. As Kelly was rounding a curve, the guy fell out as he was reaching for a pack of cigarettes, hitting his head. He was killed instantly. It was a traumatic thing for Kelly. He's a good boy, a plus-1 handicapper and winner of the Las Vegas city amateur championship. But he was grilled for two days before the police let him go. He very nearly quit playing golf because of it. He still plays, but he's awfully nervous about driving the cart.
My grandpa got me a set of Wilson clubs, Sam Snead models, when I was 12. Many years later, when I'd become well known, I got to know Sam, and we played a lot of golf together. He'd give me two shots a side, jump in his cart with that big dog of his, and off we'd go. I never did beat Sam. We tied a few times, and I took pride in outdriving him, but you could forget about taking money from that man. Then he'd rub it in. When I wrote the check, he insisted that I write "Golf lessons" in the memo section, so he could write it off.
I learned one thing from jumping motorcycles that was of great value on the golf course, the putting green especially: Whatever you do, don't come up short.
You'd think a guy who has broken 35 bones in his body would have a high pain threshold, but mine is pretty low. I got hit in the shin with a golf ball once, and it almost brought tears to my eyes. I've had broken bones that didn't hurt as bad.
I was playing 21 at the Aladdin in Las Vegas, betting $10,000 a hand. Arnold Palmer and Winnie are standing right behind me, watching. And I'm losing. The dealer is pulling 20 every time, and although I'm pulling my share of 20s, too, I can't win a hand, and I'm losing a lot of money. And I'm getting really angry. The next hand he deals me a 20, and he's got a face card showing. I'm certain he has 20, and I just can't bear tying again. So I ask for a hit. The dealer freaks out, shuts the table down and screams for Ash Resnick, who runs the casino. Ash comes along and is told I want to hit 20. He looks at me for a long time and then says, "Give the kid a hit." The dealer gives me an ace, and when I turn around, Arnold's eyes are this big, and Winnie looks like she's going to be sick. "I know what pressure is," Arnold said, "but you're too much."
Arnold gave me a great lesson once. We were at Bay Hill, and I suggested that we play for some cash. He put his arm around me and said, "Evel, I've got a lot of money, and I don't need any of yours. On the other hand, I don't want you to have any of mine." That taught me something about gambling with friends: Keep it friendly.
I was making a jump in Dallas one year and hooked up with Amarillo Slim. Now there's a man who knows how to gamble. Slim bet me that I couldn't break 80 at Preston Trail the next day. I was a good 6-handicapper and had played the course, so I knew I had a good shot, and I bet him $10,000 I could do it. When I woke up the next morning, there was three inches of snow on the ground. There was no getting out of the bet; Slim had been careful to stipulate "tomorrow," with no questions asked. I paid up, and had no problem with it whatsoever. If you're going to be a sucker, be a quiet one. Nothing's worse than a guy who loses fair and square and then whines about it.
One of Slim's favorite tricks was to bet that two of any 25 people chosen at random would have the same birthday. He always won that bet—the math was huge in his favor.
We were playing a big-money game at Las Vegas Country Club. My partner was Jay Sarno, the fellow who built Caesars Palace. One of the guys we were playing against was a terrible cheater, so I knew we had to keep an eye on him. One of our side bets was that nobody could reach a certain par 5 in two. After we hit our drives on this par 5, I had my back turned to him when he hit his second shot. He hit the green and started yelling that he'd won the bet. What he didn't know was, I had a Zebra putter, the kind with the shiny steel plate on the sole. I'd watched him through the soleplate, which was like a mirror. I went straight over and gave the guy a push. Under his foot was a tee. Well, I pulled a .44 magnum from my bag and chased that guy around the course until I cornered him between some condos. He was on his knees begging me not to kill him. To this day I don't know what stopped me from shooting him. The sheriff was called out, and he let me go, because he knew the kind of man this guy was. The sheriff told me I'd be best off not playing golf for money in Las Vegas, because that town has the worst cheaters in the world.
I figure I've lost close to half a million dollars on the golf course, most of the time to cheaters. See, the honest games are small games. Big money is what attracts the thieves, and it was well known I played for big money. In hindsight, the solution would have been to bring a lie detector, hook the people up, and start counting backward from 20. When you reach the number that doesn't set off the lie detector, that's their handicap.
I spent a short time in Mira Loma prison for hurting a guy with a baseball bat. He'd written some stuff in an unauthorized biography about me that was completely untrue. To make life in the joint a little easier, a friend of mine dropped off my big Sam Snead golf bag and bright yellow shoes, which were given to me by Doug Sanders. My friend set them at the side of the freeway near the field where I worked, and a guard retrieved them for me. I hit balls for several days, striping irons and drivers across this field. People driving by would honk, wave and shout at me. It must have been a strange sight, Evel Knievel playing golf in an orange prison jump suit and bright yellow golf shoes. Well, one of the passersby reported me to the authorities, outraged that I was treating the prison like a country club. I was transferred to the Los Angeles County Jail, where I was put in a cell next to Charles Manson, who used to give me the evil eye, but he didn't scare me one bit. That was a miserable place. I regretted hitting balls in that field. I should have hung out at the putting green next to the field that was built for the prison officers. I never would have gotten in trouble, and frankly, my short game really needed work.
Golf brings out the best in a good man and the worst in a bad man.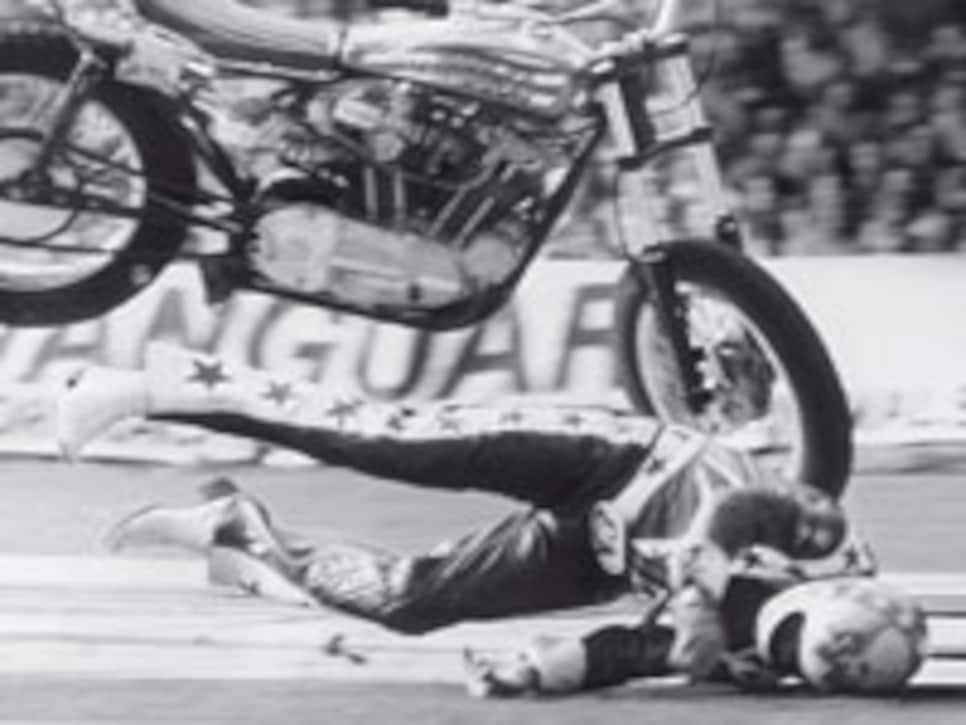 When you get injured, it's important to get back on your feet as soon as possible. After I broke my back and leg in a jump in San Francisco in 1972, I recovered by playing golf. I went up to Winged Foot in New York, where Claude Harmon was the pro. I was still on crutches and really couldn't hit my driver, but my irons were fine. I was in a mood to gamble, and Doug Sanders was around. Doug would play for anything. We went at it, with the stipulation that I didn't have to hit a drive. Claude would put my ball down at the 150-yard marker, and I'd play the hole from there, lying one. Well, I lost $40,000. Doug left to play in a tournament upstate, but he missed the cut and came back to Winged Foot for more action. Claude was the best sand player I ever saw, and a great teacher. He gave me a bunker lesson while Doug was gone, and when Doug came back I won $50,000—the amount I lost and a bit more. I was always grateful to Claude for that lesson.
If you don't want to play for anything, I won't play with you. Gambling is part of being a man. If you don't have guts enough to play for something, I question your manliness. You should just stay in your element, and I'll stay in mine.
Golf was spiritual for me. I loved being around the trees, the sun, the water and fresh air. It was like being next to God. But that changed on a day two years ago when I played at my home course, Butte Country Club in Montana. I got into a money game with four other guys. I knew three of them, and the fourth, they said, carried a 12-handicap. The stranger birdied the first hole. On the second hole I caught him stepping behind his ball in the rough and claimed the hole. He parred the third hole, and on the fourth, he hit his approach one inch from the hole. At that point I really smelled a rat. I drove my cart over to the four guys. "Gentlemen, for all intents and purposes, this game is over. If you think you have money coming and want to discuss it, I'll be waiting in the parking lot with a .44 magnum." They didn't show up, of course. I learned later that all four men had set the game up in a bar the night before we played. That day broke my spirit, to realize that friends would try to take advantage of friends like that. I'm just now beginning to find the urge to play again. When I do, it will be with friends. And we won't bet thousands of dollars, we'll play to see who buys dinner.
You get the idea some players would rather take a bullet than sign autographs. They need to think about when they were kids and had heroes, and how they would have felt if their hero had told them, "Go to hell, kid; I ain't got time." They need a refresher course on the fact that, whether you're jumping motorcycles, playing golf or juggling in a circus, it's all about the fans.
Given a choice between being a pro golfer and doing what I did for a living, I'll take what I did. It's a good feeling, earning your own money, playing for your own stakes. Pros play for someone else's money. It's almost unbelievable the way they can choke when they literally have nothing to lose.
No doubt about it, I've choked on the golf course. But I'll tell you, as great as the pressure was, it was nothing compared to some of those jumps I made. When your life is at stake, you find out what real choking is. Eventually I lost my nerve to jump. Even if I were physically able to get back on my motorcycle and jump, I couldn't do it. Your nervous system can only take so much, and mine is shot to hell.
As for golf, I'm ready to play again. I have a bad pulmonary disease, and there's no cure. The doctors have given me three years. My lungs are hardening, and the damned part of that is, I never smoked a cigarette in my life. But I'm ready. I'll bring my oxygen tank, and we'll play for a thousand. You up to it?