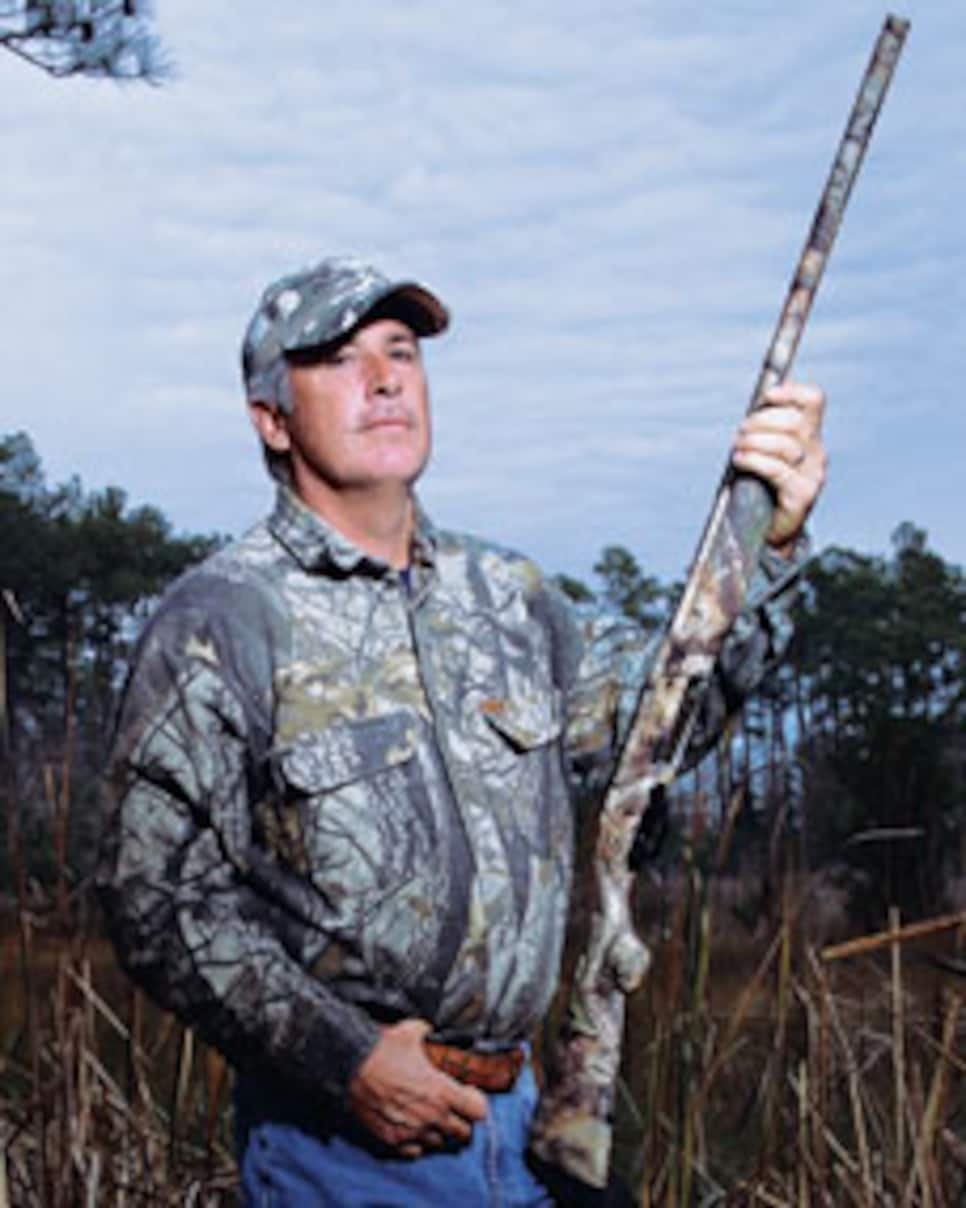 Curtis Strange, photographed Dec. 6, 2004, off the Intracoastal Waterway near Morehead City, N.C.
Age 49 Morehead City, North Carolina
The day I turned pro, I was $10,000 in debt. My father had passed away when I was 14, and by the time I left college, money was an issue. I'd borrowed the money to play my last year of amateur golf, and when I turned pro I was living hand to mouth, trying like hell to pay off that loan. There was a lot of pressure, but a lot of guys from that era were used to that and rolled with it. I'd had a job in high school, and I figured if golf didn't work out I'd just get another job, hopefully in the golf business. I'm not saying my values are any better than pro athletes you see today, but for better or worse most of them have never had a real job.
I was a good shoe salesman. That was some job, a world within a world. To this day I can tell someone's shoe size by taking one glance at their feet. You wear an 8, I can tell. Would you like some polish or socks to go with those, sir?
When a child loses a parent, he tends to carry one memory that stands out above all others. For me there was a day when I was totally lost and frustrated about my swing. Dad was the head pro, and I was hesitant to bother him while he was working. But one afternoon, after three miserable days trying to fix whatever problem I had, I walked into his office and asked him to help me. As I began explaining my problem, I started crying. He could be firm, but this time he put his arm around me and walked me out to the range. He spent the rest of the afternoon working with me. We didn't have many moments where it was just him and me, and this day was something very special. It makes me happy to look back on that moment, but it hurts some, too, because it makes me miss him all over again.
Some pros are harder to play with than others, and the worst was Seve Ballesteros. To say he was difficult is an understatement. To a man, every player who went up against him in the Ryder Cup had a run-in with him. His gamesmanship was irritating, and he never let up. He'd do outrageous, childish things like coughing as you got set to swing, and if you objected he'd act wounded and escalate the situation. When he put himself into the role of victim, that's when he'd play his best. Just knowing he'd use a nasty incident to play well made me so mad that I'd play worse. There was only one Seve, and a little of him went a long way. But I'll tell you this, he could back it up. If you were 0-5 against a guy, that stuff would hack you off, too.
Nick Faldo stared a lot of guys down. He never choked. He had a way of folding his arms and looking at you as though he knew you were going to make a mistake. And guys would screw up against him. But in our playoff at Brookline [1988 U.S. Open], I was in a good frame of mind to handle Nick. We didn't say three words all day, which was fine with me. My feeling was, "I'll wait for you to hiccup." And he did hiccup—he bogeyed No. 11, which gave me a two-shot lead—and I beat him. Faldo got the better of me a couple of times, at the Ryder Cup especially, but I got him at the big one when he was in his prime. I'm proud of that.
Going for my third consecutive U.S. Open I was two shots back going into the last round. I didn't play very well and didn't win. I was in the car with [wife] Sarah and my brother, Allan, when the realization hit me that it was over—that two-year run of being the Open champion. I'd had a ball being on top of the world, but the feeling when it ended was an odd mix of emptiness and total relief.
Allan and I roomed together at the British Open at Birkdale in 1991. Thursday morning came around and we woke up at about the same time. "You get in the shower first," I said. "I think I'll just lie here." Normally I was up stomping around, raring to get to the course. That was the first evidence of what I now suspect might have been depression. It pretty much spelled the end of my career as a productive player. I got headaches, felt lethargic and fatigued. The last thing I wanted to do was play golf. It may have been a virus of some kind, but after reading about the experiences of Terry Bradshaw [former NFL quarterback], I think it was depression, the outcome of having so many highs and lows over the years. Gradually I worked my way out of it, but it was devastating.
People ask me what it's like to have an identical twin. Hell, it's all Allan and I ever knew, so how do I answer that? I do know I had a playmate, competitor and best friend at my side every day of my life. Now I'm jealous because he plays more golf than I do.
For 20 years I talked with Allan every Sunday night. He's the only man I know who'll give me an honest answer.
Everybody has an opinion on what's wrong with Tiger's swing, but what fascinates me is his stubbornness, his reluctance to take a step back and say, "Maybe this plan isn't working." Tiger's a smart person, very sharp. But his stubbornness, which in one form or another is a trait of every great champion, cuts both ways. It helps, and it can hurt.
My biggest regret is that I didn't play in the British Open when I was at my best. Why did I stay home? Because people told me I had to go. Like I said, stubbornness helps, and it can hurt.
Proudest moment of my career: winning the NCAA Championship at Wake Forest. Seriously. We were a great team. Golf World named us the best college team of all time, and that's saying a lot. Jay Haas was there; Bob Byman, who won at Bay Hill after he turned pro, was there; a lot of great amateur golfers. We were young, we were cocky and the world was uncomplicated. Talk to a lot of pros, and they'll tell you the best time of their lives was playing college golf.
I wasn't a particularly good student. Only good enough to stay eligible. I'm not real proud of that.
Jay Haas—mild-mannered and unassuming, "nicest guy on tour" and all that, right? Wrong. He's the best practical joker of all time, pure evil when it comes to knowing my weak spots and pushing my buttons. At Wake he was just relentless. Once, after I'd putted poorly in a college tournament, he conned me into believing the Bulls Eye putter I loved was a bad putter for me. So I stuck it out the window of the van and ground it down to nothing on the pavement while we were going 70 miles per hour. Then he said he was just kidding, and why did I go and ruin my best putter? These things made me want to kill him, but I couldn't retaliate because I wasn't as sly or witty as he was. I'd just stew. Jay loved it and still does—when he's around I keep one eye open for fear of what he might say or do next. He's the only person alive who has my number.
Where do I stand on the technology debate? Modern equipment has gotten out of control. I have to carry my cell phone, extra battery, earpiece and battery charger wherever I go. I need my laptop, charger and wires. The manufacturers promised these things would make life easier; instead they've added three hours to my day. Where does it end?
I like forged-blade irons better than cavity-back clubs, partly because they feel so soft when I hit a shot right on the button. But I also like them because a poorly struck shot makes your hands ring. Bad shots should cause you all sorts of pain.
At the course where I grew up I played with gamblers all the time, with my father's blessing. The money wasn't huge, but $5 was enough to get my attention. I've always felt you should have something riding every time you play. Betting is crucial to a young player's development.
Our guys just aren't as excited about the Ryder Cup as they used to be, certainly not as excited as the Europeans, who always are motivated by beating the big, bad USA. For an American who plays in one of these things every year—there's the Presidents Cup, too—it's only a matter of time before you blow a big match and get fried by the media. For guys like Tiger and Mickelson it's not just about playing for their country, it's about getting scrutinized and hammered if they don't play well. If I had to make a prediction, I'd say the Europeans will win next time, too. Pride will take over eventually. The Americans will get sick of getting beat. But that's still a ways off.
Here's the deal on my leaving ABC: They wanted a two-year commitment from me beginning this year, which also is my rookie year on the Champions Tour. I said, "OK, but if I'm going to cut back on the opportunity to make money playing, I need an extra commitment from you." I wanted to be part of their next contract with the PGA Tour as well. That was too much for them, and like I've said, I was disappointed. Doing TV is easier than playing golf. I've slept better at night the last several years. The knots in my stomach are gone. You still have to get the job done on Sunday, but it's easier doing that from the booth than on the golf course.
I got fined by the tour for using bad language a few times. What's interesting is, I hear language on TV sitcoms today that's as bad as the things I got fined for.
Nothing tastes better than the first beer after a long day of shopping with Sarah. Or maybe the second beer, because I drink the first one so fast it doesn't touch the sides of my throat.