News
Yes, Sir! Uncle Verne is here to share some zingers. Want to hear tales about Lundquist's crazy career in TV, including 32 Masters?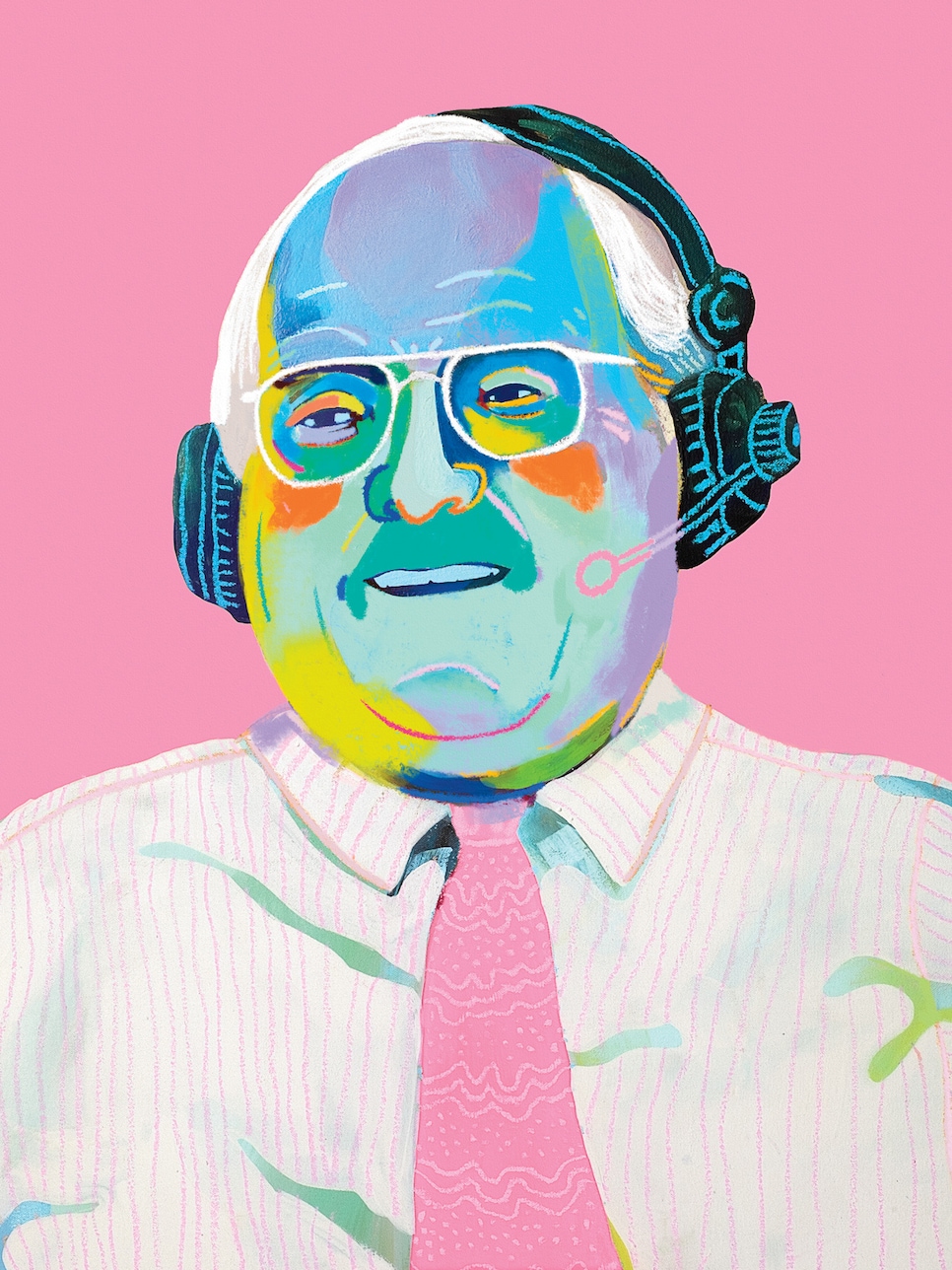 Photo By: Illustration by John Holcomb
There's a passage in Dan Jenkins' great novel, Dead Solid Perfect, in which the protagonist's wife is caught getting it on by a TV network camera on the remote part of a golf course during a tournament. It's based on a real incident, one that I witnessed. I'm at Colonial one year, at the 15th, a par 4 with a row of trees along the corner of the dogleg. The final group passes through, and the gallery moves with it, and that's the last viewers saw from that camera. But privately, the camera lingers, and what do we see but a man and woman strolling up under the shade of the trees, where they proceed to get to know each other better. For a good 15 minutes, the two of them take romance to new heights. Eventually they finish, but the camera stays with them as they amble up the 16th hole, to the 17th tee and finally the clubhouse, where, after exchanging winks and nods, they rejoin two people who clearly are their respective spouses. The network guys have a devilish sense of humor and decided to make a film production of it. One of the guys allegedly took the tape with him onto one of the aircraft carriers heading out into the Pacific Ocean to retrieve some astronauts after splashdown. To entertain the crew.
WHEN I LANDED AT CBS IN 1983, the producer, Frank Chirkinian, took me aside. "Follow three rules, and we'll get along fine," he said. "First, never state your name, because nobody cares who you are, they just want to watch golf. Pat [Summerall] will introduce you at the beginning, and that's it. Second, don't ever talk over a shot. Whatever brilliant editorial addition you want to make, make your point and put a period on it before the golfer takes the club back. That includes never guessing where you think a ball in mid-air is going to end up, because you're often going to be dead wrong. Third, never state the obvious. If a player holes a putt and you say, 'He made it,' I will not be happy." My first week, at the Phoenix Open, Rex Caldwell missed an important putt. I exclaimed, "He missed!" Within seconds Frank pushes the all-key button, which enables every person doing the telecast to hear him, and lets me have it. "You stupid Scandinavian son of a bitch. If I tell you not to state the obvious, can you not deduce on your own that 'He missed' is stating the obvious?" He was right, of course. I never made that mistake again.
THE CALL I MADE WITH JACK NICKLAUS on the 17th hole in 1986 [Nicklaus' sixth Masters victory] was a blessing for me. A dramatic moment doesn't necessarily result in a good call, and everything lined up perfectly in that 10-minute sequence. It was a career highlight for others, too. For sheer perfection in scene-setting, you can't top Jim Nantz's and Tom Weiskopf's call at the 16th hole, or Ben Wright's call at the 15th. You rarely see replays of what Jack did that day without the commentary from the CBS crew, because all of it was as good as it gets. Long after I'm gone, replays of Jack making that putt at the 17th and me exclaiming "Yes, sir!" will continue to roll.
SOMETIMES IMPERFECTION CAN LEAD TO PERFECTION. That was the case at 17. From my tower behind the green I was staring right into a setting sun and couldn't pick up Jack's tee shot in the air or after it landed. The spotters—the people who are hired specifically to tell you where the ball went—and cameramen couldn't find it, either. The tension of not knowing where Jack's ball ended up made for more dramatic, authentic television than if I'd simply said, "Jack has pulled his drive to the left but appears to have an opening to the green." We found Jack's ball eventually, but the delay made the sequence that followed that much better.
AS JACK STOOD OVER THAT 18-FOOTER FOR BIRDIE, I said, "This is for sole possession of the lead." At that point, another piece of advice from Frank Chirkinian—let the picture tell the story—instinctively kicked in. For the 14 seconds it took Jack to hit the putt and for the ball to roll to the hole, I said nothing. I then said, "Maybe . . . " Then, when the ball dropped, "Yes, sir!" I then stayed silent—we call it "laying out"—for another 27 seconds before adding, "Isn't this great to see?" Nobody suggested I didn't talk enough.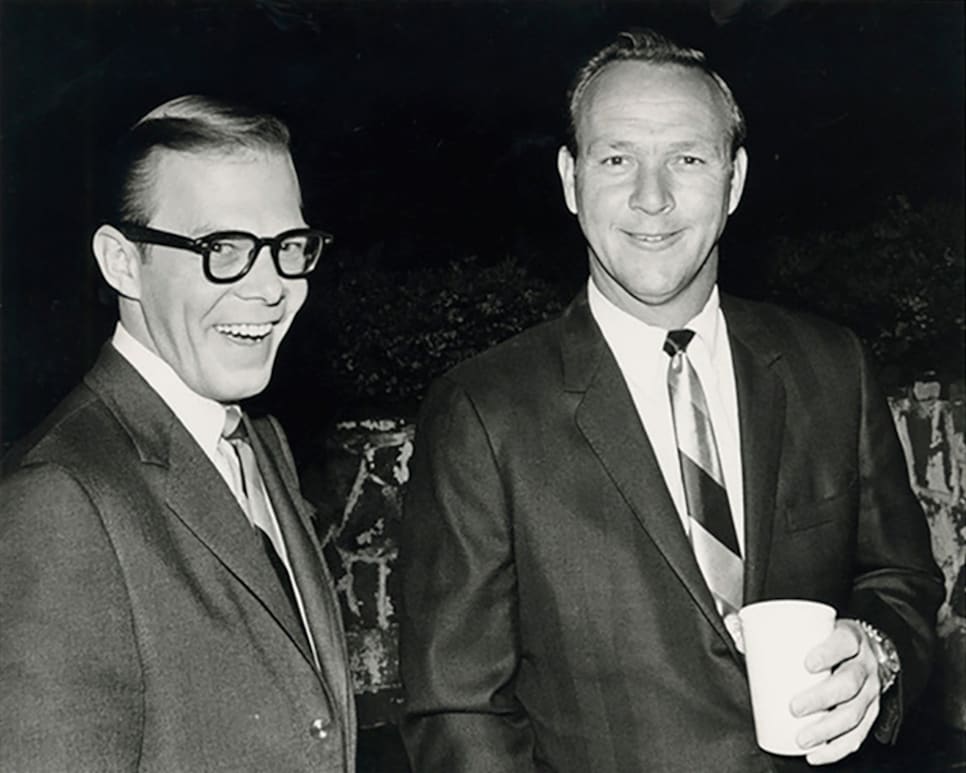 Courtesy of Verne Lundquist
A WHILE BACK, Peter Kostis told me that Ben Wright had used the "Yes, sir!" expression earlier, when Jack eagled the 15th. There's no doubt the phrase was bubbling in my subconscious and just came out. The only conscious thought I had was to keep my reaction simple. You can't get much simpler than "Yes, sir!"
THE ROAR AFTER THE PUTT FELL WAS DEAFENING. I mean that literally because it left everyone's ears ringing, and you could feel the vibration. It made the TV tower tremble, made it feel unstable. I've been in noisy environments. The roar at the end of the 2013 Iron Bowl game, when Auburn's Chris Davis returned a missed field goal for a touchdown to beat Alabama, was comparable. But that sound at the 17th is the loudest I've ever heard, including the noise the patrons made at the 2005 Masters when Tiger chipped in for birdie on the 16th hole.
WE'VE ALL SEEN the incredible camera shot of Tiger's ball toppling into the cup at the 16th in 2005. My part in that was to exclaim, "Oh, wow! In your life have you ever seen anything like that?" But the truth is, if it wasn't for a man named Norm Patterson, none of us would have seen it at all. When Tiger's ball trickled down the slope and appeared to stop on the edge of the hole, the director, Steve Milton, wanted to switch away from the ball and onto Tiger, to get his reaction. He said, "Ready Six. . . . Take Six," an order to the technical director, Norm Patterson, to push the button that would switch the view to Camera Six and the tight shot of Tiger. It was absolutely the right call for Steve to make, but Norm defied him. He stayed with the ball. This was highly insubordinate. At the major networks, not following the director's orders is a fire-able offense. If the ball had stayed on the lip and the viewer missed out on some incredible look of anguish from Tiger, Norm would have been severely disciplined, no doubt in my mind. But when the putt dropped, Norm instantly became an in-house legend. He was held in awe, not only for providing one of the great TV scenes in golf history, but also for the career gamble he took. In January the year after, Norm, who was only 45, died of a heart attack while jogging. Steve Milton, the man he defied, spoke at his funeral and told this story as a testament to Norm's intuition and trust of his instincts.
MY BRIEF APPEARANCE in "Happy Gilmore" has been seen by more people and resonated more than any individual game I've called on TV. The day before a North Carolina versus Arizona basketball game in 2006, Billy Packer and I were in the stands watching the Tar Heels practice. Just as we're getting ready to leave, a lanky redshirt kid lopes up and says, "Mr. Lundquist, my teammates and I are wondering, would you come down and talk to us?" I come down on the floor, not certain what they want me to say. Tyler Hansbrough, the star of the team, says, "Would you please do the line from 'Happy Gilmore' for us?" I knew which line he meant, and I gave it to them: "Who the hell is Happy Gilmore?" The Tar Heels roared. I've been asked to do this innumerable times since the movie came out in 1996. Can you imagine the number of requests Bob Barker has received?
'The roar after the [Nicklaus] putt fell was deafening... the loudest I've ever heard.'
THERE'S SOMETHING ABOUT JORDAN SPIETH. I covered the Dallas Cowboys for 16 years, including the famous Ice Bowl in Green Bay against the Packers in 1967. That was a crushing loss for the Cowboys and their coach, Tom Landry. But Landry, in the chartered flight back to Dallas and the 130 others I took with him over the years, never changed. Win or lose, he and his wife, Alicia, would take their seats in 4E and 4F. He'd drink a single glass of chardonnay, then go to the restroom in the back of the plane. He'd emerge and work his way forward, stopping to talk to a key player here and there. When he got back to his seat, he'd open a Louis L'Amour western novel and read until the plane landed. Landry's demeanor and habits were exactly the same. His focus and discipline never varied. I see that quality in Jordan. He was the same guy after that crushing loss in the Masters last year that he was in winning it the year before.
WHEN I PLAYED GOLF, my handicap was never lower than 14. But I almost had a moment. In a charity tournament at Las Colinas here in Dallas, American Airlines donated two round-trip tickets, anywhere in the world, for closest to the pin on the par-3 13th hole. I'm in the second-to-last group to play the hole and hit it two inches from the cup. It was a very valuable prize, and the only thing of note I'd ever done in golf, so I'm very excited. By the time I get to my cart I'm already booking restaurants in Tokyo in my mind. I then turn and watch the late Charlie McClendon, the legendary football coach at LSU—and last player of the day—make a hole-in-one.
ONE OF THE MOST TELLING WAYS GOLF REVEALS CHARACTER is in the 10-second period after a person makes their first hole-in-one. I played a round once with the late general Robin Olds, one of the greatest fighter pilots in American history. He shot down enemy planes in World War II and in Vietnam. Robin also was a horrible golfer, so bad that he was cited in the first chapter of Harvey Penick's Little Red Book as a player Harvey only wanted to try to help break 100. On a short par 3, Robin made his usual tangled swing and hit a low screamer that landed short, bounced forward and rolled into the hole. I jumped into the air, I was so excited, and so did another member of our foursome, the legendary football player Doak Walker. We turned to Robin for his reaction. He stood there, expressionless, shrugged and said, "Isn't that the point?"
IT'S BEEN A LONG CAREER. But a lucrative one? About six years ago, Bill Raftery and I made an appearance on "CSI." Every time it appears on reruns, we get a residual check. The last one was for 21 cents. Bill and I have agreed to frame the checks instead of cashing them. In the meantime, we're really rooting for that episode of "CSI" to become a hit in Bangladesh.
MY FIRST GOLF TOURNAMENT ever was a Hawaiian Open for ABC. I felt good about it, because I worked in Dallas and knew Lee Trevino. I had dreams he'd contend and single me out for a killer interview. Well, not only did Lee play badly, I never got a minute of airtime. After we went off the air, the sports producer at ABC, Terry Jastrow, came up to me and said solemnly, "Verne, I don't know if you looked at your contract, but near the bottom it states you get paid by the minute." I looked at Terry, horrified. After a good 10-second take, he broke up laughing. "Just kidding," he said.
IS THERE A CALL I'D LIKE TO HAVE BACK? Not really. In my 42 years of broadcasting, there hasn't been a telecast where I didn't make a mistake. A misidentification maybe, a mispronunciation or grammar error. But it's live television, human beings talking for hours at a time. I don't resign myself to making mistakes, but I've come to accept that they're going to happen.
' "Who the hell is Happy Gilmore?"... I've been asked to do this innumerable times since the movie came out in 1996. Can you imagine the number of requests Bob Barker has received?'
I USED TO BE MY WORST CRITIC. Then along came Twitter, Facebook and Instagram, and a lot of people took up the job for me. I can't say I'm a fan of social media. If there's a new worst four-letter word, it's s-e-n-d. It's caused a lot of pain and regret.
MY FATHER WAS A LUTHERAN PASTOR. He was not a pious, thunder-from-the-pulpit kind of guy. He was exuberant and friendly, a fabulous speaker who specialized in organizing and counseling. He was not without vanity, but he was sincere and helped a lot of people. We moved a lot, from Minnesota to Washington state to Austin, and he built solid congregations wherever we went. I inherited his pipes, and his speaking techniques—the timing, the persuasiveness, modulating your voice, measuring your words, building gradually to the finish—probably rubbed off on me. In fact, I attended theology school for one year, with a vague goal of combining theology with broadcasting. But Jimmy Swaggart and a few other guys in televangelism ... that just wasn't me. I chose sports broadcasting.
TO ANY YOUNG PERSON wanting to become a sports broadcaster, I have three pieces of advice, which were passed along to me by friend and mentor, the late Frank Glieber. One, never turn anything down. If you're asked to cover a tiddlywinks contest in Siberia, take it. Two, learn the rules and jargon of any sport you're covering. There's no substitute for that; if you don't know the rules or how the participants talk about their game, you're dead. Three, copy good broadcasters copiously and without shame. Your style will emerge eventually, but you need something to work off of.

Courtesy of Verne Lundquist
HERE'S WHAT I MEAN BY NEVER TURNING ANYTHING DOWN. In 1974 and '75, I hosted a show in Dallas called "Bowling for Dollars." When the execs approached me, at first I was inclined to say no. It seemed so undignified. But one of the execs suggested that before declining, I call the man who hosted the version of the show that aired in Los Angeles. I was shocked to discover it was none other than the great Chick Hearn. I phoned Chick and asked how he rectified doing the show in his mind. "That show built the swimming pool in my back yard," he said. "It pays extra, it pays well and ratings-wise, we're killing Walter Cronkite." Chick had my attention. Then he said, "The people who watch Laker games are not the same people who watch 'Bowling for Dollars.' Most of them have no idea I even do it, so forget the indignity stuff." With that, I hosted the show. To this day, people approach me in airports and tell me, with great nostalgia, how they were faithful viewers of "Bowling for Dollars."
HOW'S THIS FOR COINCIDENCE? The great Jack Buck, Joe's dad, was the announcer for the St. Louis Cardinals. Lindsey Nelson was the voice of the New York Mets. They were both veterans of World War II and were doing the same spring-training game in Florida. During a break, Jack showed Lindsey the scars from where he'd been wounded. Lindsey then showed Jack his own scars. "Where'd you get yours?" Jack asked. "A bridge called Remagen," Lindsey replied. "Oh, yeah?" Jack said. "That's where I was when I got mine. Where around the bridge were you?" It turned out they were in the same firefight on the same day, and maybe were side by side without knowing it.
ONLY ONE EVENT IN MY CAREER GAVE ME A FEELING OF UNEASE, made me wonder if I could handle things smoothly. The Nancy Kerrigan-Tonya Harding showdown at the 1994 Winter Olympics, with its bizarre back story, made me nervous. I remember my partner, Scott Hamilton, taking one look at Tonya early in the week and telling me she had no chance at winning a medal. I got through it—I love everything about figure skating—and to this day it stands as the most-watched non-Super Bowl TV sporting event in history. On Wednesday, the first of two nights they competed, 48.5 percent of televisions turned on in America were tuned to the event. It was estimated that more than 100 million people were watching.
LAST OCTOBER, my partner, Gary Danielson, and I broadcast the Georgia versus Tennessee game at Sanford Stadium. College football—the SEC, especially—probably is what I'm best known for, and this past season was my last. Before the game, they showed on the video scoreboard testimonials from Jim Nantz, Georgia Gov. Nathan Deal, Georgia Coach Kirby Smart, then Jack Nicklaus. As they're talking, the Redcoat Marching Band came onto the field and spelled out "Yes, sir!" And then the crowd, 92,000 strong, turned toward my booth and shouted in unison, "Yes, sir!" I don't know how Jack felt when he "dotted the i" at an Ohio State game, but it couldn't surpass what I felt at that moment. For a preacher's son from Minnesota, it was a big deal.