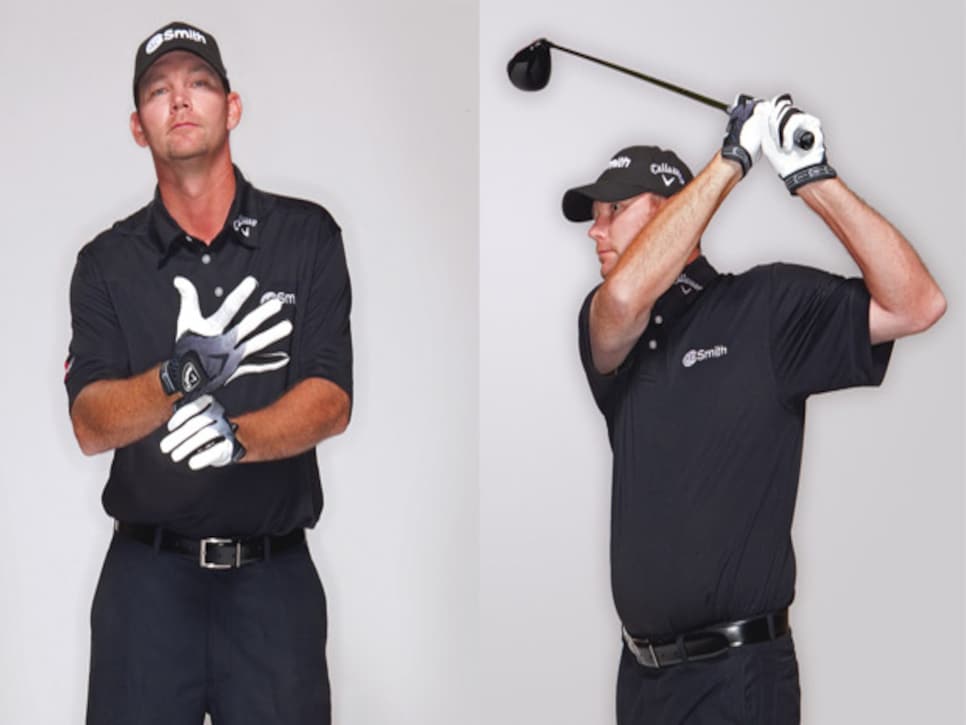 I worked on the line for A.O. Smith for the better part of five years, wrapping insulation around hot-water heaters. I won't lie to you, it was tough work. I like playing golf more. But I loved that job in a lot of ways. That company was and is a family. The bosses treated us fairly. We had fun, and we looked out for each other. Companies like that and their workers, they're what make this country tick. I represent A.O. Smith to this day and won't ever forget the people there for what they represent.
I played a lot of golf in my spare time and was getting better all the time. There was a mini-tour event coming up that I wanted to play in, but I couldn't afford the $750 entry fee. A friend put up most of it, I took off from work without giving proper notice, and proceeded to win. First prize was $15,000, a lot of money to a guy making $9 an hour. I still remember the promoter asking when it was over, "Are you pro or amateur?" I think he was hoping I'd say amateur so he wouldn't have to pay out as much of the purse.
After I won that $15,000, it was back to work on Monday morning. When I walked in, the news was all over the plant. We started up on the line, and I got word that my supervisor, Dale Clark, wanted to see me in his office. My stomach dropped. I walked in, and Dale says, "Tommy, do you know why you're in here?" I said, "Yes, sir. I took time off with no vacation or sick leave. If you need to write me up, I understand." He says, "We both know I should probably take some kind of action, but I'm not going to do that. You're a good worker, and I appreciate what you do for us. But the next time you need to take time off to play in a tournament, I'd appreciate it if you level with me. We'll try to work something out." Then Dale smiled. "Tommy, I know you just won $15,000, but what are you going to do with your life?" I answered, honestly, "I have no clue." The way Dale said it made me realize I had to make a commitment one way or the other. After four days, I told Dale I thought I'd give pro golf a try. I gave my two weeks' notice and lit out for the mini-tours.
The mini-tour deal didn't really work out. Two years later, I met a guy who knew how to line up gambling matches. He was my backer, and I was his horse. We took on all comers. He put up the money, and when we won, I got a nice percentage. We're talking pretty big money, sometimes $20,000 a hole. Most of the time it was best ball, me and a partner against two other guys. Usually the opponents were guys I recognized from the mini-tours. I played like I had nothing to lose in those matches, which was true because my backer was putting up the cash. At the same time, there was a little voice in my head reminding me that if I didn't win, I didn't get paid.
One match I remember was against Kyle Thompson, at Bishopville [S.C.] Country Club. Kyle's on the PGA Tour today and is a heck of a player. Our backers are there and the stakes are high, maybe $10,000 a hole. I chipped in for birdie on 17 to go ahead, but then Kyle chips in for birdie on 18 to make the match a tie. The backers decide on an "E-9"--an emergency nine--to get some kind of resolution. On that nine, I shot 31 and we killed them, won five bets. The main thing I remember was my mind-set. Kyle is a good man, and we're friends to this day, but I was all about destroying whoever I went up against. There was little talk in these matches, no mercy and not many laughs, unless you won.
I'm self-taught. Never had a lesson from the time I was 9, when my little brother, Allen, and I used to take turns with the pullcart, running between shots to see how many holes we could get in before dark. If I had an advantage, it was good feel with my hands and an ability to figure things out on my own. I always did things the way I pictured they ought to be done, even if it was unconventional. For example, I shuffle cards upside down, the palms of my hands facing the table, my fingers riffling the cards instead of my thumbs. It's the opposite of how most people do it, but wrong for me happens to be right.
My swing is ugly. I know it looks ugly, and you can't butter me up and tell me otherwise. It's a baseball swing, it's unorthodox and it looks terrible. But it feels good. I'm like the kid in school who is told how ugly he is but feels good about himself anyway. My swing gets results. It's made me one of the best players in the world--not one of the best on the PGA Tour yet, of course, but I am part of a real small percentage of people on the planet who can play the game for a living.
Karma is huge in this game. Good and bad bounces are about 50-50 in the long run, but the timing of those bounces is where the mojo comes in. I'm a big believer in doing good things so you have that karma going for you when you need it. At "The Big Break IV" at St. Andrews, I hit a terrible shot on the 18th hole. My ball was headed off the property and toward a shop with huge plate-glass windows. It was going to just destroy that shop. But my ball hit a delivery van parked in the street and kicked back onto the course and into the rough. I was still feeling lucky when I whiffed my next shot, but at that point I wondered how good my mojo really was. My fourth shot came out hot, and I was a dead man, but it hit the flagstick, and I made bogey to halve the hole. So in the end, my good karma paid off.
Sometimes you have to do things you don't want to do. On the first hole on Sunday at Mayakoba last year, I hit a terrible shot into this low jungle area with caves. My caddie told me not to go down there, that there were snakes all over the place. I've had a deathly fear of snakes my whole life and wanted to follow his advice. The problem was, I was in the top 10 and couldn't afford the penalty. Hoping for some of that good karma, I took a deep breath and crawled down into this dark place, found my ball and slashed it out. Now it was time to get out of there. I turn to climb out, and there, sitting on a ledge, is a huge iguana, staring me in the face. I became almost paralyzed with fear, and the fact I was sick and lightheaded from food poisoning the night before just made it worse. I was too scared to scream. What adrenaline I had left kicked in, and I flew out of that jungle. When I get out, there's my ball on the green, close to the hole, and spectators are cheering. In the space of a minute, I went from the PGA Tour to my vision of hell, and back to the PGA Tour again.
I played on 'the Big Break' twice. What makes the show successful isn't the golf competition. It's the way they put all the guys into a house where you're pretty much forced to interact, and what that leads to on the course. At "The Big Break IV" there were days where they'd start filming at 6:30 a.m. and go until 10 p.m., so we never got a break from each other. There's a lot of bluster, insecurity and fear among the contestants, every type of human emotion. The producers loved that stuff and tried to promote it. Guys would get scared. Off camera you'd hear whispers. "I'm not as good as so-and-so," or "I hope I don't have to play this guy one-on-one," stuff like that. I didn't say anything, but all the time I'm thinking, I sure hope I get to play you, because you're beaten already.
With the girls on the show, all it took was one of them saying something about another one, and it was on. Pam and Ashley, the two girls who went at it on "The Big Break VII," the dislike was real. One little knock set it off, and from there they never forgot and they never forgave. It went on the whole show. It was fun to watch, but I was glad not to be in the middle of that.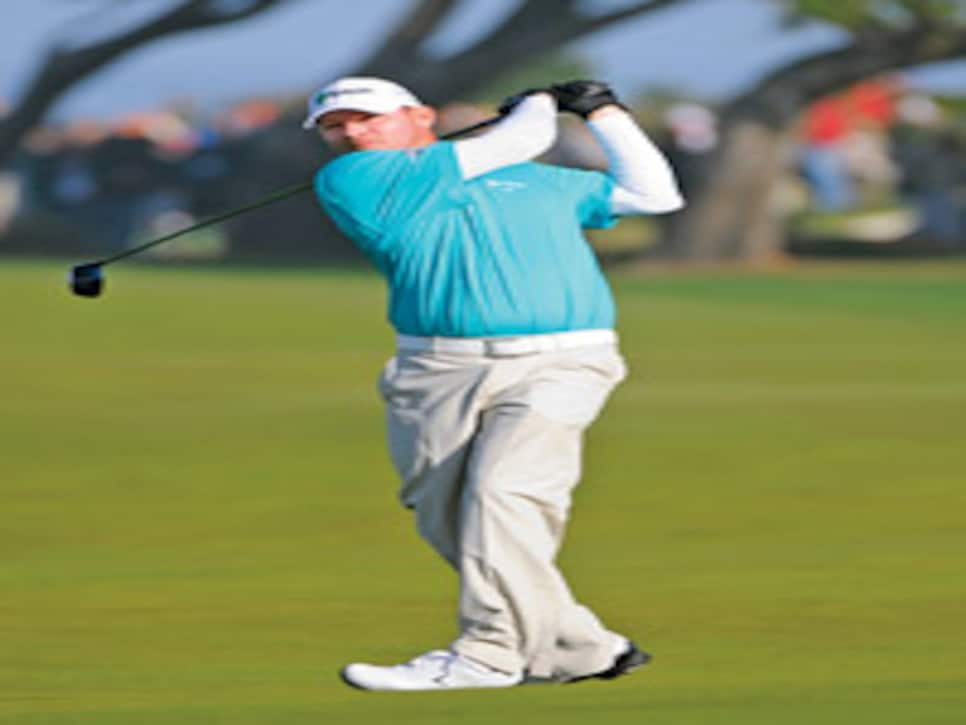 The thing about "The Big Break" is, one shot can make or break you. I'd say I felt as much pressure on that show as I do on the PGA Tour, because on tour there's always tomorrow. On "The Big Break" it often comes down to one shot, usually in one of those challenges, and if you blow it you're gone. The best player doesn't necessarily win. When I was on "The Big Break IV," I thought I was the best player, but I didn't win. On "The Big Break VII" I felt I was the best player, and I did win.
I grew up idolizing Fred Couples. He's the ultimate smooth operator. He swings smooth, moves around smooth, never gets ruffled, makes things look so easy. The first time I met Fred, I was real nervous. I think he noticed, because he went out of his way to make me feel at ease. The thing about reaching the tour later than most players is, it's hard to put yourself on the same level as your heroes. Convincing yourself you can belong on the same stage with people you've held in awe for so long is a big challenge. But you have to do it to survive.
The great ball-strikers get most of the attention, but it's the good short games I admire the most. The best I've seen on tour is Fredrik Jacobson. His swing isn't a whole lot prettier than mine, but he can do things around the greens that are amazing. At the Texas Open last year, it seemed like he got up and down every time he missed a green. He tied for fifth that week hitting shots around the green I couldn't believe. I played with him again at the Travelers, where he won, and it was the same thing. There isn't a tour player who can't hit it great. But it's the wedge and putter that win.
There are a lot of kids out there who think they have a chance of getting to the PGA Tour who probably won't make it. The average player doesn't realize how hard it is or how good you have to be. But my advice is, try. If you don't give it a shot you'll spend the rest of your life wondering, and you'll never forgive yourself.
I love Little League baseball. The big rivalry was Payne & Williams versus First Citizens Bank, and it was fierce. I played for First Citizens, and when I was 10, 11 and 12 we won the regular season. We had no problem with Payne & Williams, and we knew we were better. But in the playoffs, Payne & Williams beat us all three years. Even as a kid, I could feel the momentum going against us, our confidence slipping away. The kids from Payne & Williams played like they knew it was their destiny to win. That was my first lesson in never taking anything for granted.
Baseball is where I started wearing two gloves. I never changed when I started playing golf. It's no gimmick. I've tried every combination of playing with only one, the other or both, and it doesn't work. My hands sweat easily, they also get cold, and the gloves help me hold on to the club better.
All golfers love warm, sunny days. But sometimes, when I'm back home, I welcome a day when it's pouring rain and it's impossible to go to the course and practice. Not many things make me happier than a rainy day and an "NCIS" marathon on USA Network. I can knock off six hours straight of them.
My favorite movie is "Caddyshack," which I've seen a hundred times, easy. During the AT&T at Pebble Beach, I was at the practice range not far from Bill Murray. He sees me and yells, "You're wearing two gloves!" He comes over and introduces himself, and he watches me hit a couple of shots. I notice Murray's wearing two gloves, too--a pink one and brown one. He asks, "So what type of gloves are you playing?" I tell him Callaway rain gloves, but how when it warms up I switch to leather. He nods knowingly, in a "Yep, we good players..." kind of way. My pro-am partner, Chris O'Donnell--who has an important role in "NCIS: Los Angeles," by the way--noticed how excited I was to meet Carl Spackler. Chris kept calling me "D'Annunzio" the whole pro-am.
It's hard to have close friendships on tour, because players have wives and families. We're in the same places but headed in different directions.
I'm president of my own corporation, so to speak. When I'm out playing, it's all about me trying to perform and win a golf tournament. I think most players' wives understand that, but trust me, not all of them do. My wife, Erin, is one of the wives who understands. There are a lot of weeks when I love having her out there with me. But there are also weeks where I'm struggling to find my game, where I need to concentrate 100 percent on it. I'm grateful she respects that I sometimes need to be off by myself.
The most pressure I've felt might have been the four times last year my luggage--clubs and clothes--didn't make it to the tournament along with me. It wasn't the end of the world, but it was a like a carpenter reaching for his hammer and not having it there. Each time I drove to the mall and bought some clothes, then went to the course where the equipment guys prepared to get some clubs together for me, just in case. All four times my clubs and clothes got there, but it made me die to fly privately.
Here's my goal: I want to make enough money to fly privately so when my 4-year-old son, Tommy III, gets older and starts playing team sports, I can go catch his games during tournament weeks. See, every generation wants the next generation to have it better than they did. My father wanted a better life for me than what he had, and my purpose is to make all things possible for my boy.
Little boys are very active, and Tommy went through a spell where he'd jump on me when I least expected it. It was downright dangerous, him coming out of nowhere and landing on me full force. I had some muscle trouble around my rib cage last year, and one time Tommy accidentally kicked me in the ribs so hard I wanted to cry. What did Tommy jumping on me teach me? Patience.