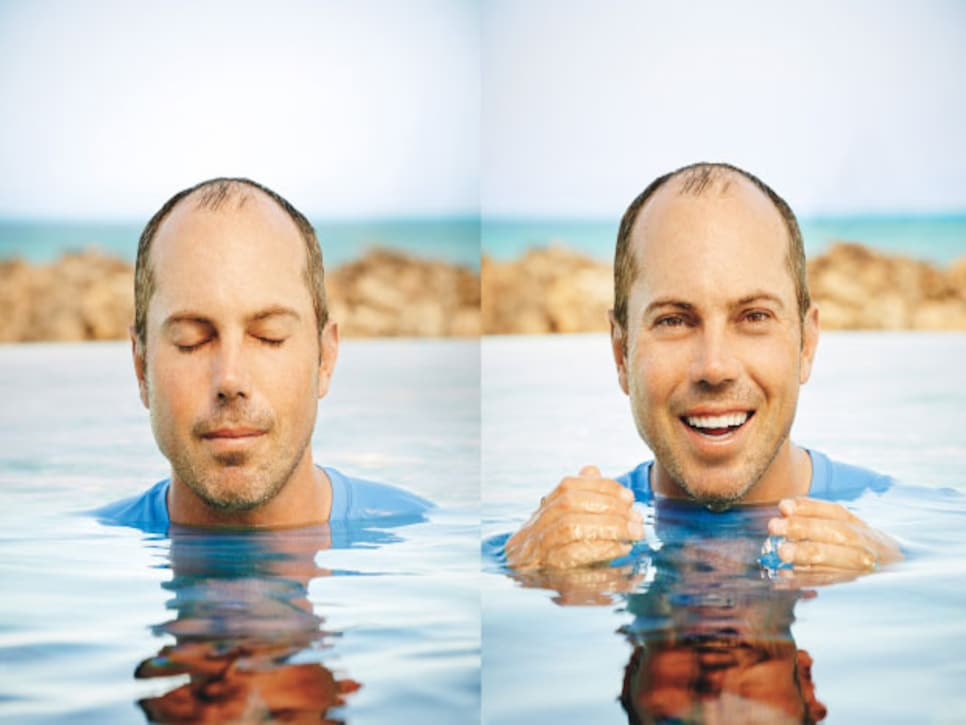 MY GOLF MEMORY is horrible. A couple of years ago I was playing Riviera, and on the eighth hole—I think it's the eighth—I drove my ball into the gully of the split-fairway hole. I'm mad. I told my caddie, Lance Bennett, "I can't believe I did that. I've never done that before." Lance says, "Dude, you drove it in the gully last year." I had no recollection of it at all. I'm helpless in post-round, hole-by-hole interviews. I can't take you through most of the holes of winning the Players Championship, the U.S. Amateur or Ryder Cup matches. It's like golf amnesia.
I PLAYED THE FIRST ROUND of my first Masters, in 1998, as U.S. Amateur champion. I was paired with Tiger, the defending champion, and on the first hole I could barely place my ball on the tee. I was practically paralyzed with fear. I did well. [Kuchar shot 72 and was low amateur that week, and he has finishes of T-3 and T-8 the past two years.] Nothing since then has come close, fear-wise, to what I felt that day. When I played my first Ryder Cup, in 2010, I was warned that the first-tee jitters can be so bad that players in the alternate-shot sometimes break their strategy and ask their partner to hit first because they're too nervous. Maybe it was the fact it was in Wales and not the U.S., or maybe it was the terrible weather, but I didn't get that nervous. It surprised me.
THAT FIRST MASTERS, Phil Mickelson invited me to play a practice round with him. As we're walking along, he compliments me on a belt I'm wearing. I return the compliment—he's wearing this beautiful pair of alligator shoes. I ask him, "Do you travel with a waterproof pair, in case it rains?" Phil looks at me, sort of rolls his eyes and says, "Matt, let me ask you a question: If it were raining, what would you rather be, a cow or an alligator?" I'm pretty sure that once an alligator hide is tanned, it's more like ordinary leather. But stories like that are why I love Phil Mickelson.
LATER THAT SUMMER, while playing the British Open at Royal Birkdale, I met Payne Stewart. There had been a lot of pull on me to turn pro. Sponsors and endorsements were there, people I respected were pushing me in that direction, and I was close to pulling the trigger. Payne said, "Matt, you have only four years of college. Stay where you are. The PGA Tour will always be there." That was a big influence on my decision to stay an amateur. I didn't turn pro until 2000.
A LOT OF TOUR PLAYERS like to trash talk, and I'm in that group. I have a slight advantage because I'm considered a nice guy, so when I throw a dig out there, it's unexpected and makes it hard for the other guy to come up with a good comeback. That's one secret. Another is, if you're going to trash talk, you'd better be able to take it in return. There's the "Seinfeld" episode where George Costanza is flustered by the guy who says, "Hey, George, the ocean called; they're running out of shrimp." If you're like George and can't think of the comebacker until later—"Well, the jerk store called; they're running out of you"—you're dead. On the ninth hole at Firestone last year, Phil bombed his drive well over a crest in the fairway. I hit it directly into the hill. I'm just not long enough to get it over. And Phil says in this cloying voice, "Cute drive, Matt." I replied straight out, "I just can't get it over Sissy Hill. Just not long enough." Phil gets flustered and says, "See! That's why I can't trash talk you. You have no shame."
SO MANY GOLFERS will tell you that you have to step on your opponent's neck when you have him down. But I'll confess something. I like to challenge myself. There are not many guys on tour who can give me a challenge in Ping-Pong. So I'll throw some points to see if I can come back. I'll let the score get to 18-15, their lead, or close to it, and see if I can still win. There are a couple guys on tour who have wins over me this way, but I never tell them what I've done.
I ALMOST didn't turn pro at all. I was tempted to be a career amateur. I worked as an investment banker for nine months after I got out of school, and the money was fantastic and promised to get even more lucrative. There's a lot of money to be made on the PGA Tour, but even more on Wall Street. But a funny thing happened. I played one tour event in 2000, the Texas Open. I got in on a sponsor's exemption and missed the cut. When I came off the green, all I could think of was, I wish I were playing next week. I KNOW I can do this. I loved investment banking, but it didn't consume my thoughts the way golf did after missing that cut.
I'D HEARD RUMORS of big business deals being executed on the golf course but didn't believe them. All I'd seen were guys playing golf and then having lunch. But working as an investment banker, I saw stuff happen. Powerful guys would trade ideas, give opinions from their area of expertise, recommend ventures where one guy's company would be a good fit. That opened my eyes. Golf is a very good arena for business.
AS A KID, I wanted to be a pro tennis player. I was pretty good; at the tennis academies I attended I always "played up" against older age groups. One day, Andre Agassi gave a clinic at our club. From the baseline, he hit a drop shot that cleared the net, took one bounce and spun back on his side of the court. It's the type of shot a good amateur, with no pressure, can make in one try out of a hundred. But Andre, after watching us go "Oooh," did it again. It didn't make me think I had no shot at tennis, but it made golf look a whole lot better.
in Florida. It was there that I had two major advantages in making it to the PGA Tour. First, Heathrow was one of the first clubs to have unlimited range balls. As a kid, this meant I could hit balls all day without breaking the bank. Second, Heathrow was home to several PGA Tour players, including Chris DiMarco, Jim Thorpe, Donnie Hammond and several others. Chris would organize a game every day he was home. When I got old enough and good enough, Chris started to invite me and another friend, Jeremy Anderson, to join the game. We could never, ever beat Chris, but we were inspired to get better.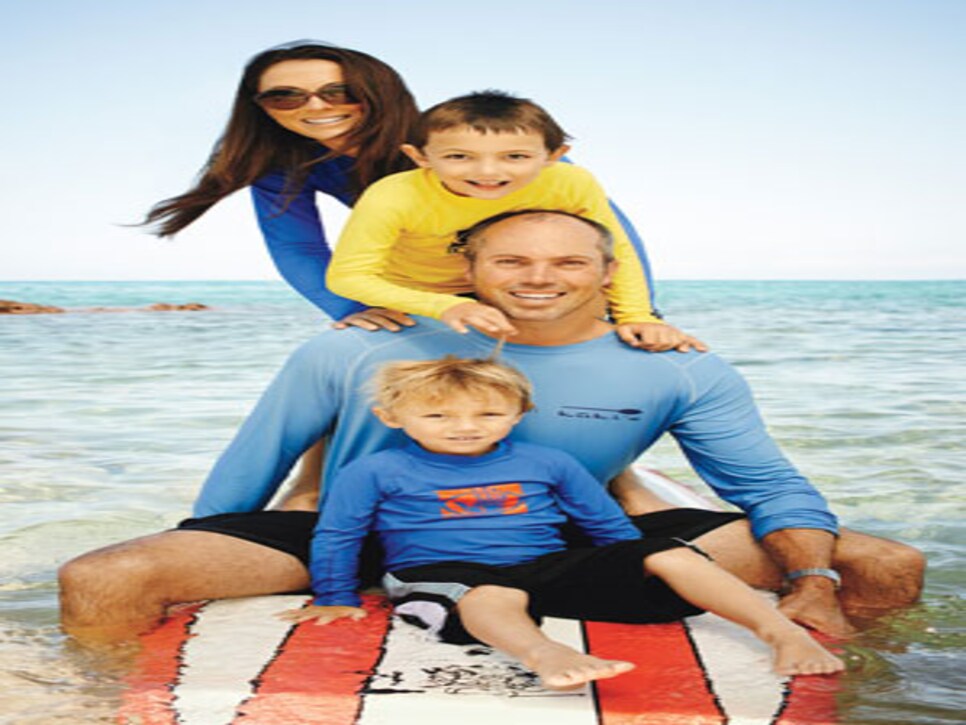 YOU HEAR PLAYERS talk about how there's no offseason in golf anymore, how with tournaments running year-round that it's hard for them to catch their breath. Well, after a busy December, my wife, Sybi, and I came up with a plan. We decided that I would play the first two tournaments in Hawaii and then stay for another four weeks. We'd stay at Kuki'o Golf and Beach Club
, one of the most exotic places on the planet, and just have a blast. After the Sony Open my plan was to not touch a club for two weeks, then slowly start preparing for the Northern Trust Open the final two weeks. There are so many temptations, with invitations to play spectacular places like Nanea Golf Club
, with great people. There's competition, a good, informal pro game, and it's just too much fun to say no. But thankfully there were many other distractions, like swimming with a 30-foot whale shark, surfing, hiking and spearfishing. So am I rested? Not sure, but I sure did have fun.
I WON'T NAME NAMES, but there are players on tour who I don't think love golf all that much. They're good at it, but they don't love it. Maybe the game has beaten them up. It's definitely harder than it looks, physically and mentally. It makes me grateful to have the enthusiasm and makes me even more determined to maintain it. At 35, I can see myself playing the Champions Tour 15 years from now. That kind of desire isn't rare, but I might be in the minority.
DURING "The Haney Project" season with Michael Phelps, we dropped by the pool where Hank and Michael were doing a segment. I'm a decent swimmer—I did a mile swim out in the ocean here in Hawaii yesterday. What I noticed about Michael was the distance he covered in four strokes took me about 12. He's super-efficient. If swimming were golf, he wouldn't have any loops in his backswing.
IN SWIMMING, efficiency results in speed. In golf, efficiency can mean more clubhead speed as well as the ability to get the ball in the hole in fewer strokes. I think I'm efficient that way. When I think of guys who are efficient with effortless power, I think of Ernie Els. I remember playing with Ernie a few years ago. It was pouring rain. By the first green he had already taken off his hat; it was so saturated the rain was dripping on the ball. I noticed that his umbrella was in his bag, but he wasn't using it. I asked why, and he told me that when he started playing with the old boys on the European Tour they had told him when it rains to just get yourself a good rainsuit and get on with it. Now that's efficiency.
THE MICHAEL PHELPS encounter was in China. Sybi and I are a little different in that we enjoy traveling with the entire family. Before the Presidents Cup in Australia, we went to Bora Bora and New Zealand. We've been to Fiji and Hawaii. All over the world, really. How do we manage it with young children? [Cameron is 6, and Carson is 4.] We bring along a tutor from near our home. She sets up a little classroom with a desk, maps on the wall, the whole thing. She teaches them four hours a day.
IN THE FAMILY FOOTRACES, I've always let Cameron win. But recently, I thought I'd spoon-feed him a little dose of reality. So I beat him. But it wasn't enough to shatter his confidence. He thinks it was a fluke and will tell you he's still the fastest runner in the family. That's OK. Parenting is something we learn as we go along. Every child is different—and so is every parent.
ONE OF THE COOL THINGS about winning the 1997 U.S. Amateur was, it was televised. Let's say I'd never turned pro. As my kids grew older they'd eventually ask, "Daddy, were you a good golfer?" I'd answer "Yeah, pretty good." They'd ask, "How good were you?" And I'd say, "Good enough to have Roger Maltbie describe my lie on national television."
PHIL REMARKED last year that many of his best friendships in golf were formed during team events. It's true, but my perspective is a little different. I think back to my days at Georgia Tech and the closeness we had as a team. You become almost like brothers, really. We were young and experiencing the same things at the same time in our lives. Going to the gym together at 6 a.m., traveling, winning and losing together for years. When it ends, you can't help but yearn for that kind of camaraderie. When I played Ryder Cup and Presidents Cup, I could sense the same yearning in the other guys, who had the same kind of relationships in college. We all wanted to re-create that spirit. But it's hard to pull it off. It's one week. We're at different stages with different lives. Don't get me wrong; there's team spirit at the Ryder Cup. It's special. But it's not the same thing emotionally as college.
THE DAYS OF DISLIKE between the Ryder Cup sides are over. We're motivated by patriotism and a desire to win for the captains and each other. But is there a desire to stick it to the other side? No. I'm great friends with Graeme McDowell and Justin Rose. It's impossible to manufacture dislike for them. The modern Ryder Cup rivalry is similar to the Yankees and Red Sox: There's more dislike for the other side among the fans than there is with the players.
DEPENDING ON THE STATE of your game, Augusta National is either the hardest easy course in the world, or the easiest hard course. The first hole you're hanging on for dear life because it's, well, Augusta National. On the second and third holes, conditions permitting, you get aggressive. Then you hang on again until you're past the 12th hole, when you get aggressive again. What makes the challenge so great is knowing that it can be very unforgiving. If you aren't sharp, you don't shoot 71, you shoot 76.
YOU MIGHT REMEMBER my dad, Peter, who caddied for me in the 1998 Masters. He's 63 now. He and my mom, Meg, live a couple of miles from TPC Sawgrass, and he still works in the insurance business. He hits balls just about every day and might love the game more than I do. Until the Players Championship in 2012, my mom had never seen me win a golf tournament. She did everything for me when I played junior golf, but after I turned pro, she pretty much stayed home. To have her see me win for the first time, in her hometown, on Mother's Day, was pretty awesome.
SOMETIMES THE TRAIN leaves the tracks. You fall into a streak of bad shots, bad bounces, everything. But here's the thing: Never give in to that. Never say, "It's just not my day." If you do, you for sure will not turn things around. And the next time, giving up will become even easier.
AT THE 1999 WALKER CUP, they gave us a small tote bag that seemed pretty useless. But I hung on to it. Today, 15 years later, I carry it all over the place. Harris English saw it and said, "Where did you get that thing?" He envied it. The moral: Save your member-guest and pro-am trinkets. They can get better with age.