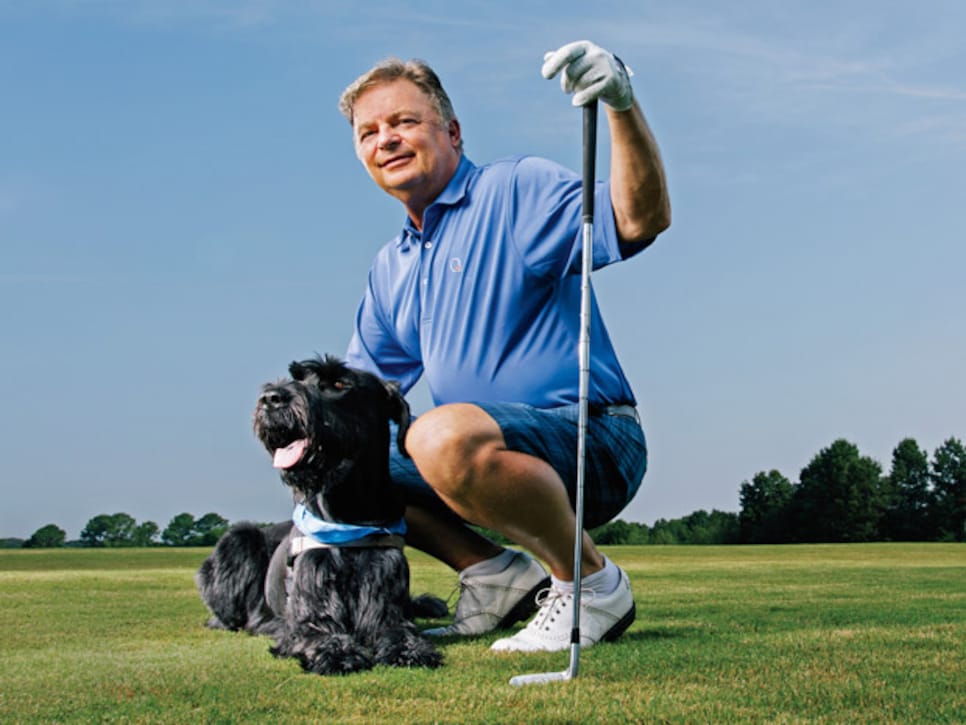 Baxter is capable of sniffing out trouble; David Eger has a nose for rules violations.
AS PLAYERS so often say in interviews, I've been fortunate. In 1978 I turned pro and played the PGA Tour for three years, with little success. I just wasn't good enough. I got my amateur status back and, with help from my mentor, the late Clyde Mangum, got a job with the PGA Tour as director of tournament administration. I spent 10 years there. In 1992 I moved over to the U.S. Golf Association as senior director of rules and competitions. After four years at the USGA, I went back to work for the PGA Tour. All this time, I played a lot of amateur golf. I was disappointed not to have won the U.S. Amateur, but I won the U.S. Mid-Amateur, North & South Amateur, Azalea Invitational and a couple of Crump Cups, and also played the Walker Cup. I then spent five years getting ready for the Champions Tour. That's where I've been since 2002. Four wins, a good living, great wife, nice life.
I PLAYED IN THE MASTERS and officiated there several times. In 1987, I was assigned to the par-3 fourth hole with the legendary Billy Joe Patton. Nothing ever happens, rules-wise, at the fourth hole. After several groups had come through with nothing happening, Billy Joe says, "Let's make this interesting. Let's bet a quarter on every tee shot, closest to the hole." I said, "You're on." After a while, Billy Joe starts increasing the number of wagers—closest to the hole out of the bunker, whether a guy will two-putt, and so forth. We had a great time. Now, the man in charge of the rules committee was Ward Foshay. A past president of the USGA and Augusta National member, Foshay was a very proper guy. He started off a meeting by saying, "It's come to our attention that certain rules-committee members are betting on the tournament." Billy Joe and I looked at each other and gulped. I saw myself never being invited back, and I think Billy Joe feared getting thrown out of the club. "We do not approve, gentlemen," Foshay said. Thankfully, he let it pass.
FOSHAY REPORTEDLY had a spirited on-course rivalry with Hord Hardin, another USGA president who went on to be chairman at Augusta National. Both had been good players in their day, but age had taken its toll, and neither guy could putt a lick. One day, Foshay began copying Sam Snead's croquet-style putting method and, rolling the ball like the Ward Foshay of old, began dominating their battles. He chided Hord endlessly. Unfortunately for Foshay, Hord was about to become USGA president. Ward woke up on Jan. 1, 1968, and discovered that croquet-style putting was no longer permitted under the Rules of Golf. It's part of USGA lore that Hord engineered abolishment of the method to regain his personal dominance over Ward. Is it true? Who knows?
ON FRIDAY OF THIS YEAR'S MASTERS, my wife, Tricia, went to the lawn-and- garden store and filled the back of the SUV with tomato plants, herbs and potting soil. She wanted help planting the stuff, so I was watching the tournament intermittently. I watched Tiger tee off on 14, when he stood at five under par, then left to manhandle a 50-pound bag of potting soil for Tricia. When I got back in front of the TV, Tiger was putting out for par on 16. When the announcer said, "Tiger remains at four under par," I naturally wanted to see how he'd made a bogey. So I rewound the DVR to his play at the 15th. I watched a replay of him ricocheting his third shot off the flagstick and into the water and thought, He must have hit a great shot to make a 6, and rewound further to watch his fifth shot. That's when I noticed the divot hole a good distance in front of the place where he'd played that fifth shot. Then I watched his third shot again, and I see no divot hole. I replayed the sequence again, and then again. Tricia asked for help with the tomato plants. I said, "Honey, you're going to have to wait."
I KNEW IMMEDIATELY that unless somebody intervened before Tiger signed his card, there was a 100-percent chance he would be disqualified for signing for a score lower than what he shot. Tiger clearly didn't play his fifth shot from "as nearly as possible" from where he'd played his third shot, as required by Rule 26-1a. It was imperative that Tiger correct his hole score to an 8 instead of the 6 he'd made. So I phoned Mickey Bradley, a PGA Tour rules official who I knew was working the Masters. I'd seen Mickey a couple of weeks before at a Champions Tour event I'd played in. Mickey, who was assigned to the 13th hole, told me he was finished for the day and was in his car. I told him what I'd seen and urged him—strongly—to reach Mark Russell [rules official] or Fred Ridley [chairman of the Masters competition committees] and notify them. At that point, I figured it was a done deal. I assumed Mickey would call Mark or Fred, the officials would take another look, and Tiger would be surrounded by green coats when he came off 18. They would interview Tiger as to what happened on the 15th, he'd adjust his score from a 6 to an 8 for violating Rule 20-7 [playing from a wrong place], and that would be it.
WHEN I WATCHED TIGER'S INTERVIEW with ESPN's Tom Rinaldi, explaining his thought process on moving back to take the drop at 15, it was clear Tiger didn't know he'd violated a rule. His score of 6 appeared to stand. He obviously hadn't been interviewed by anyone on the rules committee before he signed. I was perturbed but went to sleep knowing I'd done what I was supposed to do. I didn't know at that point what would happen next. The next morning I played golf at Quail Hollow. When I came off the course at about 10:45 a.m., the whole thing had blown up. Tiger was assessed a two-stroke penalty instead of being disqualified under Rule 33-7, because the rules committee had erred.
I DON'T KNOW IF MICKEY told Fred Ridley that it was me who had called, but it's hard to imagine that he didn't. When a TV viewer calls in—and I handled many call-ins myself when I was at the PGA Tour—you consider the source. You weigh that person's credibility and knowledge. Ridley apparently looked at my objection that Tiger's drop wasn't at a point "as nearly as possible" from where he'd played his third shot, and rejected it. Fred's comment that it would be "splitting hairs" on the drop being improper was a stretch, to say the least.
WHAT WOULD HAVE HAPPENED if I hadn't phoned Mickey? I think someone else would have noticed before play ended on Sunday, and Tiger would have been disqualified. It would have been an even bigger mess. The thing my call did, ultimately, was give the Masters a chance to make a mess of things, which in turn provided a basis to penalize Tiger only two strokes instead of DQing him.
I'D CHARACTERIZE the Masters performance as a misuse of the resources available to them. I wonder who viewed the video of Tiger's drop and who agreed with Fred's no-problem original ruling. Mark Russell never saw it but was included as being on board with Fred. The Masters doesn't lack rules expertise. Many are employees of the PGA Tour, USGA, PGA of America, European Tour, etc., who know rules and how to interpret every situation imaginable. Even if the violation wasn't super obvious, the inclination among good rules officials would have been to talk with Tiger. It's Rules 101.
AN INVITATION from the Masters to serve on its rules committee is coveted among rules officials. When a person officiates at Augusta, there's a strong desire to be invited back. I believe that desire can trump the impulse to offer a differing opinion on something like the Tiger episode. Also, guest officials know the Masters is entitled to make its own decisions. For what it's worth, the Masters is not alone. The USGA, PGA Tour, R&A, PGA of America, LPGA Tour and other organizations also make their own decisions. It comes with the territory.
RIDLEY ISN'T MY BIGGEST FAN. There's a history there. Fred was captain of our 1989 Walker Cup team. In my opening-day foursomes match, with Kevin Johnson as my partner, I conceded our opponents a 10-inch putt, a straight-in gimme. Ridley approached me as I came off the green. "Don't ever concede a putt like that," he said. I'd played competitive golf my whole life and had a pretty good idea as to which putts can be conceded, and when. I didn't care for the admonishment, or his tone. It was a tough week. We ended up getting beat, the first-ever U.S. loss on American soil.
IN 1998, I qualified to play in the U.S. Open at Olympic. The walking official in my group was Fred Ridley. After Casey Martin, Ed Fryatt and I finished playing the seventh hole, I noticed there was a wait on the eighth tee. The seventh tee also was empty. So, I practiced putting, which is not prohibited at the U.S. Open as it is at the Masters, the PGA Championship and on the PGA Tour. As I was stroking the putts, Fred walked over and said practice putting wasn't allowed. It was a serious objection, because if Ridley happened to be right, it meant I'd incur a penalty. I suggested to Ridley that he check with another official, which he went off to do while I continued to putt. On the tee at No. 8, Ridley returned to inform me that practice putting was indeed allowed. A lot of years passed, but when it became obvious he blew past my take on the Tiger drop, my 1998 opinion of his rules expertise was reinforced. In my view, Ridley's knowledge of the Rules of Golf was, and is, suspect.
THE FIRST REAL CASE OF CALL-INS from viewers was Paul Azinger moving some loose impediments with his foot in a water hazard at Doral in 1991. You get the evidence where you can, and it doesn't matter if players who happen to be on TV are exposed to greater scrutiny than players not on TV. The bottom line is that ignoring a violation because it happened on TV would not be a level playing field.
AS GOLFERS, we all learn things over time. How to hit a low draw with a 3-iron, for instance, or how to play from a buried lie in a bunker. But the one thing that doesn't come through osmosis is the Rules of Golf. It takes conscious thought and study. To me, the rules are almost a religion. To other players, they're part of the package, especially for those playing at the highest level of the game. I don't know that my rules knowledge has gained me strokes, but I can attest it's prevented me from losing them.
SOMETIMES PLAYERS KNOW just enough about the rules to be dangerous. At one of my first tournaments as a PGA Tour rules official, I came across a 25-year veteran player whose ball was embedded. I told him he was entitled to relief and that he could lift and clean his ball. Before I could say anything more he said, "And I can drop within one club-length, right?" I informed him that one club-length of relief wasn't correct, that he must drop as nearly as possible to where the pitch mark was. He said, "When did they change that rule?" I told him the rule had always been like that. As I drove off, I contemplated how many times he'd had an embedded ball over the last quarter-century, and how many times he'd dropped incorrectly. The number had to be astonishing. It's pretty amazing how even good players don't know the rules thoroughly.
HOW CAN A 48-YEAR-OLD GUY with a great local record and good game tell if he's good enough to make plans for the Champions Tour? The first thing to know is that winning the state amateur a few times means nothing. You've got to compete on a national stage, and not against guys your age. You've got to beat the best college players and contend in events like the Porter Cup or Western Amateur. If you can do that, then you've got a chance to beat Tom Lehman or Kenny Perry—once in a while.
"SEINFELD" IS MY ALL-TIME FAVORITE TV show. Even today I'll watch reruns of the show before I watch practically anything else. My favorite episode is "The Betrayal"—the wedding in reverse. In 1994, we got a call from the "Seinfeld" people. They were developing an episode about golf and wanted something plausible, rules-wise. They were looking for sticky rules situations, something everyday golfers might get into an argument about. We gave them several ideas, including one about the player who thinks he can lift his ball from off the green and clean it. That fall, I tune into "Seinfeld" and see Kramer complaining to Jerry about getting into an argument with a friend who'd incorrectly lifted his ball and cleaned it. I sat on the couch and cheered.
IT'S FUNNY HOW WEAKNESSES in your game can be obscured when you're immersed in playing. It was only while riding around in a golf cart all those years with the USGA and the PGA Tour that I saw what I needed to do to compete again professionally. What I needed was more length and accuracy with the driver. David Leadbetter helped enormously with that, as did Jim Hardy. And so has Tricia. In the long tradition of players getting tips from their wives, Tricia has taken fixing my swing to another level. At the 2010 Mississippi Gulf Resort Classic, I pull-hooked my first two tee shots and, band-aiding my swing the rest of the way, somehow shot 68. After the round she told me I wasn't getting over to my left side. That tip led to me closing with rounds of 68-69, which won the tournament. Between telling me to keep my head still when I'm putting to shifting weight off a bad right ankle, Tricia has won us a lot of money.
THAT BIG FELLOW you see in the photograph is Baxter. He's a giant schnauzer, a certified K-9 service dog trained for two years by his breeder and the German police. Baxter can do it all and helps Tricia immensely. He's one step ahead of most humans in terms of reading situations and anticipating danger. When we first got Baxter through the canine service—don't ask what he cost—he viewed a moving golf club as a weapon. On every swing, his tail would rise like a cobra, then go down again. Gradually, he's come to sense that my golf clubs are good things.
YOU SAW HOW WELL Phil Mickelson putted at the British Open. Well, I played with Phil, and I think he was a better putter then. Much better. In fact, I've seen them all over the past 40 years, and I don't think a better putter ever lived than the 20-year-old Phil. His heel-shafted Arnold Palmer putter was one of the great weapons in the history of putters. From six feet and in, he didn't miss.
BEST BALL-STRIKER I EVER SAW: Lee Trevino. Having said that, I played a round with David Duval and his father, Bob, back when David was the reigning U.S. Junior Amateur champion. It was 50 degrees and windy in Ponte Vedra, the kind of winter day where the golf ball doesn't go anywhere regardless of who's hitting it. But David's ball flew like it was a hot day in Phoenix. There was a character to it I haven't quite seen since. And then he got even better. Lee had more shots than David and was better through the bag, so he has the edge. But for pure majesty of ball flight, nobody I've seen has matched the young David Duval.
HERE'S HOW YOU SET PINS for an event at your club. I learned the system from P.J. Boatwright, the late USGA rules official who for 30 years was a genius at setting up U.S. Open courses. Find four sound hole locations on each green, then number them from 1 to 4 in ascending order of difficulty. Each day, make the sum of the hole-location numbers total 45—an average of 2½ on the difficulty rating. If it's a multi-day event, the sum of the final-day hole locations shouldn't be any higher one day than the others. Putt to the proposed spots from all angles, and make sure that even with wind, closer mowing heights and no water, the ball will stop within a reasonable proximity of the hole. Oh, and never cut a hole less than three paces from the edge of the green. It's that simple.
ON WEDNESDAY OF THE 1989 U.S. OPEN at Oak Hill, P.J. and I went out to mark hole locations for the championship's four days. The fifth and sixth greens had been redesigned by Tom Fazio, with spots that had a funneling, punch-bowl-like effect. On the sixth, a par 3, as I putted to the paint can P.J. had set down in one of these punch bowls, P.J. drawled through his pipe, "We might see a hole-in-one here." Well, on that Friday there were four: Jerry Pate, Nick Price, Mark Wiebe and Doug Weaver all made aces using a 7-iron. It was a remarkable thing that got a lot of good press. Secretly, though, I think P.J. regretted placing that dot there. He was a traditionalist and didn't like crazy things happening on his setups.
RULES OFFICIALS IN GOLF stand out in comparison to officials in other sports. You'll often see basketball referees and baseball umpires getting right up in players' faces, arguing with them and sometimes inciting them. It blows me away every time I see it, because the best golf officials never—and I mean never—get into a war of words with a player. They come on the scene and say, "How can I help you?" They make a big effort not to make someone who is on the verge of being penalized even more upset.
AFTER I WON the U.S. Mid-Amateur in 1988, the commissioner of the PGA Tour, Deane Beman, walked into my office and said, "I want you to practice, because you're playing in the Masters next year." He wanted the Mid-Amateur trophy displayed in the TPC Sawgrass clubhouse and was proud of it. He helped me arrange my schedule so I could work on my game while still doing my job. I think more employers should value having a good golfer around. It's good for business.
ON THE CHAMPIONS TOUR, only the player can ride in the cart. But until this year, either the player or his caddie could ride, one or the other. They could switch off. That led to what I called the "fake walk," a situation where certain players would ride to their balls on the fairway, then take their putters and walk to the green. It made them look more health-conscious and "golfy" on TV.
YOU CAN'T STOP HUMAN NATURE. On the Champions Tour, we have it made. Courtesy cars, free food, just unbelievable treatment. And what we do is, complain about the food in player dining. Even though it's almost always great, some weeks it will be slightly less incredible than the previous week. So we'll complain about the amount of mayonnaise in the seafood salad. Then we laugh about the fact we're complaining. Taking good things for granted—it's human nature to do that.
MARK MCNULTY and I won the 2011 Legends of Golf in a playoff over Kenny Perry and Scott Hoch. Mark is a great friend and heckuva player, especially with the putter. The victory pounded home again how you go about choosing a partner in a team event. You don't go for the best putter or longest driver. What you do is choose someone you like very much and want to spend four or five hours with.
AFTER CONTEMPLATING slow play during my long stints at the PGA Tour, in those endless meetings at the USGA and all the time since, I've concluded there is no solution. What people forget is that it's not a new problem. It's always been at crisis level. Jack Nicklaus was a slow player. Ben Hogan, by all accounts, was brutal. Dr. Cary Middlecoff, probably the best player of the 1950s, was terrible. The rounds in some pro events are taking longer now, but it's because of the distance between holes, enormous fields, and greens that are scary fast. So it's rough.