News
A longtime Golf Digest editor returns to the golf course where he fell in love with the game to say goodbye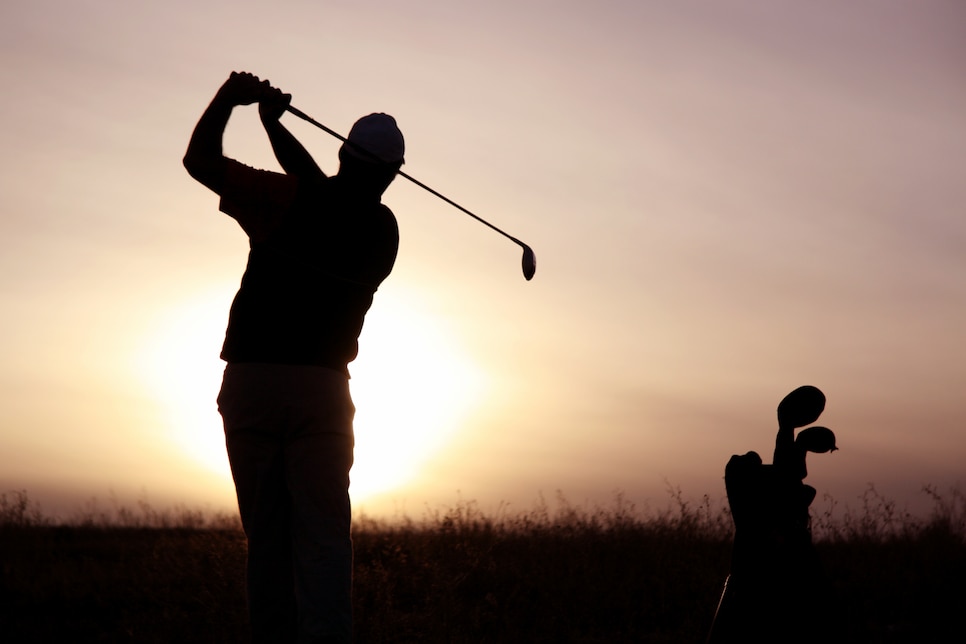 Editor's note: In celebration of Golf Digest's 70th anniversary, we're revisiting the best literature and journalism we've ever published. Each entry includes an introduction that celebrates the author or puts in context the story. Catch up on earlier installments.
Judging by the title of this essay, one might be surprised at the uplifting nature of the storyline. But to know the author is to appreciate the value of an optimistic life. Here we are two years after publication, in the middle of a pandemic lockdown, and I just Zoomed with John from his home in London, happily telling me about his time after golf, his brilliant 12-year-old daughter, Annie, his new love who lectures at a university in Canterbury, the painting he'd just completed of his 95-year-old father (shown below), the psychotherapy practice he started after getting a doctorate in his 50s, and the occasional long walks he still is able to take on good days. "Sometimes I look at my hand and I don't see a tremor," he says, brightening. "But then I look again and it's returned."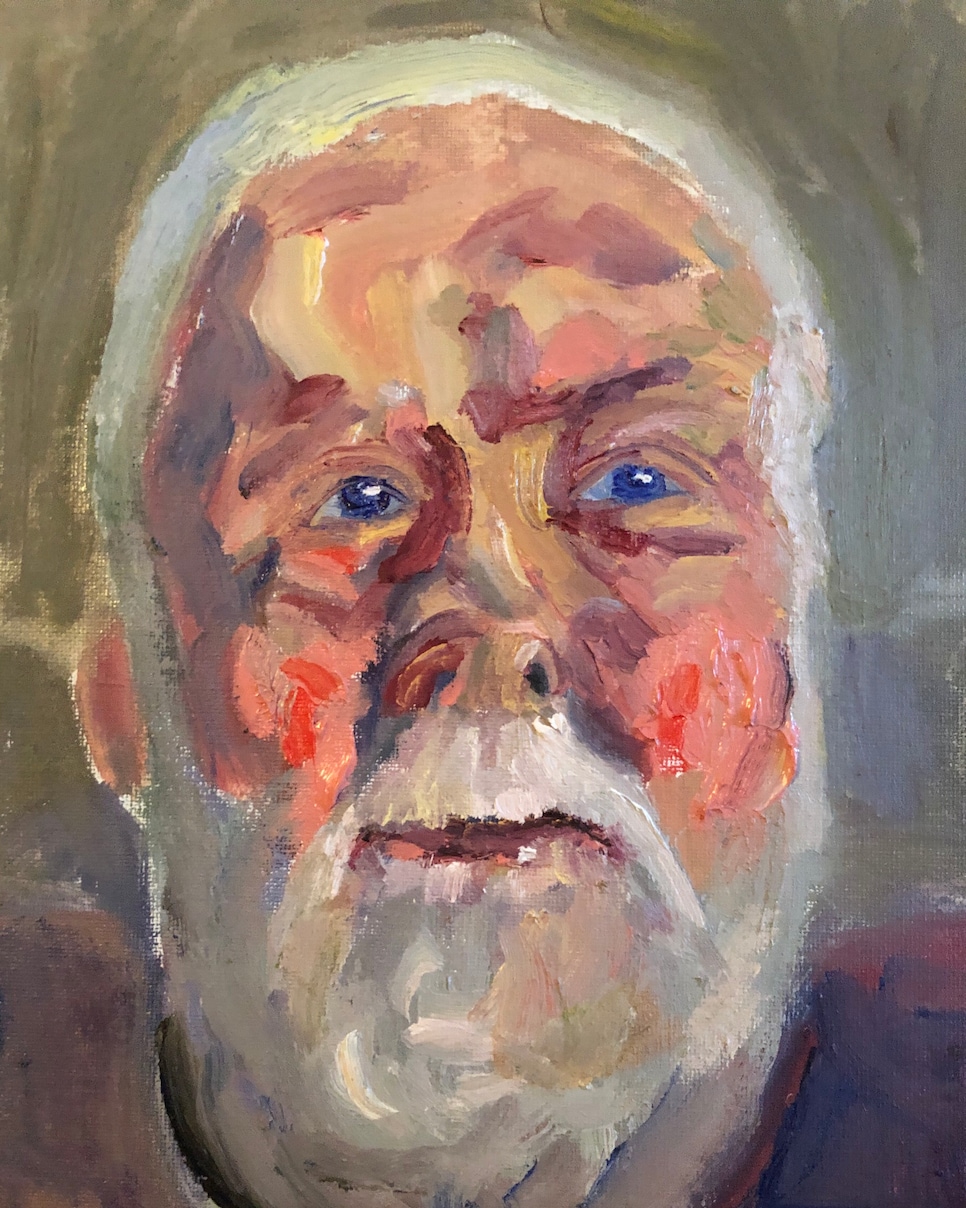 We first met when John was a staff writer for our British affiliate on the Isle of Dogs in London, and I lured him to come to Golf Digest in the U.S., where he wrote a variety of far-flung stories, ran our website, rose through the ranks to become executive editor, and eventually returned to England as a contributing editor. Every one of the pieces he ever wrote was special—from travelogues in North Korea, Moscow and Bhutan to an extraordinary profile of the cross-handed golfer Papwa Sewgolum in South Africa. Even a walking marathon for the benefit of Parkinson's could be raised to a new level by his amazing character.
John has always been incapable of doing anything ordinary, including this inspiring goodbye to golf that first appeared in May 2018. To which he added this postscript: "Golf had been such an important part of my life so I wanted to say a proper farewell. It's a kind of eulogy to the game. I had a bigger response to the story than anything else I have ever written —thousands of likes, shares, retweets and messages from far and wide, some of them very moving. Thanks for the memories." —Jerry Tarde
One Sunday morning this past December, in the pre-dawn winter half-light, I teed off alone at the Freshwater Bay Golf Club on the Isle of Wight, off England's south coast, for my last round of golf. I chose Freshwater to say goodbye to the game because it had been the scene of the first hello, in July 1976, when my father and I escaped from the doldrums of a family holiday one afternoon and retreated to the links where he used to play as a boy with his father.
The summer of '76 was what the Brits call a scorcher. Golf balls ricocheted off the baked, domed fairways of Freshwater, performing a series of antic bounces before disappearing into a gorse bush, or down a rabbit scrape, or coming to rest perfectly camouflaged in an outcrop of chalk stones.
On that day, we shared a set of antique clubs that had belonged to my late grandmother and hadn't been used in years. They were an assortment of unmatchable implements—hickory-shafted woods, mashies and niblicks, some irons with punch holes instead of grooves, and others with no markings on the face at all—awkwardly assembled in an ancient carry bag whose canvas hide was now petrified and brittle after decades of duty under an Indian sun, on the colonial fairways of Tingrai and Digboi, in Assam, where my father's father had managed a tea plantation during the closing chapters of the British empire.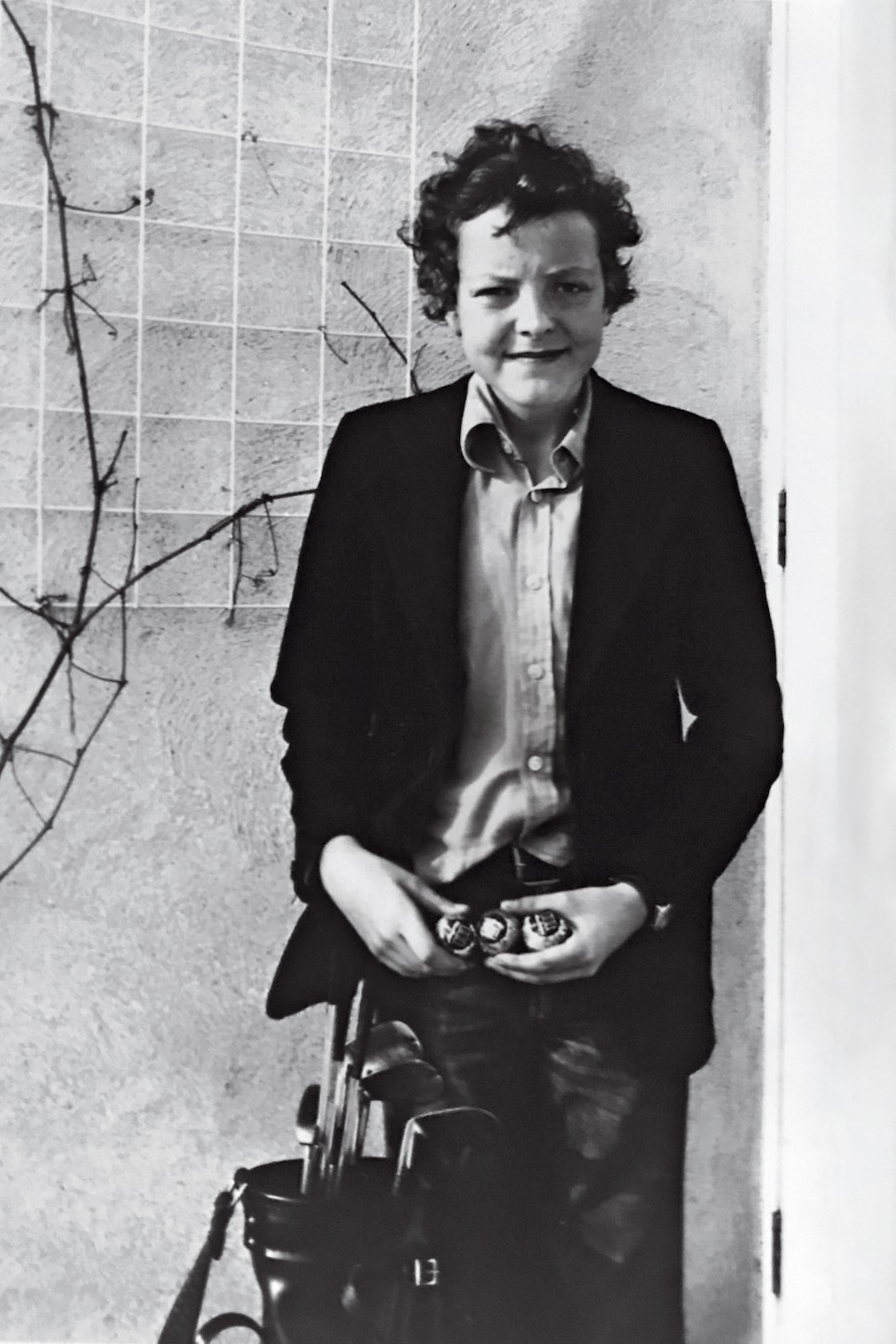 In the summer of '76, I'd just become a teenager and was gangly, loose-limbed and uncoordinated. I'd tried golf only once before, in a group lesson at school, hitting balls over the rugby fields. Dad hadn't played since the 1940s. He gave me a stroke a hole and won easily. A 13 at the devilish last hole gave me a score of 152. I was thrilled. I had arrived. I was a golfer.
There was precious little for teenagers to do in rural England in the 1970s. It was an irredeemably beige-tinted era of terrible TV, bland food and stifled emotion. There was no Internet. No connection. My three older siblings left home; I retreated to my bedroom, to books, music, daydreams. My heroes were all rebels.
Golf offered an antidote to adolescent angst. It got me out of the house, into fresh air and nature, and in the company of people. It became an escape from the escape, a place where I could find myself, even if I was often in the rough.
Each round would be meticulously recorded and analyzed in my bulging golf diaries, alongside commentary on golf news, course reviews and travelogues of family holidays that increasingly were dictated by golf. There were graphs of improvement over time, opinions of the latest golf books I had spent my pocket money on, and clippings written by great writers I would later get to know—Peter Dobereiner, Michael Williams, Frank Hannigan. The pages are filled with excitement and optimism.
There was sometimes disappointment, too. On March 12, 1978, after a lonely solo round that had to be aborted when I got caught in a storm at the far end of the course, my 14-year-old self wrote: "Why do I do it? I could have been sitting comfortably at home, but I chose to plod a couple of miles across sad, damp turf, soaked to the skin . . . the whole day was miserable."
Later that month, with a starter 36-handicap, I played in my first junior club competition, finishing last with a pitiable 12 Stableford points. I hated how nervous I was and how badly I played. But then I won the next competition: 102, net 66. First prize was three MacGregor golf balls, which in those days came individually wrapped in gold foil. They were like jewels.
The next week I broke 100 for the first time. That summer my dad and I traveled to St. Andrews to watch Jack Nicklaus win the Open—the first of many such trips—and in October, back at Freshwater, I broke 80. Soon I would get my name on a board at my home club for winning a tournament—it's there still. Golf is never more addictive than when you are young and imaginative and improving fast on a straight line that, if extrapolated, takes you to the final hole of some future Open where you tap in for victory, throw your ball to the crowd—you have of course rehearsed this—and make a tremendously witty, gracious and moving speech before an adoring nation. I wasn't quite able to live the dream—my handicap never got below 8. But there were other dreams. Golf gave me an identity, lifelong friends, countless hours and adventures with my dad, and a career, too.
In the line of duty for this magazine I played from Pebble Beach to Pine Valley, Mid Ocean to Mauna Kea. I played all 14 British Open venues past and present. I finished 3-3 at TPC Sawgrass. I broke 90 at Augusta National. I played a bump-and-run approach to the 18th green at St. Andrews that finished close enough to get some applause from the onlookers leaning on the fence. I made a hole-in-one at Turnberry. I holed a 3-wood on a par-5 closing hole in France in almost complete darkness for an albatross. Twice in my life I shot 74 on a full-size course, the second time, at Royal Blackheath, with an O.B. drive on the 17th. I hit a shot in Aberdovey, Wales, that made a cow literally jump in the air. I played at Royal Dornoch with a Japanese couple who spoke no English and who, at the far end of the course, in a fit of sheer exuberance, teed up a load of balls and blasted them into the sea. I caddied in the final of the British Amateur for my then-girlfriend, who lost, turned pro and promptly cheated on me.
I played in the Russian Amateur in Moscow the first year they let non-Russians play, shot 89-88 and finished 28th. I played in Pyongyang, winning what we jokingly called the first North Korean Open. I played Royal Thimphu in Bhutan, "the world's most remote golf course." I finished 38th in the Putt Putt U.S. Open.
I interviewed Annika Sorenstam in her hometown, Stockholm, and Fred Couples in his home in Texas. I saw each of the four majors that Tiger Woods won in a row. I asked Jack Nicklaus a dumb question. I asked Gary Player about his early support of apartheid. I got Gene Sarazen to sign a photo of himself. I met Henry Cotton. I wrote a golf book.
I spent seven hours straight interviewing Peter Alliss in the lobby of the Four Seasons Hotel in Dallas and had the feeling he'd have happily continued long into the night. I interviewed Condoleezza Rice in her office in Stanford and Donald Trump in his office in Trump Tower.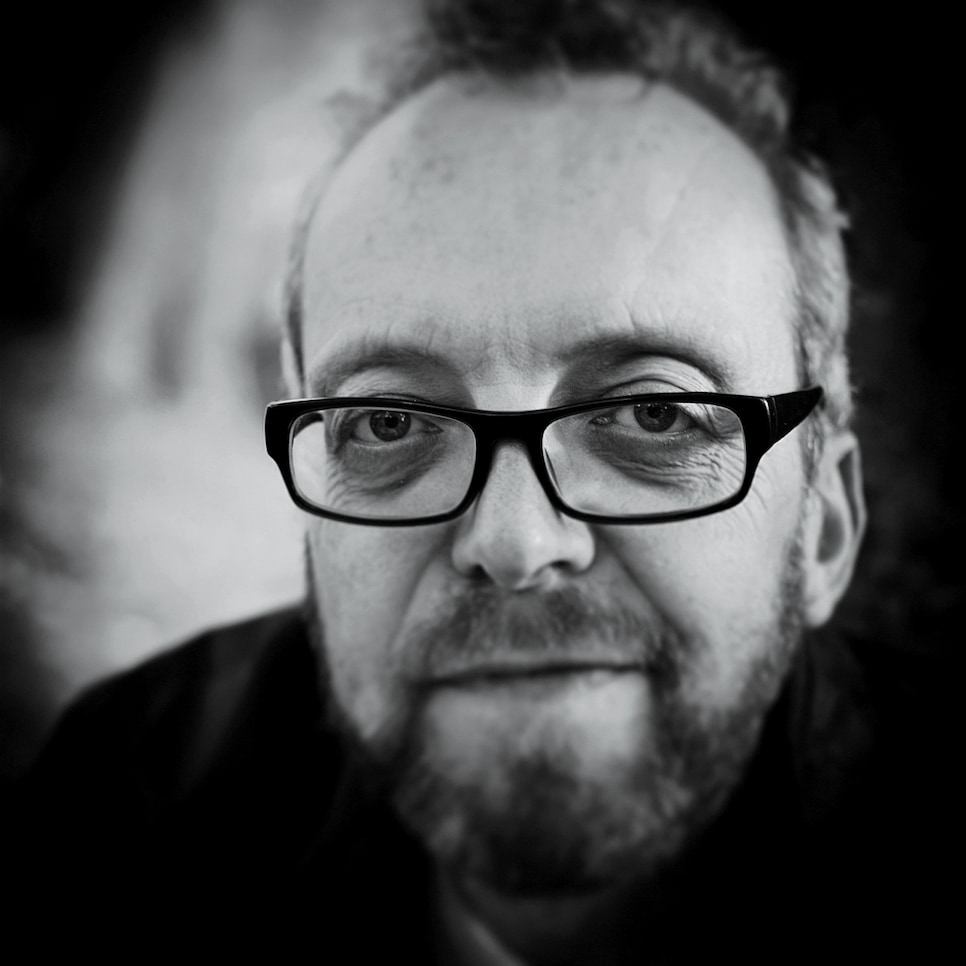 I underclubbed. I overswung. I left it short.
I shook Arnold Palmer's hand.
"The scan was abnormal," Dr. Edwards said. "The results are consistent with Parkinson's disease."
He had a gentle tone. He was smiling slightly as he delivered the verdict, kindly, as if to say, Hey, you know, this is going to be OK. He had an optimistic outlook on management, medications, prognosis, the race for a cure, life expectancy and living with Parkinson's. I walked home along indifferent London streets. I'd just turned 50 and felt like my life was over.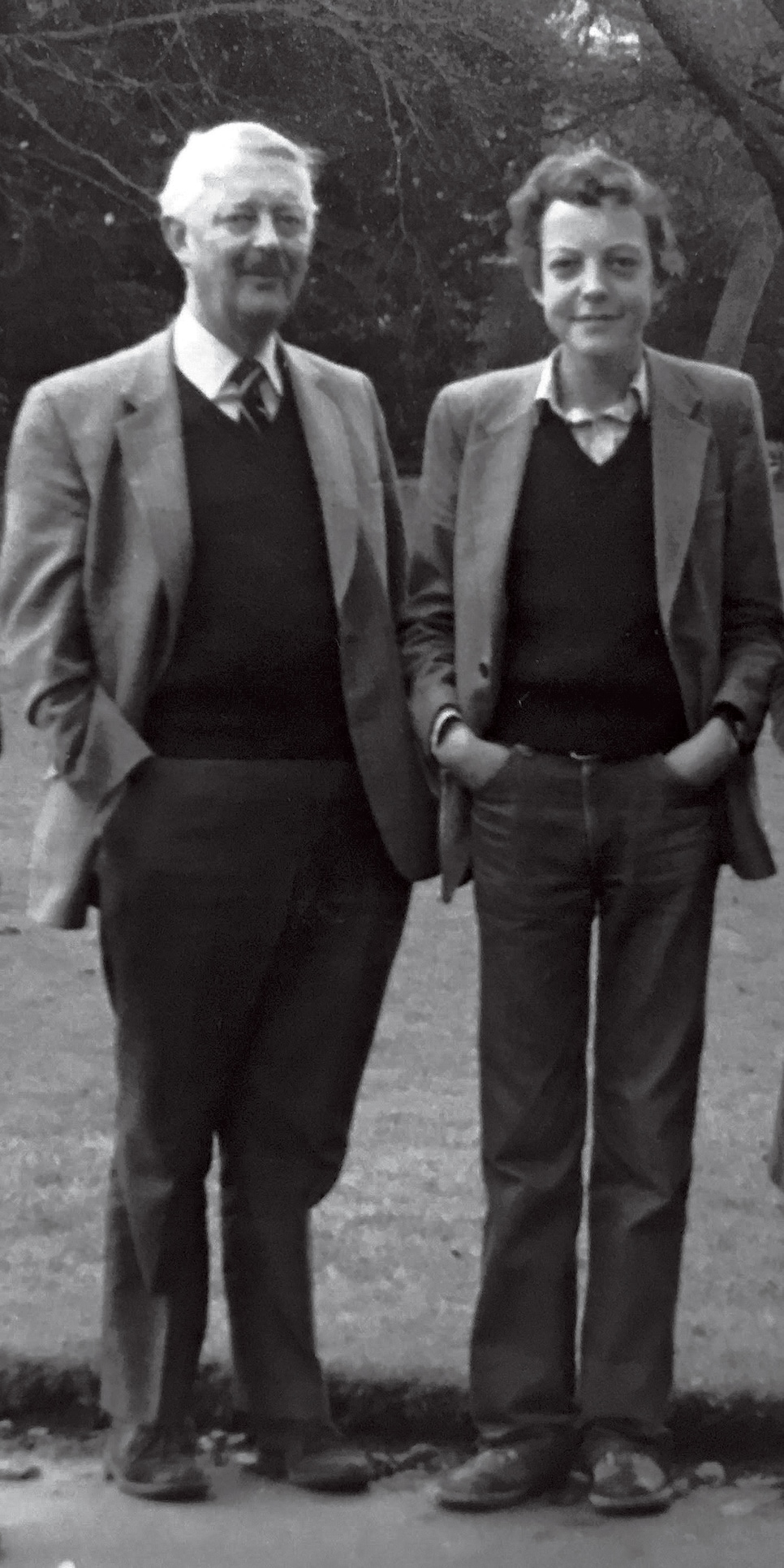 The diagnosis wasn't completely unexpected. For months, when I walked down the fairway, my left arm would feel deadened, hanging at my side like an inert slab of meat in a butcher's shop window. My left hand, by contrast, started to get livelier. It took to playing air guitar to a tune all its own, a violent melody that I couldn't hear. It convulsed my putting stroke.
I'd actually been struggling with golf for years. I have another unrelated neurological condition called Charcot-Marie-Tooth, which erodes the nerves of the feet, lower legs and hands. My downswing turned into a kind of flinch that would deliver a vicious pull-hook or a push-slice. Walking became a chore, like wading through sludge wearing lead boots on numb, wasted feet. Playing 18 holes got to be exhausting. Increasingly I asked that question again: "Why do I do it?"
Accepting loss is hard. In my work as a psychotherapist I meet all sorts of people who can't or won't. They cannot accept the death of a loved one, or a relationship, or a dream, or the image of the person they thought themselves to be. They cannot accept the troubled childhood they had, the life they have led, all the terrible things that have happened to them. Or, like King Lear, they cannot accept their mortality.
The poet Robin Morgan regards Parkinson's not as a diminishment but a distillation. Like a blind person whose other senses become heightened, constraints can facilitate growth, too. You can embrace time's harsh editing of your life, and live it. Old worn-out ideas, activities and relationships can be sloughed off, as can vanity, pretense and polite conversations about the weather. And so, in the same year I had to say goodbye to my mom and my marriage, I decided to say goodbye to golf, too.
A recurring dream: I'm walking down a road beside a chain-link fence. On the other side is an overgrown wasteland. But as I look more carefully, it's unmistakable—this used to be a golf course. I can make out the shape of what used to be a fairway, angled around a stand of trees, then rising to a distant ridge that cradled the green. A fine hole, now gone, leaving behind the ghosts of golfers and all the memories, conversations and friendships that happened here.
There's lots about golf that I don't miss, though. Its unashamed embrace of elitism, privilege and exclusion, for instance. Its chauvinistic belief in its own superiority; its history of prejudice and bigotry. I don't miss the reverence for top golfers past and present. They are like deities, lauded and richly rewarded wherever they go, because they are good at hitting a ball with a stick.
Three off the tee. The silly dress codes. Green blazers. Pedantry at all levels of officialdom. Press-room platitudes. Equipment bores. Perhaps most of all, I don't miss playing badly. Golf is a struggle; a long, slow game of extremely intermittent rewards, a hard game invented by hard men as a kind of penance. I play much better since I quit. The drives of ex-golfers bound down the middle; iron shots pull up close to the pin. I am so much better at delicate lobs over greenside bunkers now that I don't have to play them. I never miss a putt.
P.G. Wodehouse wrote: "He enjoys that perfect peace, that peace beyond all understanding, which comes to its maximum only to the man who has given up golf."
I was glad there was no one around to witness my last round of golf.
I hadn't played at all in two years, and not much in the years preceding that. It was cold. I opened 4-8-4. I was a 36-handicapper again. The ball might be stationary, but with Parkinson's, nothing else is.
Down the hill I could see a growing Sunday-morning congregation of locals by the first tee, and some stick figures already swiftly traversing the opening holes. I decided to put the scorecard away and treat the rest of the course like a buffet table. I skipped a few holes, played cross-country a bit, hit some shots I liked the look of and played others in my imagination.
The 12th hole is called Tennyson. From the tee, the highest point on the course, you can see all the poetry of the unspoiled western end of the island, including the next headland over, where for four decades Tennyson took his daily constitutional, writing verse in his head (sensibly forgoing the distraction of clubs, a ball and a scorecard). "I cannot rest from travel," he once wrote. "I will drink life to the lees."
I called my dad and told him where I was. Many golfers have a special relationship with their fathers because of all the time they've spent playing together. My dad wasn't a good golfer but managed to pull off many miraculous shots, ridiculous hole-outs and, assisted by some extremely fortuitous bounces of the kind that often seemed to favor him, what might be the worst hole-in-one in history.
A lifelong fan of Kipling, he always managed to treat the two imposters—good shots and bad shots—the same. "You forget the bad ones anyway," he said. He's 93 and in a care home, bereft—my mom died in July; their 63rd wedding anniversary was their last day together—but always upbeat, generous, engaged with life. A gentleman.
Goodbyes are never really final. People die, walk out the door, or get on a plane to Paris leaving Humphrey Bogart behind. You can let the loved one go but keep the love. I thanked Dad for all the golfing good times we'd shared. Then I hung up and hit a proper, booming drive down the 12th.
I made my last par. Then I walked off the course.