News
Regrets? They've had a few
Golf's biggest names + personalities open up about the mulligans they'd love to have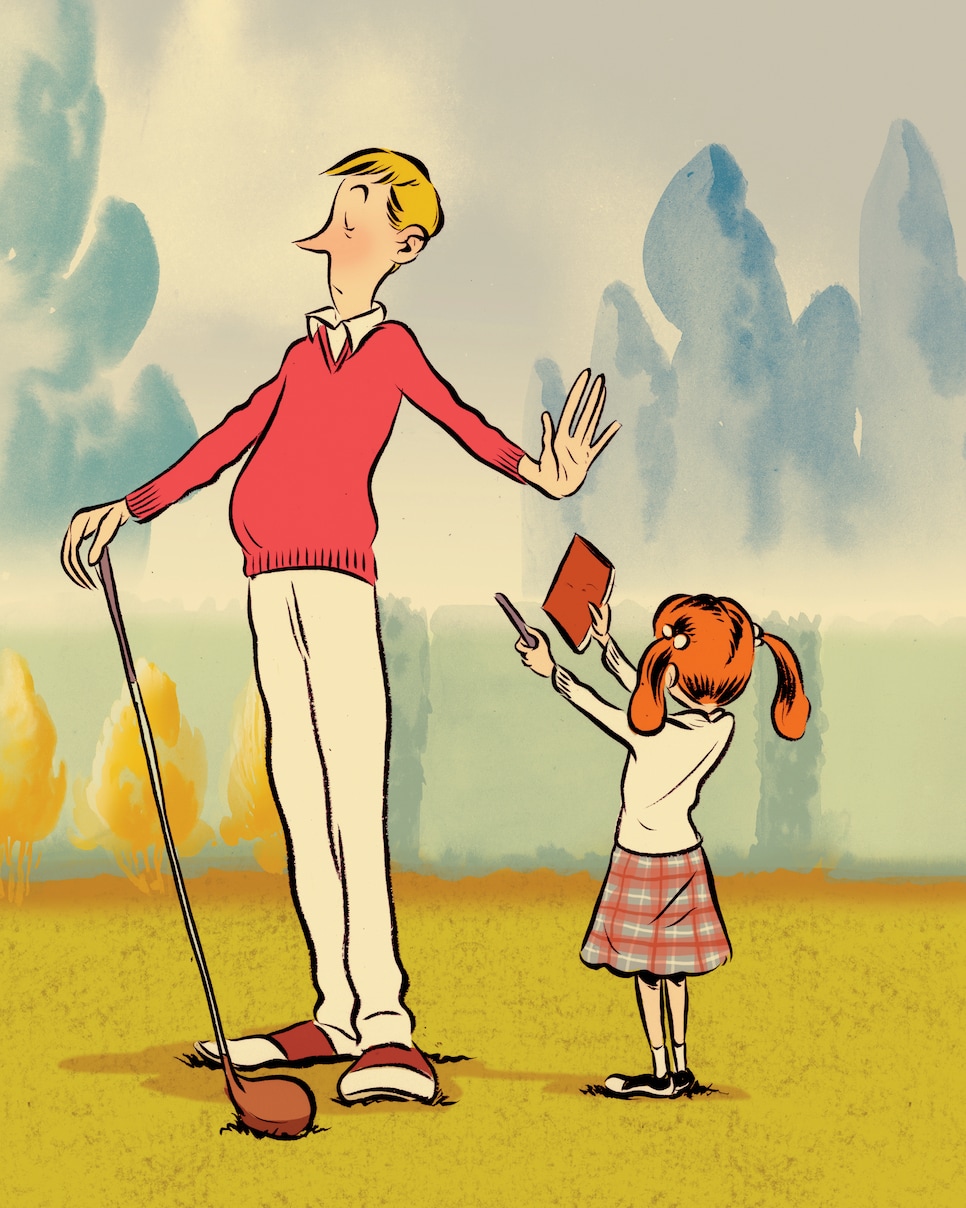 Photo By: 2001 SNOWBOUND, ALL RIGHTS RESERVED
Remember that time on the first hole when, in front of a crowd of onlookers, you dribbled it off the tee? Or that inexplicable shank into the bushes that wrecked your card? Or that pitiful missed tap-in on the last hole that would have brought you all the glory? Off the course, too. So many poor choices. The big investment you made that tanked. The nightmare you dated--or married. The dumb or hurtful thing that you said or did. The bad advice you took, the good advice you ignored, that moment you were in the wrong place at just the wrong time. If only you could do it again. Take a mulligan. Hit the rewind button. Live life better.
Well, you can't. Screw-ups are part of the game. We're human, so we forgive ourselves, we forgive others, and then we move on. But if we never reflect on our mistakes, we can't learn from them, in which case we risk making them all over again. So, in the spirit of catharsis, we asked all kinds of people in golf the simple question: If you could have a mulligan, what would it be? Some had specific shots from long ago that they would love to take another swing at. Some told us deeply personal mistakes that they'd made away from the golf course. Some offered great insight and wisdom. Some just didn't want to go there and walked away. Tiger Woods stayed silent. What follows is a collection of the best mulligans.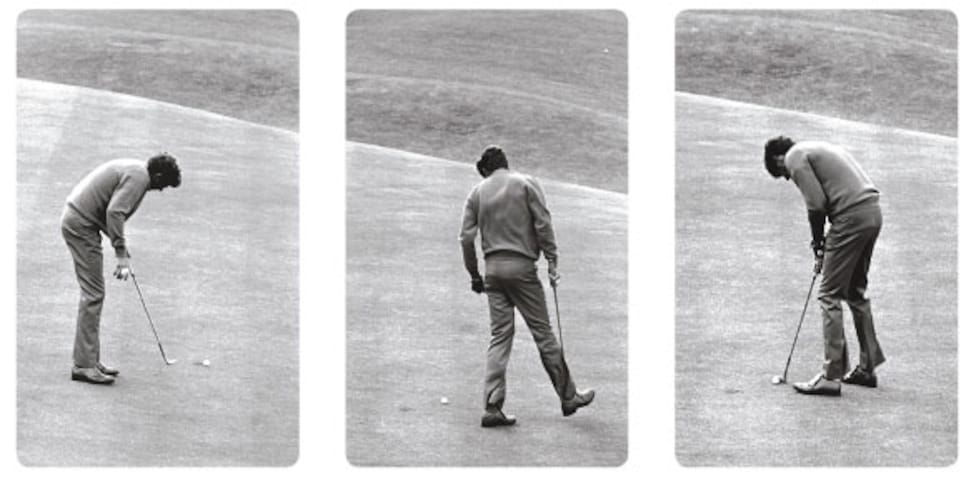 It's the most infamous miss in golf: Sanders had a three-footer to win the 1970 British Open at St. Andrews.
It feels like it happened yesterday. Missing that putt cost me $200 million, maybe more. I could have had the biggest clothing line in the world. I could have designed golf courses.
Because I missed, I wound up in a playoff with [Jack] Nicklaus, which I lost. The problem with the putt was, I didn't get set. I was playing with Trevino and had lagged it up inside Lee and couldn't decide whether to finish or let him putt. I decided to putt, but I have Lee's putt in the back of my mind. Then, standing over the ball, I see what looks like a speck of dirt on my line. I bend over for a closer look, and it's only a piece of burned-out grass. So now I'm distracted. I didn't step away like I should have.
Like I say, I think about it every day. Sometimes five times a day. If it had gone in, I would have been set for life instead of still trying to make a living.
The 57-year-old Aussie, a two-time British Open winner, spent much of his playing career as World No. 1 before enjoying success with a variety of businesses. Regrets? Hitting driver on the last playoff hole in the 1989 British Open at Troon? Marrying Chris Evert? Or, more likely, those crushing near-misses in the Masters: 23 appearances, eight top 5s, no wins.
Second shot into 18 Sunday, 1986 Masters. I tried to back off a 4-iron instead of hitting a hard 5. I think my yardage was 187. I was swinging so well and so aggressively through the ball all day, but on this shot my weight was back, and I stayed on my right side and fanned it out. I knew just before impact. You try to make the correction with your hands, but it's too late. [Norman finished one shot back of Jack Nicklaus, who won his sixth Masters at age 46.]
The Frenchman had a three-shot lead with a hole to play in the 1999 British Open at Carnoustie. He made a 7--we all remember him standing barefoot in the Barry Burn, his pants rolled up, hands on hips--and lost in a playoff.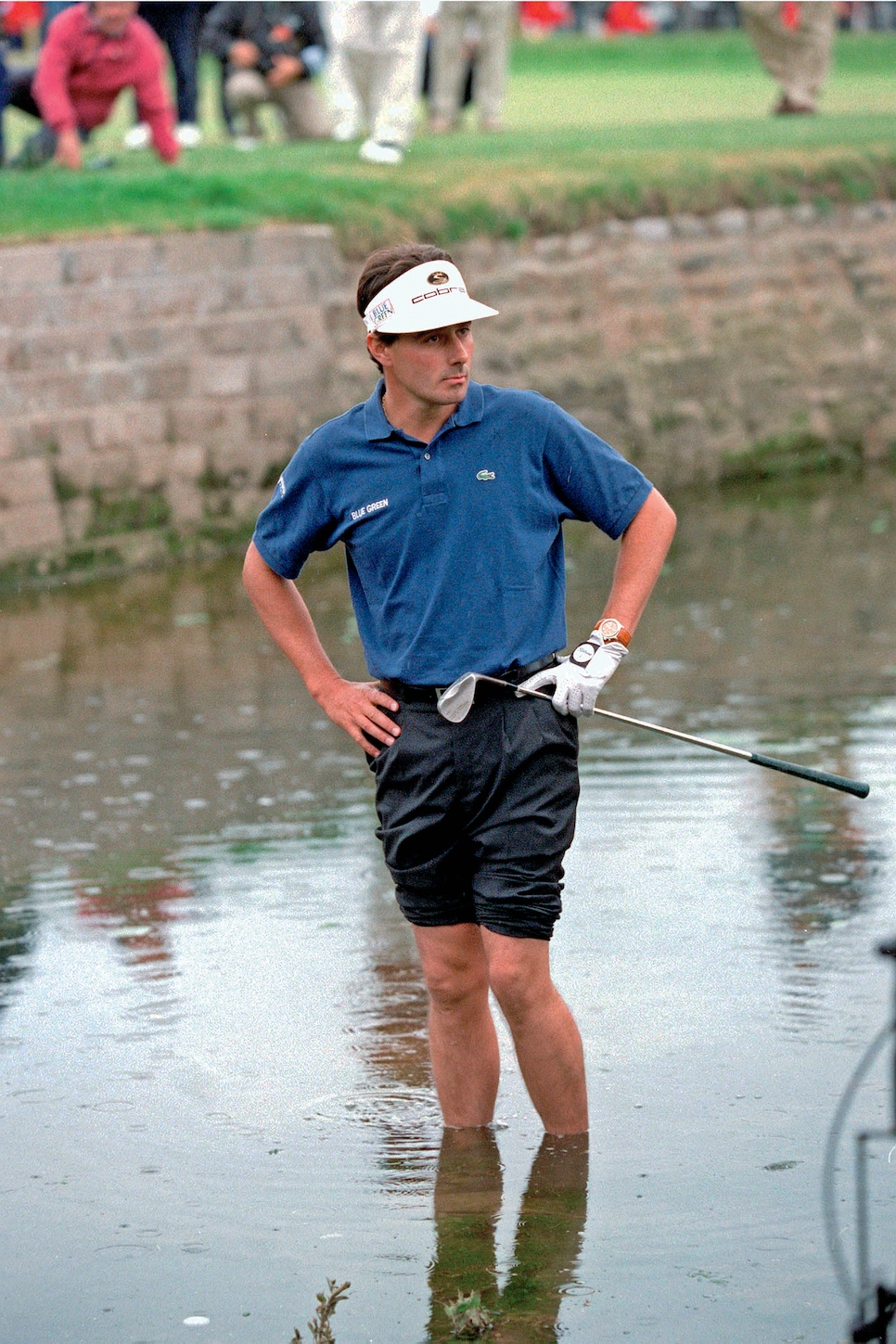 I'd like to play my third shot again on the last hole of the 1999 Open at Carnoustie. I was unlucky with my second shot. Johnny Miller said it was the first time a grandstand had cost a player a championship. [The ball ricocheted backward into thick rough.] Ten yards right of the green was not such a bad place, so I have no regrets about that shot. But the third shot I'd replay. I wouldn't try to go forward; I'd instead play sideways to the fairway. That would have been difficult but easier than trying to do what I did. [Van de Velde hit his third shot into the Barry Burn, took a drop, pitched into a greenside bunker and got up and down to make the playoff.] Even if I had missed the fairway playing sideways, I was likely to have a better lie and angle for my next shot. Things were going very quickly, and I wish I could go back and think about it again.
Now a TV announcer, Strange was one of the best players in the world in the late 1980s when he topped the PGA Tour money list three times and won back-to-back U.S. Opens.
We all make mistakes in life. We all wish we could take some of them back. You do what you think is the right thing at the time. The mistakes are likely emotionally driven and too quickly made. Knowing what I know now, and seeing what I've seen doing TV, I would try harder with fans. I would try harder on the golf course, smile a little more. Could I have done it? I don't know, but I certainly could have tried. Be more patient with people and smile, not for my image, but for them and the game. For the right reasons. That would be it. I've admitted it.
Wee Woosie from Wales, the 54-year-old former World No. 1 and 1991 Masters champion, has one moment that still really hurts. It was when his caddie uttered these words: "You're going to go ballistic."
I don't even have to think about that. I'd take a look in my bag before the last round of the 2001 Open at Royal Lytham. If I'd done that, I'd have seen the extra driver. It was unfortunate that the first hole is a par 3, and I didn't need my driver off the tee. But that's how it goes. [Woosnam had been trying two drivers on the range, and both ended up in his bag. His caddie, Miles Byrne, didn't notice until the second tee. Woosie incurred a two-stroke penalty and finished T-3, four shots behind David Duval.]
The 63-year-old won three times on the PGA Tour and 13 times on the Champions Tour. He spent a year in prison from 2010 to 2011 for failure to pay $1.6 million in taxes.
Everyone wants a mulligan in life. I'm no different. There are areas I'd like to change--like trusting people I shouldn't have trusted or not spending more quality time with family. The difference as I see it now is that I wouldn't take the mulligan. Though it seems life would've turned out better if I'd done something different, I'd certainly have lost the lessons gained from my mistakes. In casual play, mulligans are allowed only on the first tee, and you get just one a round. Life is no different. My life journey has allowed me to refocus and prioritize. I now realize how important my wife and family are to me and how life lessons tend to shape our destiny. So I wouldn't take a mulligan. We learn from our experiences so we can become better people.
Golf's best-ever player, with 18 professional majors, turned 72 in January.
Tom Watson's chip-in on the 17th at Pebble in 1982, I want a mulligan on that one--for Tom! Can we give him a mulligan? Seriously, the only thing I wish I had finished but didn't was college. Not getting my degree at Ohio State didn't have a significant effect on my life; it was more in my head than anything. In the end I had enough hours, but not enough hours in my major.
As it relates to golf, I find a few regrets, but nothing I'd really want a mulligan on. The mistakes I made, I learned from them. The short putt I missed at the 1960 U.S. Open because of a ball mark on my line, that was disappointing, but in the long run it was better to have lost and learned than won and learned nothing. At the 1963 British Open at Lytham & St. Annes, I bogeyed the last two holes to miss the Bob Charles-Phil Rodgers playoff by a shot. I was probably better off not winning, again, because of the learning experience. Those bogeys were useful for me in my career.
The Argentine legend, 89, infamously signed for an incorrect score that took him out of a playoff with Bob Goalby during the 1968 Masters.
Many people will assume my biggest regret is the 1968 Masters. But that incident gave me much more than it ever took from me.
When I think of a stroke I could do over, my mind always goes back to the 1957 U.S. Open at Inverness. I started the final round strongly, turning in one-under-par 33. As I prepared to play the 10th hole, a 400-yard par 4, I was told I was leading by one stroke. After a good drive, I put my approach three feet from the hole. But my ball had left a large pitch mark directly on my line. In those days, the rules didn't allow players to repair pitch marks before putting. [The rule was changed in 1960.] My only chance to hole the birdie was to try to slide my wedge under the ball and flip it over the pitch mark. It was a delicate shot, I was nervous, and I caught the ball a little too hard. It rolled another three feet past, and now I was very nervous. I missed the return putt. My lead was gone, and so were my concentration and confidence. I shot 43 on the back nine and tied for eighth. I had many sleepless nights over that 10th hole at Inverness.
The American-based, British-born bon viveur's career as a distinguished broadcaster and writer came crashing down after an interview in 1995 with journalist Valerie Helmbreck. Wright made disparaging comments about women and golf: "Lesbians in the sport hurt women's golf"; "Women are handicapped by having boobs." In the ensuing he-said/she-said firestorm, Wright was backed by his employer of 23 years, CBS. Then it emerged that Helmbreck was right.
If I had a mulligan, I'd use it on a second chance with CBS. I regret the entire thing. It was supposed to be off the record [Helmbreck stood by her reporting], but I shouldn't have made the comments. It was my fault, really. I had been warned by others about [Helmbreck]. They warned me not to talk to her, that I was being set up. [Eight months later CBS banished Wright as a golf analyst and paid him for the remaining four years of his contract.] I must say I'm at peace now. I've got a relatively new [fifth] wife and a couple of dogs. I recently won the member-member at my club. I'm 79 and at a good place in my life.
The 54-year-old Englishman has three Masters titles and three British Opens (and three marriages). Before becoming a TV announcer, he'd like to have seen his playing career go out with a bang.
My moment is the 15th tee at Royal St. George's for the 2003 British Open. Before the tournament, with [fourth child] Emma about to be born in a few days, I was thinking that I hadn't been playing well. I thought if I could win again, I'd be tempted to call it a day, to go out on a high. I'm nine over coming down the 17th on Friday, hit a great 5-iron out of the hay, and made birdie to make the cut. I'm thinking, If I can shoot 67 tomorrow, I've got a chance. The next day I'm four under [67]. I'm going like a train, and [on Sunday, after a birdie at 5, an eagle at 7 and birdies at 11 and 14] I'm back to level par. I'm thinking I have a shot. On the 15th tee, I look at the leader board and see Ben Curtis at five under and think, After all of that I'm still five back. That dented my concentration. I'm thinking, I can't do it now. So I went bogey-bogey-bogey. I wish I hadn't reacted that way. As we know, [Curtis] gets in and wins at one under. If I could have got to two under, I could have had a great last day.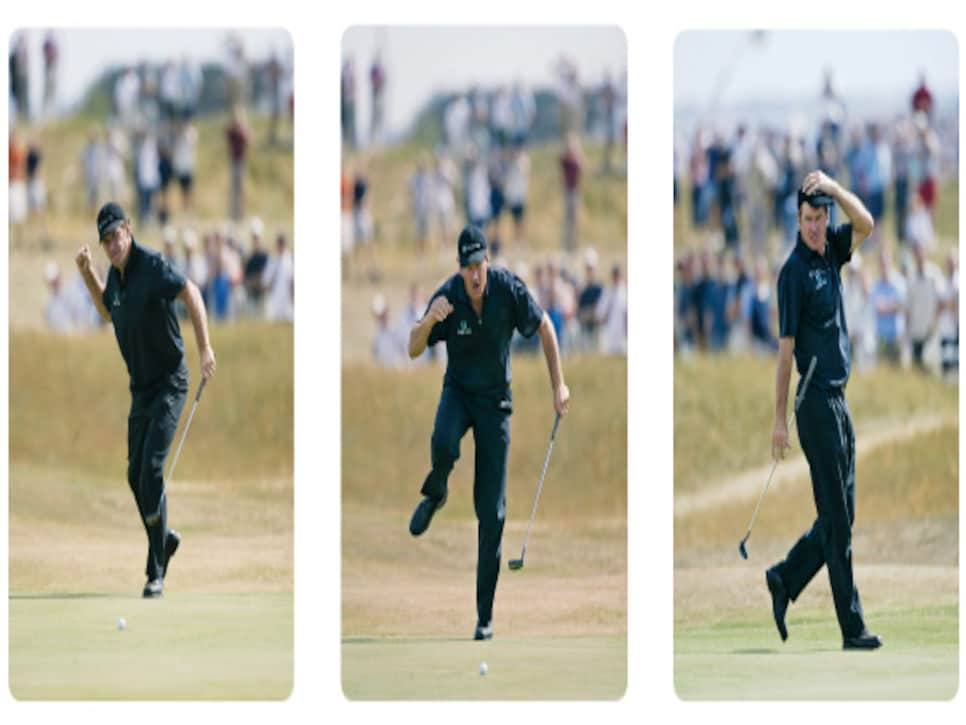 The big-hitting lefty threw away the 2010 PGA Championship after dunking his approach in the water on the last hole of the playoff.
I don't believe in mulligans, so I play it wherever it lies, you know. If it goes in the water, it goes in the water. No re-dos. You learn from your mistakes.
The King, golf's first and most enduring superstar, is still troubled by an incident that took place more than half a century ago.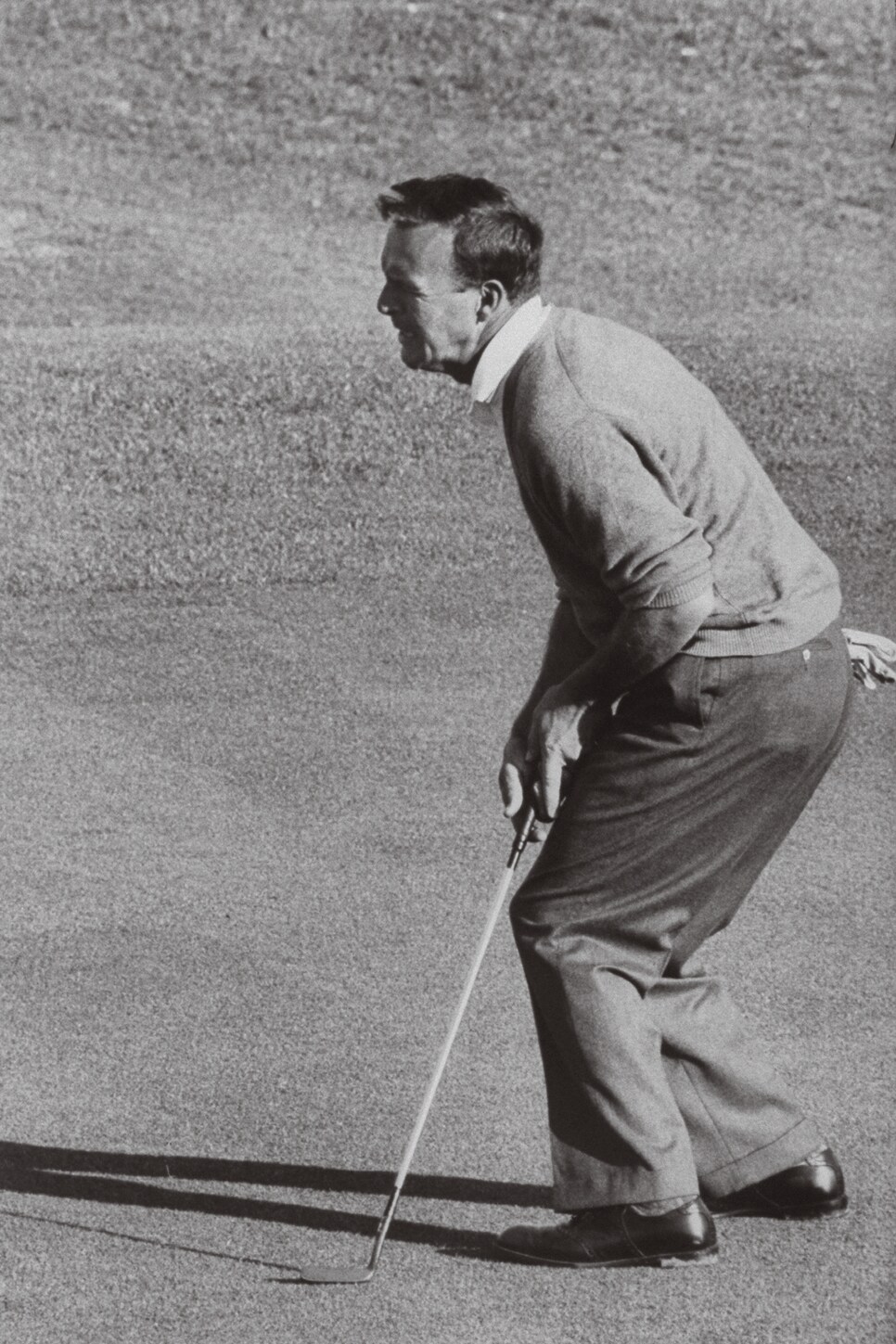 Not far from the fairway bunkers on the 18th hole at Augusta National is a spot that brings back my most painful golf memory every time I walk by it. When I play with young people, I point it out, as a lesson and a warning. It's the scene of a tragic mistake, one that cost me the 1961 Masters.
I walked off the tee on the 18th that year with a one-stroke lead over Gary Player. My ball was in the fairway, I was playing very well and had won the Masters twice already. I was feeling confident--too confident. Before I got to my ball, I looked to my left and saw my old friend George Low. I walked over to the ropes to say hello. "Nice going, boy," George said. "You won it."
When I got to my ball, I was thinking about everything except the shot I had to play. I let my guard down and hit the ball in the right-hand bunker. I played that sand shot too quickly, hit beyond the green and down a slope. I pitched poorly coming back, then missed the putt for bogey. Gary beat me by one. It was sudden, and so shocking.
Afterward, when I got in my car to leave, I was so mad I slammed my golf shoes onto the seat and dented a beautiful silver cigarette case that [Augusta National chairman] Clifford Roberts had given to the players' wives a few days earlier.
Losing at the U.S. Open at Olympic in 1966 was disappointing, but that was because of a series of small things--a couple of errant tee shots and a few missed putts. [Palmer was seven strokes ahead of playing partner Billy Casper with nine holes to go and lost in a playoff.] But the 1961 Masters, that was a mental error that went against everything my father had taught me about playing competitive golf. If I had it to do over again, I can assure you I wouldn't repeat that mistake.
I still have that cigarette case, by the way. It sits on my desk at my office in Latrobe. A reminder of things, both good and bad.
The Englishman has won twice on the PGA Tour and 21 times on the European Tour. He has 12 top-10 finishes in major championships but as of yet no victories.
If I had a choice, I'd have had my tonsils out sooner than I did. They bothered me off and on for ages until I had them out three years ago. Maybe six times every year I'd be running a temperature, have a really sore throat and feel like crap. Sometimes it was so bad I'd have to withdraw from events. I put it off because I was a bit chicken to have an operation. But now I'm glad I had it done.
The shot I'd like to have over is my first putt on the 18th green at Turnberry during the final round of the 2009 Open. I thought I had to hole it to tie after looking back and seeing Tom Watson hit the fairway behind me. I assumed he'd make a par, and that meant I needed a birdie. So I gave it a go and knocked it 10 feet past. Then I missed the next one. Of course, knowing what I know now--that Tom didn't make a 4--I'd have hit that first putt a lot softer.
During her first full season on the LPGA Tour, in 1978, at age 21, Lopez won nine tournaments, including five in a row. She followed that with another eight wins in 1979. She would go on to win 48 times.
Never winning the U.S. Women's Open was devastating. I finished second four times. The first year I played it [as a pro], in 1977, my pants didn't cooperate on Sunday. In those days we always wore our shirts tucked in--never thought about pulling them out--and my pants had a broken zipper. Every time I bent down to read a putt, I could feel the zipper start to open. It was difficult to concentrate because I was so worried about my pants flying open. Did it cost me the win? You never know. I played well, but I wasn't focused, and in the U.S. Open, you have to focus. Hazeltine's greens were difficult to read, and I couldn't quite get all the way down to read them correctly. I probably would have made a few more putts if my zipper hadn't been broken. [Lopez finished two strokes behind.] I was young and felt like I had a lot of U.S. Opens ahead of me that I would be able to win. Of course, I never did.
My last second-place finish, when I lost by one stroke to Alison Nicholas at Pumpkin Ridge in 1997, was the toughest. That one stayed with me for a long time. I cried every time I read about it. I'd focused on that U.S. Open more than any before it, because I knew it was likely my last effort to win one. I really thought I could beat Alison. When I missed that putt on the last hole to have a chance to go into a playoff, I was devastated. I played great; she played better.
The 48-year-old Scot has topped the European Tour money list a record eight times and is a regular Ryder Cup hero. But he has never won in America, and he has never won a major. Monty does have five runner-up finishes, his most painful one at the 2006 U.S. Open at Winged Foot where he made a double bogey at the final hole to finish one stroke back.
It's immediate, what I would go for. The one shot I'd retake in my golfing career. The club was right, the 7-iron. I just completely duffed it. Let's not get away from the fact I duffed it. I'm convinced that if I were to stand up in real time, the time I normally would take, which is pretty quick, I'd have won. You couldn't have placed my drive any better. But I definitely didn't win anything for my second shot. I'm convinced that if my playing partner, Vijay Singh, had hit the fairway, farther down than I did, so it was my shot first, I'd have won. But he pull-hooked it into a tent. He took one drop, two drops. It took him about eight minutes. Fine. Your mind is being thrown around and helter-skeltered and roller-coastered. I had the 7-iron out, then I had the 6-iron, then I went back to the 7-iron. All I had to do was hit it to the center of the green. It was bread-and-butter stuff. My mind was haywire. I'd tried to win a major for 20 years. I didn't get to the top of the backswing, unfortunately. I was far too quick, and I caught the ball heavy and off the toe, and it went into Position Z. It was just dead, and that was it. I could have played out of turn. Nobody would have remembered that I played out of turn. They would have remembered that I won the U.S. Open. In the other majors that I came close to, somebody did something better than I did. Steve Elkington and Ernie Els twice, and Tiger: Whatever, great, fine, hands up, well played, walk off. But this was my fault, and this is why it hurts.
The Hall of Famer caused controversy as U.S. Solheim Cup captain in 2000, in Scotland: Annika Sorenstam holed out a chip shot in a best-ball match, and Bradley famously made her replay it because Sorenstam had played out of turn. The decision was widely criticized as unsportsmanlike.
Idon't regret making that call at all. I was picked to do a job, and my players needed my help. I elected to honor the rules of the game. I walked away with my head held high. It was a difficult and disappointing time, but I know the people who supported me through it, and I'm extremely grateful.
With 54 second-place finishes on the LPGA Tour, I'd love to have dozens of mulligans. But when I look back at the total package, I really don't have many. One thing I do regret is the fear with which I played for all those years. It was difficult for me to embrace the atmosphere of the tour and find the confidence I needed. I died a thousand deaths each time I walked to that first tee, and it took a lot out of me. When I was done with a round, I'd go straight to the locker room. I just had to get out of the spotlight. I played out of the fear of failure, not the joy of success. It never went away, so in a way, it was a huge relief when I retired. But now that I have more perspective, I wish I could go back and play with a new attitude.
I'm so grateful for the Legends Tour. It's given me a second chance to get to know some incredible women. They've welcomed me warmly when any one of them could've said: "Listen, Bradley, take a hike. You didn't recognize me when we played on tour, why should I give you the time of day now?" I didn't get to know them because I didn't open up to people. I wish I had.
The 62-year-old would have won a record-tying sixth British Open in 2009 (at age 59 at Turnberry) had he gotten up and down from the back of the final green. But the killer-blow to Watson's Hall of Fame career occurred 25 years before that.
My mulligan would be the 2-iron that I hit into the 17th green in the 1984 British Open. The shot I tried to play was risky, but it was determined by the lie. The ball was on an upslope, so chasing it in low wasn't an option. I was into a wind, and I had 195 yards to the flag. I tried to hit a 2-iron in the air and have it land softly on the green. I pushed it 30 yards right of where I was trying to hit it. [The ball came to rest beside the stone wall of the famous Road Hole.] It didn't cost me the championship, but it didn't give me a chance to tie going to the last hole, where Seve [Ballesteros] made birdie. Today I'd take a 3-iron and hit it low off the upslope, which I can do now, and chase it in there more. That was the shot to play.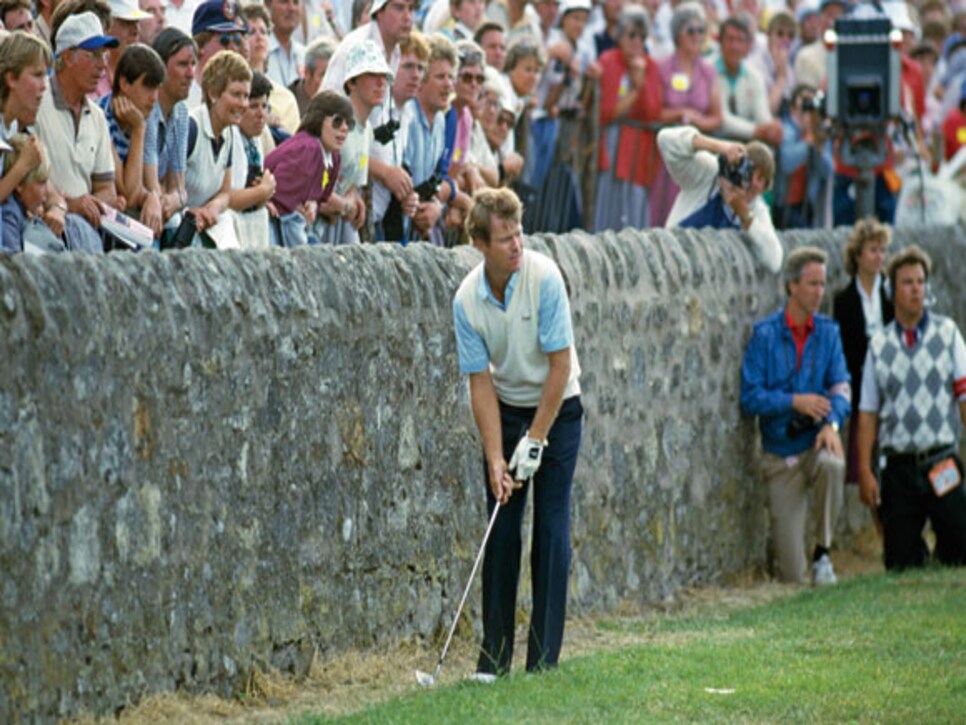 The women's World No. 1 is the youngest golfer, male or female, to win five pro majors. She turned 23 in January.
I was the defending champion at the 2011 Kraft Nabisco Championship, the first major of the year, and I had a two-shot lead going into the final round. The winner's trophy was sitting on a table on the first tee, and I walked over and lifted it into the air, as if I had already won it. I shot 74 and finished second by three strokes. At the next major, the LPGA Championship, I had a bigger lead going into the final round, and the trophy was again on the tee. I didn't even look at it, shot a 66 and won by 10 strokes. I learned the tournament isn't over until you have played all the holes and that you can't let your mind jump forward in time.
The prodigiously talented Mexican-American won six majors but never performed well in the Masters.
I've always wondered what I would've accomplished if I'd grown up with a more conventional swing. Because of the public courses I played in Texas, I learned to be a "shover" and a fader. I had a strong right-hand grip, and I pushed the ball out there. The strength of that was, I didn't turn the clubface over and couldn't miss it left. I could hit it solid, and I could control my trajectory. My swing was choke-proof. The downside was not having tremendous power and not being able to hit the ball high. If I'd grown up with a swing more like Jack Nicklaus', it would've brought more courses into play for me. But on the other hand, maybe I wouldn't have done as well in the wind or when the courses were firm. So it's not a big regret, but I do wonder what might have been. I'm talking to you on my cellphone from my back yard. I'm out here cutting down a tree. If I'd grown up somewhere other than Texas and learned the game another way, I might not be cutting down this tree. Maybe I'd be richer, and I'd have more guys out here helping me.
The globe-trotting South African legend, nine times a major champion, has won 165 tournaments over six decades on six continents.
I'd like to have had a life where I could have spent more time with my children and grandchildren. I've lived almost my entire life traveling the world. The life of a professional golfer--a truly international golfer, especially--isn't conducive to family life. You're a gypsy, really. It's a regret, but I'm not sure it's a mulligan, because I grew up a poor boy and was so thankful for the opportunities golf gave me. You must remember, you can't have it all.
The fallen idol must surely be full of regret over the cavalcade of cocktail waitresses, hostesses, porn stars and models that derailed his marriage, his public image and his golf game. If he had the chance to do it (or them) all again, would he? Could he? We'll probably never know. Through his agent, Woods declined to contribute to this article. We turn instead to his public apology in February 2010.
I want to say to each of you, simply, and directly, I am deeply sorry for my irresponsible and selfish behavior I engaged in ... I have let you down. I have let down my fans. For many of you, especially my friends, my behavior has been a personal disappointment ... I know I have bitterly disappointed all of you. I have made you question who I am and how I have done the things I did. I am embarrassed that I have put you in this position. For all that I have done, I am so sorry. I have a lot to atone for ... I was unfaithful. I had affairs. I cheated. What I did is not acceptable. And I am the only person to blame. I stopped living by the core values that I was taught to believe in. I knew my actions were wrong. But I convinced myself that normal rules didn't apply. I never thought about who I was hurting. Instead, I thought only about myself ... I brought this shame on myself. I hurt my wife, my kids, my mother, my wife's family, my friends, my foundation, and kids all around the world who admired me ... I ask you to find room in your hearts to one day believe in me again. Thank you.
The athletic, loose-limbed big hitter could have won two majors in 2010. He led the U.S. Open at Pebble Beach by three shots after three rounds but butchered the second hole on Sunday and shot 82. Then on the last hole of the PGA Championship, apparently not realizing he was in a bunker, he grounded his club, incurring a two-stroke penalty that kept him out of the playoff.
At the U.S. Open at Pebble, I'd like the shot from the fairway on No. 2 back. I mean, I'm standing in the fairway with a wedge after a perfect drive. I'm looking to get it close and have a shot at bird and instead I'm walking off with a 7. On 18 at the PGA, I wouldn't ground my club, and I wouldn't get a penalty.
At the 1966 Masters, the longtime Hall of Fame sportscaster was banned from future Masters broadcasts, supposedly for referring to the crowd as a "mob." Is that his mulligan?
I don't think that was the reason they threw me off. I have no idea, but I'm sure it isn't that, because they found an old kinescope where Jim McKay said the same thing: "a mob at the 18th."
Once, in about '82 or '83, I was doing a piece during the Indianapolis 500 and instead of saying "gentlemen start your engines" I said "gentlemen start your motors." I'd love to have that back. And at the 1985 U.S. Open at Oakland Hills, the year Andy North won, well, T.C. Chen was winning on the last day, and he had given an interview that appeared in the newspaper that morning saying he hated American food, and couldn't find decent Chinese food in America. Well, he double hit the ball [at the fifth hole, resulting in a quadruple-bogey 8, erasing his four-shot lead].And I said, "His hopes just snapped like a pair of chopsticks." Well, we got some heat from Senator [Daniel] Inouye of Hawaii, saying it was an egregious remark. He wrote a letter to [ABC News chairman] Roone Arledge. I'd love to have had that one back.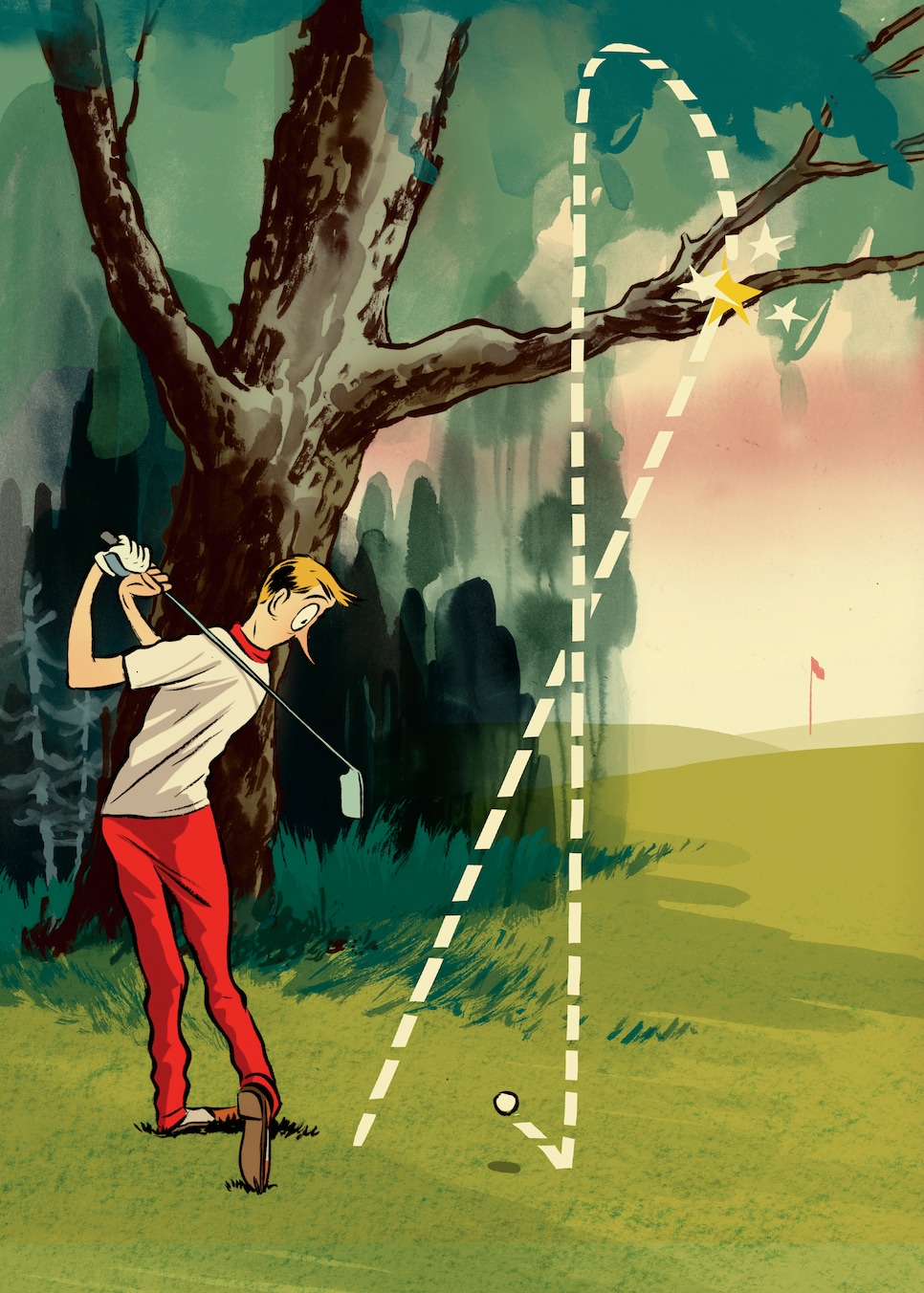 The two-time Masters champion turned golf-course architect reflects on what might have been.
I'd like four mulligans. For sure, I'd like one at Medinah's 17th hole--it's the 13th now--at the 1975 U.S. Open. I was in the lead standing on that tee in the final round, and I hit just a terrible 2-iron into the water and made double bogey. I missed the playoff between Lou Graham and John Mahaffey by a shot. Then, in the 1979 British Open at Royal Lytham, again on the 17th in the final round, I hit that same 2-iron into trouble and took double bogey there. Seve [Ballesteros] beat Jack [Nicklaus] and me by three shots, but I can't help but think that if I'd parred that hole and been able to post a decent score ... you never know.
I was leading going into the final round of the 1987 Masters, still leading on the 17th, and [caddie] Carl Jackson wanted me to hit pitching wedge, but I hit a 9-iron as soft as I could and ended up over the green. I made a poor chip, bogeyed, missed the three-way playoff by one. That was the playoff Larry Mize chipped in to win. Two years later, in the '89 Masters, I birdie 16 and 17. I'm tied with Scott Hoch for the lead on the last hole, playing with him, in the rain, and the 5-iron slipped in my hands, and I end up in the bunker. I missed a 10-footer for par that would've tied Nick Faldo and Scott.
Golly, I've had my chances to win plenty of majors, but I won only two.
Perhaps golf's most underrated player, overshadowed by The Big Three of Palmer, Nicklaus and Player, Casper won 51 times on the PGA Tour, including two U.S. Opens and the 1970 Masters.
I didn't play in the British Open until 1968. It was at Carnoustie that year, and I started out 72-68 and led by four. I shot 74 in the third round and led by one, and in the last round I still led as late as the 14th hole before Gary Player made a fantastic eagle and beat me. All I could think about the whole way around was, Why didn't I play here more? Carnoustie was a tough course, but it was made for me. All the courses in the British Isles were. I was a low-ball hitter, and I loved the wind. I could bounce the ball along the ground as well as anybody, and my putting stroke was made for those greens. I loved the people. I loved everything about it and felt right at home. But I played the British Open only five times, from 1968 to 1972. My best years as a player, I wasn't there. The trouble was, I cared mainly about making money for my family, and the British Open had a small purse. It was a two-week commitment, and I had young children. I just couldn't see it. If I hadn't left IMG in the early 1960s--another mulligan I'd like to take--Mark McCormack would have urged me to play in the British Open. I don't want to sound conceited, but that type of golf was the kind of golf I was best at.
The talented 32-year-old Spaniard has had many major near-misses, including lipping out a 12-foot putt on the last green at Carnoustie that would have earned him the 2007 British Open. He must regret each one. Not to mention getting dumped by Greg Norman's daughter. And spitting into the cup after three-putting at a tournament at Doral.
You never know how things would turn out. If you tell me, for example, the putt to win the Open at Carnoustie, I can have a mulligan, well, I know the putt goes right, but if I hit it straight then the mulligan is useless. I could ask for a mulligan here and there, but that doesn't mean the outcome would be better. At the end of the day, everything happens for a reason. It's all a matter of learning from the experiences you get, and becoming a better golfer and a better person. Fulfilling your purpose. We all come here to do something. All the things we get on the way there are just a test.
The things I'd love to do in my life, I'd love to play soccer or maybe tennis for a living. I was talking to Rory McIlroy at the Open about that, playing at the same level as we do in golf, him for Manchester United, me for Real Madrid. A lot of what-ifs. But you never know, is what I'm saying.
The two-time major winner's heyday was in the mid-1970s; today he's the lead golf analyst for NBC Sports.
In 1975, I was probably the best player in the world along with Jack [Nicklaus]. I was winning a lot of tournaments, and it was a time some of those victories should have been in majors. At the British Open that year at Carnoustie, Tom Watson and I came to the 72nd hole tied, and we guessed we trailed the guys behind us by a stroke or two. I was playing really well, hitting the ball on a string, but on that tee I went against one of my core principles: Never aim where a straight ball will hurt you.
The 18th was a par 4. There was about a 20-mile-per-hour wind blowing right to left, and I decided to aim at the left corner of the fairway bunker on the right, figuring the wind would bring the ball left. I hit that drive dead perfect and watched it start exactly where I'd aimed it. But I waited for it to go left, and that thing never moved a dang inch. It rolled right up the edge of the left side of the bunker face and curled in. I was like, Oh, no! Then I made a second mistake. I was sure I needed a birdie, so I pulled out a 6-iron to get to the green. The problem was, the face on that bunker was so high that nobody in the world could get a 6-iron over it. I hit that ball cleanly, but it caught the top of the lip and ricocheted back, almost hitting me. Just like the drive, it needed another two inches. On the next try, I got the 6-iron out to the left of the green and got up and down for bogey. Watson made about a 20-footer for birdie to tie Jack Newton, then beat him in an 18-hole playoff.
I wish I had aimed that drive another yard left. At that time, Tom was just coming up, and I had enough confidence that I feel I could've won that playoff. Who knows, maybe that would have sprung a few more majors out of me.
Winning the 1991 British Open wasn't just the high point of Baker-Finch's career, it marked the beginning of its end. Within a couple of years his game had vanished, his very public plummet from the pinnacle defined by an embarrassing hooked opening tee shot at the 1995 British Open at St. Andrews that went O.B.
My mulligan? I'd stick to one coach. One coach, one plan, one practice schedule, one workout routine. A lot of people think that because you win a major, you've got to change and become better. All of a sudden, it's five years of not playing well. People think it was a sudden slide, but a lot can happen in five years. I was still top-50 in the world for two more years. I won tournaments in Australia and was second at the Players Championship. I did continue to play well, but I wanted get better. I was always working on different things. When you continually change, you lose confidence. I kept chasing the tail, seeing every instructor I possibly could. It became a mental issue, not a technique issue.
[The hooked drive at St. Andrews] has been blown out of proportion. It was one of those Oh no moments. A lot of pressure. Arnold Palmer playing in his last British Open; packed grandstands; St. Andrews, the Home of Golf. I had a history there--I'd led or was second in the last group on Sunday in the two previous Opens there. On top of that the wind blowing 35 miles per hour straight into us. A gust of wind blew my hat off. I hit a flippy hook and it landed on the road, kicked hard and left, on and under the fence. It was like, Oh God, do I have to hit it again? I'd like one time for somebody to write how it happened and not call it the worst drive in the world.
The two-time major winner's life is a soap opera; a series of revolving visits to divorce courts, ERs, casinos, busted-up hotel rooms and rehab clinics. Daly declined to participate in this story so we turn instead to his 2006 autobiography My Life In and Out of the Rough for comment.
A lot of people live in the past. They get stuck in a negative life because all they do is wallow in the bad things they did. How is that going to help them tomorrow? My past ain't the greatest, but it ain't the worst. And I don't have any skeletons in the closet. They're all out. I got all my skeletons out. Everybody knows everything I ever done... No question about it, I've come close to the edge a lot of times. I've been my own worst enemy. But I think I've got a better handle on things now. I think I'm better off dealing with what's here, what's now, so that I'll be ready to deal with whatever tomorrow brings.
Before he passed away in May 2011, the Spaniard talked with us about his regrets--including his second shot to the par-5 15th during the last round of the 1986 Masters, which cost him the tournament. But Ballesteros' biggest regret was turning pro at 16.
Too young, too young. Although golf gave me a lot, I also lost a lot of things as a person. It was not normal, and very fast. It gave me a hard life. I should have taken more time to grow up. I think I would not have made some mistakes, probably had a happier career.
The four-time major winner turns 70 this year; he recalls one that got away.
My Masters against [Nick] Faldo in 1990. But not the shot I pulled in the lake at 11 to lose the playoff. The shot that cost me was on 17. I had driven it perfect. I should have been trying to make birdie to that back, right-hand pin. But I played it a little safe left and three-putted from back there on the top fringe. It was lightning fast. It was a mental mistake. So was the shot I hit in the water in the playoff. I was playing a little right of the hole, but with the lie, that's a pull lie, period. The two shots happened on the same day, but the 17th was the key. There shouldn't have even been a playoff. I beat myself with my mind. I hit a 187-yard shot five yards left of where I was aiming.
I imagine if I got down to it, there would be a whole lot of other things. You say things in the heat of anger or in response to somebody who makes you mad. You know what my mulligan in life would be? My golf game before [I met my wife] Maria. Obviously all the talent that I had in those years, had I worked a little harder and applied myself a little more... It's all hypothetical. I'm not saying I didn't have a decent career. But no telling what it could have been if I'd applied myself like I did after marriage. I had that arrogance and confidence as a young kid.
The much-loved 81-year-old British broadcaster, the "voice of golf," heir to Henry Longhurst, is haunted by a fluffed chip from almost 60 years ago.
I have to go back almost to the beginning of my career and the 1953 Ryder Cup at Wentworth [the first of eight Ryder Cups for Alliss]. What happened set me back at least a year. It would have been such a historic thing if we had won. If I had managed to get the ball on the green at the 18th, and if Bernard Hunt had not three-putted, we would have won the trophy, which we hadn't won since 1933, when my father was on the team. We were the first father and son to play in the matches. So that would have been wonderful on a personal basis.
It was the occasion. It had been a long couple of days, playing 36-hole matches. I remember it clearly. I was 1 up with three to play, and I made a mess of the 16th. [Jim Turnesa] got up and down from the bunker, and I took three from the edge. Then I drove out-of-bounds at the 17th. He won that with a 6. Then, of course, I took four to get down from just off the 18th green to lose. Very traumatic.
Off the course I'd have to say I got married too young. And I wasn't very good at it the first time. I was nearly 22 and got married against the advice of nearly everyone. But I was in love and that was it. I thought I could handle it all. But I couldn't. We had two children and, although I was a good provider, I'm not sure I was a good father. You read about bus drivers who take their kids fishing or for long walks, but I never did. I don't feel guilty. But I do feel that the whole business of my life at that time was just too much for my young brain to comprehend.
The 23-year-old phenom from Northern Ireland had the lead in the 2011 Masters with nine holes to play but collapsed at the 10th hole after pulling his drive--the start of a disastrous back-nine 43. He bounced back two months later with an eight-stroke, record-setting victory in the U.S. Open.
No, it isn't the drive off the 10th tee at Augusta. If I had one shot to play over, it would be the five-foot putt I missed to win at Crans in 2008 [the European Masters at Crans-sur-Sierre, Switzerland]. That would have been my first victory as a professional. I hit such a bad putt. It was a five-footer straight up the hill, and I pulled it. Not pretty. And, to make things worse, I lost the playoff.
Off the course is harder. I've had a good life so far. If anything, I regret not staying in school one more year. I left when I was 16, and that is maybe a little young. I'm not sure what I missed, of course, but I think I would've enjoyed one more year with all my friends.
The 43-year-old Northern Irishman, who lost his first wife to breast cancer in 2006 [he remarried on April 12, 2012], finally realized his enormous potential as a golfer by winning the 2011 British Open.
Through all my successes and failures, there is no one shot I'd take back. To get to where I have in the game, you need to experience the bad to appreciate the good. So I wouldn't take any back. That isn't to say particular shots in my life have not been important. I could have said my tee shot off the second tee at Troon in the final round of the 1997 Open. [Clarke shanked a 3-iron onto the beach and finished T-2.] But that would have been a shallow answer. I really feel that you have to have the bad times, the disappointments, to appreciate the good times.
Off the course, I've made many mistakes. I would need too many mulligans. But I'm trying hard not to need any more. The first cigarette is one of those mistakes, of course. But, then again, I smoke--never touch drugs--and behave like a relatively normal human being, even if I would prefer not to smoke. The bottom line is that I've made many mistakes, some bigger than others. And I'm trying not to make any more.
The former Deputy Advisor to President Jimmy Carter in the Office of Economic Affairs in the White House has been PGA Tour Commissioner since 1994.
I'd like to have the tee shot I hit on the 17th at TPC Sawgrass about 10 years ago, which found the water. I holed the next shot for par. I wish it had been an ace.
The South African invented graphite shafts and from 1974 to 2000 was Technical Director of the USGA. Does he regret not doing more to limit the technological developments that allowed driving distances of the best players to escalate?
The distance elite golfers are hitting the ball is not what is causing the decline in participation in golf. That said, I wish during my final years at the USGA I had not conceded to a compromise of the "no springlike effect" rule. This decision caused a devastating blow to the long-standing mission of "no more distance" that dates at least to 1900. Allowing for some springlike effect--which is what the rule establishing an .830 limit on coefficient of restitution essentially did--upset this apple cart and started a reactionary trend in rules-making that we're still suffering through today.
The obvious reason for not conceding was that we had a simple and explicit rule prohibiting springlike effect, designed to limit distance. This was the USGA and R&A's long-standing position, first included in the rules in 1908 and reinserted in the Appendix in 1984. There was no good argument for conceding, save for one: the USGA's Executive Committee was not willing to be sued. So the potential legal consequences influenced the decision, rather than what was in the best interests of the game. I became a reluctant instrument in setting a coefficient of restitution standard, which I didn't believe was good for the game. I think about it frequently.
The short hitter with the magical short game had a terrific amateur career and a decent showing as a pro, with four victories, before working as PGA Tour commissioner from 1974 to 1994.
You don't get mulligans in real life--except on the senior tour. So I don't wish I had something back, because everything that turned out negative was a learning experience that allowed something later on to be successful. But I can tell you about my failures. My second shot from next to the stone [at the 18th] at Merion where Hogan hit, when he won the Open. I was about the same place and made double bogey to tie and then lost the U.S. Amateur [to Gary Cowan, in 1966, when it was stroke play]. I could have been amateur champion three times. And in the U.S. Open I made double bogey at the fourth at Champions Golf Club and still came back and failed by one shot to tie Orville Moody in the '69 Open. Without that one shot at the par 3, where I made a double bogey--what might have been, you never know.
[As commissioner] I did things that didn't turn out as I expected. I made decisions that maybe were the right things to do but at the wrong time. With the Nationwide Tour, it was three bites at the apple. We failed the first couple of times, then the third time we got it right and made it work. In a business, most of the time you don't have a finite window of time to do it because you always have a chance of adjusting and getting it right the second time. I've always had the philosophy that you don't fail until you quit trying.
In a long career, Irwin collected 87 professional victories worldwide, including three U.S. Opens. He was still winning on the Champions Tour in his 60s and remains competitive today at age 66.
Some people might say it was the 1983 British Open when I stabbed at a putt, but I'd say no. [Irwin whiffed a tap-in during Round 3 and ended up a shot behind the winner.] That was carelessness and stupidity. It wasn't anger; I just misjudged. If I could go back, it would be when I lost to Billy Casper at the 1970 Los Angeles Open. If I par the hole, I win. I hit my drive just in the right rough. There was one little branch in my way. I didn't have the experience then to go under it, only to get it up by the green, where I'd have a chance. I tried to cut it too fine, and it hit the branch and fell short. I chipped and made bogey and lost to Billy in the playoff. If I could go back, I'd make sure not to hit that branch. That would have given me my first win.
I wish perhaps I had spent more time with my dad, have him see his grandchildren. He was taken a little early in his grandfather years. I'd love him to have seen his boys and his grandchildren develop. I'm getting to do that with my grandchildren. I wish my dad could have had the opportunity to do that. He was 74. He was a very vibrant guy. He died from prostate cancer, just didn't recognize the symptoms.
But I've been blessed. So many people have helped me. To change anything might mean I was unappreciative of what they've done. So I'm not going to take the personal mulligan. I'm going to keep it in my bag.
The Swede was the best woman golfer in the world, winning 72 LPGA tournaments, including 10 majors, plus another 17 events around the world, before retiring at the end of 2008 to start a family.
Definitely, the second shot into the 18th on Sunday at Pumpkin Ridge in the 2003 U.S. Open is one I'd like to have over. Despite erratic putting, I got to the 72nd hole in a great position to win. I was 223 yards out on the par 5--a perfect distance for my 4-wood. A birdie would win and a par would get me into a playoff. But I lost the shot to the right, and after a free drop I still had overhanging tree limbs to contend with. I made a bogey and missed the playoff. I had the perfect opportunity to win another title, but it didn't happen. Pumpkin Ridge was one of the few disappointments in a fun season.
We all make mistakes, but they are part of our life. The important thing is to move on and learn from them. [Sorenstam won eight LPGA Tour events in 2004 and set the record for the lowest season scoring average at 68.69--all despite the fact that her first marriage was falling apart.] I love my family, my work, and everything about my life today, and it took all of those so-called mistakes to get me to this point.
The 54-year-old Scot is a two-time major winner--the first Brit to win the Masters--and Ryder Cup stalwart. His game inexplicably deserted him in the early 1990s.
I'd love to hit my chip to the last green at Royal St. George's in 1985 again. I'd hit it a bit harder for a start. [Lyle fluffed the chip, and it rolled back to his feet.] I got away with it at the time because I got down in two more to win the Open, but I could have made things a bit easier for myself. Off the course, I wish I'd never got involved in all that stuff with Monty. [In 2009, Lyle was passed over for the 2010 Ryder Cup captaincy in favor of Colin Montgomerie; several months later, Lyle made a couple of less-than-flattering comments about his rival.] I wish I'd never opened my mouth, although I didn't actually say exactly what appeared in print. It was twisted around. I said he "had issues," which is a lot different from calling someone a cheat. But the bottom line is, I wish I'd said nothing at all.
The 20-time PGA Tour winner won one major, the 1997 PGA Championship, and came oh-so-close to being a U.S. Open champion.
I'd like to have that downhill putt again [at Oakland Hills, 72nd hole, 1996 U.S. Open. From 20 feet Love left it three feet short and missed the next one]. Freddie Couples called me later that night and said, "You know, you can't leave that putt short coming down that hill. It's not physically possible. Everybody hit it four feet by." I said, "Yeah, but I left it short." He said, "But it's not possible." Yeah, I'd like to do that one over. I was trying to lag it down there, trickle it in. Once I left it short, it was like Scott Hoch's at the Masters--just don't miss it. And it was just a bad routine. I learned a lot from that second putt. Obviously, a two-putt gets me in a playoff. I'd bogeyed 17, too. Something distracted me on my swing. A dang water hose went off. I went bogey-bogey, so I had my chance.
I thought about saying that I wouldn't have left school. [Love spent three years at North Carolina.] I came right out and got two years of tour golf before I lost my dad. [Davis Love Jr., golf pro and highly regarded teacher, was killed in a plane crash in 1988.] He got to see me win a tournament. Got me off to a great start. I wish I'd stuck with my plan to continue my schoolwork. That was my rationale with my mom, that I would go back to summer school and get my degree. But I didn't. That's my mulligan. Nothing says I can't go back.
The former World No. 1 has won 14 times on the LPGA Tour, including the 2007 U.S. Women's Open and 2008 LPGA Championship.
When I joined the LPGA Tour in 1997, right out of high school, I was one of maybe two or three teenagers out there. Skipping college was almost unheard of at the time. My decision was simple: Go to school for four years and get a degree, or don't go at all. I didn't feel right about going for two or three years and taking somebody else's scholarship if I wasn't going to graduate. And because I felt ready to play golf, I gave it a shot. But the truth is that I was 17 years old and scared. Everybody has different defense mechanisms. Mine was to be short with people and be a bit of a brat. My father traveled with me the first couple of years, and he was confident in my abilities. He taught me that I needed to be competitive and that I had "no friends on the golf course." That persona rubbed off on me.
I love my father to death, and he's one of the reasons I became successful, but if I could go back in time and talk to the 17-year-old version of myself, I'd tell her to do things differently. I'd tell her to treat people well and give them the respect they deserve. I'd tell her you can sign lots of autographs without it impeding on this little world you think you live in. As the years have passed, I've changed a lot. Like most people, I've worked hard on myself. My husband, Erik, has made me improve in every way. He's taught me it's OK to let people in and treat them well, that I don't need that wall up all the time.
The 60-year-old former Masters and U.S. Open champion might like a redo of some offhand comments he made after Tiger Woods' 1997 Masters victory that were meant to be jocular but came off a bit denigrating, with a whiff of racism. A controversy erupted, denting his public image and costing him endorsements. But Zoeller doesn't do regret.
Golf Digest is crazy. Shoot, I don't think I'd want one over. No. I'm sure if I thought about it more, I could probably come up with one. Golf mulligan? No, I don't think so. Life mulligan? I haven't made any bad decisions yet. Notice I said "yet." Call me in the morning. I wouldn't take any mulligans. As they say, I'm going to play by the rules.
With 64 wins worldwide, including two U.S. Opens and a British Open, the South African has little reason to grumble. But he's still rankled by a putt that got away.
I'd go back to 1995 and the PGA Championship at Riviera. There was a putt on the 16th hole that horseshoed out of the hole. I was leading going into the round, and I had lost the lead, and I was kind of on my way back. I think if I'd made that putt, I probably would have won the PGA. I would've had a U.S. Open and a PGA and would have really had it going. Unfortunately, it lipped out, and I couldn't get into a playoff. It was maybe a little firm, but as you know those greens at Riviera are a little bumpy, and it hit something just short of the hole and broke out.
At the 1979 Masters, Sneed led by five with a round to go, and by three with three holes to go. A bogey-bogey-bogey finish put him in a playoff with Tom Watson and Fuzzy Zoeller; Zoeller won at the second extra hole.
The obvious one is my fall at the Masters. If I had to pick a shot, it was probably the par putt that I missed at the 17th. It was three feet. I had three-putted 16 from a pretty tough position on the green. At 17, I hit a pretty good second shot. I hit a pitching wedge from about 120 yards, downwind. It looked like it hit in a good spot on the green, but the ball rolled through into the fringe. On my first putt, I got a piece of the hole and it went about three feet by, and I missed it coming back. If I pushed it, I didn't push it very much. The ball caught the right edge of the hole, and I missed it. I would've had a two-shot lead at 18. Of course, at 18, I'd like a mulligan on that putt [a six-footer to win]. But the one at 17 was the easiest. If I had to pick one, that would be the mulligan. Sometimes I think about it but not a lot. Some things are fresh in my mind. It's brought up from time to time.
The New Zealander's career was like a shooting star: bright but short-lived.
The first shot that pops into my mind is the 4-iron I hit on the last hole on Friday at the 2004 Masters. It was the third and final year of my three-year exemption into the Masters for winning the 2002 Players Championship. I was in the middle of the fairway 200 yards out and wanted to hit a high draw to the middle of the green. I made a bad execution and hooked it well left of the green, which was my tendency, my poor shot. I made a double bogey and ended up missing the cut by a shot. To have knocked it up on the green and two-putted and played the weekend at Augusta National would've been nice. It was always my dream to play at Augusta, but to have played the weekend at those hallowed grounds would've been something I'd have cherished for a long time.
At the beginning of 2003 I got about a 20-page statistical analysis of my game from the tour, from ShotLink, and I ended up looking at the wrong numbers. Instead of focusing on my finish on the money list [34th], I looked at the ball-striking category and saw I was 196 out of 202. So I decided to overhaul my golf swing. You know, we're always trying to get better. I can still look at myself in the mirror and say that everything I tried to do was for the best. Even though I'd won at the Players, I was making less than 50 percent of my cuts and wanted to get more consistent. The biggest mistake I made was trying to change my golf swing. I went to several instructors. In retrospect, if I had just tried to subtly correct some of the weaknesses in my game, I might have accomplished more. Maybe I'd even still be out playing.
The 27-year-old German won the 2010 PGA Championship and was briefly world No. 1 in 2011.
It would be during my first year at the Masters [2008]. I went for the 15th green in two, went over the green, then chipped back from there over the green and into the water. Out in four, on in five, two putts--7. And I missed the cut by one. I'll never forget that.
Off the course is harder. I have a pretty happy life. But I wish I hadn't gone go-karting back in August 2009. [Kaymer broke three toes in an accident.] That cost me a lot of tournaments I could've played. I lost seven weeks of golf at a time when I was leading the European Tour money list. I can't say it cost me winning the money list, but it didn't help. Seven weeks without golf was painful, especially sitting watching the other guys playing in all the nice events we have at that time of year. It was hard to miss things like the Dunhill Links Championship in Scotland. I love that event. I've been go-karting since then. But I drive a little differently now.
The Englishman got into hot water in 2004 when he said that in the Ryder Cup, "we properly hate" the Americans.
I'm not one for looking back. So although there are obviously things I'd like to change in my past, I'm not sure I'd use my mulligans. You're going to twist my arm though, aren't you? OK, I shanked one off the second tee at Wentworth during a BMW PGA Championship. I ended up in a ditch down by the third tee. I think I took 6. I've got one: The sixth green during the last round of the [2008] Masters that Trevor Immelman won. I went to tap in for a par, addressed the ball, and it moved slightly. That scrambled my brain, and I three-putted the next green. No one saw the ball move, but I did. [Casey shot 79 and finished eight shots behind Immelman.]
Off the course the only thing I can think of is the number of times I've crashed my bike. I've got so many scars. I'd like to have at least one less.
Rogers was the best player in the world in 1981, winning seven events worldwide, including the British Open.
First thing that pops to mind is a re-do of the last round of the U.S. Open in 1982 at Pebble Beach, when Tom Watson won. If there was a defining moment of that tournament for me, it would be the three-putt I had on nine. I was leading by one, I think, and I three-putted, and Tom and I were even starting the 10th. It was clearly his moment, from the up and down he made on 10 to the putt he made on 14 to the chip-in on 17 to the putt he made on 18. But if there was a do-over, I'd say the three-putt at nine for me. My father was there, and we'd had breakfast that morning. He'd said, "You know, if you win today, you'll be the Open champion of three countries." I kind of wish I had a do-over on that moment, too.
There are a lot of parenting moments you'd like to take back, some loss-of-control moments. I don't dwell too much on regrets, because I feel like it's part of the journey. I have no regrets about leaving the tour the way I left. Some people asked how I could do that. I had a ton of exemption left, several years. But it was time for me. A lot of major champions have played it out from a longevity standpoint. Mine was short-lived. I was ready to go home. I wanted to raise a family. It was 1988. I was 36, 37 years old. Like somebody said, if I made one putt, it's one more than I should have. I made way more than I should have. I don't want any do-overs.
The three-time major champion from Dublin is clearly a glass-half-full kind of guy.
I have no wish to have a mulligan on any shot. But if I was going to select one, I'd pick my drive on the 72nd hole in the 2002 Open Championship at Muirfield. I hit it in a fairway bunker, took bogey and missed the playoff by a shot. I have no wish to have a mulligan in life, either, but if I had one regret it would be when I last ran the 100-meter sprint in school sports, when for some reason I felt there were tactics involved. I ran it like a 200-meter race, and there was plenty left in me after 100 meters.
The 58-year-old Scot and Ryder Cup hero has a huge trophy cabinet but no major championship wins.
That's easy. It was the eight-foot putt I had to beat Curtis Strange in the 1985 Dunhill Cup at St. Andrews. It was the semifinal, and we were the deciding match. I three-putted. And lost. I'll never forget that feeling. I can't say I twitched any of them, either. Off the course, I'd just like to have one big mulligan. I'd like to do it all over again. I'd love to start again tomorrow. I've loved every minute of my career. But I'd like to retain the knowledge I have now, of course.
Winless on the PGA Tour as a player, McCord has seen much greater success in the TV booth since 1986. But while covering the 1994 Masters, he said that the 17th green was so fast it had been "bikini-waxed," and that there were "body bags" behind the green. He has not worked at the Masters since. Does he regret that?
That's so old and beaten. God, it is so yesterday. That got me more publicity than anything I've ever done. I'm under the credo that there are no mulligans in life, or golf or anything. There's no going back. That would be too easy. There's no what-if. You do what you do. You live with it. You don't get to do those things over. You play it as it lies.
The PGA Tour player turned PGA Tour caddie steered Vijay Singh to 13 victories worldwide.
One of my first events when I started on the bag with Vijay in 2000 was the Presidents Cup. We got paired with Tiger the first three days, and on Sunday we came out, and the guys had the range, had 12 hats embroidered with "Tiger who?" on it. I thought it was funny, so I put it on and went out for the match. I thought everything was great until we got to about the fourth hole, and we had a putt of maybe four inches and Tiger didn't give it to us. I didn't mean it as disrespect, but when I talked to Tiger a few weeks later he admitted it did get him fired up.
I learned two valuable lessons. One is that caddies need to stay out of the limelight. There's a reason we get paid only seven percent, and that's because of our importance level. The players make the caddie and not the other way around. The other thing is, if something could be seen as disrespectful, even if it's meant as a joke, you shouldn't do it. If I'd been playing, and the other team showed up with a hat that said, "Tesori who?" I might have taken it badly, too.
The 36-year-old Englishman doesn't always think before he speaks--or tweets. (He described the London soccer fans Tottenham as "yids.") Maybe he regrets some of his preposterous outfits?
The shot I'd like to play again is the drive off the first tee in the third round of the 2010 Masters. I was leading at the time and pulled it way left, maybe 50 yards from where I was aiming. It was a terrible start and set the tone for a disappointing day. If I could have it again and knock it down the middle, who knows? [Poulter shot 74-73 on the weekend to finish tied for 10th.]
The 1996 British Open champion might have some mulligans. He was the 54-hole leader in three consecutive U.S. Opens yet didn't win any of them. Or maybe he regrets leading the charge across the green--and Jose Maria Olazabal's line--on the 17th green at Brookline after Justin Leonard holed a key putt in the 1999 Ryder Cup. Maybe, but he isn't talking.
Sorry, I don't think I want to go there. But thanks for asking.
The 32-year-old Northern Irishman had a terrific 2010, winning the U.S. Open and two other events and clinching the Ryder Cup. He sounds like a man in a hurry to get back to playing at such a high level.
Off the course, I wish I hadn't taken my PGA Tour card in 2006. I wasn't ready. On the course: my tee shot on six during the final round of the Players Championship. [McDowell hit it into the trees in the 2011 event, bogeyed, dropped another seven shots coming home, shot 79 and fell from the lead to tie for 33rd place.]
The child prodigy turned pro at 16 and was destined for great things. Today he has conditional status on the Nationwide Tour.
If I could take one thing over, it would be deciding to jump over a gallery rope between the ninth and 10th holes at the L.A. Open in the Wednesday Pro-Am in 2003. I was 18, and I'd walked past these hedges to get a bottle of water out of a cooler. Rather than walking back around the hedges, I took a shortcut and jumped over the rope. I landed in thick, unmanicured rough that was covering a drainage grate. I came down awkwardly, and I'd learn later that it put a hairline fracture in my ankle. I kept playing on it, and it took four months to heal. The pain was a bother, but I didn't want to take more time off. I'd just gotten over being sick [mononucleosis], and I was embarrassed to be injured again. I don't regret turning pro as early as I did. I just wish I'd had a better attitude and played better.
The Walrus' banner year was 1982, when he won four tournaments, including the Masters in a playoff after blowing a six-shot lead with nine holes to play (which included a three-putt at 18).
I'd have said the last putt on 18 at Augusta if I hadn't won. But I did win anyway. It would have been nice to stand there and give it the [raises arms] in front of the crowd, but that's OK. Nothing else really comes to mind. Off the course mulligan? A few personal ones I'd rather not discuss.
Some things are too painful to talk about. The 58-year-old Scottish caddie has steered Vijay Singh, Jose Maria Olazabal and Steve Elkington to major championships.
We were on the last tee in the last round of the 1991 Masters. Jose Maria [Olazabal] teed the ball up as if for a driver, and I let him hit it. It should have been a 3-wood, and he finished in the first bunker on the left, made 5 and lost to Woosie by a shot. If I'd spoken up, he'd have been short of the sand and more likely to make a 4. I'll always regret that. Off the course I regret leaving my job on the oil rigs when I was 31. If I'd stayed I'd have been at the top of the tree by now and earning funny money, somewhere in the region of £250,000 a year [about $400,000]. I've had a lot of fun as a caddie, but I'm not earning that much.
Some possible mulligans for the 54-year-old two-time Masters champion might be missing that crucial last-hole six-footer that gave the United States the 1991 Ryder Cup, or driving out-of-bounds at the 14th at Royal St. George's to hand the 1993 British Open to Greg Norman. Langer's memory, however, goes farther back.
My mulligan would be from the British Open at Sandwich in 1985. I missed about a three-foot putt on the first green in the last round. I just missed it, lipped it out. I was leading the tournament at the time. And missing such a short putt shook me up a bit. In the end, I lost by two. I had to hole out from behind the last green to tie Sandy Lyle. But I chipped too far and missed the next one, too.
Off the golf course, I regret playing hurt too many times. I should have pulled out of a few tournaments instead of grinding through them, feeling pain. I must have done that 15 times with various ailments to my neck, shoulders and back. I've had a lot of issues with my lower back. The worst example was when I played in the Deutsche Bank SAP Open in Hamburg one year. I could hardly walk. And I definitely couldn't swing. I was treated three times on the course. I felt obliged to play, and I was stubborn. I would think if I could get through the round I'd get treatment and be able to continue. But it's no good to play like that. I was dumb and stupid. Your swing changes, and it can take weeks or months to get it back.
Ames has won four times on the PGA Tour--all in his 40s--including the 2006 Players Championship. That same year, on the eve of a first-round match against Tiger Woods in the World Golf Championship Match Play event, he said: "Anything can happen, especially where he's hitting the ball." Woods opened with six straight birdies and won the 18-hole match, 9 and 8. Does Ames regret his comments?
Hell no. I have nothing to recount. That's never bothered me. The Golf Channel boss called me two weeks later and apologized for how Kelly Tilghman had taken my comments out of context, so that tells you right there whether I said anything wrong or not. Tiger shot 29 on the front nine, and I don't think anybody would've beaten him that day. I have no regrets on that. I went ahead and got on with my job.
My mulligan would probably be my second shot into 18 at the 2002 Players Championship, the year Craig Perks won. I was tied for the lead with Craig, who was on the 13th hole. I was going forward, and he was going backward. I had a 6-iron, and I just needed to start the ball in the right-middle of the green and draw it back. I didn't release the club, and the ball hung out to the right. I chipped on and two-putted for bogey. The way Craig finished it wouldn't have made a difference if I'd made par, but the point was I had an opportunity, and I threw it away. If I could do one thing over in my career I would've left Trinidad earlier, around 17 or 18 instead of 23. There wasn't much in the way of good teaching there, so I just learned the game by trial and error, and there are some basic things, fundamentals like grip and posture, I wish I had learned earlier.
Interviews by: Max Adler, John Barton, Jaime Diaz, Bill Fields, John Huggan, Pete McDaniel, Tim Rosaforte, Ron Sirak, Mike Stachura, Stina Sternberg, Sam Weinman, Ron Whitten, Guy Yocom