Fire Pit Collective
Understanding Monday Qualifiers—from the basics to the super-nerdy and everything in between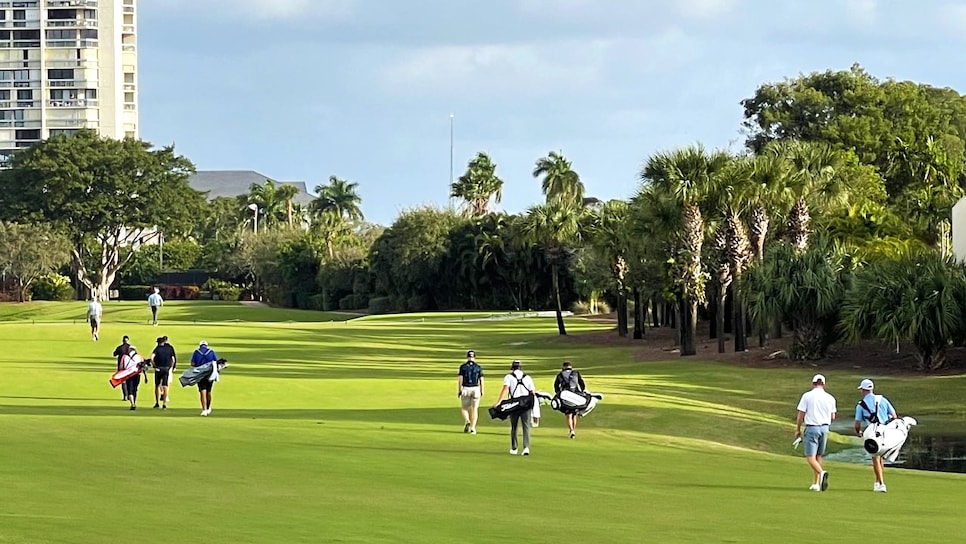 As more people are following Monday qualifiers, I have put together a fact sheet about them. This column will cover only PGA Tour Monday Qs; I will do LPGA, KFT and Champions in later articles.
What is a Monday Qualifier?
It is an 18-hole event held the Monday prior to a select number of tour events. The PGA, LPGA, KFT, Latinoamerica, and Canada tours all hold Monday Qs. The European Tour does not. The players with the four lowest scores get into that week's event.
Who is eligible for the Monday Qualifier?
Not just anyone can sign up for a Tour Monday Qualifier. Here are the players who can sign up directly. The rest have to go through a pre-qualifier (explained below).
Current year's PGA Tour members who are not in that week's field
Current year's KFT and Champions Tour members
Maximum of three section members (teaching pros from that PGA Section)
Former PGA Tour members from 2018 to '21
Non-members in the Top 100 OWGR
Non-members who played in the previous week's PGA Tour event
Non-members who have made a cut on the PGA Tour during the season
All others must play in a pre-qualifier just to get into the Monday Qualifier.
Basically, it is a qualifier before the qualifier. It is often held the Thursday prior to the Monday Q. (There are often multiple pre-q's for an event, so some are played as early as Tuesday of the week prior.) The number of players who get through is based on the number of players the PGA Tour anticipates will be signed up for the Monday Q. The Tour tries to keep the Monday fields around 75. This is impossible in some cases; for example, the Korn Ferry Tour has an off week. But the number getting through the pre-qualifier varies based on the Monday field.
For example, the Waste Management Open has eight or nine pre-qualifiers with just two spots (plus ties) available at each. At some opposite-field events, as many as 20-plus spots are available at the pre-qualifier.
The entry fee for a pre-qualifier is $250. Your reward for getting through is to pay another $250 to tee it up in the Monday Qualifier.
If you are an amateur (yes, you can enter as an Am), you must have an Index of 2.0 or less to enter. If you mark "pro" when entering, event organizers don't ask for an index.
What does it cost to enter a Monday Q?
The entry fee is based on a player's status. Here is a breakdown:
Current PGA Tour member $0
Current KFT member $100
Current Champions member $100
Canada/LA member $300
2018-21 PGA Tour member $500
Exempt Section member $500
Everyone else $500
How many spots are available?
Four. The only event that has less is the Waste Management Monday Q, which has three.
Has a Monday Qualifier gone on to win that week's Tour event?
Does every event have a Monday Qualifier?
No. Invitationals such as the Genesis, Arnold Palmer, Players, Heritage and Memorial do not. There are 25 Monday Qs in the 2021-22 season.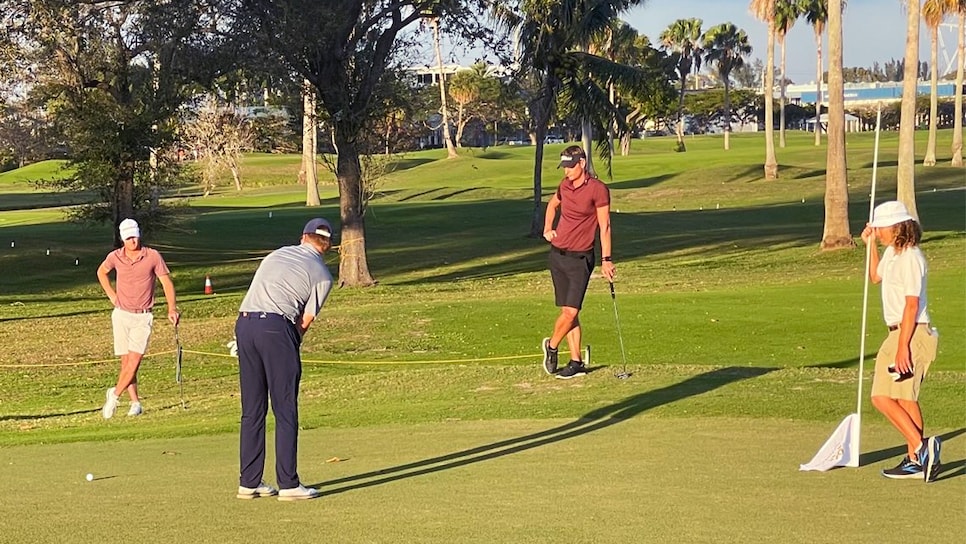 How do guys get into a pre-qualifier and shoot 95 and higher?
As I mentioned above, if you sign up as a "pro" there is no handicap requirement. So some guy who says he shoots 75 each week clicks pro, and he's in. It is impossible for the section to vet everyone who signs up.
By clicking pro, if following the letter of the law, it would prevent you from playing any amateur events, including member-guests, club events, etc. But no one tracks that, so these guys go back to playing in whatever tournaments they want.
What is the highest score shot in a pre-qualifier?
I've seen a 123. Most section officials will pull a player off the course when they see he is on his way to shooting a big number.
What has been the biggest playoff in a Monday Q?
On the Tour side, it happened at the Honday Monday Q just a few weeks ago. Rick Lamb eagled the first hole to abruptly end a 16-for-1 playoff.
Years ago, there was a 19-for-1 on the Korn Ferry Tour.
My favorite story came in a 14-for-1 in a KFT Monday. A friend played in the morning wave and didn't think he had a chance after shooting 69. He went to a casino to wait things out and had multiple beers. After consuming too many beers, he realized he was going to be in a huge playoff. Drank as much water as he could, went back to the course, and birdied the first hole to get through.
What percentage of Monday Qualifiers make the cut at the event?
In the time I have been tracking (about four years), it is around 28 percent.
What scores does it take to get through a Monday Q?
I didn't do full-season stats on scores last season, but I did the previous three. The medalist score over those three years averaged 64.6. The fourth spot averaged just over 66. Often the last spot is decided by a playoff.
Here are the numbers from the three years I kept detailed stats. (One day I'll have time to do that again.)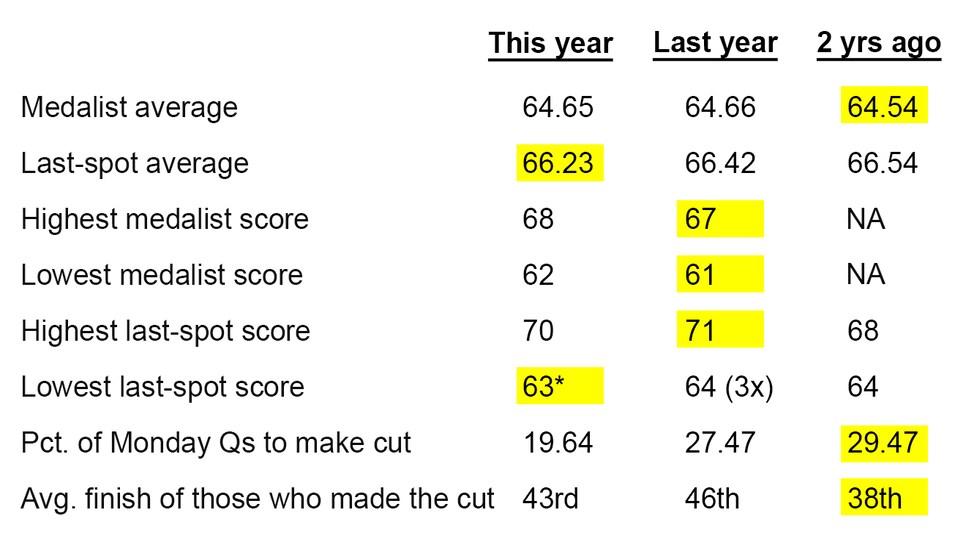 Who has played the most Monday Qualifiers?
I don't have any stats on this, but my educated guess would be Brad Adamonis or Frank Lickliter III (affectionately known as The Blade). Rarely is a Monday held without one or both of them in the field. Adamonis lost his Tour status in 2009 and after a few years on the Nationwide Tour has chased Mondays for the better part of 10 years. I've often asked how many times he has played, and he just laughs. But my guess is well over 200.
To give you an idea of how many qualifiers the 49-year-old Adamonis has played in, let's revisit a week last year. Adamonis went to a pre-q for a Tour event on Thursday. He didn't get through. He then drove to play in a Latinoamerican Tour (played in Florida) Monday Q. (It was played on a Friday.) He didn't get through there, so he drove to the KFT Monday and played that. That itinerary is the stuff of a grinding legend.
The Blade, 52, has a reputation for being a bit prickly, so although I see him at Mondays, I have never asked him about his total. But it's in the same ballpark as Adamonis's. (Google "Frank Lickliter knife" to learn how he got his nickname.)
Who has gotten through the most in a season?
TJ Vogel did it eight times in 2018. It is a record that I believe will not be broken. It is also greatly underappreciated as far as records go in golf. His scores:
63 to get into the Valspar
65 to get into the Wells Fargo
66 to get into the Byron Nelson
66 to get into the St. Jude
65 to get into the Greenbrier
66 to get into the Wyndham
Let those scores sink in. Unfortunately, he wasn't able to capitalize, making three of eight cuts with a best finish of 16th place. Vogel, 31, is a member of the KFT.
In 2012 a certain fella named Patrick Reed made it through six Monday qualifiers, with his then-financée, Justine, on the bag. He played well in most of those events and, along with some exemptions, parlayed it into a Tour card.
Who are some players who changed their career recently with a successful event after a Monday Q?
Corey Conners Although he was already a Tour member, his win at the 2019 Valero accelerated the trajectory of his career tenfold. The next week he made the cut at the Masters. He is 43rd in the world rankings.
Russell Knox Though it came on a KFT Monday, his subsequent runner-up finish changed his career. Knox was dominating the mini-tours for years but always struggled at Q-school, missing multiple times. He has more than $20 million in worldwide earnings.
Chase Seiffert An amazing college career didn't translate to the pro game, and Seiffert struggled for years to gain traction. In 2018, five years into his pro career, he Monday'd into the Travelers. His T9 (his only made cut of the season) was enough to get him into the KFT Finals. Although he didn't get his Tour card, he did the following year via the KFT.
Doc Redman The U.S. Amateur champ was struggling and had missed at KFT Q-school and Latinoamerica Q-school. He had flown in from the West Coast the previous night and arrived at the Rocket Mortgage Monday in 2019 having never seen the course. He shot 62 and then finished second in the event, gaining status.
Cameron Young He, too, was a world-class amateur, and last year, with no status, he Monday-qualified for a KFT event. He finished 11th, earning a spot in the following week's event. He finished T14 in that event, earning another start, then had a T6 and a T2, earning membership.
Will Zalatoris Same as Cameron Young. It all started with a KFT Monday.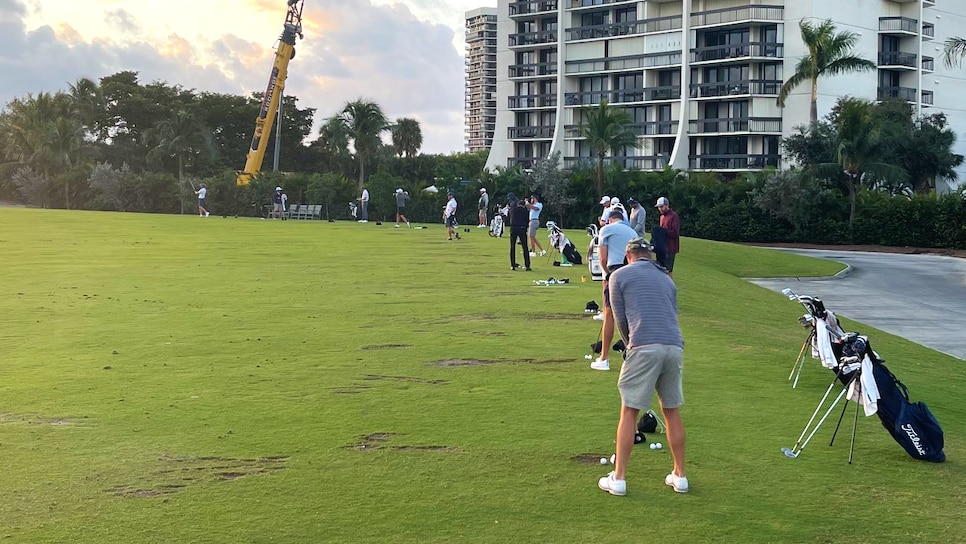 The PGA of America section in the area of the tournament runs the qualifier, but the Tour has final approval on all things. The Tour decides how many get through each pre-qualifier and gets a big share from the entry fees.
Who gets the money from the entry fees?
The Tour collects around 35 percent. The amount varies depending on the mix of players and the entry fees. Because the Tour doesn't have many (if any) expenses, it can be a good moneymaker.
In most cases the course is paid by the round: anywhere from $50 to $80. It depends on the area the event is being held and the time of the season.
The section gets the rest, but is also responsible for all of its own expenses. It pays for its staff (including travel costs), rules officials, food, etc.
One challenge is finding courses to host events. Monday qualifiers are no different.
When courses were hurting for traffic, finding courses wasn't difficult. A Monday in most parts of the country isn't a popular golf day, and a course could fill up the tee sheet and profit from a Monday Q.
Those times have changed. Most courses have tee sheets that are filled daily, at peak prices, so it's hard to persuade it to close for a day (plus provide practice rounds on Sundays) when it can fill up the sheet with full-paying customers.
That's a long-winded way to say a lot of it now comes down to finding a course that is relatively close to the event and willing to host it. All while meeting the budget at a price point that works for everyone. It's a difficult balance.
In our podcast "The Grind," we talked to the South Florida PGA Section about that challenge.
What are some of the craziest things that have happened at a Monday or pre-qualifier?
The Cowboy Qualifier He is by far my favorite because it isn't an act. Below is a picture of him at the Valero Monday Qualifier. He is in his full cowboy outfit. In a pod with me, he explained how he arrived at the attire. He used a knife to repair ball marks and fix divots. HE USED A KNIFE TO REPAIR BALL MARKS. I love everything about him.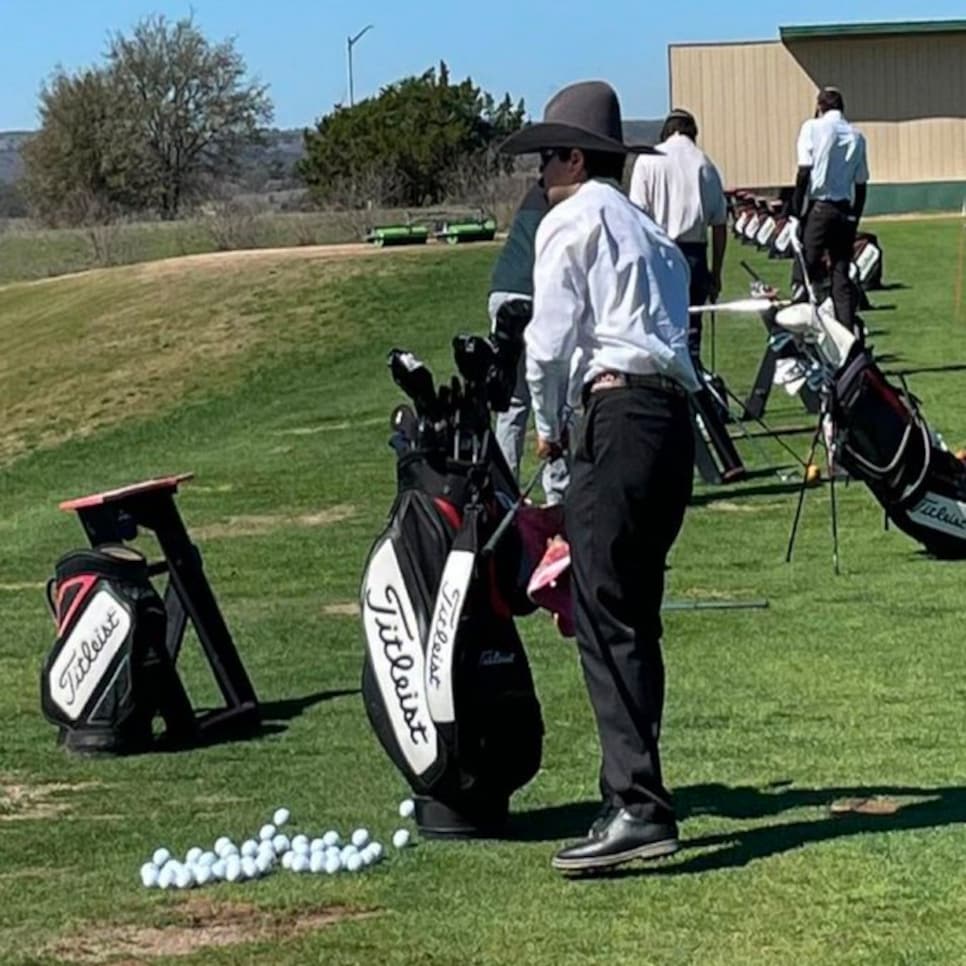 Connor Murphy This one is not as fun because it ended up being a stunt for his YouTube channel. But he showed up wearing a leprechaun suit and pulling his clubs in a wagon. Later in the year, Murphy ran down the middle of a fairway at the U.S. Open and was arrested. The podcast he did with the Fore the People guys is something. Listen here.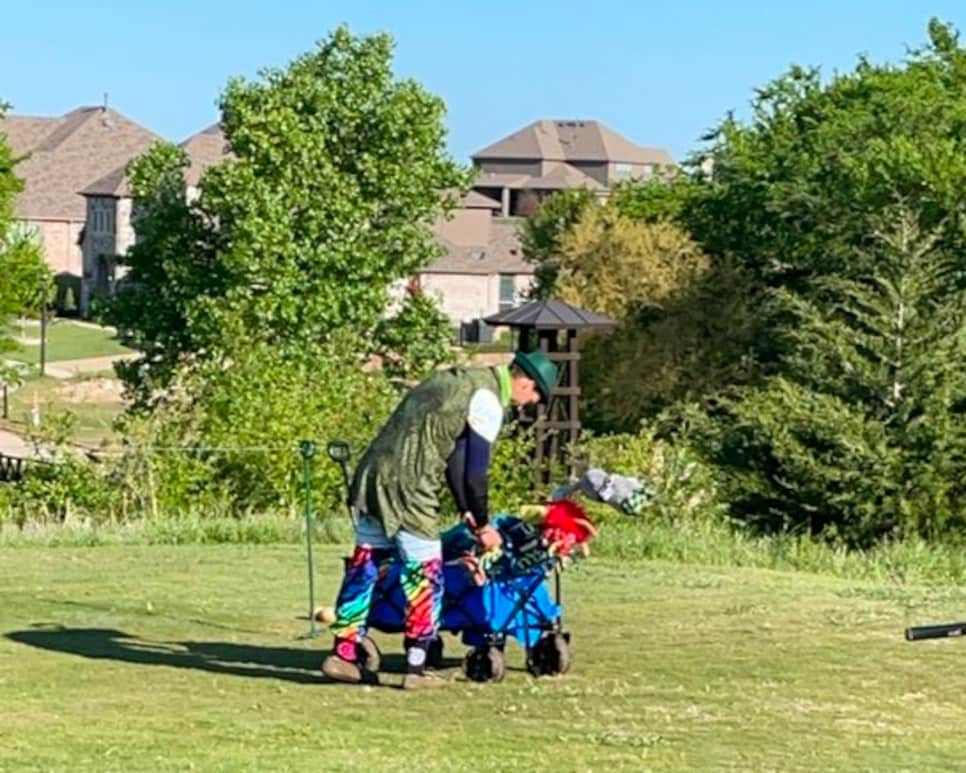 The Fight When Fox News featured the story on its main page, I knew it was big. Two players at a KFT Monday had a disagreement that ended with one player getting arrested, one player WD'ing because of injuries and the third player in the group giving a police report in the middle of his round. It still stands as the most popular article in Fire Pit history.
I'm not sure we will ever top that one. But in the Monday Q world, you never know.