STRUCTURAL EVOLUTION
How the modern international clubhouse is creating a new sense of destination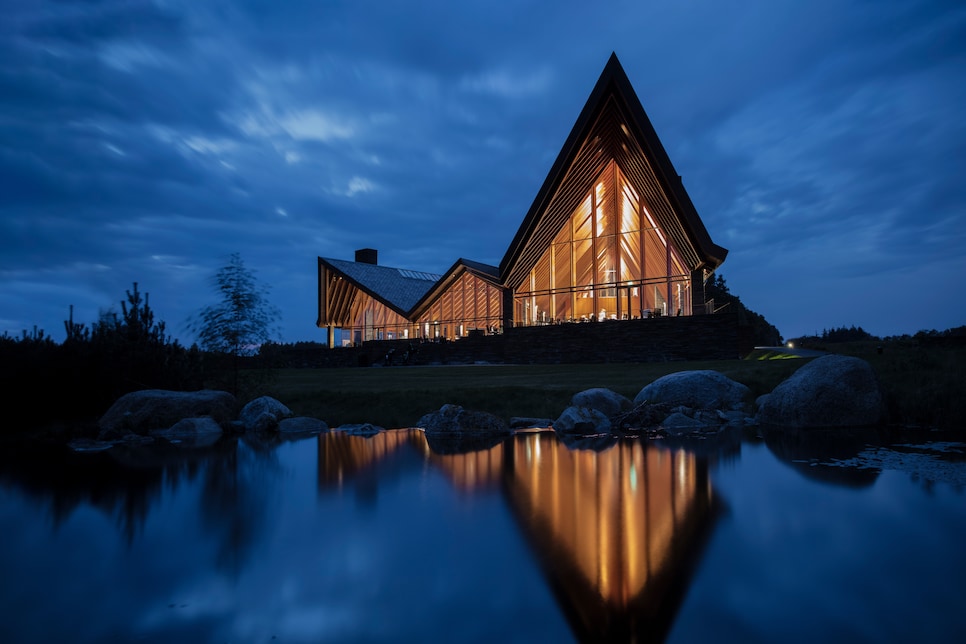 When the royal and ancient Golf Club of St. Andrews first opened the doors to its new clubhouse in 1854, it was the first of its kind—a structure designed and built as a golf clubhouse, allowing players to store equipment, change clothes, socialize and eat and drink. Golf, of course, had by then a much deeper reach into history, having been played for well over 300 years, but the concept of a dedicated clubhouse was new in 1854. Before that, players made use of nearby taverns and social clubs, which had long functioned as de facto clubhouses.
"It was typical, as it was at St. Andrews, to have social clubs next to a golf course," says Richard Diedrich, the author of Legendary Golf Clubhouses of the U.S. and Great Britain. The golf course tended to come with public access, so it was the different private social clubs that cultivated a sense of community and belonging.
When the R&A opened its clubhouse, it combined the community of a tavern and the function of a social club with the affiliation of a golf club. Designed by local architect George Rae, the neoclassical structure set an important precedent for golf clubs around the world, establishing a role for architecture—visually and functionally—in the experience of golf.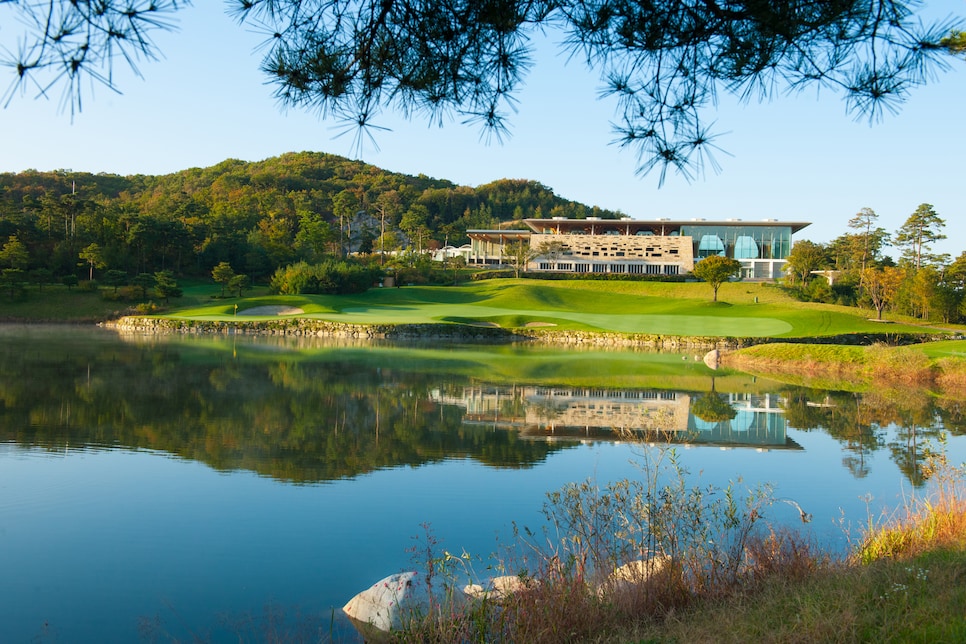 STATELY SCENE Shigeru Ban designed the mammoth clubhouse at Haesley Nine Bridges, set wonderfully into the South Korean landscape.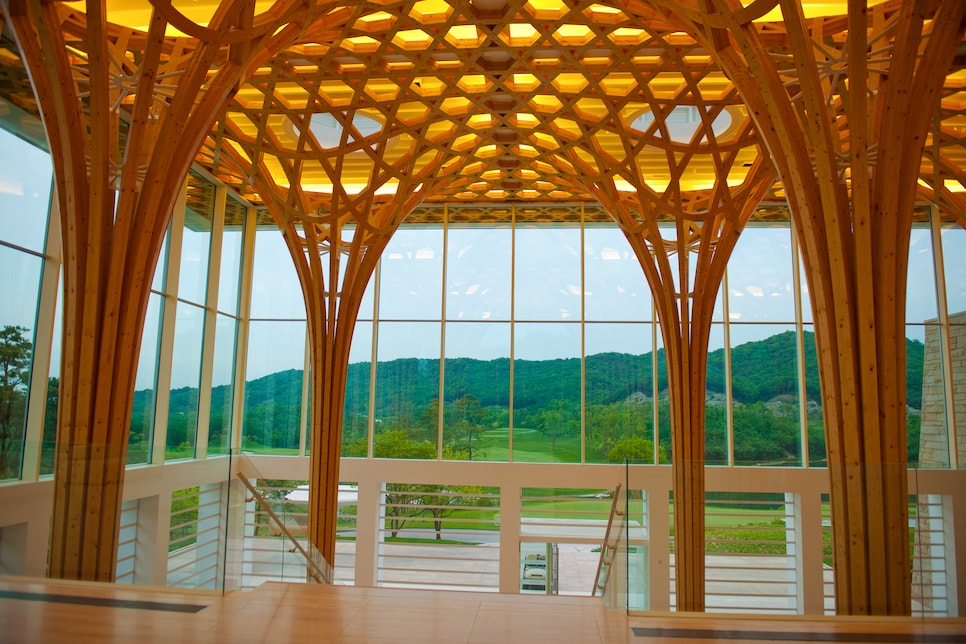 Golf tends to draw from tradition, and because architecture, much like law, is a profession based on precedent, the design of clubhouses has looked to historic precedents, beginning with the R&A. This is not uncommon for architecture. Consider Greek temples. Built some 2,500 years ago, they still serve as a template for buildings of all kinds: churches, courthouses, schools, government buildings, houses, movie theaters and service stations.
But when George Rae was drawing his designs for a new clubhouse, golf was still a regional pastime. With its center in Scotland and growing popularity in England, its reach was circumscribed. The first golf course in Ireland, the Royal Curragh Golf Club, was still four years away, and the only golf course outside the British Isles—the Royal Calcutta Golf Club in India—was a product of England's imperialist sphere of influence.
The R&A Clubhouse, in other words, was a distinctly Scottish proposition, and Rae's design was a direct product of its time and place. Victorian social codes prevailed. Buildings were heated predominantly with coal. It would be 74 more years until all women in Scotland could vote. The climate it responded to was cold and drizzly, particularly because golf was a tradition rooted in wintertime play.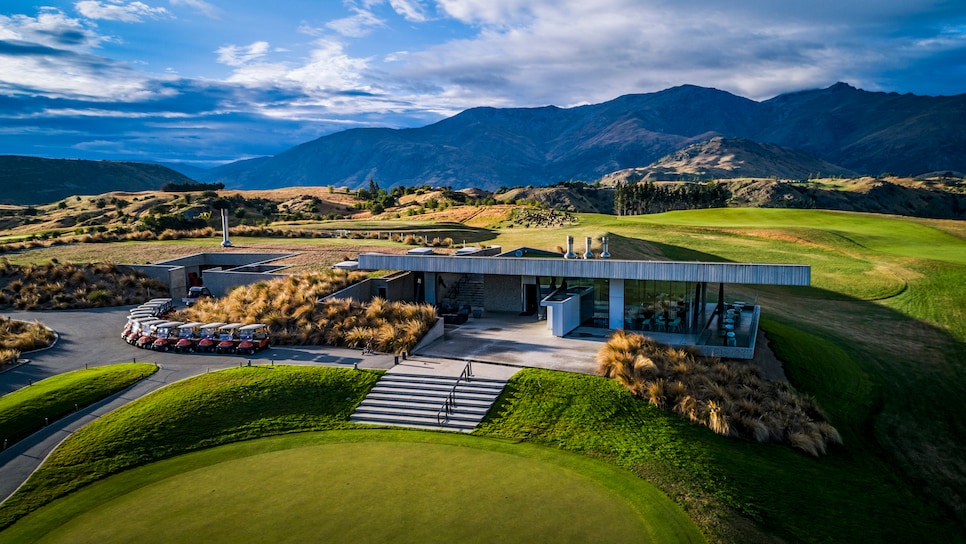 NATURAL WONDER The clubhouse for The Hills Golf Club in New Zealand is tucked into the rugged landscape, allowing the native surroundings to visually define the course. Photograph by Nick Wall/Airswing Media
As golf becomes a truly worldwide activity—more inclusive, more performance-driven and played in regions with climates more comfortable than Scottish winters—the architecture of its clubhouses evolves, too. With an eye toward the 21st-century experience of golf as it is played in places around the world, Golf Digest considers the future of the clubhouse in international locations. Though we, like you, will never tire of visiting the great clubhouses from history—Muirfield, Royal Blackheath, Royal Musselburgh, Wentworth and, of course, The Royal and Ancient—in this feature, we turn our eye to recent clubhouse architecture: buildings in diverse geographies, environments that reinforce the sport's growing inclusivity, systems that account for energy and environment and designs distinguished by architectural excellence.
"In places like New Zealand, the formality of Old World clubhouses is just not conducive to the ethos," says architect Andrew Patterson, the founder of Patterson Associates Architects and the designer behind an impressive roster of clubhouses in New Zealand. "Clubhouse design shouldn't be about just copying traditions. It should be about creating a sense of destination."
That sense of destination includes a clubhouse at The Hills, a John Darby-designed course in Arrowtown, New Zealand. Set in the rugged landscape of the country's Southern Alps, the club offers 360-degree views of the landscapes that have made New Zealand such an enviable destination. Rather than create an imposing architectural element in competition with the landscape, Patterson, instead, deferred to the landscape, tucking a low-slung canopy into the turf, allowing the natural surroundings to visually define the course.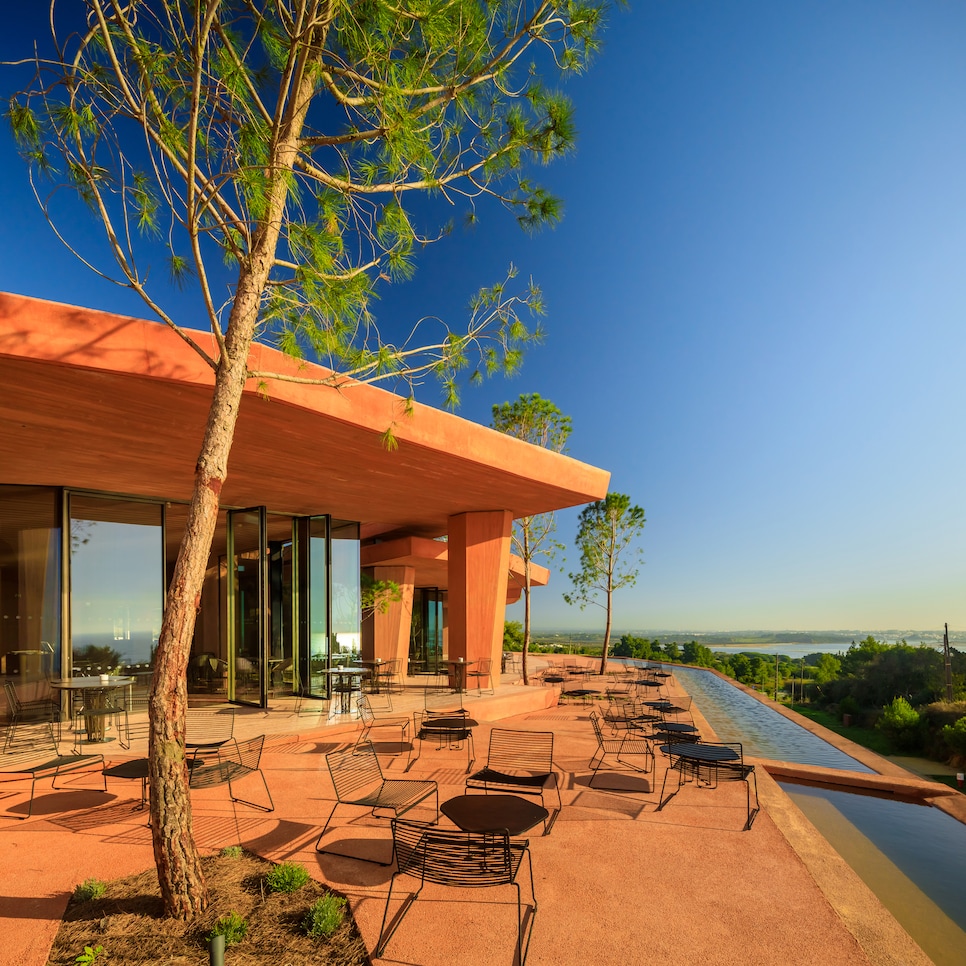 PERCHED IN PORTUGAL An aerial view and a closer look at the patio outside the clubhouse at Palmares Ocean Living & Golf Resort, designed by RCR Arquitectes. Photographs courtesy of Palmares Ocean Living & Golf Resort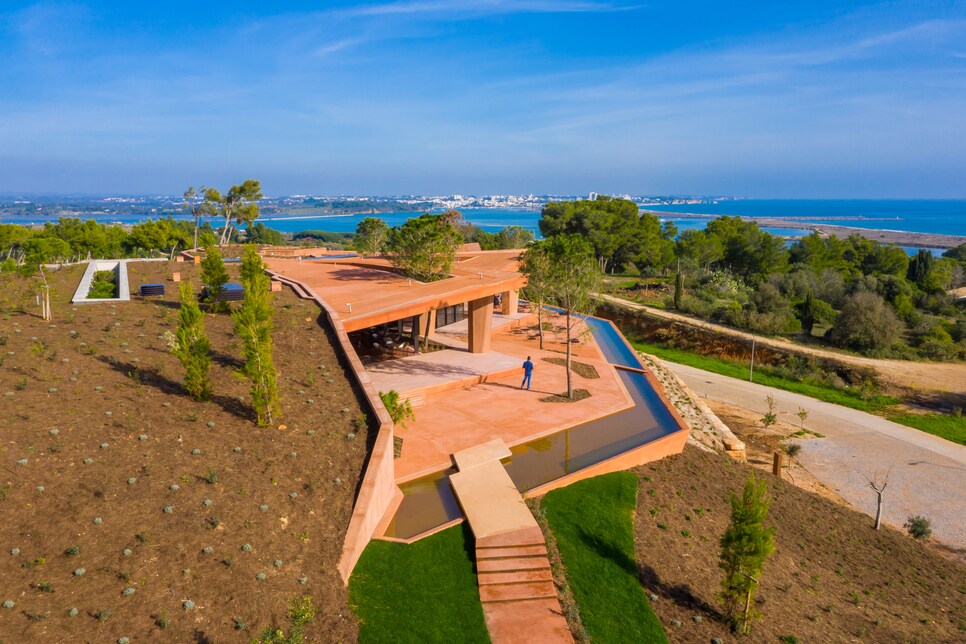 As the ownership groups of historic clubs know all too well, the expectations set on clubhouses change over time. As functions diversify to include spaces for families, recreational areas and larger gatherings, and as the technologies that keep buildings running change, too, clubs need to undertake what can be costly capital improvements. Architects now can anticipate such future change. Knowing the needs of a club and the experience of a course change over time, Patterson, for example, set out to position The Hills with a long-range perspective. "This is a timeless, permanent legacy building," he says, citing both the building's durable materials and its flexibility to accommodate multiple and changing needs over time. "So often, people design clubhouses for the 300-person events," he explains, "but then the club feels empty and uninviting when the events leave town." To overcome this challenge, the clubhouse is designed to open onto outdoor terraces, giving the club the option of staging larger events with indoor-outdoor layouts.
When Brazilian architect Isay Weinfeld set out to design the buildings for Fazenda Boa Vista, an Arnold Palmer-designed golf course outside of São Paulo, he, likewise, looked more to the precedents offered by Brazilian Modernism than he did to 150-year-old clubhouses half a world away, where different climates and material history result in different architectural traditions. What results is an assemblage of Modernist structures that place the golf club squarely in its 21st-century context. For the clubhouse, Weinfeld embedded a concrete volume into the site's topography, using it as a place to position the locker rooms and back-of-house programs. Above this volume, he designed a series of rectilinear wood-framed pavilions that provide sweeping views of the Brazilian landscape. Surrounded by covered terraces, these volumes, which house a restaurant, bar and a lounge, are enclosed with floor-to-ceiling glass panes, creating opportunity for indoor-outdoor configurations, tying the building to its site and climate.
For Weinfeld's work at Fazenda Boa Vista, the clubhouse is one element of a wide-ranging program that includes a hotel, residences, gym and an equestrian center—a landscape of modernist structures linked together with a golf course.
Though inns have long been a part of the architectural backdrop of golf clubs, they have become an important area of focus and like clubhouses the subject of architectural attention. For the Jack Nicklaus-designed Kinloch Club on the North Island of New Zealand, Andrew Patterson designed a clubhouse and a lodge, allowing guests to stay in its remote setting.
The course is on a volcanic plateau, subjected to what can be a biting cold. Patterson determined to design what he calls a castle, which would provide a protective perimeter, defending not against neighboring pillagers but instead against the weather. Positioned on a rocky escarpment at the edge of a volcanic ridge, the stone building has the straight-edged lines of a decidedly modern building with the architectural gravitas of a structure that has been there for generations. The stone walls protect against the wind, and windows provide panoramic views of the golf course and the surrounding landscape. A central courtyard creates outdoor space shielded from chilly winds.
GRAND ENTRANCE The reception house at Taiwan's Taifong Golf Club. Photograph by Fernando Guerra
With golf 's now-global appeal, clubs continue to tailor functional elements specific to place. Whereas Scotch and playing cards might have worked for early clubhouses, changing tastes warrant different offerings. At Whistling Rock Country Club in Chuncheon, South Korea, the highly regarded Dutch architecture firm Mecanoo designed a series of new buildings for the Ted Robinson Jr.-designed course. Though its work includes a clubhouse—a boxy modernist volume with floor-to-ceiling windows sandwiched between travertine slabs—it has other buildings that incorporate regional adaptations in golf-course programs, which in this case means three tea houses interspersed alongside the course. These tea houses—the so-called Cocoon, Temple and Cloud—give the course a unique architectural identity, rooted in contemporary design and offer golfers a meditative environment merging a significant local tradition, in tea, with golf. As Mecanoo's Eliano Felicio says, "The architecture should be a reflection of the people, the users, the place and its purpose."
Much has changed in golf since the first clubhouse opened in 1854. No longer played by whacking boiled-goose-feather-filled leather pouches with hand-carved wood clubs, the sport has seen performance gains across any feasibly quantifiable metric. Just as technology and research have transformed the equipment, architects, too, have turned an eye toward the performance of the buildings that support the sport—including clubhouses. Here again, the R&A has been at the vanguard, sponsoring the Golf Environment Awards (GEA) and authoring Golf Course 2030 (GC2030), a framework to make golf more energy efficient and more responsive to a course's underlying ecology.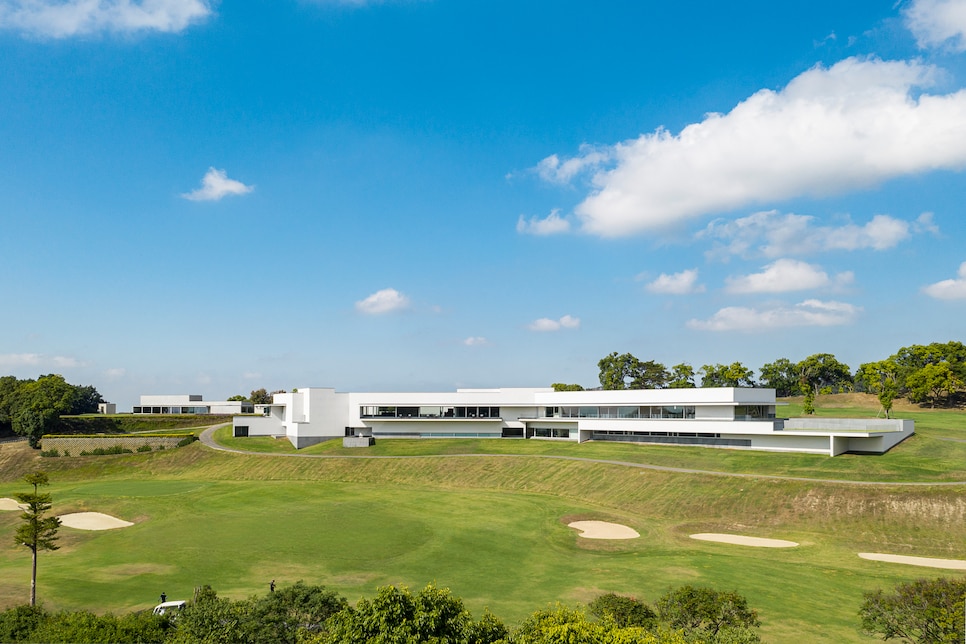 MINIMALIST CHARM With a deceptive simplicity, the clubhouse at Taifong Golf Club in Taiwan exhibits the link between landscape and local culture. Photograph by Alvaro Siza+ Carlos Castanheira
In Portugal, the Spanish firm RCR Arquitectes is designing a series of buildings, including a clubhouse, at the Robert Trent Jones Jr.-designed Palmares Golf Club. RCR's design has been certified by BREEAM (Building Research Establishment Environmental Assessment Methodology), an organization that evaluates a project's environmental performance and which gave an approving review of Palmares. As with any good sustainable design the project's environmental performance is integral to the architecture's underlying design concept, including aesthetics. With the buildings at Palmares, this means an approach that creates relationships between architecture and landscape. Made with a distinctively colored concrete in the shade of a burnt sienna, the clubhouse is embedded into the site's topography, its flat roofs supported with multifaceted concrete columns. In addition to the golf shop, locker rooms and a bar, the clubhouse includes a Michelin-starred restaurant, Al Sud, with views out to the Bay of Lagos. Though the clubhouse is now complete, the project continues, and in the coming years RCR will introduce other buildings, including a series of residential villas.
BEST INTERNATIONAL CLUBHOUSES
In 2017, RCR Arquitectes was awarded with the Pritzker Prize, architecture's highest honor, often called the Nobel Prize of architecture. RCR joins a roster of Pritzker Prize laureates who have designed golf clubhouses worldwide. These include Shigeru Ban (who designed the clubhouse at Haesley Nine Bridges in South Korea and the Skolkovo clubhouse in Russia), Arata Isozaki (who designed the Fujimi clubhouse in Japan), Tadao Ando (who designed the Ferrum clubhouse in South Korea) and Alvaro Siza (who designed the clubhouse for Taifong Golf Club in Taiwan).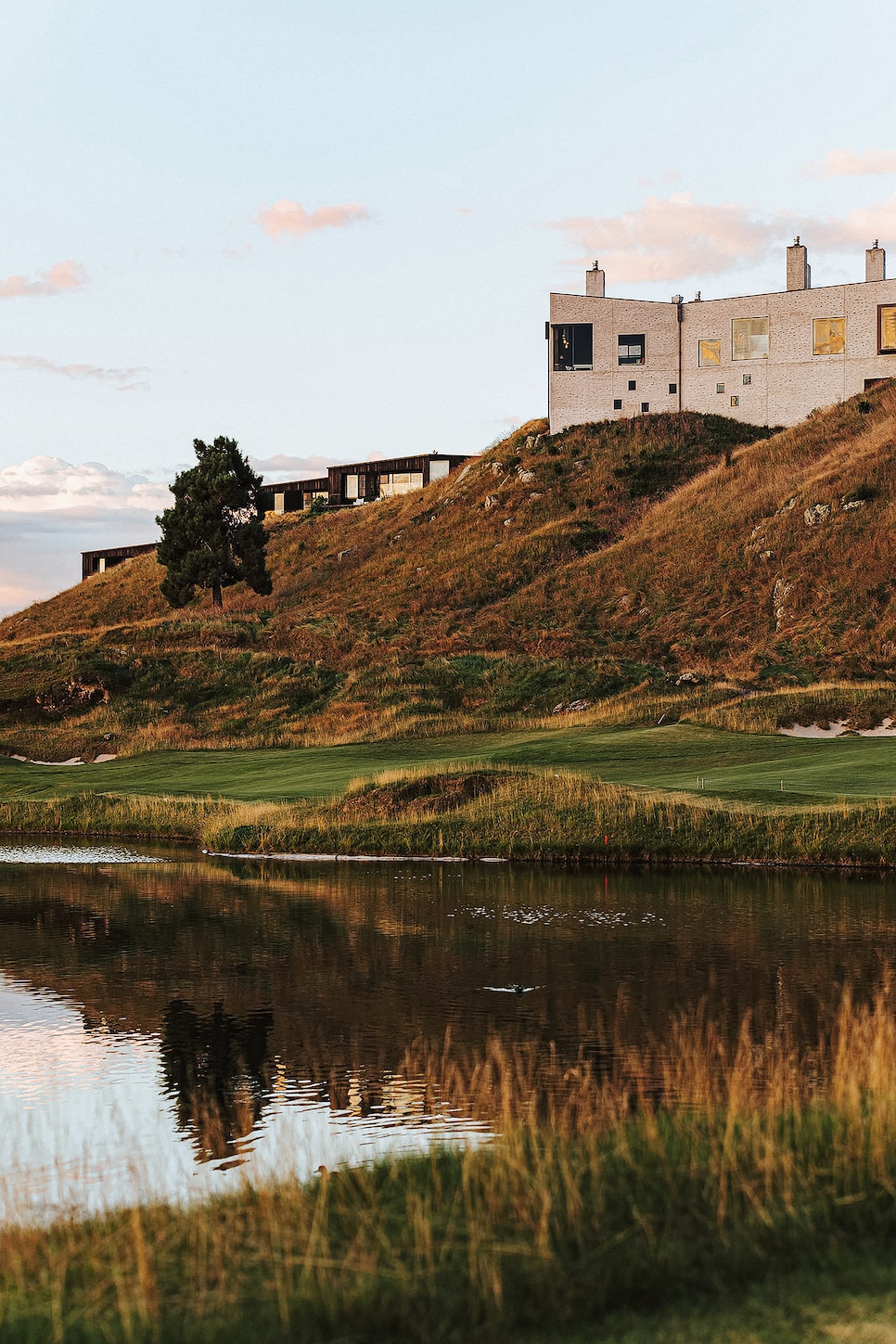 As with the clubhouse at the R&A, the architecture often becomes a kind of emblem for the course. As Patterson puts it, "The clubhouse is the most tangible expression of the club, of what the club is about."
When The Scandinavian golf club set out to design a clubhouse for its Robert Trent Jones Jr.-designed course, it turned to Henning Larsen Architects, a Copenhagen-based firm known for its high-performance design. The clubhouse that ensued is set under a boldly folded roof plane with deep overhangs. Its distinctive shape creates a recognizable form with indoor-outdoor environments and comprises the graphic logo for the club's visual identity.
Although the early history of golf is a distinctly Scottish story, the history of golf-clubhouse architecture is more of a multivalent narrative than a single storyline. Yes, the R&A created a definitive standard when it opened, but in that same year, 1854, Georgia plantation owner Dennis Redmond started construction on the house that would later become Augusta National's clubhouse, which also would become an architectural standard-bearer in America. Others would soon follow, making the set of precedents even more diverse. Stanford White's clubhouse at Shinnecock Hills, for example, which opened in 1892, carries the weight of historical record.
"Even though golf started centuries earlier in Scotland, the idea of a private clubhouse on a members-only golf course happened almost parallel between the United States and Great Britain," Diedrich says. Clubhouse history, in other words, has multiple points of origin, allowing architects to draw precedents from multiple sources. As architects around the world continue to create new designs for new clubhouses in new geographies, the architectural history of clubhouses becomes even more layered, providing future architects the precedents to allow for continued innovation.