New Equipment
Miura goes to new places with true game-improvement, multi-piece design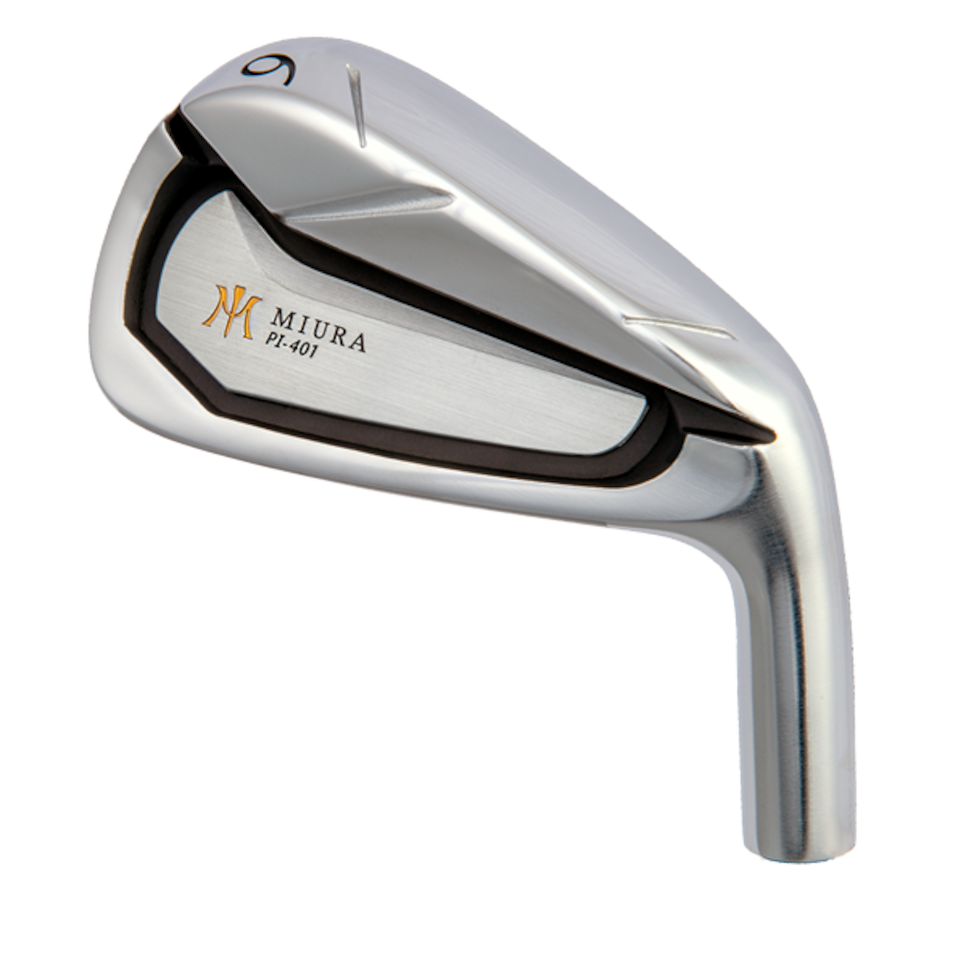 WHAT YOU NEED TO KNOW: Miura's touting the PI-401 as its first true multi-piece, game-improvement iron. That's a big departure for a company whose calling card and religion-like following for more than 60 years has been single-piece, hand-crafted forgings. But the PI-401 uses a hot-rolled steel face insert surrounded by a cast 8620 steel body to produce the company's longest and highest-launching iron ever. Especially helpful is the wider sole, designed for stability at impact and smooth turf interaction.
Price: $330 per iron (4-iron through gap wedge)
THE DEEP DIVE: Miura is a company whose foundation has been about catering to the precise demands of better players with a nearly exclusive, six-decade commitment to single-piece forged irons. Indeed, the company even went so far as to introduce forged muscleback blades that were made smaller than standard. So when the venerable Japanese brand announces a new iron that not only is focused on game-improvement players' needs but also is constructed of multiple pieces, is cast, and is larger, it is as if Chick-Fil-A had just unveiled its new cheeseburger.
But that's what the team at Miura is doing with the new PI-401 irons, a two-piece cavity back design that features a hot-rolled S35C carbon steel face insert welded to an 8620 cast steel body. The face is a uniform 3.6 millimeter thickness, and while there are many irons with faces thinner (the TaylorMade P·790 irons, for example, have a face that gets as thin as 1.6 millimeters), these irons are serving two masters. And for Miura, whose founder Katsuhiro Miura has been labeled by the Japanese golf media as having the "hands of God," only one of those ultimately can take precedence.
"Our goal was to allow more golfers to experience the 'feel of Miura,'" said Miura's son, Shinei, the lead designer on the PI-401. "Our challenge was to design an iron which could deliver distance and forgiveness but not at the expense of that feel. We knew we needed a club head which was bigger, but realized that if we concentrated solely on feel, we might not be able to optimize that head size and therefore that would limit the number of golfers who would benefit from this new model."
Miura said by focusing on the shaping of the heel and toe region allowed the head to appear more compact. But the wider sole design, which features four distinct angles and a special leading edge grind, drives the center of gravity low, adds stability at impacted and improves turf interaction.
"Often, an oversized head will struggle to get to 'square' at impact," he said. "The design of our new and innovative sole delivers a stable head, optimized impact loft and unparalleled turf interaction. And all while delivering the sound and feel of a Miura iron."
That desired feel is a result of the thickness of the carbon steel in the face insert, as well as the material itself, which mirrors the steel that was first used in Miura's forged irons when the company was founded in 1957.
"We have always wanted golfers to discover the difference between a good shot and a bad one," Miura said. "The combination of these two materials allowed us to achieve a feel that closely mimics that of a forged iron and does so over the entire club face."
While the lofts are 2-3 degrees stronger than the typical Miura forged blades like the MB-001 and forged cavity backs like the CG-301, they are still 2-3 degrees weaker than some of the leading game-improvement irons on the market. Miura wanted to be careful that the PI-401 irons produced enough spin for a controlled trajectory coming into the green. In fact, the PI-401 feature 15 grooves on the face more closely space together in order to produce the ideal spin for each iron loft.
"There is more to producing a player-improvement iron than just the size of the head," Miura said. "We can also instill confidence in the player by optimizing the top line and by applying a specific finish, thereby making the club face 'look' bigger."
Now available at authorized Miura dealers and on the company's website, the PI-401 irons are available in 4-iron throug gap wedge lofts ($330 per iron).