News
Mirim Lee is a playoff winner at the ANA Inspiration after the wildest of back nines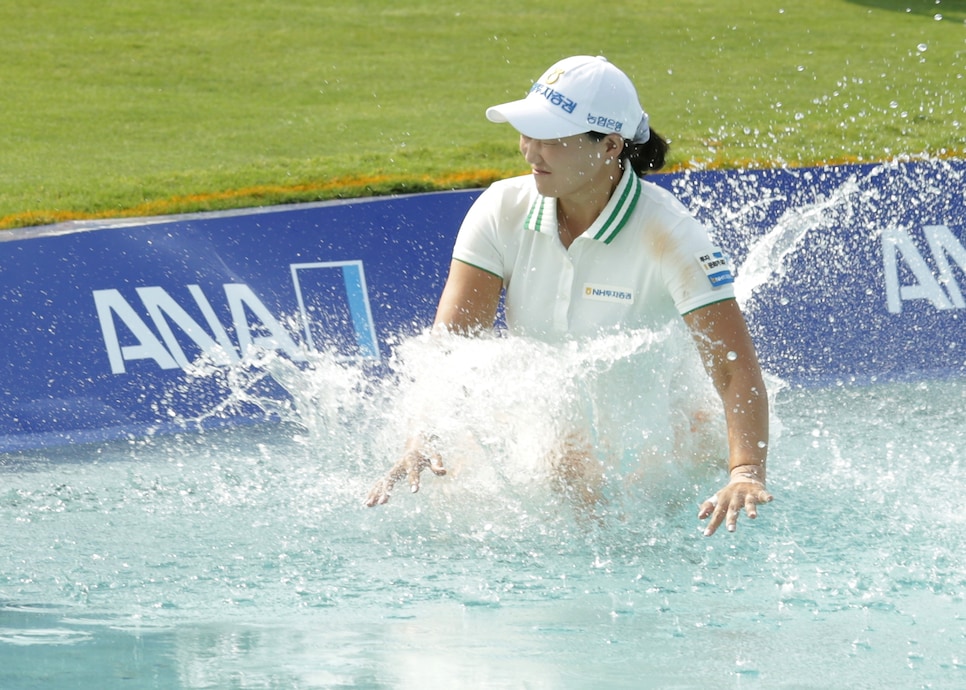 RANCHO MIRAGE, Calif. — The inherent beauty of sports is that it is not scripted, which was never more apparent than on a wild Sunday on a man-made oasis in this broiling desert. It featured a pair of marquee stars, an interloper who wedged her way into the affair and a cameo by an edifice dubbed the Great Wall of Dinah.
The winner of the ANA Inspiration was Mirim Lee, a 29-year-old South Korean who holed three chip shots, two on the back nine on the Dinah Shore Tournament Course at Mission Hills C.C., and defeated Nelly Korda and Brooke Henderson by holing a five-foot birdie putt on the first playoff hole.
In the immediate aftermath, as Lee struggled to get control of her emotions, Golf Channel's Jerry Foltz asked her, "Are you in disbelief right now?"
"Honestly, I can't really believe it right now," she said later. "I feel like I must be a little crazy for having won this."
Surely, she wasn't alone in her disbelief. Korda had to be among the disbelievers. She had been on the verge of winning wire-to-wire, and aside from relinquishing her lead for one hole early on the back nine, held the lead through 17 holes, until …
Until the Great Wall of Dinah came into play. It was a temporary structure behind the island green at the par-5 18th hole. Ordinarily, when the tournament is played with fans in April, a grandstand is there, providing players attempting to reach the green in two a fortunate backstop (and preventing balls from finding the water hazard over the green). The structure this week was there to replicate that.
Lee, playing ahead of Korda and Henderson, and trailing the leader by two, hit her second shot over the green and off the structure. She was given a free drop, then holed a long, quick downhill chip for eagle to move into a share of the lead at 15 under.
"I definitely thought to utilize the backboard," Lee said. "When I had practice rounds, I had practiced that shot, so it was a definite for me to use the space there.
"My plan for 18 was just to have a birdie and do what I have to do to keep my head up, and when the shot went in, I think I was really surprised. It must have been a bit of luck that helped me."
Then the waiting game began for her. A poor drive took the option of going for the green in two away from Korda, who laid up short of the water and hit a poor wedge shot. Henderson then bounced her second shot over the green, her ball scooting beneath the structure.
She found her ball, was given a free drop, then chipped to three feet. The outcome was still dependent on Korda, who had a 22-foot birdie putt to win. It was never online. Henderson then tapped in for birdie, and the tournament went to a playoff, the trio returning to the 18th hole.
Korda again played the par 5 poorly, missing the fairway off the tee. Henderson also struggled, and both failed to convert birdie putts. Lee, over the green in two once more, chipped to five feet with her third shot and holed her birdie putt for the victory.
The win was Lee's fourth on the LPGA, but first in more than three years. She shot a five-under-par 67 in the final round, making up a two-stroke deficit to Korda and Henderson, who both shot 69s. The trio completed 72 holes in 15-under par 273.
"I played solid today," said Korda, 22, the third-ranked golfer in the world seeking her first major title, who finished with a Sunday 69. "I had a couple bogeys on the back nine, but I kept my calm. Didn't hit a really good shot on 18 off the tee both times, so that's what kind of got me in trouble there.
"I'm just going to take positives from this week. I know my game is trending upward. I'm just going to continue working hard and see where that takes me."
Henderson, who shot a closing 69 as well, seemed to take the loss in stride, other than noting "it's tough to lose that way.
"I definitely played really well this week, which is definitely a really nice feeling and definitely gives me confidence moving forward."
Afterwards, Lee, hesitant at first, took the obligatory leap into Poppie's Pond, capping a hot and unusual day in the most refreshing of ways.