Takeaways
A marquee group delivers, a comeback completed and a surprise leader at the Memorial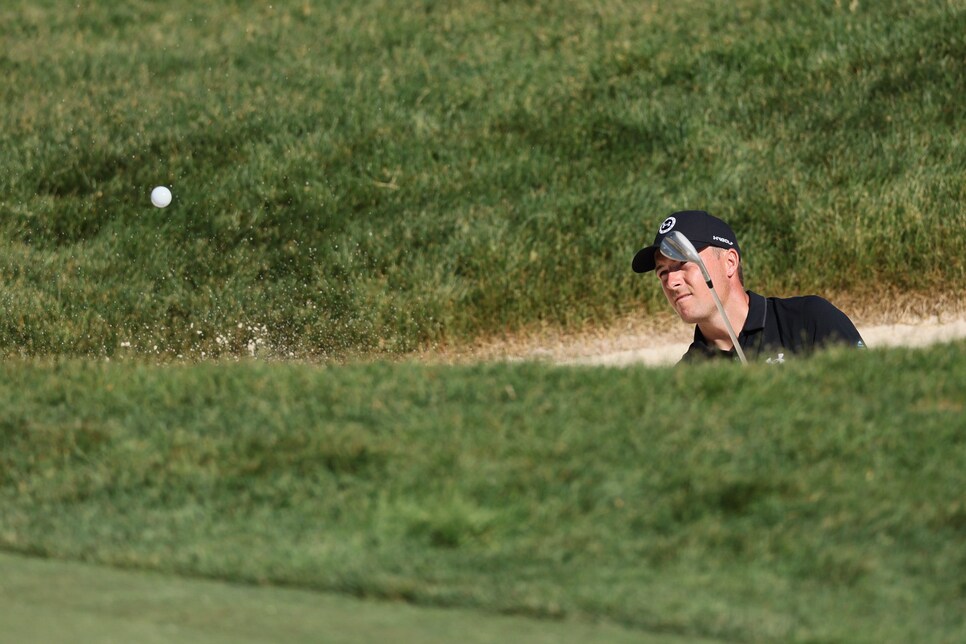 Thursday afternoon's marquee group lived up to the hype.
Jordan Spieth (69), Tyrrell Hatton (71) and Rory McIlroy (72), all among the most entertaining players on tour, albeit for different reasons, put on quite the show at Muirfield Village. McIlroy got the trio of Ryder Cuppers started with a pin-seeker on the third.
However, they're all looking up at Davis Riley (67), who played his final seven holes in four under par to grab the lead at the Memorial Tournament. But no other group produced as many highlights as the 12:53 p.m. tee time.
As is typically the case, Spieth filled up the cup in a variety of ways, sinking long birdie putts, saving par from seemingly impossible spots and holing out from off the green. If there was any concern that his missed cut at the Charles Schwab Challenge last week was a harbinger of things to come, he quickly put that to rest.
Spieth was only one under when he missed the green at the par-4 10th. In vintage Spieth fashion, he was not deterred.
He followed that up with a simple two-putt birdie at the par-5 11th to get to three under. Spieth found some trouble off the 13th tee, missing the fairway right, then shortsided himself in the left rough 30 yards short of the green. All he could do was hack it out to about 23 feet. No matter. He canned that to save par and stay bogey-free for the round and one shot off the lead.
He came to the 17th still one shot back. He left his approach shot roughly 15 feet from the hole for birdie—one of just eight greens he hit all day. If you've been even a casual viewer of golf most of the last decade, you already know what happened next.
"It felt like a great round. It was nice to beat a tough golf course," Spieth said. "I did that on Sunday at the PGA, and then a place that historically has been, I think, the best place for me as a professional, at Colonial, to miss the cut there was just, was such a bummer.
"So to come out and put good work in, feel really healthy, and get a lot of short game work in and get my touch—feel like my touch is back. It started on the first hole today. I mean, I feel like the bunker play is one of the strengths of my game, and the last couple tournaments it's been really poor, actually poor enough to not allow me to have a chance to win golf tournaments."
The birdie tied him for the lead, but his glory was short-lived as he had to scramble to save bogey at the last to finish two shots behind Riley. The group goes off early Friday for the second round just before 8 a.m. local time.
A less-fortunate playing partner
McIlroy had a similarly impressive round going through most of the afternoon. He wasn't perfect, but few players run into birdies the way he McIlroy does. The Northern Irishman played the front nine in two under, despite parring both par fives, thanks to iron shots like this at the par-4 third.
He erased a bogey at the 10th with a birdie at the 11th. At the other par 5 on the back nine, McIlroy dripped a chip slowly down the green to tap-in range on 15 to get to three under and one off the lead.
In perhaps a perfect representation of the last several years of his career, McIlroy got close to the top, but could not grab control of the tournament. He stuffed his tee shot on the difficult par-3 16th inside six feet, but could not convert and remained in a tie for third.
And then came the 18th hole.
McIlroy's drive missed right and he was left with a bad lie and a worse stance. Swinging at waist-height, he was barely able to advance his ball. Once again from the rough, McIlroy flew the green, leaving an impossible chip to a green now sloping severely away from him. Unable to keep that shot from running through the green, he quickly found himself chipping for bogey, which he left nine feet short. After missing the putt for double, he tapped in for triple bogey and, in one hole, fell into a tie for 33rd.
As Golf Channel noted on its broadcast, McIlroy averages 4.33 birdies per round at Muirfield Village, more than anyone else in tournament history, but his best finish is a tie for fourth. The good news is, he won't have long to think about his late-afternoon misfortune with an early tee time on Friday.
Few entertain like Hatton. The fiery Englishman is notorious for his animation on the course and disdain for otherwise revered golf courses.
Thursday was no different.
Hatton left himself an ideal yardage on the par 5, which is common among PGA Tour players. What happened next was theater only he could produce.
That is a full club drop and surrender cobra, followed by a 32-foot bomb for birdie. The full gamut of emotions in just a few minutes.
A few holes later, he was in danger of dropping a shot, only to save par from off the green.
If this threesome produces highlights like this on Friday, the fans at Muirfield Village will have more than just the course's famous milkshakes to rave about.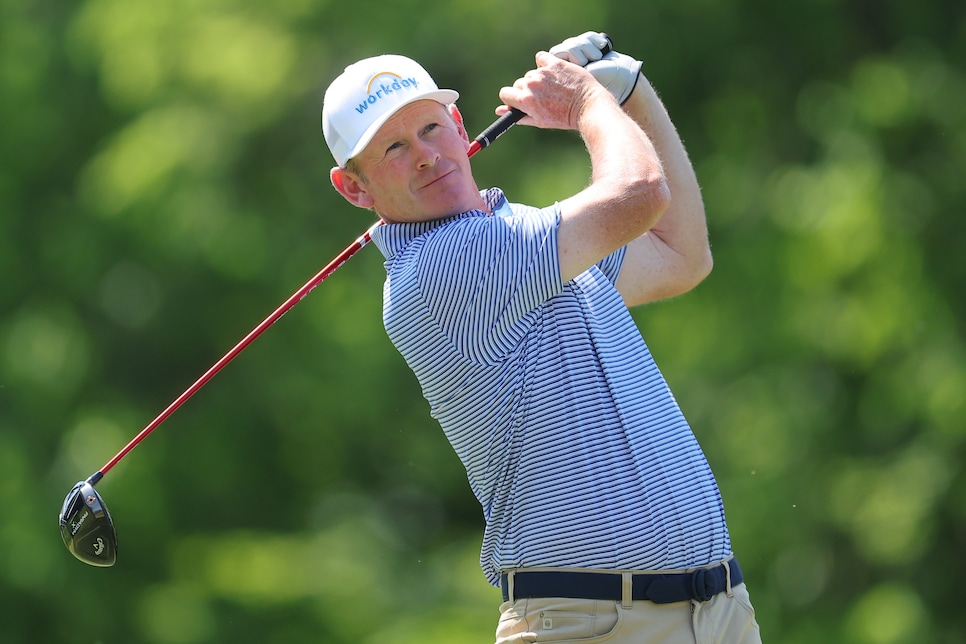 Good for a tie for 48th at the end of play, Snedeker is looking to get his season jumpstarted quickly less than seven months after a manubrium joint stabilization to fix a sternum injury, a procedure Snedeker said had only been performed once before.
Let this be one of many regular reminders that These Guys Are Good. The nine-time PGA Tour winner starts his second round just after 8 a.m. Friday, and he'll be playing with Riley, the guy everybody is chasing.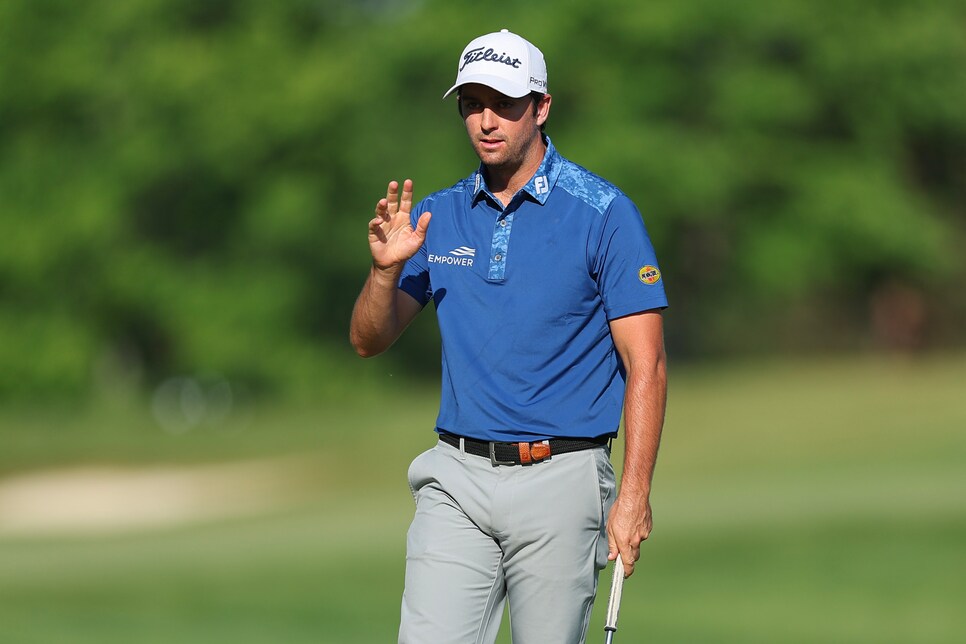 Riley leading a golf tournament, in a vacuum, is not terribly surprising. He is a top-100 player in the world, he's won on the PGA Tour—albeit in a team event—and twice on the Korn Ferry Tour. At 26 years old, he's in place to be a big part of the future of the game.
Davis Riley leading a golf tournament at this point, is, in fact, quite surprising. He won the Zurich Classic of New Orleans alongside Nick Hardy in late April. Since then, his results on the PGA Tour are as follows: missed cut, missed cut, missed cut, missed cut, and, you guessed it, missed cut.
He's probably not going to keep that streak going this week, as he closed strong to take a one-shot lead over Matt Wallace into Friday.
Perhaps we should not be surprised that Davis has found his form at Muirfield Village. He was in a six-way tie for the lead after the first round in Dublin, Ohio, last year, too, en route to a tie for 13th.
He'll look to improve upon that finish starting Friday at 8:12 a.m.