Rules of Golf
Mel Reid issued one-stroke penalty after a frustrating mental error leads to rules violation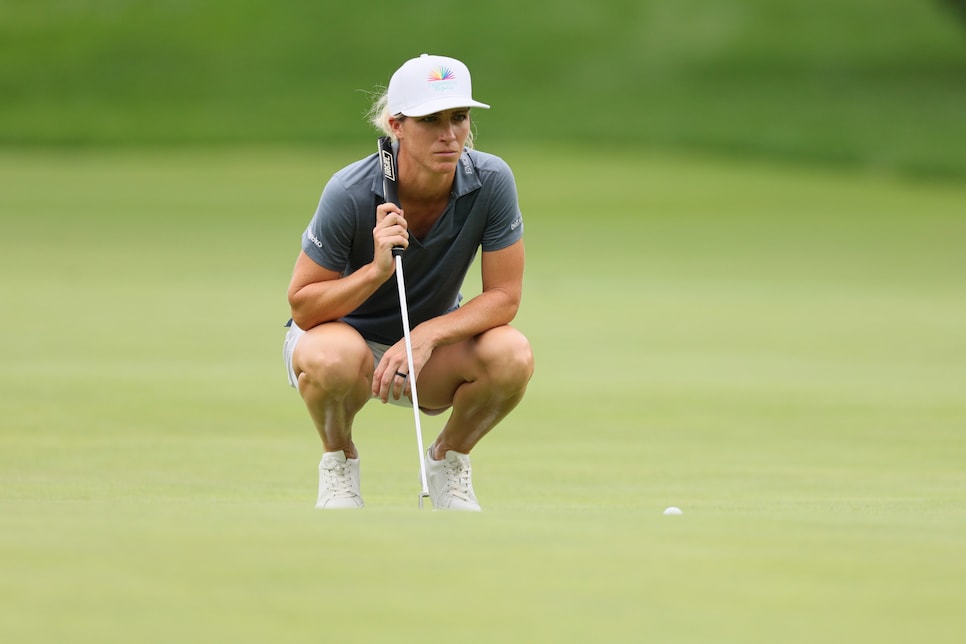 Mel Reid lines up a putt on the second green during the third round of the KPMG Women's PGA Championship.
Andy Lyons
SPRINGFIELD, N.J. — After a stellar 67 on Friday, Mel Reid was high up on the leaderboard going into the third round of the KPMG Women's PGA Championship. She had a slow start out on Saturday, making two bogeys in her first four holes.
But a mental mistake on the fifth hole may have been enough to shake her confidence and take her out of contention completely.
On Reid's fifth hole at Baltusrol, her approach shot landed off the back of the green, approximately four inches from the putting surface. Unaware that she was on the collar, Reid marked, lifted, cleaned and replaced her ball.
Realzing her potential error, Reid then called for a rules official, who confirmed her ball was not on the putting green.
She was immediately issued a one-stroke penalty as this was in violation of Rule 9.4b, which states, "A player who lifts or deliberately touches their ball at rest or causes it to move when not permitted to do so, gets one penalty stroke."
Reid ended up shooting six-over 77—10 shots worse than the day before and now stands in a tie for 35th.