The Loop
Meet the Leibig brothers, who are attending their 42nd straight Players Championship, and have some wild shirts to commemorate it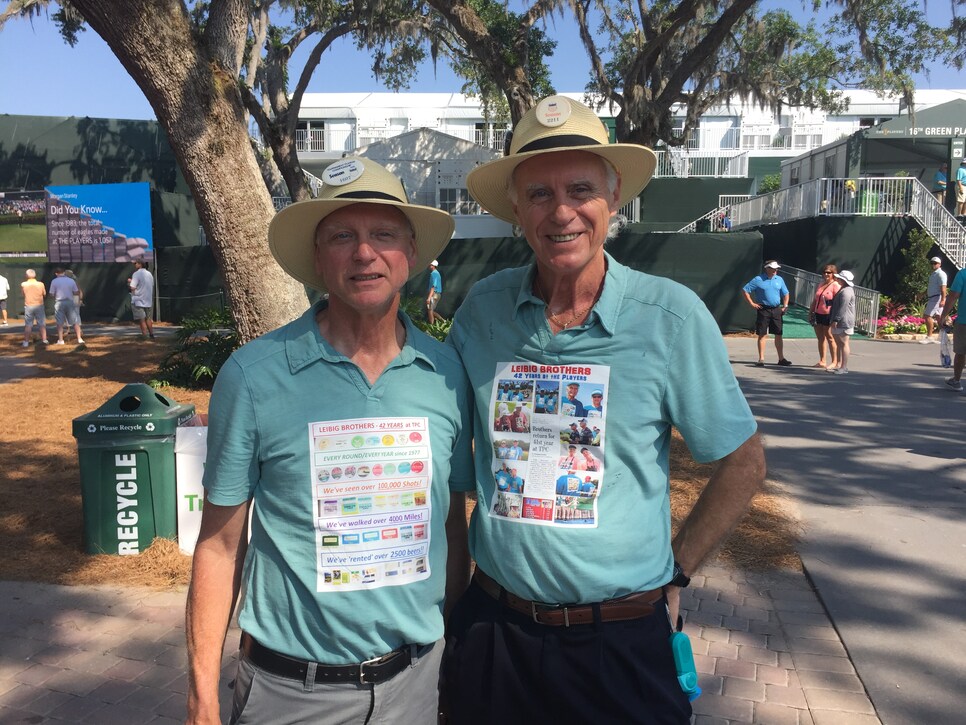 PONTE VEDRA BEACH, Fla. — If you've ever attended a golf tournament, you'll quickly realize it can turn into a full day of exercising. Hoofing from hole to hole can become quite the chore, especially when it's hot and every hole is roped off, forcing you to take an even longer route. Next time you're at a tournament and think to complain, put yourself in the shoes of the Leibig brothers, who have attended the last 42 Players Championships. They don't park it in the stands at the 17th. They walk, walk and walk some more.
"We come all four rounds every year, we've not missed a round," said George, 70. "We get here, we see the first tee shot probably, I would say 90-percent of the time the last 20 years."
George and Joe, who said he was 29 but his brother corrected him and upped that to 61, were born in Somerville, NJ. George came to Florida in 1972 for his job at Prudential and has been here ever since, while Joe moved back to West Milford, NJ after living in Jacksonville for awhile. He still comes out each year to keep their streak alive, and to sport the absolutely awesome T-Shirts commemorating it. The shirts are essentially the same, just flipped. The front of Joe's reads:
"EVERY ROUND/EVERY YEAR since 1977"
"We've seen over 100,000 Shots!"
"We've walked over 4000 miles!"
"We've 'rented' over 2500 beers!!"
Unfortunately for those keeping score, these numbers aren't exact, but we'll take their word for it.
"We've been doing the shirts for about 10 years," said Joe.
"Every so often I up them by 50, or something like that. They are reasonable approximations," said George.
Very reasonable, and considering I followed them as they followed the Rory McIlroy, Justin Thomas, Jordan Spieth group, the 4,000 miles number seems like it could be low. These guys are troopers, walking from shot to shot at a brisk pace and only stopping for shade when a nosy writer asked to speak with them. And they had already been at the course for four hours.
"We got here about 7:05 a.m. this morning, woke up at 5:30," George said.
It's that kind of dedication to the Players Championship that makes the Leibig brothers the foremost authority on the history of the tournament. Their first Players was in 1977, when Mark Hayes won at Sawgrass Country Club. Five years later the event moved to the Stadium Course at TPC Sawgrass, and the tradition didn't stop. When I asked them what the craziest thing they had seen at the tournament, it wasn't Fred Couples' hole-in-3 or Tiger Woods' "Better than most" putt. Nope, after a long pause, George remembered a hilarious moment from the 1982 event, the first one that took place at the Stadium Course.
"Well...Roger Maltbie," said George as the brothers each began to laugh. "He tried to play a backwards shot through his legs, the ball came up and hit him. On No. 8, it was right before they remodeled some of those mounds, he was on the downslope and the green was behind him.
"Tried to hit it between his legs, came up hit him in the chest, got out, took a 7 for a quadruple bogey. He came in fourth that year and he lost by four strokes. That's probably about the craziest, but we see a lot of crazy things."
Incredibly, George was practically spot on. Maltbie did finish four shots back, but in solo fifth, not fourth. We'll let it slide, because that is an incredible memory, and any moment Roger Maltbie is involved in is good in our book. If anything tops it this week at the Players, you can be sure the Leibig brothers will be there to see it.