News
Meet Josh Cassaday, the man who breaks golf world records you've never heard of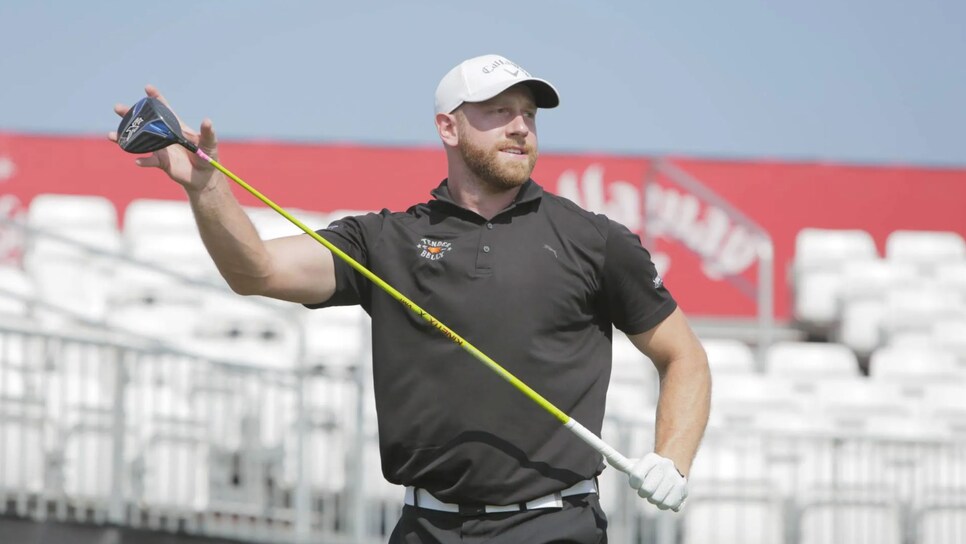 Courtesy of Josh Cassaday.
Have you ever hit a golf ball from your knees? Hit it backwards? Teed off with a putter or, more likely, simply thrown your club an impressive distance in anger? If so, you have unwittingly paid homage to the man who now holds the Guinness world record in all four, umm, disciplines. That man is 32-year-old Josh Cassaday, the Denver native who set all four records on Aug. 24 at Cherry Creek Country Club after raising almost $10,000 for the Boys and Girls Club of Metro Denver.
Cassaday is a full-time "golf entertainer," and a man who is so adept with the big stick that he once drove a ball 467 yards in competition and made the semifinals of the 2018 World Long Drive Championship. In a normal year, i.e. one without COVID-19 putting a damper on everything, he would also appear at about 50 charity events and exhibitions around the country. At those stops, fans will often watch him launch a drive into the stratosphere, and then say, "sure, but what about your short game?"
"Let me show you," Cassaday will reply, at which point he'll pull the putter from his bag, tee up a ball and send it into the firmament.
Want to know what that looks like? We've got video below that showcases Cassaday blasting a 313-yard drive at Cherry Creek, breaking the Guinness world record for longest shot with a putter.
Jokes aside, Cassaday's actually quite good around the green. He plays to a .4 handicap despite picking up golf late in life, after playing Division 1 basketball at South Dakota State. He told me that despite his natural power, the driver is often the most inconsistent club in his bag. But it was that power that drew him to a Long Drive regional event in Salt Lake City five years ago, for no better reason than the fact that he could clobber a ball farther than the average joe. He almost qualified for worlds that day, and he was hooked on the competition. Later in 2015, he did earn a spot in the World Long Drive Championship at a last-chance qualifier, and he's been a member of the tour ever since.
It wasn't long before Cassaday drifted into the world of trick shots, and earlier this year, his mind wandered to that famous arbiter of superlatives: The Guinness Book of World Records. He logged on to their site, searched the key words "longest golf," and discovered that the records on the books in several categories were very breakable. He submitted an application, told them that he'd be using a FlightScope X2 Elite tracker to measure his shots, and waited to hear back. After 12 weeks, he received the notice that he was clear to make his attempt.
Along with the longest shot with a putter, Cassaday targeted the longest drive kneeling, longest throw of a golf club (yes, really), and longest golf shot backwards. For the latter feat, he was just as confused as you might be reading it, but a quick browse through YouTube set him straight. The day before his attempt, he tried the backward shot for the first time at the range and quickly got the hang of it.
"That was the one where I said, 'I have no idea why I'm breaking this,' " Cassaday said. "But I'm going to do it because I submitted the application and got approved."
Sure enough, he obliterated the record with a 343-yard backward drive at Cherry Creek.
As for the other two records, breaking them was a foregone conclusion. The longest drive kneeling record was "only" 296 yards, and Cassaday knew he could break it in his sleep. His final talley: 375 yards.
Finally, the weirdest of all records: Longest throw of a golf club. The record was 54 yards, eminently breakable, and even though Cassaday "hooked" his shot and sent the club straight into the water, a Bushnell rangefinder confirmed that he'd crushed that one, too: 83 yards.
Here's a video montage of him setting all three records:
And just like that, Cassaday was in the Guinness Book of World Records. Or rather, he will be, when the 12-week approval process runs its course. In all, it took him about 45 minutes to finish the job.
"It actually took longer to get the cameras set up," he admitted.
The strange thing about these feats, as Cassaday readily concedes, is that the original records, and his new ones, too, don't really represent the longest shots on record. It's just that he was one of the first modern long drivers to spot the opportunity. I asked him if he worried that the publicity from his stunts, in articles like this one, would set off a sort of trick-shot arms race, and that he'd soon be erased from the record books by his peers.
"I tell you what," he said, "I hope they do, because I think it would be so cool to create this kind of wave of momentum of guys getting out there and trying to break them. Especially now that we're going into the winter, it's like, let's give guys something to do, let's have some fun. You go out and break this record, then I'm going to go back and do it again."