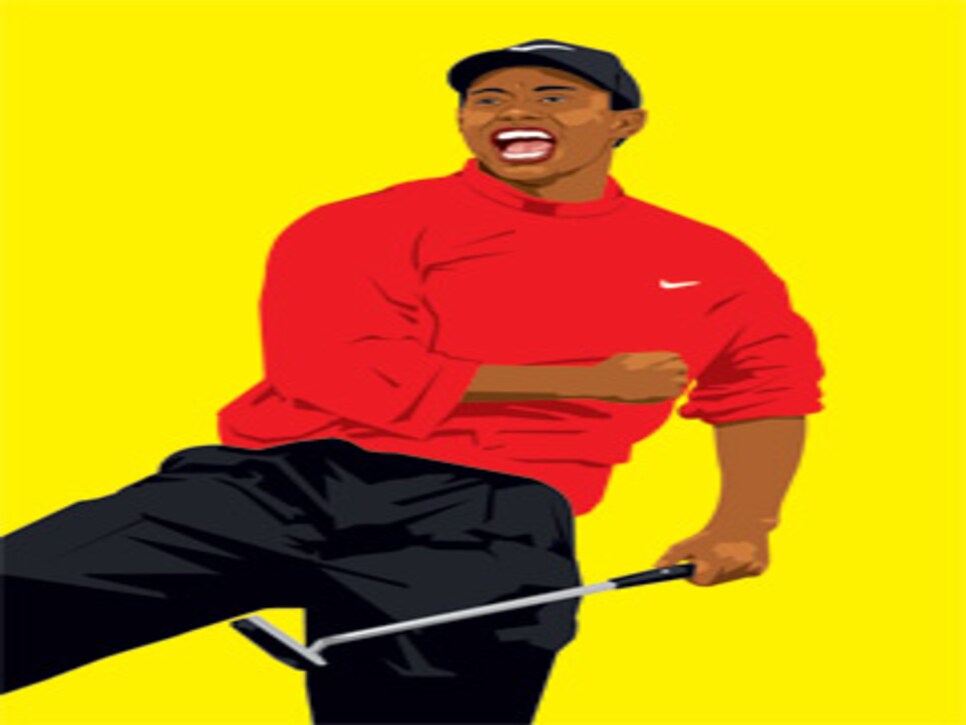 Ten years ago, golf changed. A 21-year-old arrived at the Masters, having never broken par in six rounds at Augusta National, and a week later jetted off with a 12-stroke victory that strained imagination. Tiger Woods had really arrived. Woods had won three tournaments after turning pro, and Tigermania was building that second week of April in 1997. Actor Jack Nicholson was among those in attendance, and scalpers had pushed the price of a tournament badge as high as $10,000 -- so off the charts that a local broker committed suicide after suppliers on the black market reneged on commitments, leaving him 142 tickets short for clients.
The social significance of an African-American winning at Augusta National was lost on no one 22 years after Lee Elder had broken the color barrier at the Masters. In the week after Woods' victory, former winner Fuzzy Zoeller's insensitive comments about the new champion would put race back onto the front pages.
A decade later, it's hard to overestimate the impact of Woods' victory. His power and finesse overwhelmed the field and had observers wondering if a Grand Slam was possible, or even probable. (Bookies who had Woods at 5,000 to 1 to win the Slam before the Masters panicked at the possibility of losing millions if the bet came in and dropped his price to 66 to 1.)
How do you win the Masters by 12 strokes? Woods routinely hit wedges into 11 of Augusta's 18 holes -- including the par-5 15th -- and he never three-putted, making two eagles, 21 birdies, 42 pars and seven bogeys. After a four-over-par 40 on the opening nine, he played the final 63 holes in 22 under. That led to the supposed Tigerproofing of Augusta National, stretching the course from 6,925 yards in 1997 to 7,445, but Woods has won three more green jackets.
Given the constant attention on Woods today, it's of note that after his win in 1997 he had to explain to some observers the significance of wearing red on Sundays ("Mom just believes that red is my power color, and I always do what Mama says"). Tiger wasn't even Tiger in the '97 Masters media guide: Eldrick Woods was hoping to rebound from missing the cut by four strokes as an amateur in '96. And emotionally, he'd had a huge scare in the months before the Masters when he almost lost his father, Earl, who was still ailing as the tournament approached.
In interviews with those who participated and watched a decade ago, we remember a special week. "So," chuckled six-time Masters champion Jack Nicklaus, "Tiger's old enough now to celebrate anniversaries."
Woods' confidence got a big boost even before he departed for Augusta.
Tiger Woods: I shot 59 the week before at Isleworth playing with Mark O'Meara. It was a pretty cool round, actually. We started off on the back nine, and I parred 10, birdied 11 and 12, eagled 13 and birdied 14, 15, 16, 17, 18 and then 1. So, in a nine-hole stretch, I was 10 under. I parred both par 5s on the front nine with irons in my hand -- a 6-iron and a 3-iron -- so it could have been really low.
Mark O'Meara (1998 Masters champion): Tiger likes to have a bet. We don't play for very much money, and he certainly can afford more than I can. I knew something wasn't right when I was 10 down after 12 holes. It was unbelievable. He shot the easiest 59 you could shoot [taking $65 from O'Meara]. Going into Augusta, he was ready.
Paul Azinger: Before the Masters, Tiger was favored, but the sports-talk radio guy in my area was saying how wrong that was -- what has Tiger Woods done to be the favorite, and c'mon, there's a better chance he'll miss the cut. So I called in. I didn't identify myself, but the guy knew my voice. I just wanted to tell the guy that he had it really wrong -- that not only could Tiger win, but he could win by a lot.
How big an attraction was Woods? When he arrived at the media center on Tuesday, moderator Danny Yates, a longtime member and an attendee at every Masters since its inception in 1934, introduced him thusly: "Well, we've got what y'all have been waiting for all day. So Tiger, say a few words, and we'll let them have a go at you."
Tiger Woods: More than anything that week, I was just happy to see Dad there, because he'd had open-heart surgery and had complications from that. He went back in the hospital, and he actually died, but they revived him. He wasn't supposed to go to Augusta. He said, "To hell with you guys; I'm going to support my son."
John Cook: We played at least one practice round together, and you could tell this was a different mode. Tiger would listen to any tip, any place to put it: "Watch out; chip from here. Don't need to chip from over there; you'll never be over there." He was soaking in as much knowledge as he could. That's when I realized, You know what, this kid's a little different.
Mark O'Meara: Tiger processes information better than anyone. Someone might talk to him for 10 minutes, but there might be 15 seconds of that conversation that he'll retain and put in his memory bank.
Tiger Woods: (on playing nine holes on Monday with Seve Ballesteros, Masters champion in 1980 and '83): Of course I picked his brain. He was incredible. He told me the shots you need to play, the clubs you need to play them with. I played with him and Ollie [Jose Maria Olazabal, Masters champion in 1994 and '99]. It was awesome to hear genius at work, because I had no clue.
Jose Maria Olazabal: Tiger said we helped him? That's nice of him to say. I don't think he needed too much help. [Laughs.]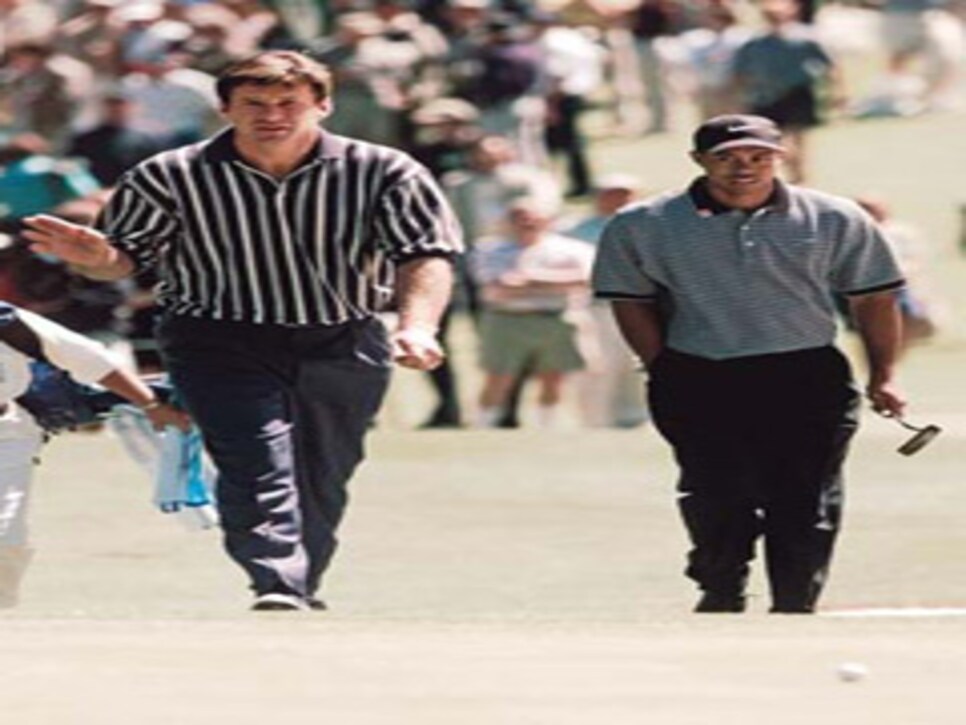 Nick Faldo (Masters champion in 1989, '90 and '96): We had played a practice round, or part of one, I think two years before. Of course all of us were all eyes for the young genius; we wanted to see what it was all about and if it was all true. He really could belt the ball, but the way he twisted and contorted and went after it so hard made you wonder about his back. I thought, If he keeps that up, he won't make 30.
Tiger Woods: I filed everything away. I'd played practice rounds with Nicklaus, Palmer, Floyd, Couples and Norman, guys who have had a lot of success there. I was lucky enough to pick their brains.
Carl Jackson (Masters caddie for 1984 and '95 winner Ben Crenshaw): Tiger did something I really respect. At the '96 Masters, his last year as an amateur, Tiger played a practice round with Ben. He followed Ben and me around as we talked about likely pin positions, and it was obvious he was paying attention. He missed the cut that year [after rounds of 75-75], but on Friday, before he left, he looked me up and said, "Mr. Jackson, those pin positions were exactly where you said they would be. Thank you so much." And I remember thinking, That young man was raised right.
Charlie Sifford: I wired him early in the week, wishing him all the luck in the world. He was determined; he wasn't going to let nothin' get in his way. Kultida Woods: Tiger didn't sleep real good that week. One night [before the first round] he asked Dad to help him with his putting.
Tiger Woods: All of a sudden I lost my putting. I just completely lost my feel and said, "What's going on here?"
He was asleep on the couch, and I woke him up and said, "Daddy, I've been trying here for three days, and I can't find my putting stroke." He said, "Let me take a look at it." He gave me a couple tidbits [Tiger's right hand was breaking down on the takeaway] and said, "Go try it." I tried it in the room before I went to sleep. Got up in the morning and putted in the house for a little bit. Went out to the golf course in the morning, and I was putting better. Then I got to the first tee, and my swing left me.
ROUND 1: TALE OF TWO NINES
As the defending U.S. Amateur champion, Woods was paired with Faldo, the defending Masters champion. Woods started poorly, bogeying the first hole and playing the front nine in 40. On a windy day the 18-hole stroke average for the field was 76.10, the highest since 1988.
Fred Couples (Masters champion in 1992): Tiger was four over after nine holes. I was watching on TV and thinking, Wow, playing with Faldo, but Faldo wasn't doing very good, either. [Faldo shot 75-81 to miss the cut.]
Nick Faldo: We both made a right mess of the front nine. It was tough to tell if he was tight or nervous. There wasn't a lot said between us that I recall. But crumbs, he was hitting it all over on the front side, in the trees. I'm sure most people were probably thinking, Right, he's still in a little over his head.
Tiger Woods: I hit it absolutely horrible on the front, but at least I was putting better. I found my swing on the 10th tee, and I said, Just stick with this for nine holes and see if we can get back to even par. Just get to even par somehow.
Butch Harmon (Woods' swing coach for his first eight pro major victories): He said, "You know, I just felt a little out of sync." And who knows why that is. But he didn't feel out of sync very long.
Mark O'Meara: He was playing in the group in front of me. I saw where he had shot 40 on the front side. We were waiting on the 15th tee because there was a delay. He was sitting on the little wooden bench, so I went over and sat next to him. I said, "Dude, I don't get it. You just shot 59 last week. You know what you need to do: You need to pretend you're playing against me. Things seem to happen when you play against me." Sure enough, he makes eagle on 15, shoots 30 [with birdies on 10, 12, 13 and 17] and finishes with 70.
Fred Couples: I don't know if many people remember the second, third or fourth rounds, but 40-30 is a big deal.
David Feherty (CBS analyst): He walked underneath my tower on 15. I'm thinking, My God, he just looks like a creature from another planet. He was physically incapable of doing anything other than focusing on the job at hand. The guys were talking about his disastrous start -- not that he was aware of it. You probably could have walked up to him with a baseball bat and whacked him over the head with it, and it would have bounced off. He wouldn't even have felt it.
John Cook: The way he hung in there was a wake-up call for everybody. I had some buddies with me, and they're going, "Aw, this kid is just a kid." I said, "Just watch."
Tiger Woods: I was able somehow to turn it into a 30 [finishing three strokes behind leader John Huston, who eagled the 18th]. And then I was off to the races.
Nick Faldo: What he did on the back nine, I guess that was the real beginning of Tigermania. It's nice to have been a part of that. It was quite something.
Greg Nared (formerly of Nike): Everything Tiger competed in that week, he won. He beat Jerry Chang [Woods' former teammate at Stanford] at Ping-Pong, and I believe Jerry was much better at Ping-Pong at the time. Tiger annihilated him. Tiger hadn't beaten me in hoops in probably the 15 or 20 times we had shot them [Nared was a four-year letter-winner at Maryland in the late '80s], but that week he killed me playing H-O-R-S-E. He liked those violent video games back then. He beat the heck out of us in those, too.
Jerry Chang: I had some good leads in Ping-Pong, and we were talking a lot of trash, but I never won a game. It was like a fraternity-type atmosphere, a way to keep him loose and release some competitive energy. I drove him to the course each day and picked him up [after watching on TV with Earl Woods]. I remember we went to Arby's after his good round on Thursday and went back there the rest of the week.
In 1996, Nicklaus predicted that Woods would "win more Masters than Arnold and me combined" -- strong words, considering that Nicklaus had won six green jackets and Palmer four. A year later, Woods' power game in a second-round 66 "reduced the golf course to nothing," Nicklaus said, elaborating in this give-and-take with the media:
Q: Did you ever go for the green on 3? [The par 4 was listed at 360 yards that year.]
Q: Yeah. Did you ever try it?
A: No, I never liked that chip from down there [over a large mound]. No, of course not.
Q: Well, he [Woods] had it pin-high left of the trap.
A: Nicklaus [incredulous]: Come on! . . . Well, I'm going to tell you one thing: It's a shame Bob Jones isn't here. He could have saved the words for me [describing Nicklaus' power and record-setting at Augusta] for this young man, because he's certainly playing a game we're not familiar with.
Paul Azinger: When we got paired in the second round, I'd still never seen Tiger hit a shot in person, and I didn't watch him on the first tee or on his approach shot. I made double bogey on 1, so he's got the honor on the second hole. I guessed that on a par 5 he was going to give it a little extra, and as he got over the ball, I told my caddie, Mark Jimenez, "Hey, I'm finally going to watch him hit a shot."
And honestly, the sensation was kind of otherworldly. I mean, he hit this bullet, taking this ridiculous line down the left between this really tall tree and a shorter one. The ball just went extra fast and kept climbing. It stayed in the air forever until it finally disappeared down the hill to some spot where probably no one had ever carried it. And I looked at Mark and said, "Oh, s---." My exact words.
I think he hit a 6- or 7-iron into that green, and he pushed it to the right. He tried this flop shot from there and kind of fatted it and came up short. There was this moan and then total silence because everybody could see how ticked off he was. Tiger took his wedge and jammed it in his bag, and it went in without hitting any other clubs and boomed against the bottom of the bag like it was a drum. That sound seemed to make everything really tense. . . . And then he chipped it in for birdie. It was like he converted the anger into more focus.
He basically proved that everything I'd heard was true. Players are the last to buy into hype about some new sensation, because we hear so much about how long this guy is, and how good this guy is. People exaggerate, and they usually don't really know. With Tiger it was real, and maybe even a little underrated.
But more than the length, it was that his shots just had so much integrity. What I mean by that is the flight of the ball, the trajectory, the way it takes off and penetrates and holds its line and spins. We can tell. One guy can hit a solid iron to five feet, and another guy can hit one to 25 feet, but the first shot doesn't have integrity and the second one does.
Jim Nantz (CBS host): Kenny [Venturi] was in the tower at 13 and I was in the tower at 18 when Tiger came to the 13th on Friday eyeing an eagle putt. I happened to look at my watch because it dawned on me that this could be a historic moment. And, of course, he drilled the putt, one that he later told us he had seen made many times watching the Masters on television. He knew exactly how that putt would break. I said something to the effect of, "Kenny, let the record show, a little after 5:30 on this Friday, April the 11th, Tiger takes the lead for the very first time at the Masters." . . . Documented it.
Paul Fregia [former director of the Tiger Woods Foundation]: I had the privilege of introducing Tiger Woods to Krispy Kreme doughnuts. At the time they were available only in the South, and I got him a dozen on Friday. By the next morning they were all gone, so he wanted more, this time with maple icing, which I obliged. I consider that the reason he won by 12 strokes.
Woods led Colin Montgomerie by three strokes after rounds of 70-66, but Montgomerie, who would be paired with Woods for the third round, seemed to like his chances: "The pressure is mounting," Montgomerie said, "and I have a lot more experience in major championships than he has."
David Howell: I remember Colin's comment after the second round. He said, "I'll be hitting to the hole first, and let's see what Tiger does when I put it next to it," or something to that effect. I think that's a comment that Colin has always regretted.
Butch Harmon: I reminded Tiger of that just as he left the putting green and went to the first tee. I put my arm around him and said, "Let's just go show Colin Montgomerie who you really are." And he said, "Oh, don't worry."
Tiger Woods: It definitely motivated me. He had more experience, no doubt about that. But he hadn't won a major, and neither had I. If someone who had won major championships had said that, then I would have let it pass. But since he hadn't won one either, I thought we were on a clean slate.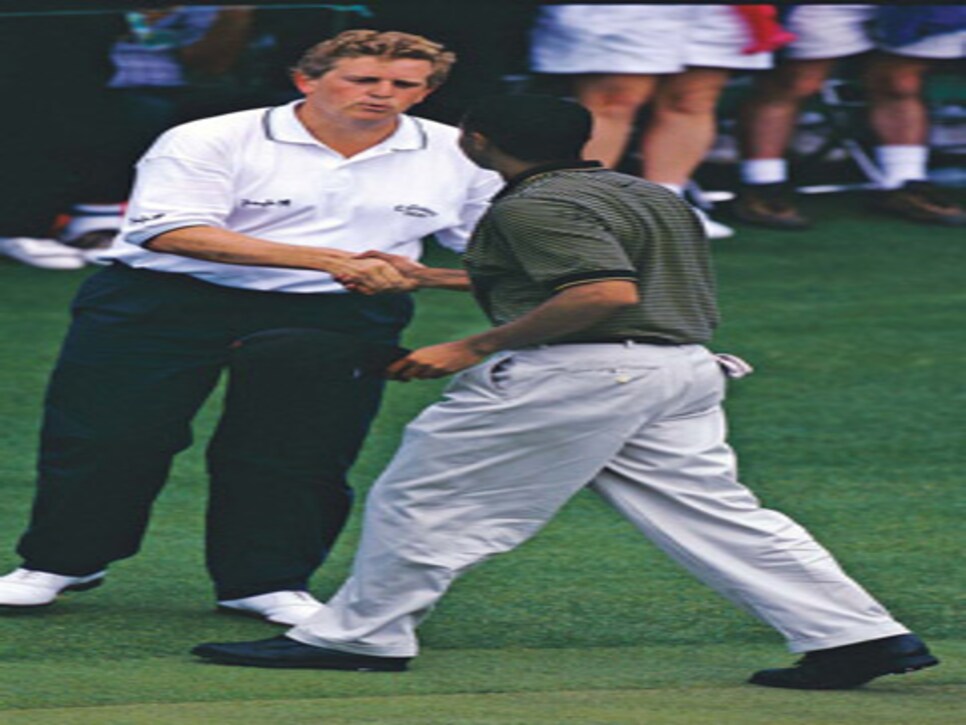 Montgomerie shot 74 in the third round to Woods' bogey-free 65. Looking as if he had just seen his career aspirations flushed down the toilet, Monty visited the media center and provided a remarkable summation.
"All I have to say is one brief comment today: There is no chance," he said. "We're all human beings here. There's no chance humanly possible that Tiger is going to lose this tournament. No way."
A reporter asked, "What makes you say that?" noting that Tom Kite, 11 strokes behind, had reminded the media that Greg Norman had been considered a lock the year before, only to shoot a final-round 78 to blow a six-shot lead over Faldo. Montgomerie stared back, his face incredulous.
"Have you just come in, or have you been away?" he said. "Have you been on holiday or something, or have you just arrived? . . . Sorry.
"This is very different. . . . Faldo's not lying second, for a start. And Greg Norman's not Tiger Woods. I appreciate that he hit the ball long and straight, and I appreciate his iron shots were very accurate. I did not appreciate [until witnessing it firsthand] how he putted. When you add it all together, he's nine shots clear, and I'm sure that will be higher tomorrow."
Jim Nantz: I had a spell there coming to Augusta when I'd lost my voice. I went to a doctor there and went to a hospital to get a steroid shot. I actually did the Saturday show from Butler Cabin, calling it off a monitor. On Tiger's approach into 18, he spun it from off the green to that back hole location. It spun back to about three feet. My voice was able to rise at that moment to describe it. Tiger knocked it in there for 65. He was on his way to a Sunday victory lap.
Tiger Woods: Saturday night, I had to play Ping-Pong, I had to shoot hoops -- I had to do everything just not to think about what was going on. I had so much energy.
Butch Harmon: You know, in my days with Tiger, I never spent any time with him at night -- that was his family time. They did the same things they were doing all week long. They didn't change their routine just because he had the big lead. Jerry Chang: Before he went to bed, he was figuring out how he was going to play each shot the next day.
Kultida Woods: Tiger couldn't sleep, so he talked to Dad. Dad told my son Sunday would be like he couldn't imagine, and that he would never forget it.
Tiger Woods: I didn't wake up early Sunday, which I normally do. I slept throughout the morning and woke up on a perfect schedule.
Kultida Woods: I told Tiger, "Go get 'em, babe." He always listens to Mom.
*With the nine-stroke lead, Woods wasn't about to do anything crazy. "Sixty-three has been done around this place twice [by Nick Price in 1986 and Norman in 1996]," he explained after the final round. "If I didn't make a bogey and made 18 pars [and Costantino Rocca, in second place, matched the course record], I'd be in a playoff." *
Later that year Rocca beat Woods, 4 and 2, in the Ryder Cup at Valderrama, but he knew his fate at Augusta: "I can win only if I play nine holes," he said. "And under par, too."
As Golf Digest's Dan Jenkins wrote, "Tiger Woods on Sunday at the '97 Masters was the biggest lock in sports since Secretariat at the Belmont."
Lee Elder was doing a golf outing on Saturday but flew in from Florida on Sunday morning, picking up a speeding ticket on the way from Atlanta to Augusta. Elder, like the huge throngs around the leader, was eager to see history.
Lee Elder: I'd been the first African-American to play there, but I wanted to see the first African-American win the Masters. When I arrived, he had just left the practice range. I told him to just do what you've been doing all week and things will work out for you.
Lance Barrow (CBS coordinating producer): That was the first Masters that I was in charge. To be presented with something as historic as Tiger winning that tournament was beyond belief. When we came on the air, he was hitting his second shot at 5. We saw every shot from the second one at 5 until he putted out for victory.
Frank Chirkinian: It was the first Masters broadcast I hadn't produced in 38 years. It was the first time in my adult lifetime that I was sitting in front of the TV set watching the Masters from a foreign place: my den. I asked, "What am I doing here?" I was wallowing in pity.
Jim Nantz: On Sunday it wasn't about the competition. The only thing in doubt was whether he would break the record [17-under-par 271, set by Nicklaus in 1965 and matched by Raymond Floyd in 1976].
Costantino Rocca (who shot 75 in the final round): It was a fantastic day. How could it not be? I was playing with the best golfer in the world. I had never seen such speed through impact. I could not believe how far he hit his drives. And he hit a 6-iron to one par 3 [the fourth, then 205 yards] into the wind when I had a 1-iron. He played a different kind of game. I remember thinking, If he learns how to control his wedges, we're all playing for second place forever.
Jose Maria Olazabal: His distance control was maybe off a little, mostly with his wedges. But he fixed that, didn't he?
Costantino Rocca: We didn't speak much during the round. He was a bit tense, being so young. That showed in his short game; sometimes he would go long, sometimes short. That was a sign of the pressure.
Frank Nobilo: I missed the cut, so I got to spectate the entire weekend [after finishing fourth the year before]. It looked like Tiger was leaking a little oil [after bogeying the fifth and seventh holes].
Costantino Rocca: I remember the drive he hit on the par 5, the eighth hole [uphill, and then 535 yards]. He hit it so far he had a 4-iron to the green. He hit left of the green, but from there he hit a low, running shot with his 4-iron [within two feet of the hole] and made a 4. Two 4-irons in a row, very different. He had great imagination.
Fred Couples: I remember something about him not missing a putt inside eight feet all week. I mean, every putt inside eight feet. . . . Geez.
Tiger Woods: I felt great on the greens. But I had a magical driving week, too. I drove it so long, so far. My iron game was pretty solid--it wasn't great, but it was pretty solid. I just felt anything under 15 feet, I could make it.
John Cook: Up until that week we thought he was too aggressive a putter. He'd always leave himself three- and four-footers coming back. Well, that week he learned to just feed the ball down there: more break, less pace. That's when we knew he was on a whole different plane and that this would be the first of many.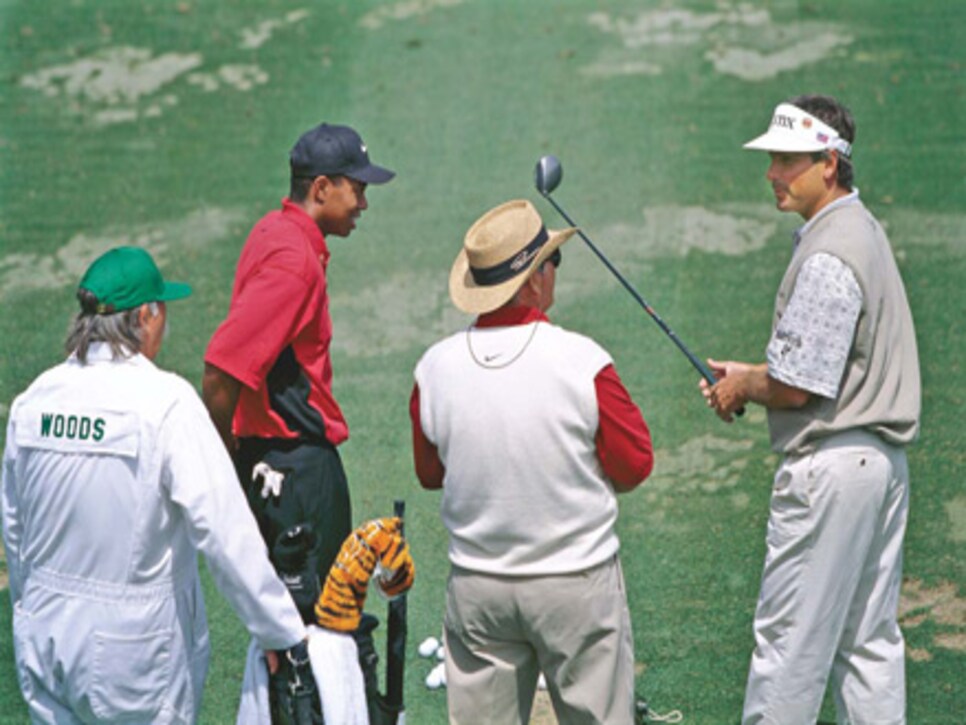 Mike (Fluff) Cowan (Woods' caddie from 1996-'99): On 18 someone clicked a camera, and off the tee he hit it out there in that big, wide-open area left of the bunkers. I also remember it was hard to see one another because of all the people between us as I tried to get the yardage. And I absolutely got lost in the people after he hit his approach. It took me quite a while to get out of there and to the green.
Carl Jackson: That week I tried to follow him on the grounds, but it was a lot easier to just go inside and watch on TV. I did join the gallery on the last hole, as he came up 18. Being a black man, it was a very proud day.
Charlie Sifford: When he was walking up 18, I shed a few tears. I felt like I was a part of him. He did what I wanted to do, but I didn't have a chance; I was too doggone old. When I first started out, I wanted to do four things: I wanted to play in a PGA tournament, a national open tournament, be inducted into the Hall of Fame and play in the Masters. I got three out of four, so that ain't too bad.
Butch Harmon: I had always talked to Tiger about what my father [1948 Masters winner Claude Harmon Sr.] had said about what a wonderful feeling it was walking up the last hole at Augusta with a five-shot lead, and I'd tell Tiger, "Someday you're going to feel that." I can remember standing behind the 18th green, behind his mom and dad, with a tear in my eye, thinking, Wow, my dad has walked up that same fairway with a big lead, and now look at Tiger already, after being a pro for not even a year, and here he comes with the same thing.
Obviously, the course suits his eye. It always has, it always will. That's why he'll win a zillion Masters.
Jim Nantz (on his call after Woods' four-foot par putt on the 72nd hole dropped for a 69 and a total of 270, one of 26 Masters records that Tiger set or tied that week): I don't know how many events I'll get to do that are as historically important to document as that day. I don't know that there will be any single call that will make the clip file and still be played back 200 years from now, but generations of Nantzes later, they're still going to hear their great-great-great-great-grandfather saying, "A win for the ages."
Woods' tearful hug with his father behind the 18th green instantly became one of the game's iconic images.
Lance Barrow: One of our camera operators [Erik Leidal] got that great shot of Tiger walking up the hill to see his dad. Every time I see that, it never gets old. Just the love that they both had. Obviously both of them had set goals. And for Tiger to be able to share that with his dad made me think about sharing things with my dad and how great that is.
In all the events I've done -- golf, football, basketball -- there have been two events that stand out for me: Tiger winning the Masters and Dale Earnhardt winning the Daytona 500. Dale Earnhardt driving down victory lane shaking people's hands out the window of that car, and Tiger walking up that hill. A walk of a champion. The next generation of golf.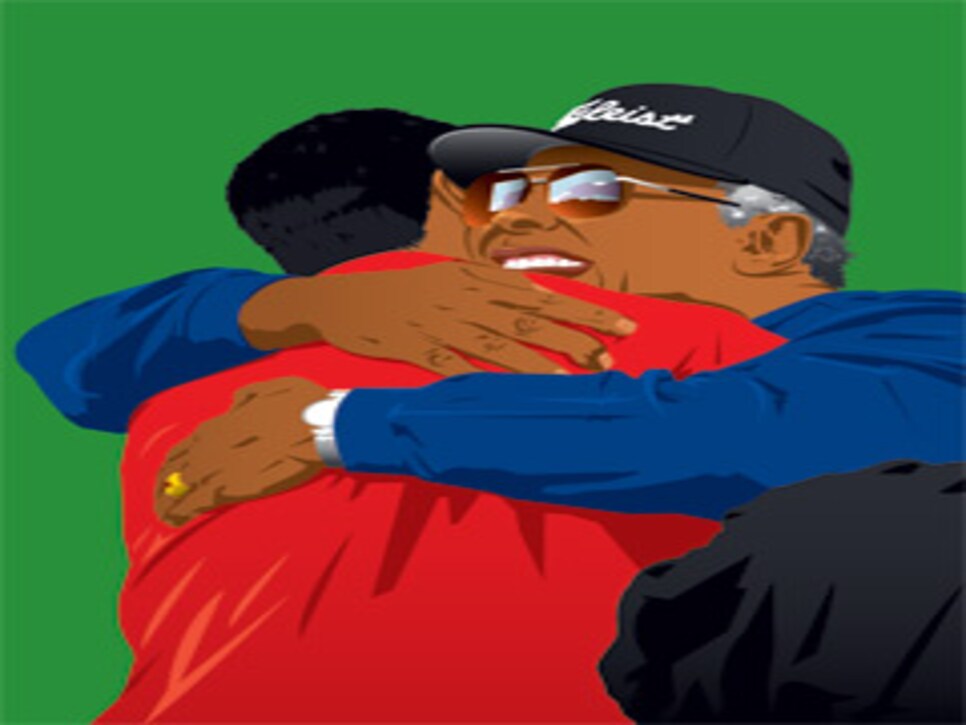 Ken Venturi: Even though he was winning, it didn't hit home until he walked off the green and embraced his father. You're so engulfed in what you're doing that you forget about your surroundings, and all of a sudden you say, "Oh, I won."
Charlie Sifford: I was in Texas at home watching it by myself, and when he grabbed his daddy and his mother, that was something else.
Lee Elder: Afterward, for him to acknowledge me, Charlie Sifford and Teddy Rhodes was tremendous.
David Feherty: After Tiger won by 12, there was the whole issue of, well, nobody else played any good; the rest of them must suck. Three years later, Tiger went on to win the U.S. Open by only 15, the British Open by eight. What he does, and it's not that Els or Mickelson or any of the other second-echelon players suck -- I think they're some of the best players in history -- it's that he makes them try things that they're just not capable of. Everyone's got a long iron in their hands and they think, S---, I've got to hit this close. In the back of their minds they're saying, I can't hit this close.
Tiger Woods: Michael Jordan and President Clinton called to congratulate me. I was on my way to the press conference when President Clinton called. I was about ready to walk into the media center and they said, "The president wants to talk to you." At the time Jack Stephens was the club chairman, and I said, "I think Jack's already in there. I just saw him in Butler Cabin." And they said, "No, not the president of the club; the president of the United States." I said, "Oh, that president: Mr. President." I talked to him for a bit, and he said congratulations. That was awfully nice.
Frank Carpenter (retired from Augusta National after 28 years as the wine steward and 47 years at the club): His father and I were talking the year before, when Tiger was still an amateur. It was Tuesday night before the Champions Dinner. I said that I'd sure like to be around when Tiger won so I could plan his dinner for him. He said, "I don't think you have to worry about waiting too long; Tiger is ready now."
I got a picture made with Tiger up in the Champions Locker Room after he won. The next year [1998] I picked out Tiger's wine for the Champions Dinner: a white Burgundy, Bâtard-Montrachet Grand Cru, 1995 vintage in honor of Tiger's first visit to Augusta National, and a red Cháteau Mouton Rothschild, 1975 vintage in honor of his birth. We were proud of what he had done.
Arthur Williams (maitre d' at Augusta National for 13 years; 20 years at the club): I said a couple of words to his dad when he arrived at the course on Sunday, but to be truthful, we were so busy trying to get ready for dinner that night we weren't too aware of what was going on out there. Except we knew Tiger was winning. I remember everyone was already seated when Tiger came in because he'd had the press to do. I spoke to his mother. What struck me was how young he was and how excited Mr. Carpenter was for him. It was a very festive occasion.
Tiger Woods: Jack Stephens was there presiding over the dinner. He taps his glass and says, "OK, we have Tiger Woods here. We need him to talk about his experiences." All of a sudden, it hit me. All the members were there. Then it was pretty neat: The entire cooking staff came out to listen to me speak. That's what makes that event so much more memorable. It was just the whole ambience. I had the jacket on, all my friends and family were there celebrating. I was just trying to keep it all together.
Phil Knight (Nike founder): I've been to sporting events all over the world for decades, and this might have been the most emotional one. It really was sort of the moment when the torch was passed to a new generation. You could feel the emotion everywhere. It was really a magical moment in sports. I went over to his house two or three times that week. I was so nervous I couldn't eat, and he was playing video games with Jerry Chang. Except on the final night, I think the emotion finally hit him.
After the dinner at Augusta National, the celebration continued with numerous toasts back at the Woods family's rental home.
Tiger Woods: I went back to the house and had a few adult beverages. I ended up falling asleep, holding the jacket, cuddling it like it was a little bear. I woke up in the morning, still holding it, and said, "Huh, I did win it."...And boy, my head hurt.
Additional reporting by Jaime Diaz, John Huggan, Peter Morrice, Mark Soltau, Bob Verdi and Ron Whitten.