A Final Amen at Amen Corner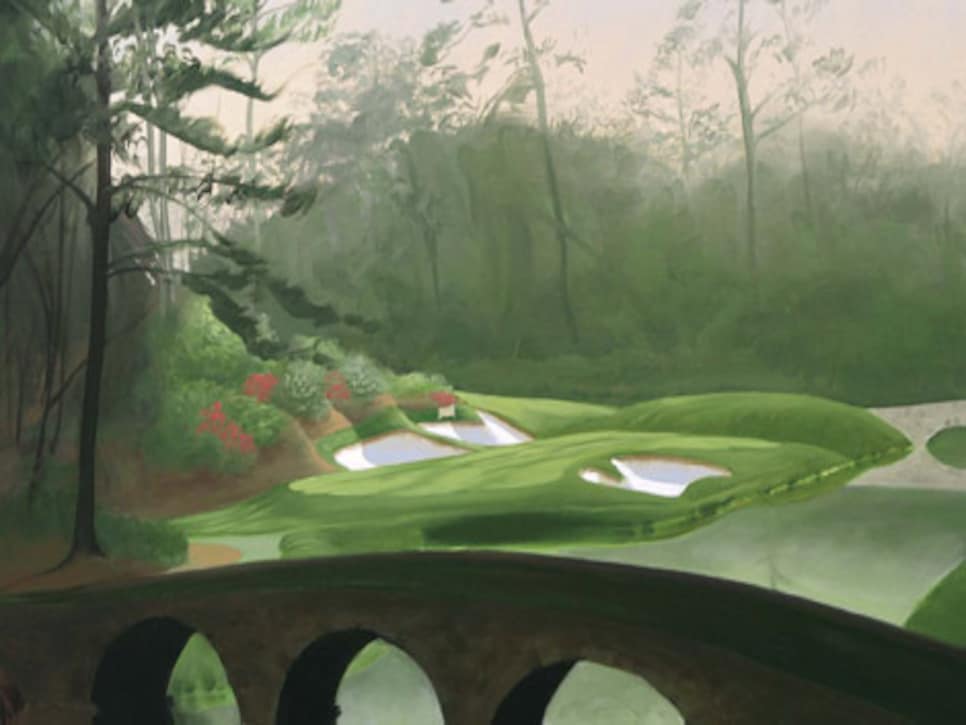 At a tournament known for gallery roars that pinpoint what is going on where almost as clearly as the math on the giant leader boards, one location during the Masters stands apart. "It's immensely, almost alarmingly, quiet," two-time Masters champion Ben Crenshaw says of Augusta National's 12th green. "The only thing you can hear is your heartbeat and the heartbeats of your fellow players and the caddies. There is no spot like it in major-championship golf."
The eerily calm atmosphere that greets golfers once they reach the putting surface of the 155-yard par 3 is a reward for having solved one of the trickiest tee shots in the sport, where the wind is forever fickle and Rae's Creek is always accepting deposits.
"It's the greatest par 3 in the world," says Scott Verplank. That is a sentiment echoed by many others who have not birdied it four days in a row, as Verplank did in the 2003 Masters, including plenty of golfers whose green-jacket dreams have been washed away.
No. 12 is the anchor of a trio of holes on the south edge of the course that often are the center of the action. It follows the unforgiving par-4 11th and precedes the tempting par-5 13th -- all three holes pivotal in the Masters from the event's very early years, a confluence where the churchly silence is often interrupted by golf's loudest cheers -- and deepest groans. And thanks to Herbert Warren Wind, who was the Bobby Jones of the golf-writing game, for 50 years the 11th, 12th and 13th holes have had a name, "Amen Corner," every bit as good as they are.
"You know you're going to need good fortune, and occasional prayer, to get through those holes when you're in contention," Crenshaw says. "It's a beautiful expression. It just sounds right."
Though Wind is best known for his authoritative golf books such as The Story of American Golf and a long run as a golf essayist for The New Yorker magazine, in the 1950s he worked for Sports Illustrated, then a fledgling sports weekly. Wind read widely, had degrees from Yale and Cambridge, and loved music. A phrase from an old song popped into his head. He began his story about the 1958 Masters, won by Arnold Palmer and headlined "The fateful corner," this way:
On the afternoon before the start of the recent Masters tournament, a wonderfully evocative ceremony took place at the farthest reach of the Augusta National course -- down in the Amen Corner where Rae's Creek intersects the 13th fairway near the tee, then parallels the front edge of the green on the short 12th and finally swirls alongside the 11th green.
To Wind -- and purists to this day -- Amen Corner was defined as the second half of the 11th, the short 12th and the first half of the long 13th. Amen Corner certainly was a more magical name for the 11th, 12th and 13th holes than "the water loop" -- which, according to author David Owen's club history, was what early Augusta National members sometimes called the trio -- but it did not immediately become common usage, even for the man who coined it.
In his Sports Illustrated account of Art Wall's Masters triumph the next year, Wind wrote of "that bend in the course which has so often been fateful" but didn't apply the phrase.
The Augusta Chronicle, the tournament's hometown newspaper that fills many column inches every year detailing the action, first used Amen Corner in two stories previewing the 1965 Masters. "Reverence at 'The Corner' " was the headline on a story by Jim Martin, the paper's sports editor. "The wind swirls with devilish glee over Rae's Creek," Martin wrote. "It mangles the emotions. This is where a champion is made and where others are broken. The 12th green at the Augusta National Golf Club is the apex of the triangle of sorts they refer to as 'Amen Corner.' "
Martin followed up in 1966 with a Masters Friday column about Amen Corner. Alfred Wright made several mentions of Amen Corner in his Sports Illustrated story the next week (the first time it appeared in the magazine since Wind's 1958 mention), and the newsweekly Golf World used it for the first time as well. Golf Digest followed in its 1967 Masters preview.
"You sure it wasn't Tony Lema?" Tom Watson says when asked who popularized the term. "They asked Tony, after you get through 13, what do you think when you get through there, and he said, 'You say amen.' "
"I don't recall there was any specific time it became a general term used by everybody," contends Furman Bisher, the 89-year-old Atlanta sportswriter who has covered every Masters since 1950. "Once it became a popular term, everybody jumped in and started using it. That's about as fanciful a juncture of golf you can find anywhere. It's the perfect label."
Yearning for looser deadlines, longer stories and less editing (he appreciated fact checkers but not changes in substance or tone), Wind left Sports Illustrated in 1960. After returning in 1962 to The New Yorker, where he had begun his career, Wind wrote essays about the Masters each spring through 1989, often referring to the pivotal part of the course that he had labeled in 1958 and noting, almost annually, that many tournaments were decided in that triangle of drama where variable breezes and daunting hazards awaited.
Herb Wind's Amen Corner: The second shot to the 11th, the par-3 12th and the tee shot at the 13th.
Illustration By Jayson Lee
For whatever reason, Wind, who died in 2005 at 88, didn't use the phrase in a New Yorker piece until writing about the 1971 Masters, won by Charles Coody: "At this point, I rushed ahead down to the Amen Corner -- the popular name for that reach of the course . . . "
The fact that Wind brought Amen Corner out of storage in the May 8, 1971 issue of The New Yorker is interesting because Sports Illustrated's legendary golf writer Dan Jenkins had used it for the first time in one of his Masters accounts a couple of weeks earlier, in the April 19, 1971 issue. "The 12th is part of Amen Corner," Jenkins wrote, "the bend of the course that actually begins with the par-4 10th hole and concludes with the par-5 13th. It is the place where the Masters has been won and lost over and over again."
Wind and Jenkins were old friends who met at the Masters in the early 1950s when Jenkins was breaking into sports journalism with The Fort Worth Press on the Ben Hogan beat. "Herb took me under his wing and introduced me around at Augusta," says Jenkins. "He was awfully nice to me, and I appreciated it."
Jenkins' casual writing style, underpinned with informed humor that could nail a subject or a situation in a brilliant one-liner, contrasted with Wind's exhaustive, measured, more formal approach. "I never liked Herb's style," Jenkins says. "He was a great historical writer. But I was a newspaper guy, a deadline guy. Get it done and get to the tavern. Herb would bleed and worry and write in longhand."
For decades, though, both men were the must-reads in golf. "You always wanted to see Herb's article and what Dan Jenkins would write," says Jack Nicklaus. "They were exactly the opposite, both great, for different reasons."
The common denominator was an acknowledgement that golf didn't start yesterday. "Herb was the first guy I ever heard call something a 'major championship,' " Jenkins says. "Back in the middle '50s, he said you judge golfers historically by their majors. I don't know if he was the first guy to start calling them majors, but I certainly did a minute later. He made me think historically, which I might have done innately, but the whole major-championship thing gave me an attitude that I didn't have before."
Wind patterned himself after British golf-writing legend Bernard Darwin: Assess the play, but don't attack the protagonists. As rooted as Wind was to the game's history and traditions, he wasn't averse to challenging convention. After Roberto De Vicenzo lost the 1968 Masters because of a scorecard error that gave him a par at the 17th hole instead of the birdie he made, Wind took a common-sense stance in his post-tournament article that broke against tradition. He argued Rule 38 "is seriously anachronistic where modern tournament golf is concerned" -- because hundreds of people in person and millions more on television see what a player does -- and urged change. "It should be the responsibility of the tournament officials as well as of the golfer to see that the score he returns is the right score," Wind wrote. "If an error is discovered, the important thing is to see that it is corrected. No penalty should be imposed. Golf, like every other sport, is meant to be a test of athletic ability and not of bookkeeping."
"He was so fair in his estimates of everybody," says Robert Macdonald, a book publisher who met Wind in 1968. "He said Gene Sarazen when he was young was a pain in the ass but that he was one of those people who got better as he got older, that he turned out to be a really good guy in the end. Herb gave you the inside poop." Wind's thoroughness might have been exhibited best when it came to his approach to writing Thirty Years of Championship Golf: The Life and Times of Gene Sarazen in 1950. "When Herb wrote that book with Sarazen, it was sort of an experiment," says Macdonald. "He wanted to capture Sarazen's voice as completely as he could. He rented a room in a house next to Sarazen's farmhouse. They worked on that book every day for six weeks."
Covering a golf tournament was also hard work for Wind, who, like Darwin, preferred to write about what he had witnessed on the course -- almost always while wearing a jacket and tie and taking notes in his neat penmanship. "He was very precise in how he wrote things," remembers Watson. "Very small lettering as he took his notes."
"He believed you can only tell what's going on by watching the players yourself," says Macdonald, for whom Wind wrote the forewords to the Classics of Golf book series in the 1980s and '90s. "You had to figure out who was hot or who was going to be hot. It was sort of like a chess match. But if you miss the climax, you miss the climax."
Wind was an unabashed fan of the sport and used the exclamation point in print to show his enthusiasm; he made no pretense of objectivity toward the players he appreciated. "Herb was always one of my biggest fans," says Nicklaus, with whom Wind wrote The Greatest Game of All: My Life in Golf in 1969. "Herb would always say, 'OK, just one [major victory] a year, and your record will build up.' He would give me these little tidbits. He was always that way. I loved him; he was a wonderful guy. He was of the old school, but not a prude."
Crenshaw probably was Wind's best friend among the pros. They met when Crenshaw played in the 1968 U.S. Junior Amateur at The Country Club, not far from Wind's hometown of Brockton, Mass. As he had with Jenkins, Wind urged Crenshaw to appreciate the game's history, and he also fostered his interest in course architecture.
"The material was meaty and so substantive," Crenshaw says of Wind's books and articles. "There was a richness about the way he wrote. He was in many ways like Darwin in how he could assess a player. He just had a keen eye. He was really modest. A shy man, really. When you talked to him, he was so contemplative. You'd ask him a question, and he would swallow a couple of times and look off -- really think about what he was going to say."
In their many conversations, Wind never told Crenshaw that he had come up with Amen Corner. "He didn't, and he wouldn't," says Crenshaw.
"I never knew Herb named Amen Corner," adds Nicklaus. "He never told me that. I wouldn't have heard it in 100 years from him."
Though Amen Corner gradually gained acceptance as a description for that part of Augusta National -- The New York Times used the phrase in print for the first time in 1975 -- who named it and how it came to pass remained a mystery to most people. That changed when Wind addressed the topic in a 1984 Masters preview story in Golf Digest.
Admitting he was proud to be linked with the course and the event in such an everlasting way, Wind said he sheepishly told two young reporters at the 1981 Masters he had introduced the phrase. Other than that, Wind wrote, he previously had told only one other person, Ross Goodner, a longtime Golf Digest editor and friend who was a fellow jazz buff, of Amen Corner's origin.
Because he struggled on tight deadlines, prior to the 1958 Masters Wind convinced his bosses at Sports Illustrated to run an abbreviated story in the immediate issue after the event and follow with his in-depth article in the edition after that.
With a pre-tournament ceremony dedicating two new bridges across Rae's Creek at Nos. 12 and 13 to Ben Hogan and Byron Nelson, respectively, and final-round fireworks at those holes involving Ken Venturi and eventual champion Arnold Palmer -- a much-debated ruling on the 12th that permitted Palmer to salvage a par instead of scoring a double-bogey 5 after an embedded lie over the green, and an eagle 3 for Palmer on the 13th -- the focus of Wind's story was clear.
"With plenty of time to think out the article," Wind explained in Golf Digest, "I felt that I should try to come up with some appropriate name for that far corner of the course where the critical action had taken place -- some colorful tag like those that Grantland Rice and his contemporaries loved to devise: the Four Horsemen, the Manassa Mauler, the House that Ruth Built, the Georgia Peach, and so on."
As Wind described it, he was moved to apply Amen Corner after recalling an old song, "Shoutin' in That Amen Corner," that he said was on the reverse side of a record called "35th and Calumet" by Milton (Mezz) Mezzrow, a Chicago clarinetist. "There was nothing unusual about the song," he wrote, "but apparently the title was catchy enough to stick in my mind. The more I thought about it, the more suitable I thought the Amen Corner was for that bend of the course where the decisive action in that Masters had taken place . . . "
Wind's explanation linking golf's Amen Corner to the Mezzrow record was taken as gospel, oft-repeated in stories about either Augusta National or Wind. (A January Google search of "Mezzrow and Amen Corner" returned 855 results.) What many weren't aware of is that Mezzrow is known as much for his involvement as a marijuana user and dealer as for his skill with a clarinet or saxophone: "Mezz" came to be known as a nickname for the drug. Mezzrow, who detailed the drug counterculture in his 1946 book Really The Blues, was labeled the "Johnny Appleseed of weed" by one observer.
Asked about how he came up with the name by The New York Times in 1993, Wind repeated the Mezzrow story. "Everyone called it 'the Corner,' like I'll see you at 'the corner,' " Wind said. "So I was trying to think of something like the hot corner in baseball or the coffin corner in football. Then somehow my mind did land on a jazz record I had bought in college by a Chicago bandleader named Mez [sic] Mezzrow. One side was 'Shoutin' in Amen Corner,' a jazz version of a spiritual. And I thought, Gee, that is as good as you can get."
Like Wind, Richard Moore had twin loves of golf and jazz. Growing up in Atlanta during the 1940s, the son of a Sears Roebuck senior executive, Moore was a neighbor of Bobby Jones. "Jones lived down the street and was a friend of my dad's," says Moore, 71, retired after a 21-year career with the consulting division of International Management Group. "The first autograph I ever got was one my mother brought home from a dinner party. It says, 'To Richard Moore, Best Wishes For A Great Golf Game Always, Bob Jones.' That started me collecting autographs."
Moore eventually would obtain signatures of every British Open winner from 1892, when the event went to 72 holes, to the present. The project, which took about 15 years, is the cornerstone of a private museum in Moore's home in Spring Island, S.C. It was his desire to add an Amen Corner exhibit in 2003 that sent him on a quest to obtain the record Wind said inspired the name. He hoped to display it along with a copy of Wind's 1958 Sports Illustrated story, a photograph of the 12th hole and autographs from Palmer, Venturi and Wind.
Moore contacted jazz specialists across the country in an attempt to get the Mezzrow recording of the song, written by Andy Razaf and Danny Smalls in 1933. (Razaf was the most prolific black lyricist of the 20th century, best known for co-writing "Ain't Misbehavin'.") There was just one problem: The experts couldn't find a Mezzrow recording of "Shoutin'."
"They said it didn't exist, that it never did exist," Moore says.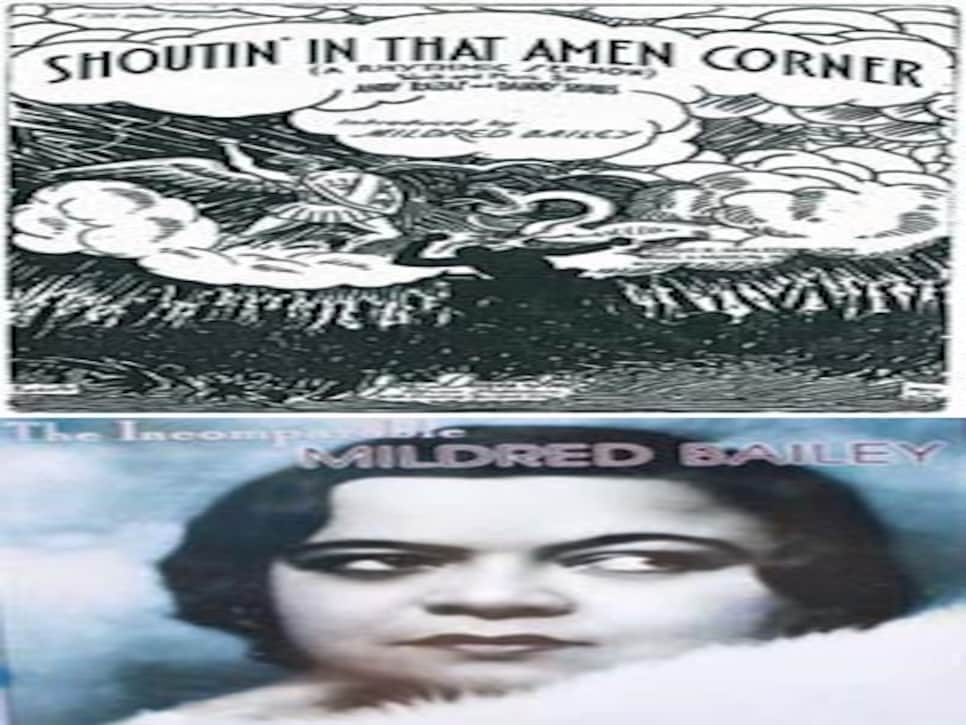 Bailey: Chris Stanford; Sheet Music Courtesy of University of South Florida
Moore then contacted Yale University and obtained copies of jazz reviews Wind wrote for The Yale Record as an undergraduate from 1933-'37. Among Wind's 31 "On The Wax" articles is a Jan. 15, 1936, review that includes Mezzrow's "35th and Calumet." The flip side, however, is "Old Fashioned Love," not, as Wind had remembered, the "Southern shout" titled "Shoutin' in That Amen Corner."
Mezzrow never recorded the song.
Among the artists Wind reviewed in college was Mildred Bailey, a quite popular jazz singer of the time -- but he never wrote about her version of "Shoutin' " with the Dorsey Brothers, which is one of three recordings done in the 1930s of the "rhythmic sermon" (the others by the Spirits of Rhythm and the Williams Washboard Band). The song's lyrics admonish vocal but insincere churchgoers populating the pews:
*You can shout with all your might,
But if you ain't livin' right,
There's no use shoutin' in that Amen Corner
If your name ain't on that roll,
All that noise won't save your soul,
So stop your shoutin' in that Amen Corner
"Amen Corner is a common church term in the South," says Bisher, who grew up in tiny Denton, N.C. "In our church the old men sat there and said 'Amen' after the preacher said something they liked."
The term actually dates to pre-Reformation England, because the spot where "Amen" was said during a clergy procession became "Amen Corner." In the late 1800s in New York City, the street where preachers gathered outside a hub of bible manufacturers took on the same name, as did a location in New York's Fifth Avenue Hotel, where journalists and politicians discussed current events. "The Amen Corner" was the title of James Baldwin's 1965 Broadway play.
When Moore discovered Wind's Mezzrow recollection wasn't right, he was reluctant to tell anyone. "I didn't know what to do because I was contradicting Herb Wind," says Moore. Former Sports Illustrated writer E.M. Swift told Moore he ought to report the facts, and after Moore read a repeat of Wind's version by New York Times sports columnist George Vecsey during the 2007 Masters, he was certain he should go public. Moore sent his research to John Strege, who reported Moore's findings in Golf World's April 13, 2007, issue.
"It's a hard thing to come to grips with, how this gentleman knowing jazz as well as he did, how this happened," says Moore. "All along I was reluctant to come forward, because I admire Herb Wind and didn't want to say that he made a mistake. How he didn't remember the Mildred Bailey recording with the Dorsey brothers, I don't know. I just think he made a mistake."
As much of a gentleman as he was, Wind could be iron-fisted when it came to his copy. "He was always willing to put himself out for other people," Macdonald says. "Only about his writing was he tough as nails. He was brutally hard to deal with when it came to criticism and editing."
The meticulousness that defined his work means Wind no doubt wouldn't be pleased at his error of recall. If anyone is entitled to bogeying a memory, though, it is Wind. As long as there is a Masters, golfers will sweat and spectators will gather at Amen Corner.
"I do think a lot has gone out of the game and a lot of bad things have come in," Wind told a reporter in 1995. "There's more to golf than business and money and low scores."