Masters reaction
Masters 2021: Japan's first PGA Tour star celebrates his country's first men's major champ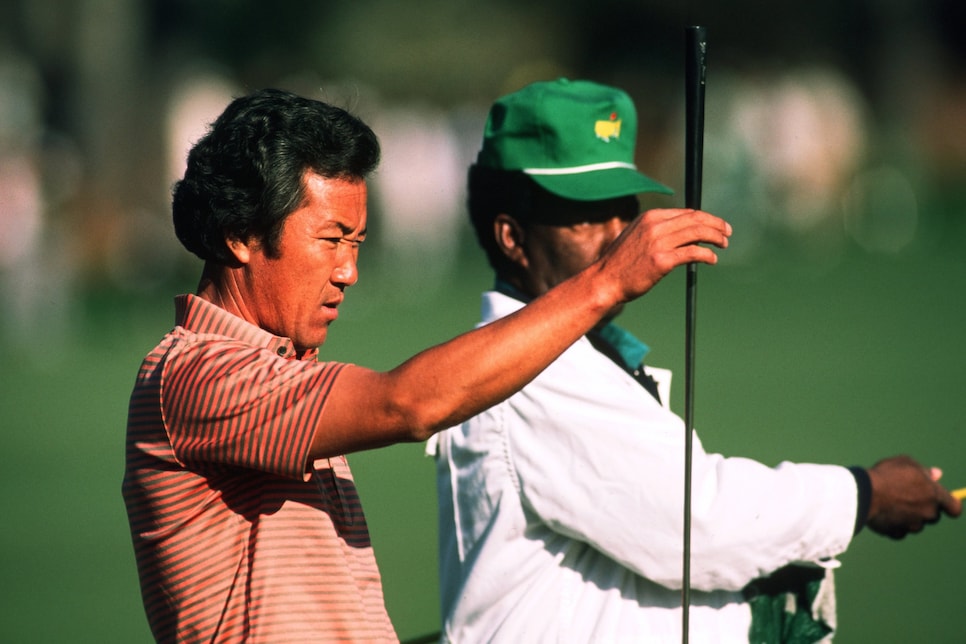 Isao Aoki lines up his putt while his caddie holds the flag during the 1987 Masters.
Augusta National
Until Hideki Matsuyama gave Japan its first major championship in the men's game with his one-stroke victory Sunday in the 85th Masters, Isao Aoki had come the closest to winning a major title, finishing second in a duel with Jack Nicklaus in the 1980 U.S. Open at Baltusrol Golf Club in Springfield, N.J.
The first native of Japan to win on the PGA Tour, in the 1983 Hawaiian Open (now the Sony Open in Hawaii), Aoki couldn't have been more pleased to see his young countryman break through for an historic victory at Augusta National Golf Club.
Reached via his agent through an intermediary in the Japanese media, Aoki said Sunday from Japan that Matsuyama's win "is very huge for golf in Japan.
"I'm so happy to be able to see Japanese major win finally at Augusta National. I wanted to win there, but Augusta National didn't allow me to play there successfully. It will be great that he is playing at the Tokyo Olympics as a Masters champion.
"It also is a very big one for Japan, too," he added. "Now it is the COVID-19 era, and everybody isn't happy now, but this big news can make us very happy and give us some hope."
Elected to the World Golf Hall of Fame in 2004, Aoki, 78, is second to Jumbo Ozaki on the all-time victory list on the Japan Tour with 51 wins. He competed in 165 PGA Tour events, including 14 starts in the Masters, with a best finish of T-16 in 1985. In 1980, he played all four rounds with Nicklaus and lost by two strokes to the 18-time major winner in a riveting head-to-head duel, one of his five top-10 finishes in majors.
Matsuyama also has a runner-up finish in the U.S. Open, losing to Brooks Koepka by four shots in the 2017 championship at Erin Hills after a closing 6-under 66.
Aoki, who owns five second-place finishes in senior majors, said he was confident that a Japanese player could win a major championship, and over the last few years thought that Matsuyama was capable, even though he was winless on the tour the last four years.
"I thought someone like Matsuyama will win a major someday," he said. "I thought Matsuyama is the best player who can win a major first. He said that he was not playing well for a few years in the past, but I thought he can win a major at some point. He got a new coach this year and he changed his caddie a few ago. They make his game better and [he's been] refreshed. I guess this can give him peace of mind. … He can quit to think negative things and go to positive thinking."
"He deserves to get the green jacket," Aoki added. "I hope young people look up to him and will play golf with this winning. He then directed a personal comment to the new Masters champion: "I just want to say congratulations, and I envy you."