News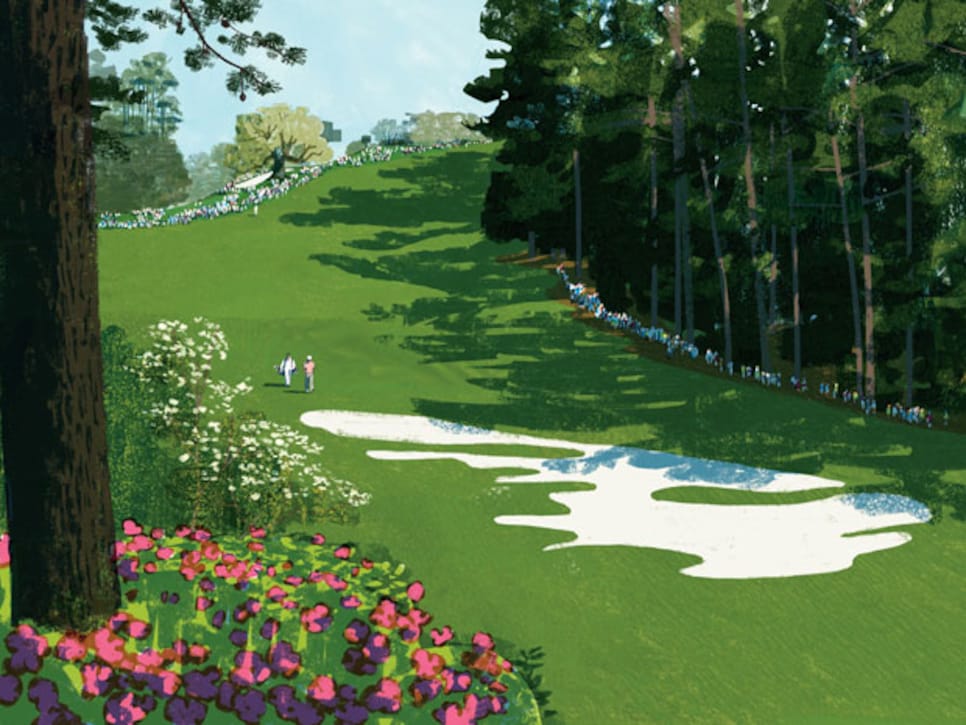 Everything's bigger at Augusta National: The 10th hole, a 495-yard par 4, drops more than 100 feet, and the fairway bunker is 56 yards long.
EDITOR'S NOTE: *To gaze at these illustrations, it's hard to believe that artist Tatsuro Kiuchi had never set foot on a golf course before Golf Digest invited him to the 2013 Masters. Then again, Tatsuro, a native of Tokyo, is an artist of considerable renown, and Golf Digest has a long history of providing fresh insights by inviting artists, writers and photographers to Augusta for a series we've come to call First Impressions. The most common reaction from our guests over the years, including everyone from participatory journalist George Plimpton to television's Tom Brokaw to illustrator Mark Ulriksen? "It's a lot hillier than I expected." *
Tatsuro calls his Masters experience "a miracle," and the sprawling Augusta National grounds "astonishing." The scene reminded him of bonsai: "It was as if the quality of a Japanese miniature landscape garden had been carried out on an entire golf course," he says. "The landscape, trees, golfers and spectators came together to form such an unbelievable world."
Ashley Mayo, Golf Digest's Editor/Audience Engagement, joined Tatsuro in making a first trip to the Masters, but she's no newbie when it comes to golf. She played for four years at the University of Virginia, where she was a member of the school's first women's golf team, and she maintains a 4-handicap despite living in a tiny Manhattan studio. We'll let Ashley take it from here.
My cough wouldn't go away. It was persistent and ugly, often coupled with a sharp headache and awful muscle pains. But on April 9, 2013, I needed to ignore how I felt. Because on that day, I got to see Augusta National, and not through the limited view of a CBS lens.
Every rookie needs a leader, and mine was Sam Weinman, the editor of GolfDigest.com. On that Tuesday, he was excited about giving me a tour.
I grabbed my notebook, a camera and a wad of tissues before leaving. We made a left out of the media center and walked up toward the first tee and Augusta's iconic oak—a tree that has towered over so many of the game's important discussions. Its size made the clubhouse look tiny—much smaller than I'd expected. Augusta's grandeur is its golf course. The club doesn't need a huge, flashy clubhouse. Please.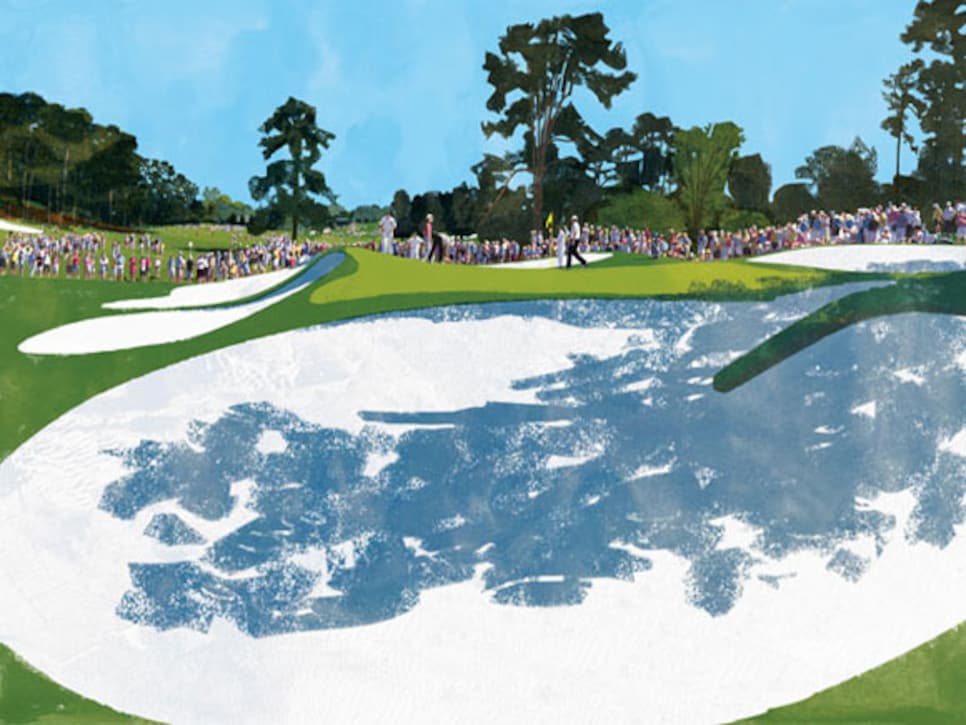 Sam and I continued down the 10th hole, hoping to find the spot where Bubba Watson hit his hooking wedge shot in the 2012 Masters playoff. As we walked, my congestion was at an all-time high. Even so, Augusta's scent got surprisingly strong. I'd never realized, after watching the Masters from my sofa for so many years, that the pine straw and the blooming flora fuse to create this wonderful fragrance. Magnificent.
Spectators had already surrounded the spot of Bubba's famous shot. We all tried it, grasping an imaginary club and swinging left-handed.
At that point, Sam had to get back to the media center, and I probably should've retired for the day, to reserve the little energy I had. But Craig Bestrom, Golf Digest's director of editorial development, invited me to join him on his annual tradition of walking the entire course. I couldn't say no.
We stood behind the first tee box and envisioned our drives—mine drew over the left edge of the fairway bunker and landed on an uphill slope—then imagined our approach shots, then saw our putts. (I parred the hole.) As we continued, I saw evidence that there is no real rough at Augusta National, at least not the gnarly stuff that every golfer wants to avoid. The so-called "second cut" is pristine. I also saw creeks I never knew existed—like one that runs down the left side of the second hole—patiently waiting to swallow balls that never get caught up in heavy rough. And those greens. Television serves no justice to Augusta's rumpled, intricate greens. The one on the 14th hole is particularly incredible. It has a severe false front, a plateau on the left side and a ridge in the middle. It's the only hole at Augusta National without a bunker—that green needs no defense.
The sun was setting as we got to the 18th green, and it was time to leave. I took solace in knowing I'd return before the sun rose. Since hotel options in the town of Augusta are minimal, the custom during Masters week is for many residents to rent their homes to players, patrons, reporters, etc. Golf Digest claimed three of them, and I was lucky enough to stay with Editor-in-Chief Jerry Tarde and Fashion Director Marty Hackel. We had clearly settled into the home of an Ironman triathlete—medals were hung all over the place. My bed for the week was in a gym, and I slept between a bench-press machine and a rack of free weights. Bizarre? Yes. But it added to the uniqueness of Masters week. Before the Masters, I'd seen Tiger Woods play golf in person about a dozen times. But on Friday afternoon, I was standing along the left side of the 10th fairway when he tugged his drive. His ball landed about three feet away from me. As Tiger made his way down the hole, a guard approached a small section of us and announced, "Wanna know the quickest way to get kicked outta here? Yell 'You 'da man!' or 'Get in 'da hole!' Don't even whisper it."
I asked him if he'd really kick me out if I whispered, "Get in the hole." "You're damn right I would," he said.
I waited until after Tiger left to gently blow my nose.
On the Monday after the tournament, just hours after unloading my bags in my apartment, I finally saw a doctor. As it turned out, I had pneumonia. Did that stop me from having one of the greatest weeks of my life? Absolutely not. Nothing could have. It was the Masters.