News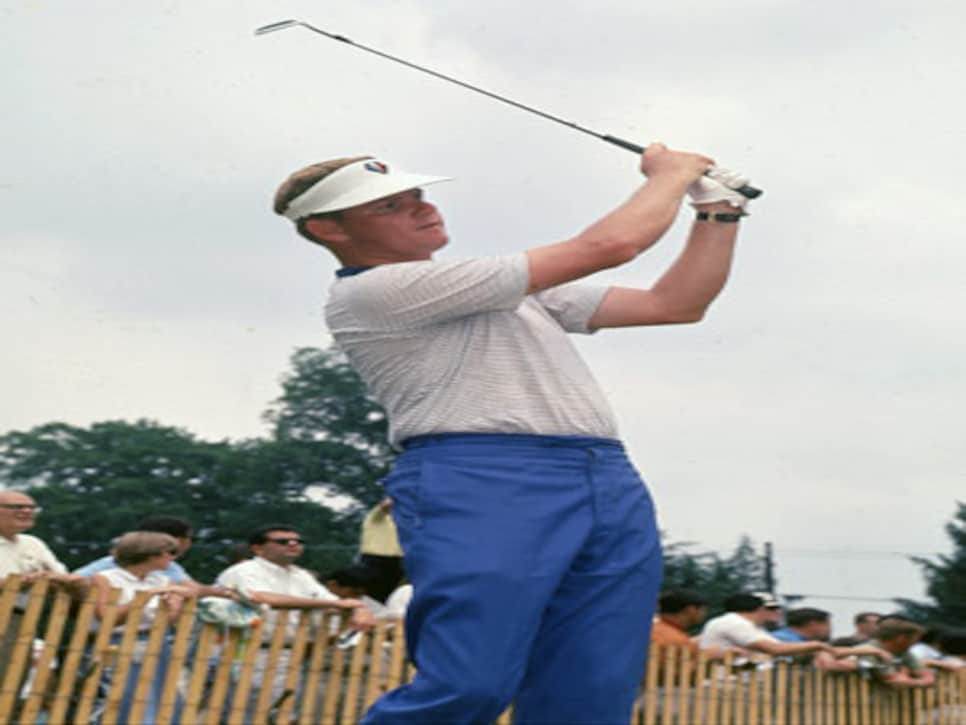 Bert Yancey came close several times but never won the Masters, the tournament he loved most.
AUGUSTA, Ga. -- The golf gods get the job done much of the time, but once in a while they whiff.
As sure as there is pollen in the air and a tricky wind on the 12th hole, there isn't a golfer this week who wants to win the Masters more than Bert Yancey wanted to win the Masters.
"It would have been everything to him," said two-time major champion Tony Jacklin, overlooking the course his old friend, gone now more than 15 years, loved so much.
Yancey could have won the Masters. He should have won the Masters.
Yancey revered the tournament's history. He built clay models of Augusta National GC's greens, on which he could set tiny flagsticks in different hole locations. Yancey had an all-around good game, but he was expert on the greens, sometimes going long stretches without a three-putt with his trusty Cash-In model.
"He was a really good player and he was a streaky putter," remembered 1971 Masters champion Charles Coody. "He wasn't Bob Charles or Ben Crenshaw, that kind of putter, but when he got rolling he made some good putts."
Yancey usually stayed across the street from the club in a home owned by a man named J.B. Masters and otherwise prepared as meticulously as he could in his quest to earn a green jacket.
"As the start of the Masters approaches, I begin to get real careful about everything," Yancey explained to Sports Illustrated in 1969. "I stop lifting suitcases. I watch my diet and avoid the extras. I don't stay out late at night. And I really work on my putting. If everything else is right and I can get my putts rolling during the Masters, I know I will beat anyone's brains in."
From his first competitive round in the Masters, Yancey showed he meant business. On a Thursday in 1967, with some of the game's big names frustrated by the height of the fairway grass and their ability to control approaches, Yancey hit 18 greens in regulation and shot a 67 to take a three-shot lead.
"It's a long, long way until Sunday night," Yancey cautioned reporters after vaulting into the lead. "[But] this is a friendly course for me, and I just knew I would play well at the Masters."
Just like renting a home from a fortuitously named landlord, Yancey must have believed his first PGA Tour victory, in 1966 at the Azalea Open in Wilmington, N.C., was a harbinger of bigger things to come a bit farther south.
At a course where the flowers seem to bloom bigger and brighter than anywhere else, Yancey hung around the lead until deep in the final round in his maiden Masters, until a three-putt at No. 13. He finished at four-under 284 in third place, four strokes behind winner Gay Brewer.
He would close fast with a 65 the following year to finish third again. In 1970, he was fourth. All the while he put the Masters on a pedestal, the holy grail of his sport. Leading up to Augusta, Yancey would tweak his game to get ready for certain tee shots, skip tournaments to get ready for the week that meant the most to him. His peers discovered just how much the Masters was on his mind.
"I don't know what having replicas of the greens and looking at them in your spare time would do for you, but evidently Bert thought it did something for him," Coody said. "And that was all that mattered. It was genuine. If a guy has a very, very deep desire to accomplish something, you've got to respect that."
"Perhaps I was obsessed with the tournament -- I don't know," Yancey told Golf World's Dick Taylor after his Masters quest had ended. "Certainly planning for it was more intense than most. I call it dedication. It was so enjoyable, and besides, how can you really enjoy ice cream if you don't know what ice cream is?"
Yancey would play in his last Masters 35 years ago, the 1975 classic in which Jack Nicklaus held off two other guys who never won a green jacket, Johnny Miller and Tom Weiskopf. Yancey finished T-30, a footnote, a distant 16 strokes off the pace.
It was an unremarkable performance as long as you didn't know Yancey had spent three months in a mental hospital that winter following a breakdown in Japan. He would be back under medical care by that August, the manic depression that had first struck many years earlier when he was a cadet at West Point finally properly diagnosed.
As hard as things got because his brain chemistry was out of whack, Yancey never abandoned the game that got him to Augusta. "Being a golfer means being able to say, 'Dammit, a double bogey,' and then tee it up again. You keep trying," Yancey told Golf Digest in 1989. "That sort of esprit, and what was within myself, kept me from giving up on my illness. Because there were times, I can tell you, when it was pretty tough."
Yancey was only 56 when he died of a heart attack in 1994 while preparing to play in a senior event in Park City, Utah. Weiskopf, who had been very close to Yancey, birdied the last three holes to get into a playoff, then birdied the first extra hole to win the tournament. The next year, Jacklin won it. "That was a strange thing," Jacklin said. "Tom won it that week, and I won it the following year. The gods were involved there somehow."
Or maybe it was Bert, assisting his pals as he had done in the old days. "I've just got the fondest memories of Bert," Jacklin said. "He and Weiskopf helped me to no end. I would not have won my majors had I not got close to them. I was a good player, but under pressure my swing got quick. They taught me how to contain my adrenaline, to lead my swing with the legs. We just helped each other all we could."
On his way into Augusta National this year, Jacklin couldn't help but notice the spot where Yancey used to spend Masters week. "That house he stayed in was right on the road, right over there where they're parking cars now," Jacklin said. "That's where he had the models of the holes. That's where we used to congregate at least one or two nights during the Masters. I can see it now."
It was a modest home that, for a week in the spring, housed the biggest of dreams.