FIRE PIT COLLECTIVE
Masters 2022: Tiger Woods roars again at Augusta National
This article originally appeared on the Fire Pit Collective, a Golf Digest content partner.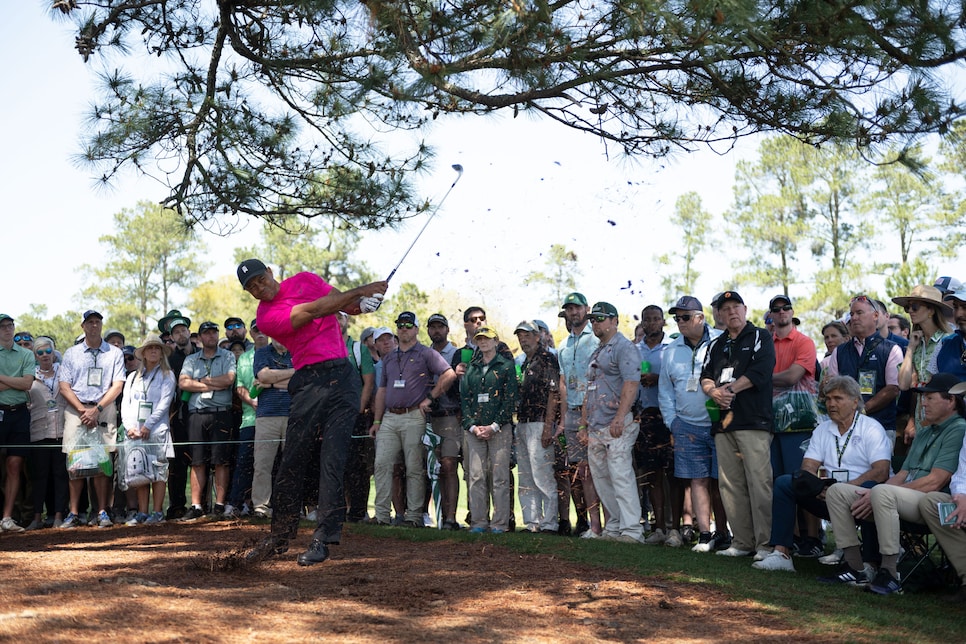 AUGUSTA, Ga. — A little before 11 a.m. on Masters Thursday, Tiger Woods burst through the back door of the Augusta National clubhouse. The air was tinged with tension, as if he were a grizzled gunslinger arriving at an Old West saloon, spoiling for a shootout. A human corridor had already formed that stretched all the way to the first tee, composed of fans, reporters, staid green jackets and even Hall of Famers Hale Irwin and Ian Woosnam. No matter who you are, the energy and excitement around Woods' return to the Masters was inescapable. But there was no bravado in Tiger's ginger steps. He had just endured his scratchiest range session of the week, looking stiffer and less explosive after four days of grinding on his game in the practice rounds. When Woods stepped through the clubhouse door and saw the sea of humanity spread before him, he closed his eyes for a couple of beats even as the unseen forces of fate pulled him toward the tee box. It was a brief meditation that was punctured by the screams of the fans. The tizzy of the crowd contrasted with the placidity on Woods's face and the economy of motion with which he moved. The fans had come for a party, a coronation, a Hogan-esque ticker-tape parade minus the floating newsprint. Tiger just wanted to go to work.
Then came the words that, following Woods' horrific car crash in February 2021, many feared would never again ring out: "Fore please, Tiger Woods now driving." The first swing of his last act was a wipey, spinny heel-slice that expired in the right rough, way short of the fairway bunker. Just for old time's sake, Woods muttered, "Gawdammit." (He would later let loose a throwback F-bomb.) But even that slightly wayward drive represented progress of a sort, given how many Masters rounds Woods has begun with screaming hooks into the ninth fairway. The crowd—one of the biggest ever seen around Augusta National—still roared. Tiger sauntered down the fairway, taking extra care on the steep, rain-slickened hills. Irwin, a badass who was an All-Big Eight defensive back on the football field before winning three U.S. Open titles, has seen some things. He shook his head as he watched Woods go. "It kind of defies belief," Irwin said.
Woods has always excelled at reinvention; he has won his five Masters with five different golf swings. And yet this latest comeback is the most outrageous to date. A career full of violent swings and over-the-top training methods broke his body: a ruptured ACL, stress fractures in his tibia, a blown-out Achilles, microdiscectomy surgeries, a spinal fusion. To numb the pain—actual and metaphysical—Tiger abused pills to the point of receiving a DUI, an arrest that sent around the world his addled mugshot and the dashcam video of a proud athlete who could no longer walk the straight and narrow. It was the second scandal of a very complicated public life.
But all of that was just a prelude to the journey back to this Masters. There are 26 bones in the human foot and, according to someone close to Woods, he shattered 20 of them in his single-car wreck. Amputation was a real possibility for his withered right leg. And now, after more than a year of excruciating rehab, here he was carefully navigating the long walk down Augusta National's steep second fairway. The once raucous crowd held its collective breath.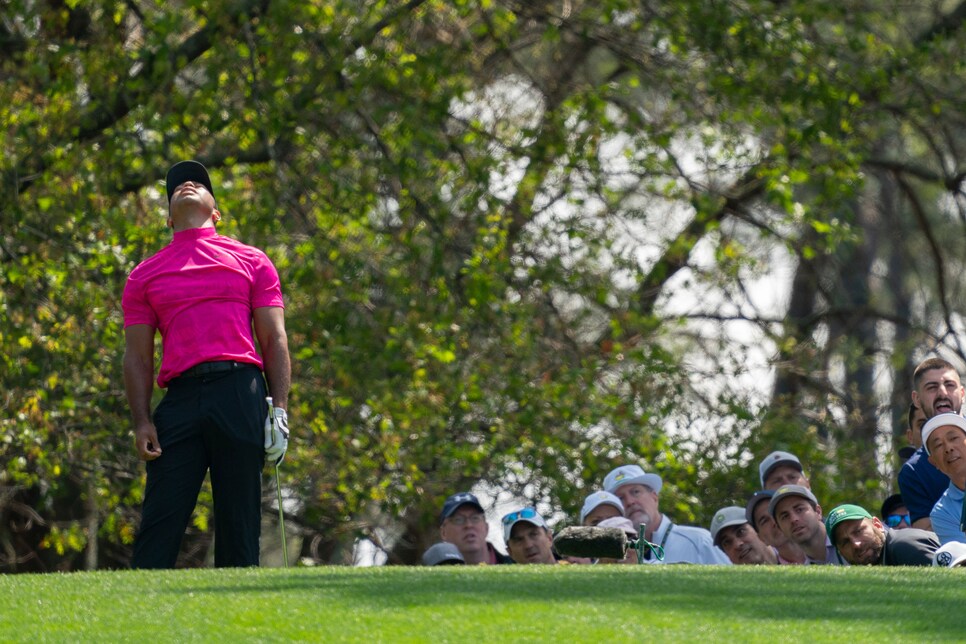 Woods' golf was also cautious, as he went point-to-point for five opening pars. Then on the par-3 sixth hole he ripped a 6-iron that never left the flag. The tap-in birdie put him among the early leaders and the feeling among his legion of fans—at Augusta National and across golf Twitter—transcended joy and morphed into something more profound: gratitude. Tiger Woods is making birdies again at the Masters and we are witness. What a time to be alive.
Across the front nine, Woods drove the ball beautifully but squandered his scoring chances with slightly imprecise iron shots and sloppy work with his wedges. (On both par 5s he was a stone's throw from the green in two blows but played them in a combined one over.) He made a pair of crucial par saves (10 feet at the first, six feet on the ninth), which suggests that, at 46, his nerve, and stroke, remain sound.
Woods pulled off sweet up-and-downs at 10 and 11 and then got back to one under with a two-putt birdie on the par-5 13th that was set up by a pair of expertly played shots. Across the practice rounds, he never played more than nine holes in a day, and Tiger made a tired-looking swing on 14 tee, sniping a drive into the trees, which led to a bogey. A hook off the next tee forced him to a lay up on the watery par-5 and resulted in a slightly disappointing par. But at 16, Woods roused the fans by slamming in a 29-footer for birdie that traveled up the gut of the green, evoking Jack Nicklaus's "Bear tracks" putt in 1975. Although the putt elicited a small fist pump, Woods had the good sense not to raise his putter in triumph, as it is only Thursday. At the last, he pulled his drive into the trees but got relief from standing water and saved a scrambling par with a gorgeous wedge. His one-under 71 left him tied for ninth as he walked off the course, a victory by any measure.
"I can swing a golf club," Woods said afterward, stating the obvious. "The walking's not easy—it's difficult. As I said, with all the hard work, my leg is going to be difficult for the rest of my life. That's just the way it is, but I'm able to do it. I'm very lucky to have this opportunity to be able to play, and not only that, to play in the Masters and to have this type of reception. I mean, the place was electric."
When the first dismaying images of his car crash went public, it was impossible not to wonder if Woods would ever leave his hospital bed. But rise he did, to ever greater heights.