News
Masters 2018: Jason Day says "best bud" caddie is ready for his Masters debut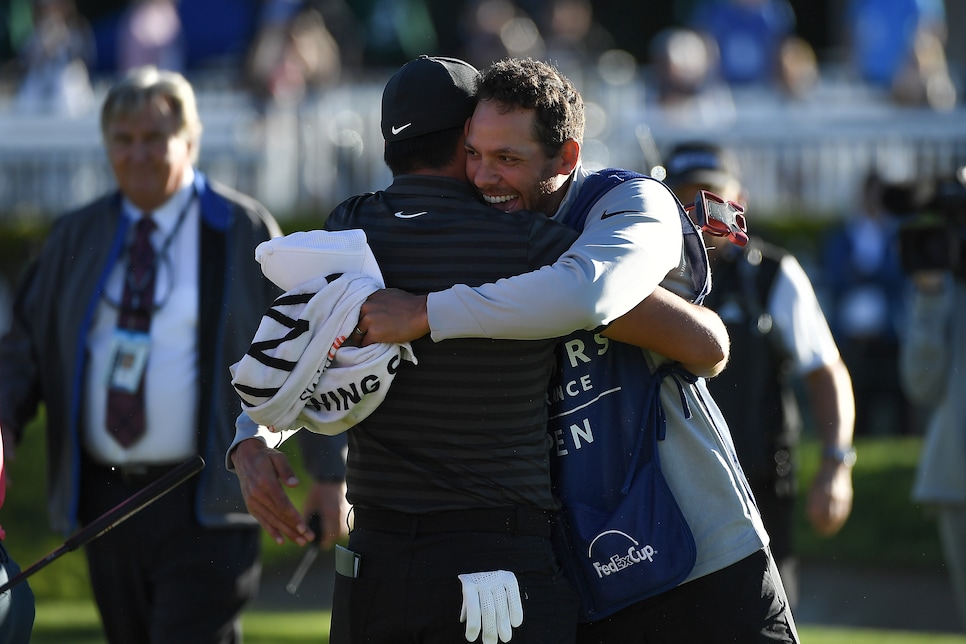 AUGUSTA, Ga. — Jason Day is playing in his eighth Masters this week, twice having finished in the top 3, in 2011 and 2013. This will be his first, though, without caddie Colin Swatton on the bag.
Swatton was let go last fall following a difficult year for Day on and off the course as he went winless for the first time since 2012 and was dealing with his mother's health concerns. He was replaced by two of Day's childhood friends from Australia, Rika Batibasaga and Luke Reardon, who have shared duties since, with Batibasaga, who was on the bag when Day won at Torrey Pines in January, getting the call this week.
"This week we won't go over the numbers because I know how thorough Colin is with being here," said Day, who retained Swatton as his coach and has him at Augusta National this week as well. "I think hopefully [having Batibasaga on the bag this week] will make things a little bit more light out there for me and a little bit more fun, because over the last few years it's been more of a grind trying to get that win because a lot of people have come up to me and said, 'This is your year, this is your year, you're going to win one.'
"That can add a little bit more pressure. So hopefully I have my good close buddy out there with me and we can make things a little less stressful and go out there and have fun."
Day and Swatton had plenty of good times, too. Swatton has known Day since Day was a teenager in Australia and has been everything from father figure to coach to caddie. In their time together, Day won 10 times on the PGA Tour, including his first major at the 2015 PGA Championship at Whistling Straits, and got to No. 1 in the world.
Ultimately, though, as often happens between player and caddie, things began to sour and at the end the two were barely talking to one another on the course. In an effort to salvage the friendship, Day said, he needed to make a change.
That wasn't the only one. Day, unhappy with the way he hit the ball in his last start two weeks ago at the WGC-Dell Match Play, has a new set of TaylorMade P-730 irons in his bag. That could prove an even bigger adjustment.
As for breaking in a new looper and one who has never caddied at the Masters, though? Day isn't concerned.
"I think that to a certain degree you take ownership of your actual golf game," he said. "Col, he was great for the 10 years that we had, and he is still my coach. He's here. But to a certain degree I think when you have your coach on the bag, you kind of not worry but you kind of think, OK, well, he's going to say something about this shot, so I better not play that shot, you know, after the round. It takes a little bit of free will to your game to kind of let things happen.
"I always get back to if it comes down to the line of me trying a shot on the last hole to win the Masters and it ends up failing, I would much rather fail in front of millions instead of failing in front of nobody. And if I can pull it off, then great. I think that's what Rika will bring to this week, is a lot of fun and enjoyment. And we're best buds, so we'll go out there and enjoy the time. I think he's going to be nervous walking down the first hole, but he should be fine."