News
The Open has a history of streakers. Mark Roberts is legendary for it.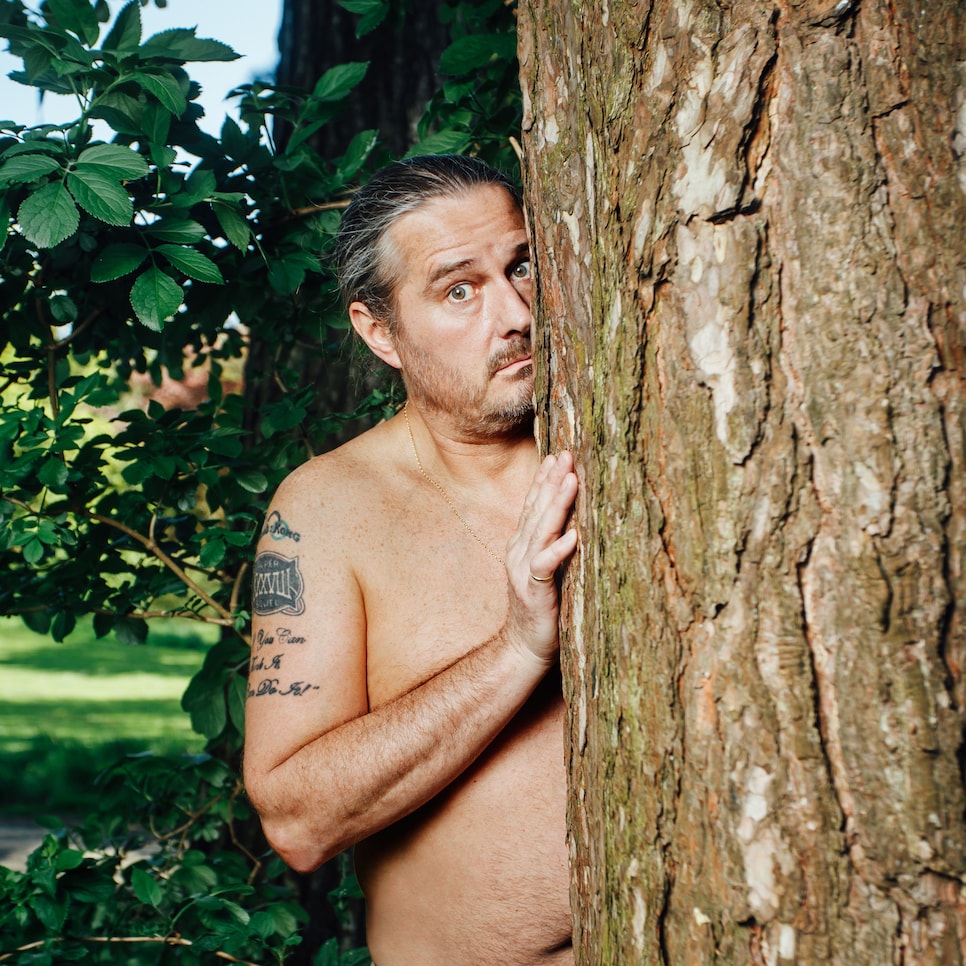 Photo By: Photo by Andy Ford
Mark Roberts, a house painter in Liverpool, England, is the father of three children and a grandfather to three more. By all accounts, a normal guy—except that he loves taking his clothes off at sporting events to make people laugh. In 25 years, Roberts has streaked 563 times in 23 countries, including three Open Championships and three Ryder Cups. After John Daly putted out to win the 1995 Open at St. Andrews, Roberts flashed across the 18th green bare-ass naked with a plastic set of clubs slung over his shoulder and "19th hole" written on his back with an arrow pointing to his crack. (A good streaker knows the importance of clever signage.) At 53, Roberts has no plans to retire. Here he answers our questions on the art of streaking.
FANS LOVE A STREAKER, BUT WHAT ABOUT SECURITY?
The police have treated me pretty well over the years. Most of the time they're laughing their heads off as they chase me.
DO YOU USUALLY GO TO JAIL?
If they want to charge me, they'll keep me for a few hours and then release me with a court date. But half the time they only hold me until the sporting event is over.
TELL ME A HORROR STORY.
The worst I've been treated was at a dog show in England. I jumped onto the stage with a cat mask covering me privates to wind up the dogs. Security took me to a room and beat me up for 15 minutes until the police arrived. I collapsed in pain. I mean, it was crazy. It's just a freakin' dog show. what is the first rule of streaker etiquette? Don't interrupt play. You don't want to put a player off or change the course of a game. The purpose of streaking is to provide the thousands of people there a moment of comedy.
ANY TIPS FOR THE ASPIRING STREAKER?
Be prepared to get arrested, and know the repercussions. I've met a lot of people who've streaked for a one-minute, once-in-a-lifetime bit of fun and have no regrets. But I also know a guy who streaked in front of the Queen's car during a parade. He got taken down hard by Special Branch, lost his job and got a huge fine. It's always got to be in good fun. That's the art of streaking.
HOW IMPORTANT IS A GOOD LAWYER?
Very. I've had the same lawyer for about 20 years, and he loves it. Every time I'm thinking about calling it quits, he says, "Mark, you're not going to retire, are you?" We have so much fun in court—his creative legal arguments, the deadpan way he delivers our case to the judge—the entire courtroom is always in laughter.
WHAT'S THE MOST YOU'VE BEEN FINED?
I got $1,000 for streaking at Super Bowl XXXVIII in Houston and was happy to pay it. The prosecution tried to give me six months in a Texas jail. Wow. Thankfully, I only got fined.
AT THE 2006 RYDER CUP AT THE K CLUB, YOU STREAKED BEFORE PLAY HAD FINISHED. WHAT HAPPENED?
I could only see half the 18th green from where I was. Someone said it was over, so I went, but the American [J.J. Henry] is lining up his putt. I'm stark naked with "hole in one" written on me back with a ball wedged between me ass cheeks. It was so quiet. I looked around, and thought, Oh, man, I'm so sorry. I walked back toward the crowd and two guards came at me, and I thought, The hell with this, so I ran across the green and did a flying belly flop into the lake.
SOMETHING TELLS ME YOU WERE THE CLASS CLOWN.
Yes, the class idiot, the one who tried to make people laugh. The headmaster was always getting his cane. I've gotten fired from jobs and thrown out of college for joking around too much. It's just part of my character.
HOW DID YOU GET STARTED?
I was at the Rugby Sevens in Hong Kong. I did it on a dare. Two of the biggest teams in rugby are playing. I run on the field, pick up the ball and go the length of the field. I look back, and 65,000 people are standing and screaming their heads off. I run all the way back to where I was sitting. Girls are kissing me. Guys are pouring beer over me head. The police come to escort me out, and the whole stadium chants: "Leave him alone!" I found in that moment that I could make thousands of people laugh for just doing something silly and a courage within I didn't know I had.
WHAT DOES YOUR FAMILY THINK OF YOUR HOBBY?
They support me. I have so much fantastic love for my children. There's nothing negative about what I do. It's been a crazy ride. I'm just enjoying life.