CARNOUSTIE, Scotland — It is April 2018 and 12-year-old Maggie Whitehead is sitting at home in northeast England watching the Drive, Chip and Putt competition the Sunday prior to the Masters at Augusta National. "That looks like fun," thought the youngster. "I'd love to play in that. So why don't we have something similar over here in the United Kingdom?"
In search of an answer, Maggie wrote a letter to a man in St. Andrews. And that is how her on-going relationship with R&A Chief Executive Martin Slumbers began. Intrigued by the passion in her words, Slumbers—a enthusiastic advocate for bringing more young girls into golf—replied, inviting the then 7-handicapper to Carnoustie for the Open Championship.
That was exciting enough, but there was more to come.
"The highlight for me was meeting Tom Watson," says Whitehead, now 15. "That was incredible. And such a great memory. Everything that has happened since I wrote that letter has been unbelievable. I didn't know I was going to meet Tom until he walked through the door. I just knew I had a surprise waiting for me. We met in the media center. I watched him do a radio interview. Then he interviewed me, and I interviewed him. That was really cool. I got to ask him about all his past experiences in the Open, which was really interesting. Just to hear him talk was wonderful. For me to see a legend like him in person was next level."
Speaking of which, Maggie has moved onwards and upwards over the last three years. The 7-handicapper is gone—"for a while, I had a streak going where I cut my handicap in half every year from the age of 9," she says—replaced by one who is the English Girls Under-16 champion and plays off plus-4. And this week she is back in Carnoustie, again at Slumbers' invitation, where she played in the Tuesday pro-am preceding the AIG Women's Open alongside her correspondent and LPGA pro Jessica Korda.
"I have kept an eye on Maggie's progress, which has been considerable," says Slumbers, who was regularly outdriven by his young partner. "Today was the first time we've played together though. I wish I was 15 years old again. I was very impressed. She has such a modern, powerful game. She strikes the ball really well and is fearless … unlike me over 60-yard shots. As I said to her on the way round, she needs to take her time before moving up through the grades. After she does her GCSE exams next year, senior golf is another level. She'll find more girls who can play as well as she does. That's the next test. And if she is good enough, she'll keep moving on. But she has a great attitude. And she's great fun."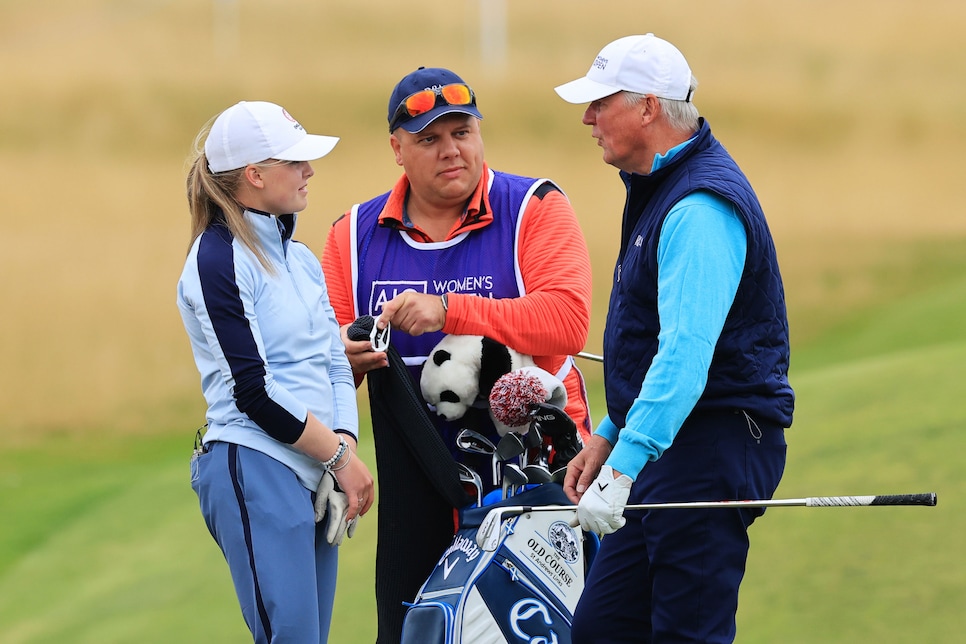 Whitehead and Slumbers played for the first time together in the pro-am on Tuesday ahead of this week's AIG Women's Open at Carnoustie.
David Cannon/R&A
Indeed, Slumbers' assessment is hard to fault, Whitehead's long and straight driving especially striking. Off a tee that was admittedly well forward, she all-but-drove the green at the par-4 fifth, saving Slumbers the trouble of sweating over yet another 60-yard pitch. All of which was achieved with the classic confidence of someone in the middle of a purple patch of form. As well as claiming that Under-16 title, Whitehead was fourth in this year's English Under-18 mixed championship and third in the Under-18 event for girls.
"I'm pretty happy with my overall record," she says. "I've finished in the top 10 at every event I've played in 2021. Next year I won't play as much though. I have my exams to focus on. I will be going to America in 2024 to look at a college. But that is something to look forward to. Collegiate golf is really the next level for amateurs."
There might be something else in Whitehead's future, too. Slumbers clearly knows a good thing when he sees it and an offer has already been made for the pair to compete in the Sunningdale Foursomes next year. In that event, men and women, professionals and amateurs compete alongside and against each other.
"I'm glad Maggie wrote her letter," Slumbers says with a smile. "And I'm glad I replied as I did. The great thing about the R&A is that we have the ability to fulfil some dreams and let people have a chance. I couldn't be more proud of Maggie. She has grabbed that chance with both hands."