The Loop
Luka Doncic is Slovenian, but he owns the state of Texas now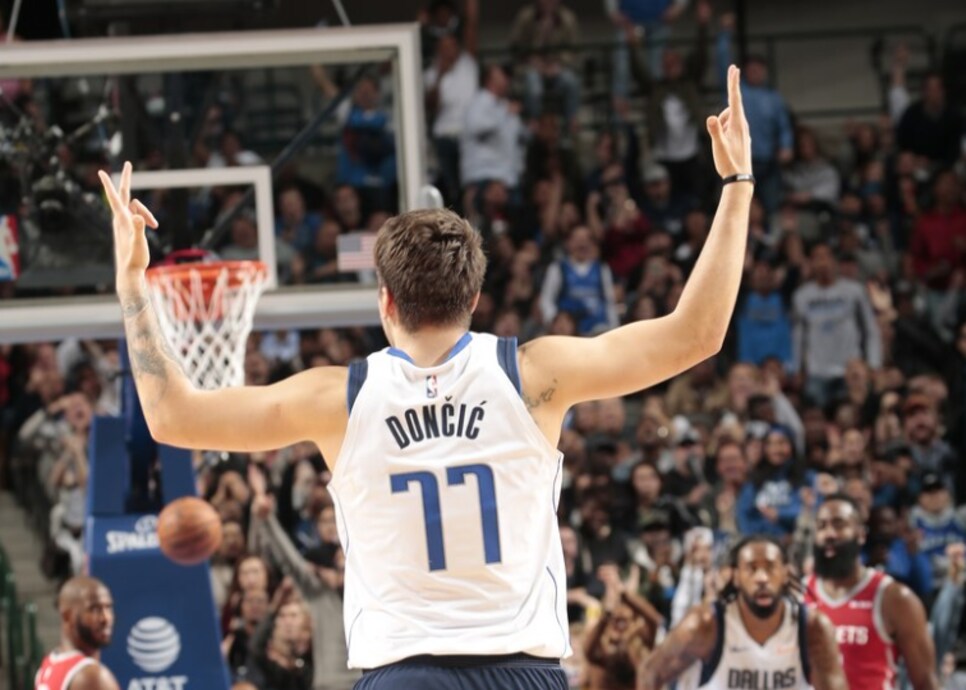 Rockets-Mavs is about as close as the state of Texas comes to a basketball rivalry, and though it's no Longhorns-Aggies, it still raises an eyebrow or two—both are pretty solid franchises with titles in the recent past (re: the Rockets, is 1995 still recent?) and legit stars like Dirk and James Harden. But it's the newest Mavs star, Luka Doncic, who conducted his own personal miracle comeback on Saturday night. Watch what happened when his Mavs found themselves down 100-92 to the Rockets with three minutes left:
Lone-Star Luka! This is just the exclamation point on a first quarter of the season that has been tremendously exciting for the Slovenian star and NBA rookie, who last season became the youngest winner of the EuroLeague MVP award for Real Madrid. He's still only 19, and he's already making the woeful Mavericks from a year ago wayyy better. If you haven't experienced Luka-mania yet, do yourself a favor.
Also, it's very satisfying that he did this against an annoying flopper like James Harden. Coolest Texan since Beto O'Rourke, in my book, and he actually wins.
Poetic Ennui Team of the Week: Golden State Warriors
Golden State has the best record in the Western Conference, but you wouldn't know it by the drama that has surrounded the team this year and generated the most memorable coverage; particularly the beef between Kevin Durant and Draymond Green. It remains to be seen whether the bad feeling will permeate the team and tank them in their quest to win a fourth title in five years, or if they're too good for any of that to matter. In the meantime, ESPN's Nick Friedell interviewed a few of the Warriors about the concept of joy, and their quotes make them sound like a team of French philosophers, smoking Gauloises and giving a fatalistic shrug of their shoulders.
Here's Durant: "I feel like a lot of people confuse joy and happiness. I think happiness is a feeling that it's fleeting. It means you can go back and forth all the time. I feel like joy is something that you can stand on."
Klay Thompson: "Had it. Lost it."
Andre Iguodala: "Happiness can be fleeting. It can be temporary. ... But joy is kind of long-lasting. It's a spirit that's inside you."
Curry: "You have to be very purposeful and reminding yourself what you're doing for a living. We should take everything seriously, the highs and the lows."
Green: "The season gets long. Days when you don't feel like doing it. Sometimes it gets redundant. It's tough."
I don't know if this is good or bad for the Warriors (bad, probably?), but it definitely makes them even more fascinating. If nothing else, it's truly a sign that the team now belongs to Durant, who always looks morose, rather than the exuberant Curry.
Sad, Pathetic NBA Team of the Week: The Chicago Bulls
It feels like it was just yesterday that the Bulls rolled over for the Warriors as Klay Thompson set an NBA record with 14 threes in a game and the Dubs won by 25. In fact, it was about a month ago, and things have not gotten any better for the Bulls in the interval. They now stand at 6-21 for the season, Fred Hoiberg has been fired, and on Saturday night they lost to the Celtics by 56 points in what was:
1. The largest margin of victory by a road team in NBA history (tied).
2. The largest margin of victory in Celtics history.
3. The worst loss in Bulls history.
The post-game quotes included this sad-sack gem from new coach Jim Boylen: "They kind of punched us and we didn't respond."
Quite the sad little visual!
The Bulls have been clobbered a whole bunch this year already, by everyone from the Bucks to the Hornets and back, but somehow they aren't even the worst team in the NBA—that honor goes to the Suns, at 4-22.
Sneaky Dwight Howard-esque Saboteur of the Week: Joel Embiid, Sixers
It's always refreshing to me when any professional speaks his mind openly, but there's a difference between candor and crypto-sabotage, and Dwight Howard will always be the poster boy for the latter. Lately, though, I'm starting to think Joel Embiid of the Sixers might be cut from the same cloth. This story, about his new role with the team since the arrival of Jimmy Butler, is just bursting with complaints. Like:
"I haven't been myself lately...I think it's mainly because of the way I've been used, which is I'm being used as a spacer, I guess, a stretch five, which I'm only shooting [29] percent" from three-point range. But it seems like the past couple games, like with the way I play, our setup, [Brown] always has me starting on the perimeter … and it just really frustrates me. My body feels great, and it's just I haven't been playing well."
Later, he did the whole "I'm not upset with the trade, I'm upset with me" spiel, but it's clear he was not-so-subtly throwing both his coach and Butler under the bus. It's one thing to do that, but here's the crazy thing: Before Butler came, the Sixers were 9-6. Since he's arrived, they're 9-3. That means the team is better with Butler, and it casts Embiid's remarks in a harsher, more selfish light. Worse, it seems like his gripes don't have much merit:
https://twitter.com/MOConnor_NBA/status/1071464747319607296
What do you call someone who blames his own poor performance on a new teammate because he's insecure and fragile, while simultaneously pretending to be the good guy? Friends, you call that person a real Dwight Howard.
Giannis Content Superstar of the Week: Giannis