Obituary
All-time pro golf wins leader Kathy Whitworth dies at 83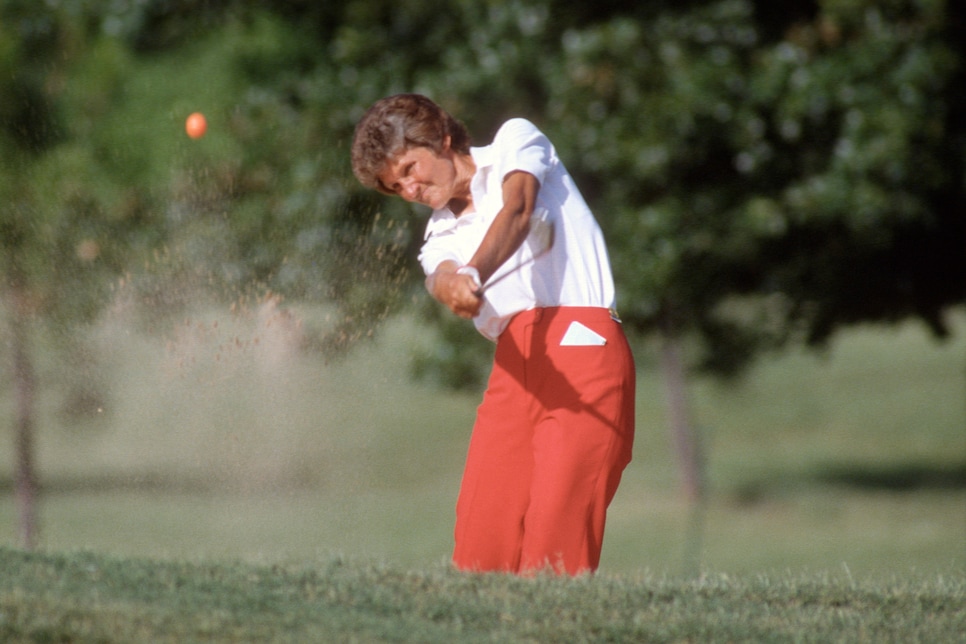 Kathy Whitworth in action during tournament play, circa 1990.
Focus On Sport
Legendary LPGA Tour player Kathy Whitworth, the winningest golfer on any professional tour, has died at the age of 83.
Whitworth passed away suddenly on Dec. 24 during Christmas Eve celebrations with family and friends, according to a release via the LPGA Tour from Whitworth's long-time partner, Bettye Odle.
"It is with a heart full of love that we let everyone know of the passing of the winningest golf professional ever, Kathy Whitworth," Odle wrote. "Kathy passed suddenly Saturday night celebrating Christmas Eve with family and friends. Kathy left this world the way she lived her life, loving, laughing and creating memories."
LPGA Commissioner Mollie Marcoux Samaan said in a statement: "The golf world and the world in general lost one of its most incredible women with the passing of Kathy Whitworth. Kathy was a champion in the truest sense of the word, both on the golf course and off."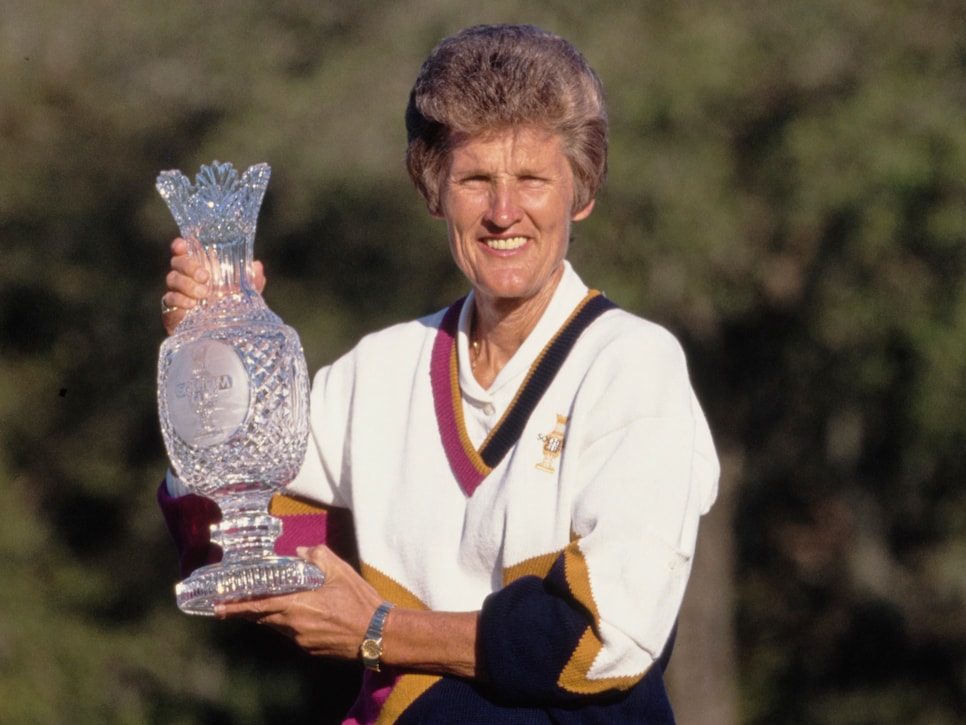 Kathy Whitworth, team Captain for the United States, holds the trophy aloft after Team USA defeated Europe in the inaugural Solheim Cup competition in 1990 at the Lake Nona Golf & Country Club.
David Cannon
Whitworth was born in Monahans, Texas, on Sept. 27, 1939, several weeks after the beginning of World War II. By the age of 45, in the mid-1980s, she had amassed 88 LPGA Tour victories—six more than fellow LPGA Hall of Fame member and her great rival, Mickey Wright. Whitworth's total is also six more than the PGA Tour men's record of 82 wins, shared by Sam Snead and Tiger Woods.
"I was really fortunate in that I knew what I wanted to do," Whitworth said in a Golf Digest interview in 2009. "Golf just grabbed me by the throat. I can't tell you how much I loved it. I used to think everyone knew what they wanted to do when they were 15 years old."
The incoming tributes to Whitworth included one from 72-time LPGA winner Annika Sorenstam:
Whitworth's longevity is also observed in the fact she won at least once for 17 consecutive years, an LPGA Tour record that may never be broken. Her first LPGA victory came in the 1962 Kelly Girls Open over four-time major winner Sandra Haynie, and her final triumph was in the 1985 United Virginia Bank Classic against five-time major champion Amy Alcott. Whitworth also finished runner-up 93 times and lost in 20 of 28 playoffs. In 1981, Whitworth became the first LPGA player to pass $1 million in career earnings, and in 1990 she was selected as the United States' first Solheim Cup captain.
Among Whitworth's 88 titles were six majors–the Titleholders Championship in 1965 and 1966, the 1967 Western Open and the LPGA Championship in 1967, 1971 and 1975. The one big title absent from her resume was the U.S. Women's Open, and she said, "I would have swapped being the first to make a million for winning the Open, but it was a consolation which took some of the sting out of not winning."
Whitworth is best remembered for her captivating and enduring rivalry against Wright. Between 1958 and 1973, there were only three years in which the most LPGA victories in a season wasn't recorded by Whitworth or Wright, who retired in 1969, more than 20 years before Whitworth.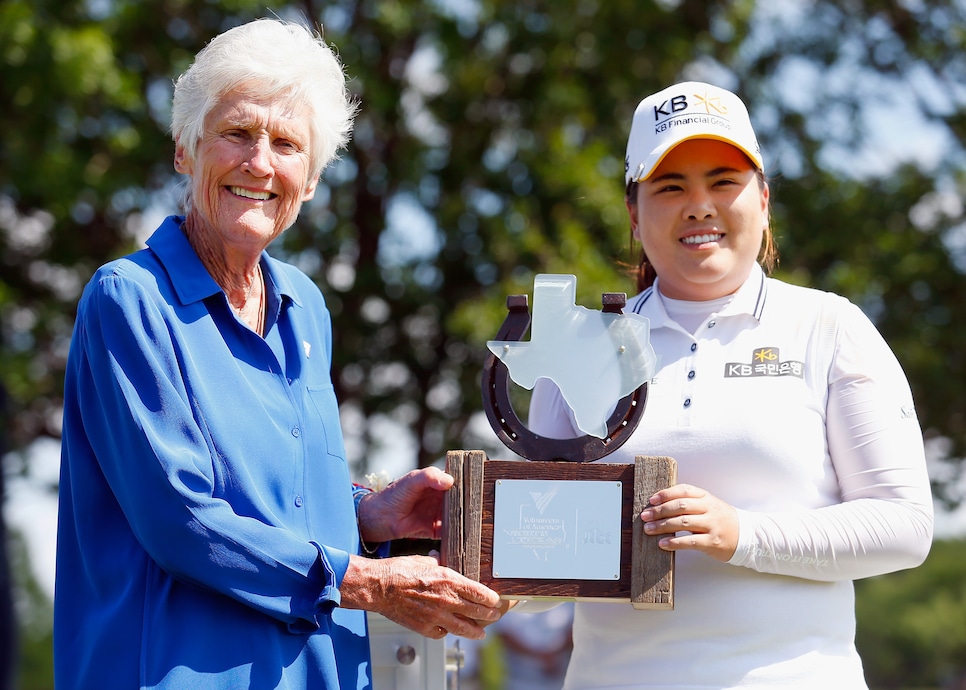 Kathy Whitworth poses with Inbee Park after Park won the 2015 Volunteers of America North Texas Shootout.
Tom Pennington
Whitworth played her last LPGA Tour event in 2005, 30 years after she was made a member of the World Golf Hall of Fame. By then, it became near impossible to separate the careers of Whitworth and Wright, although many would tip the cap to Wright's 13 majors. Perhaps LPGA Founder Louise Suggs described it best: "Mickey was the greatest golfer, but Kathy was the greatest winner."
Kathy Whitworth's career highlights
Whitworth began playing golf at age of 15 and won the 1957 and 1958 New Mexico State Amateur Championship. She became a professional golfer at 19 and joined the LPGA in December 1958.
Whitworth won six major championships over an 11-year span from 1965-75, including three LPGA Championship titles. She captured the 1977 Colgate-Dinah Shore Winner's Circle before it became a major.
In a remarkable run, Whitworth lifted eight trophies in 1963, eight in 1965, nine in 1966, eight in 1967, 10 in 1968 and seven in 1969.
In 1974, Whitworth won the Orange Blossom Classic (also known as the St. Petersburg Open) for the fifth time. Only three other LPGA golfers have won the same tournament five times.
In 2000, Golf Digest ranked Whitworth as the 26th Greatest Golfer of All-Time. Mickey Wright was ranked ninth, Babe Didrikson Zaharias 17th and Nancy Lopez 26th.