Marathon LPGA Classic
In return to Ohio, LPGA players reflect on COVID-19's effect on their lives and careers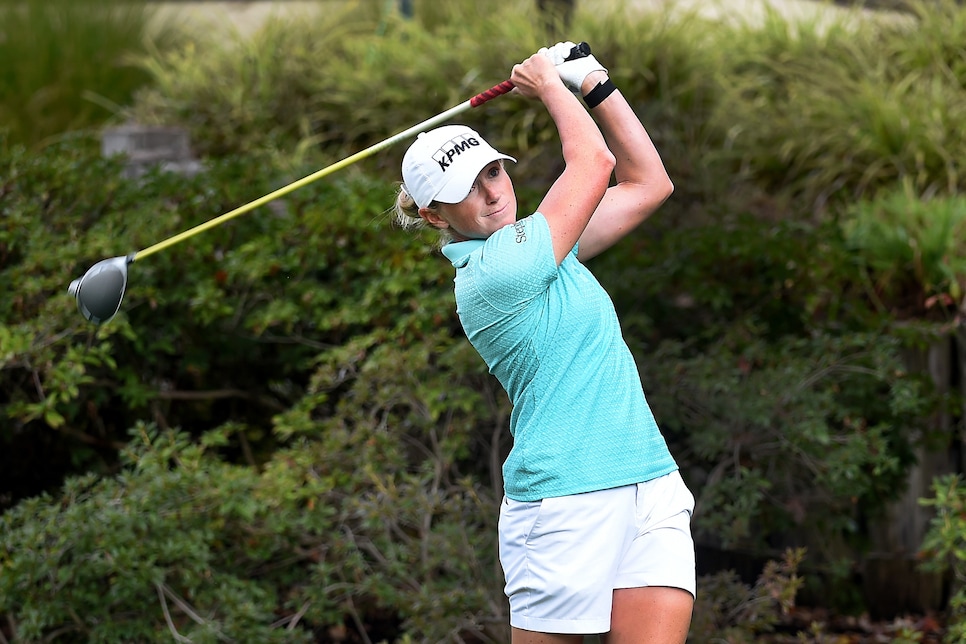 Stacy Lewis hits a tee shot during 2020 Cambia Portland Classic.
Steve Dykes
Eleven months ago, the LPGA Tour returned to northwest Ohio in its first steps back from the COVID-19 schedule break. It created the LPGA Drive On Championship at Inverness Club in Toledo, and then played the Marathon LPGA Classic in Sylvania. As the tour makes its first trip back to the Marathon since returning to play, it provided a mirror for players to reflect on the coronavirus era and how far they've come over the last year.
"I don't know how many [COVID-19] tests we've done by now," Sophia Popov said at her press conference Wednesday. "I just think we're lucky enough to have been able to continue playing last year with everything that was going on, so I think we're all just very grateful for that opportunity."
The LPGA bubble developed to ensure the safety of everyone involved with the tour included everything from rules guiding where players could eat to when they needed to take COVID-19 tests. There were unforeseen issues, of course.
So Yeon Ryu delayed her return from South Korea to the United States until December because of the pandemic, and she needed to study up on what the protocols were before coming back to play. "(I) felt like I just became a rookie all of a sudden," Ryu said. She pushed through with reading books and watching Netflix, a common theme with the additional hotel room downtime over the last year.
Stacy Lewis, who won for the first time as a mom at the 2020 Ladies Scottish Open last August, faced her own challenges of corralling her 2-year-old daughter Chesnee throughout the bubble. Lewis explained Chesnee would ask to eat inside at restaurants, but she had to tell her that they couldn't. "We started going to the park and eating at the park," Lewis said Wednesday. "It has picnic tables. You get creative, and we got through it, but I'm glad we're on the other side of it."
Getting creative was a requirement for pushing through the strictest bubble the LPGA had—during its opening Asia swing this year. The tour's policy of only allowing travel to and from the hotel to the course—necessary for the LPGA to return after missing the fall Asia swing in 2020—made socializing and getting away from the game challenging. "[The bubble in Asia] made you think about golf way too much," Popov said. "That's been the hardest part of it, relying on yourself and try to find ways to entertain yourself for six, seven hours before you go to bed."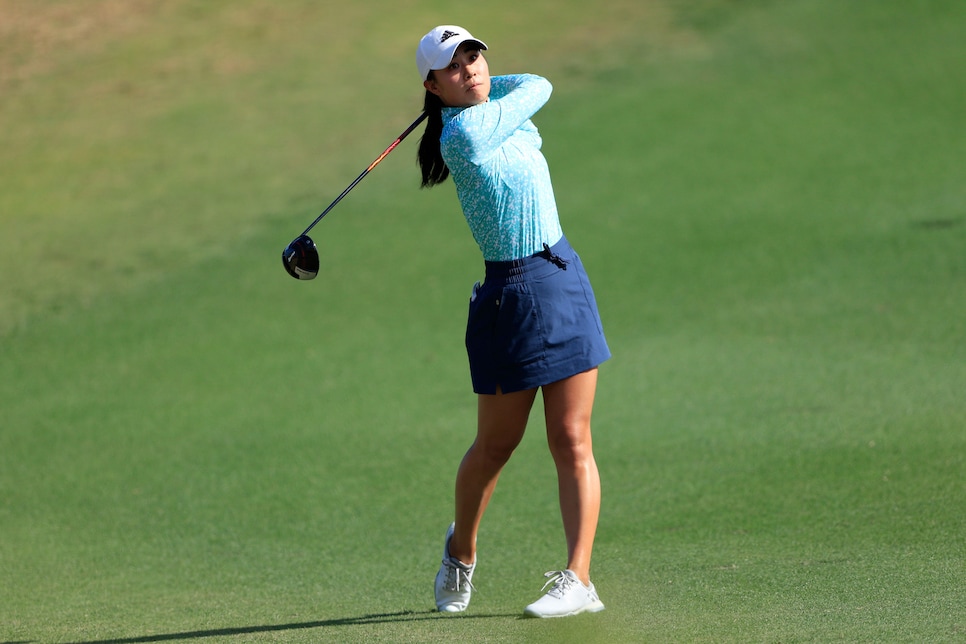 Danielle Kang plays a shot on the seventh hole during the final round of the 2021 Diamond Resorts Tournament of Champions.
Sam Greenwood
Defending Marathon Classic champion Danielle Kang's lowest moments over the last year also came during the isolation from the tour's stops in Singapore and Thailand. "Asia was tough for me this year because I'm very needy," Kang said. "I need people around me, and I bother a lot of people. I call my agent for an hour if I need to. I don't know, I like having people around me. Not being able to go to their rooms, not being able to eat with them, that was tough on me."
As the tour slowly returns to full-capacity events with no restrictions, it's looking ahead to the event that serves as the finish line and probably the biggest party of the year. Inverness is set to host the Solheim Cup matches against Europe over Labor Day weekend. Kang played Inverness on Tuesday, and she heard all about where the grandstands are being built. The planned crowds will be immense.
"That's going to be awesome," Kang said.