LPGA Tour
Danielle Kang tests her back and a last-minute entry makes a run as LPGA Match Play heads to the round of 16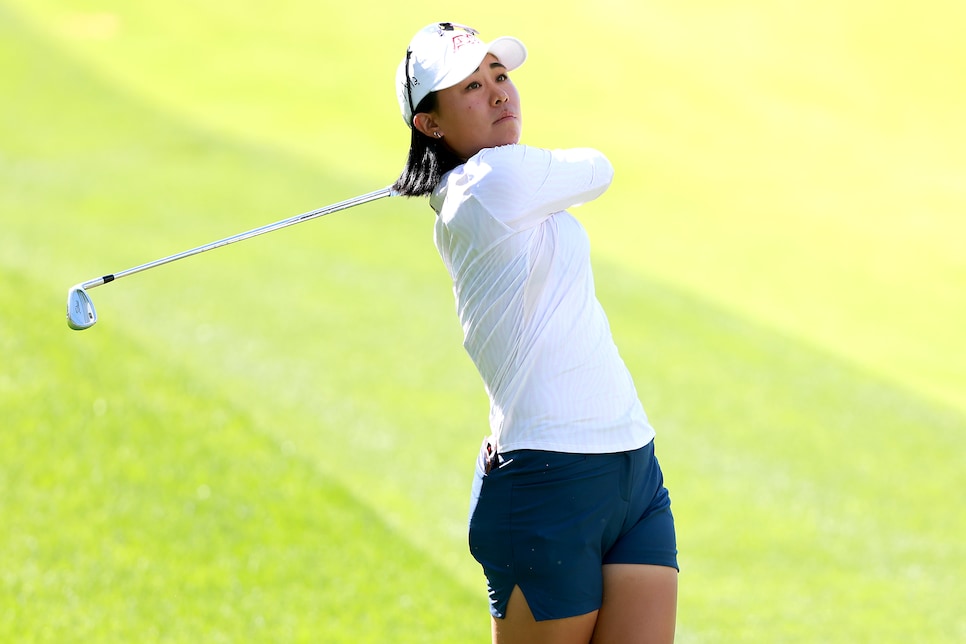 Danielle Kang hits an approach shot from the first fairway during the Bank of Hope LPGA Match Play.
Sean M. Haffey
It was a last-minute call. Anna Nordqvist withdrew from the Bank of Hope LPGA Match Play at Shadow Creek Golf Course in Las Vegas on Tuesday night. The first round was set to begin on Wednesday, so the tour called in an alternate. Gemma Dryburgh filled Nordqvist's spot, and she's playing like she belonged in the field from the start.
In the Match Play, 64 players play round-robin matches for three days. Points are tallied up, and a round of 16 is determined for the weekend. From there, single-elimination matches begin.
"I had no expectations, to be honest, especially after losing my first match. I was like, 'Oh, just try and make the most of it,' " Dryburgh said.
She certainly made the most of it. Though she lost to Cheyenne Knight 2 and 1 in her first match, she went on to win her second match against Chella Choi, 2 and 1. And then she won her third match against Gaby Lopez, also 2 and 1. With that finish, she earned her way into the weekend and will compete in the round of 16.
Some top players didn't make it to the weekend. Of note, Danielle Kang, the No. 11 player in the world, made her return to competition after announcing a back injury at the end of April. She went to Las Vegas to test her back, but unfortunately it did not fare well. Kang lost to Kelly Tan 7 and 6 in her first match, and went on to lose and tie her next two matches, respectively.
When asked about the status of her back after play, Kang said, "I don't really know how to answer these questions right now. I'm not ready to play. But I'm doing the best that I can so that I can keep playing."
The big question mark for Kang is, if her back didn't feel right at Shadow Creek, what does that mean for the following week: the U.S. Women's Open at Pine Needles?
For four other players in the field in Las Vegas, the U.S. Women's Open is a question mark, too. One spot is left for the U.S. Women's Open, saved for the winner of the Match Play, if that player has not yet qualified for the major. One of those players is Eun-Hee Ji, who won the U.S. Women's Open in 2009. She captured the last two holes of her third match, which included a clutch putt on the 18th to tie Tan and get into the weekend. With that putt, hope for entry into the championship she won over a decade ago remains alive.