The Loop
Louise Suggs fights through adversity again
Several years ago, I asked Louise Suggs to identify her strongest attribute as a competitive golfer.  She leaned forward, rested her hands on her cane, looked me in the eye and said: "When I had someone down I put my foot on her throat." That's what she did in 1949 when she won the U.S. Women's Open by what is still a record 14 strokes over her bitter rival Babe Zaharias, completing a three-year run in which Louise also captured the 1947 U.S. Women's Amateur and the 1948 British Ladies Amateur.
A year after that U.S. Open victory, Suggs and 12 other women, including Zaharias, founded the LPGA. Miss Suggs, as comedian Bob Hope always called her, as much out of fear as out of respect, always has been one tough customer. She is also one of the greatest ever to play women's golf, with 11 major championships among her 58 tour wins.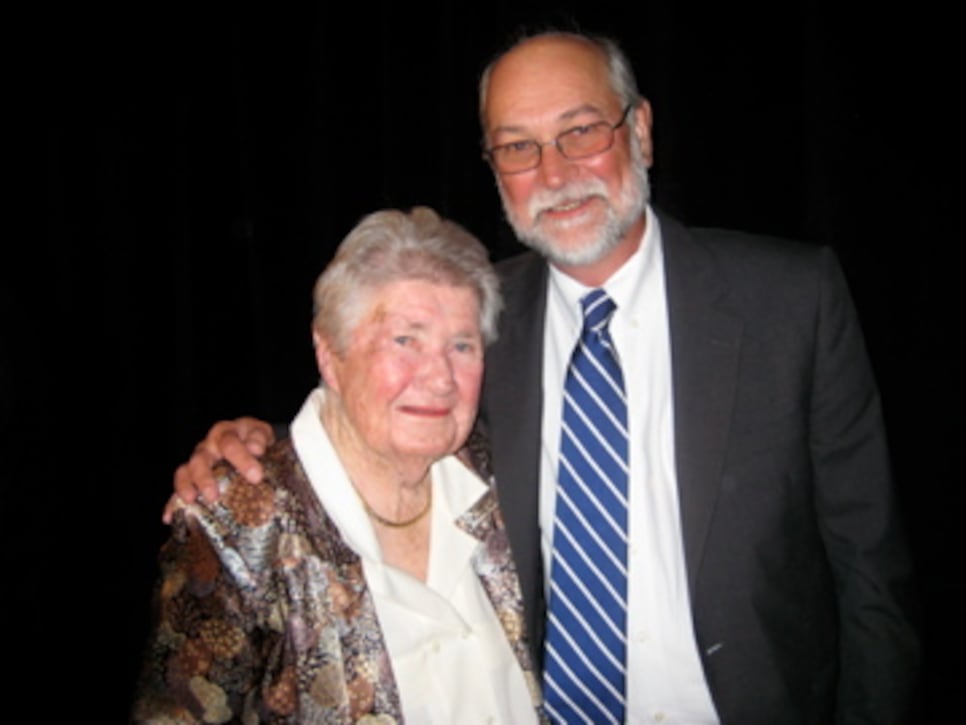 Ron Sirak, right, values Louise Suggs as a legend, but also as a friend.
In the early 1950s, Louise won an 18-hole event against a field that included Sam Snead, who was less than gracious in defeat. "What are you so angry about," Suggs said to Snead as he complained loudly about losing to a woman. "You didn't even finish second." Louise had Sam down, and now she was putting her foot on his throat. Nearly 60 years later, she still relished telling that story.
When I heard Louise had fallen at her Sea Island, Ga., place, hit her head against the curb and lost the sight in her right eye, I was worried about my friend. She has heart problems and once at the LPGA Awards Banquet, as she presented the Rolex Louise Suggs Rookie of the Year Award, said: "I have so much nitroglycerine in me, I hope I don't blow up." Several times after grueling trips to the Women's British Open or the Solheim Cup in Sweden, Suggs was hospitalized, but always bounced back
When I saw her in March at the RR Donnelley Founders Cup in Phoenix -- Suggs, who will be 88 in September and still goes wherever she is needed to help the tour she calls "my baby" -- I asked how she was doing. "Not bad for a Cyclops," she said, punctuating the sentence with something between a grunt and a laugh. We talked some more at the Masters in April, as we have for years, and finally last week, in one of the phone chats with her I cherish so much, she told me about Jimmy Glover. "That man saved my life," Louise said.
Glover wouldn't have been at Sea Island last October except that his son, 2009 U.S. Open Champion Lucas Glover, was playing in the McGladrey Classic. On a bright Saturday morning, Jimmy's wife Hershey, had gone ahead to breakfast, where Jimmy was to meet her. "I was just standing on the porch taking in the morning," says Jimmy. "I looked over and saw this lady sitting on the ground with this small dog jumping around her. Then I realized she was sitting in a pool of blood."
Louise had tripped while walking her dog, hit her head against the curb and severed the temporal artery.  "It looked like she had been hit with a baseball bat," Glover said. He tossed his room key to a passing housekeeping and told her to get some towels, cold water and to call 911.
"I never saw the man that day," Louise said. "He came up behind me, sat me up and said 'lean against me, I won't let you fall." I thought, 'Hell, I already fell.'" With Suggs rested against his shin, Glover pressed a wet towel on the wound so tightly in a desperate attempt to stop the bleeding that his arm muscles cramped.
"She was so calm," Jimmy said. "I just held her head and we talked. I told her my name and she told me hers and then she said, 'I don't want to be a bother.'" As they waited for help, Suggs' dog jumped and barked around them. "Sit down, Dammit," Louise yelled. "Dammit, be quiet." Confused, Jimmy asked if she were cursing the dog or calling it by name and was told that, indeed, Suggs named her pet Dammit.
What seemed like an eternity was really about 40 minutes before Louise was taken away by ambulance and then flown by helicopter to Jacksonville, Fla., where she was in intensive care for two weeks. "I picked up her shoes and her cane and put them into the ambulance with her," Jimmy said. "I squeezed her hand and said 'I hope to meet you again under better circumstances.'"
Later that day, Glover got a call from the Jacksonville hospital saying Louise's condition had been stabilized and that he had kept her from bleeding to death with his quick action. "I was covered in blood from my hair to my waist," Glover said. "I was amazed at how much blood there was. I went inside to clean up and sat on the edge of the bathtub and just started shaking and crying."
The next time Jimmy and Louise met was in April at the Masters. "Louise was sitting in a chair behind the clubhouse and I went over and re-introduced myself," Glover said. "It was pretty emotional," said Suggs, who does not admit to such feelings often. "She hugged my neck and we talked for about an hour," Glover said. "I told her that after 50 years I finally got to use that medical response merit badge I earned."
The loss of one eye has been a difficult adjustment for this fiercely independent woman.  Depth perception is a problem and Dammit is walked by others now for fear Louise is vulnerable to another fall. She is looking into getting a scooter so she can walk her dog that way. Still, Suggs drove herself from Sea Island to Augusta for the Masters and then back to her home in St. Augustine, Fla.
Five of the 13 LPGA founders are still with us and, as was proven at the Founders Cup, they provide a reality check for current players. Things may be difficult now, with the limited schedule, but the challenges are nowhere near as great as those faced by Suggs and her contemporaries as they created a women's tour and insisted it survive.
If not for Jimmy Glover, there would be one fewer founder among us now. He saved the life of my friend, Louise Suggs. I thank him for that, and so should everyone who cares about golf.