News
Lee Westwood turns back the clock, wins the Nedbank Golf Challenge with closing 64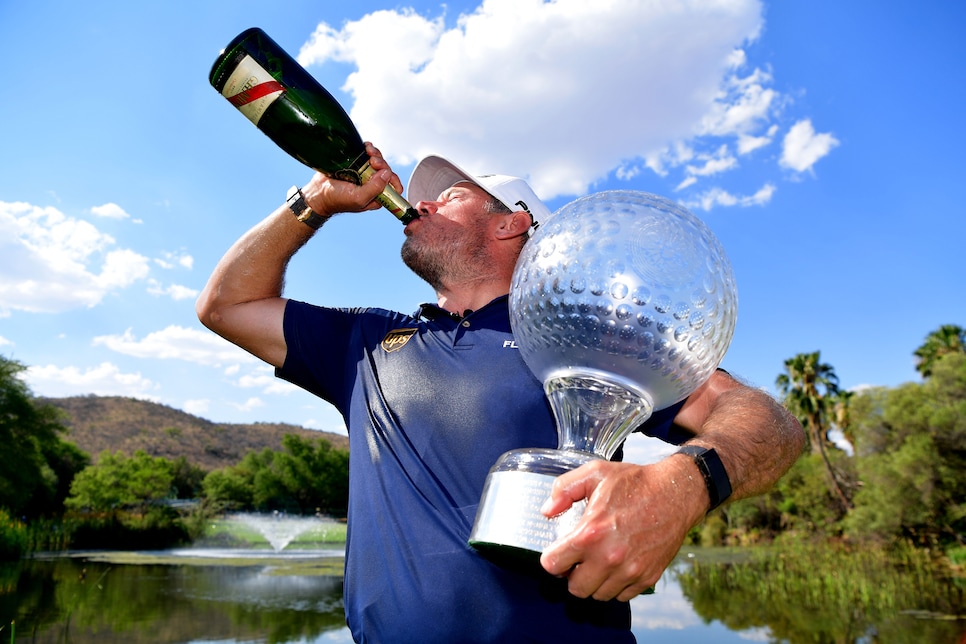 Stuart Franklin/Getty Images
There was no getting away from the turn-back-the-clock feel to Lee Westwood's performance at the Nedbank Golf Challenge. Facts are facts, and the Englishman with the dry-wit and the gray stubble had not been victorious on the European Tour since April 2014, or anywhere for that matter since April 2015. The former World No. 1 had contended a time or three in the meanwhile, but at 45, now ranked 119th in the world and having seen his status in the game fall from name brand to also ran, most observers—including Westwood himself—couldn't help but wonder if he had essentially reached the end of the road.
On Sunday at Gary Player Golf Club, he delivered an answer: Not yet.
A closing 64, bogey-free and littered with masterful iron shots, lifted Westwood to 15 under par for the week, three strokes better than Sergio Garcia, the leader each of the first three days in South Africa who closed with 70.
In triumph, came tears. "I'm a little emotional, to be honest," Westwood said afterward. "You're never sure you're going to be able to do it again, and I was able to."
Three back to start the day, Westwood began his round in solid fashion, making a tap-in eagle on the par-5 second and a birdie on the eighth to turn in three under. Conversely, Garcia opened with a bogey and made the turn at even par.
But then began a run that the Westwood of old would have admired. When you win 23 European Tour events and 43 worldwide titles, you know what it takes to claim victory. The question is whether you can pull it off. And with birdies on the 11th, 13th 14th, 16th and 17th holes, he did just that, separating himself from Garcia, then making sure no one else could catch him.
The one most likely to chase Westwood down was local favorite Louis Oosthuizen, who started a stroke ahead of the Englishman and made eight birdies in his first 14 holes. But two bogeys in that same span, along with a third on the 15th hole, left the South African two strokes back on the 17th green. When his 15-footer for birdie hung on the left lip, and his drive on 18 found the trees right, an eventual double-bogey 6 dropped him back to third place.
"I was just trying to hit fairways and stick to my game plan and hit it in the right places. I've got a bit of a process with my golf swing and I'm starting to see better shots," Westwood said. "It all just worked."
Westwood's triumph, his first win in this tournament going back to 2010 and 2011, was applauded even by his vanquished foe, Garcia giving him a playful hug just off the 18th green.
It was more celebrated by his caddie/girlfriend Helen Storey, who has carried for Westwood on occasion over the last year. After the round, TV cameras caught Westwood taking a call on his phone and joking with the person on the other end. "Guess you're the second best caddie I ever had," while talking to his son Sam.
"Having Helen here makes it all the more special," Westwood said.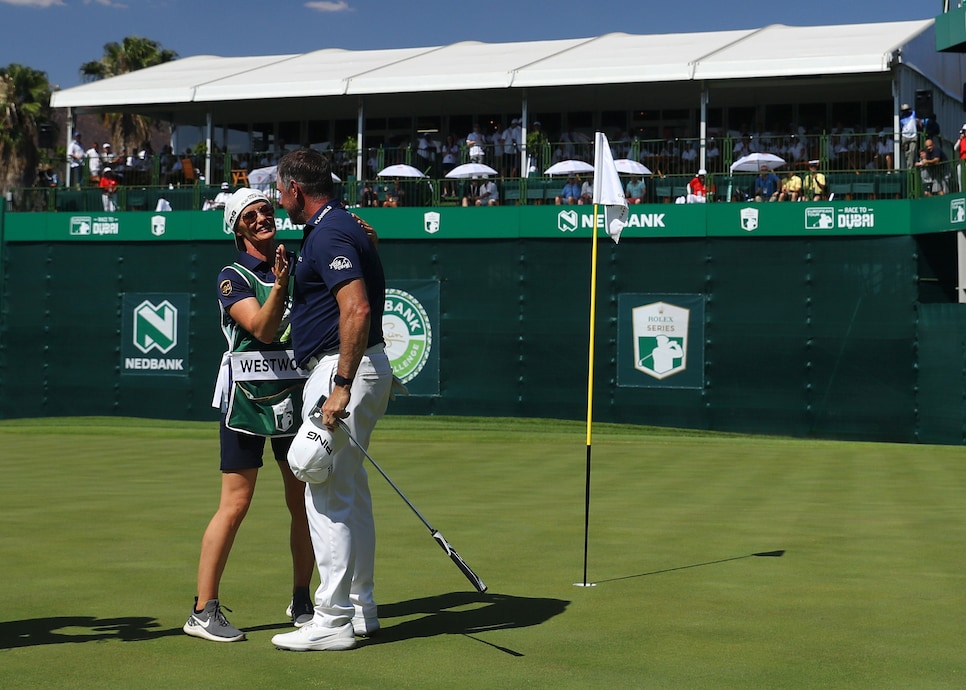 What now for Westwood? Proving to himself he could win again was no small accomplishment. But is it a one-time return to former greatness or a turn toward being a regular contender again? It's too early to answer for sure, but the way Westwood enjoyed himself on Sunday, you get the feeling he hopes this isn't just an encore but the start of his final set.