The Loop
LeBron James' hand-picked All-Star team is now officially cursed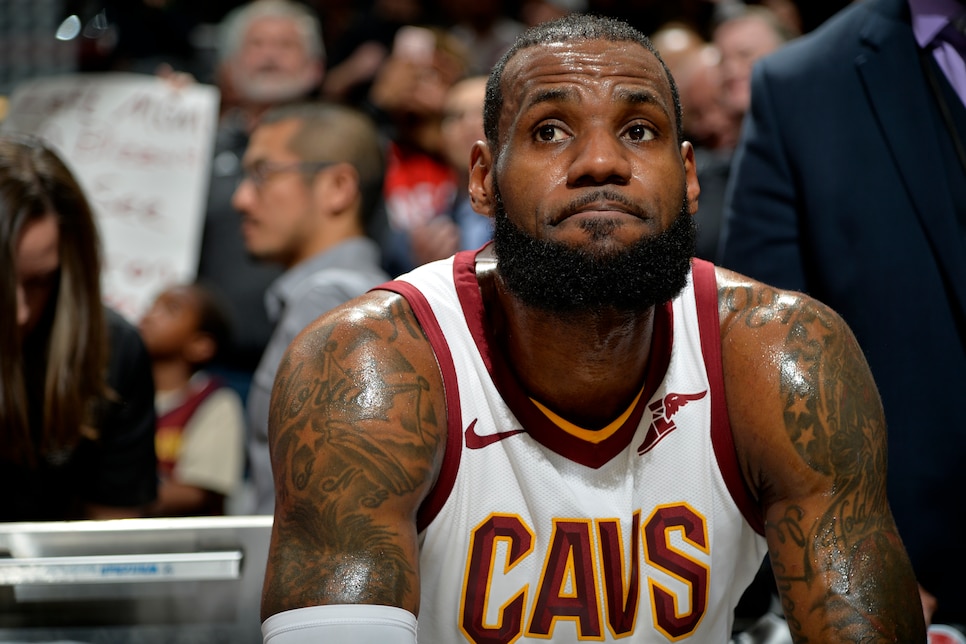 After a promising 24-9 start to the season for LeBron James and the Cleveland Cavaliers, the team has fallen off a cliff, hitting every rock and extended tree limb on the way down. They've gone 6-13 since, including an embarrassing 148-124 home loss to the Oklahoma City Thunder on January 20 and an equally-bad/possibly-worse 120-88 home loss to the Houston Rockets last Saturday night. Didn't think it could get any worse? Oh boy, were you mistaken.
On a random Tuesday night in the NBA, the black cloud hovering over LeBron's head got infinitely darker, and then it began to torrentially downpour. The Cavs were in Orlando looking for a bounce-back win over the Magic, the second-worst team in the league with a record of 17-36. Cleveland cruised to a 61-40 lead late in the first half, and then proceeded to choke in epic fashion, eventually losing the game 116-98 for their ninth loss in their last 13 games. Meanwhile in New York, the curse of LeBron struck again, when Kristaps Porzingis tore his ACL:
What does that have to do with LeBron you ask? Well, that marks the second member of James' hand-picked All-Star team to suffer a season-ending injury, and the fourth to suffer an injury of any kind. Here was his original, healthy squad:
DeMarcus Cousins was struck first on January 26 in a game against the Houston Rockets, tearing his achilles with 10 seconds remaining in the game:
Four days later, LeBron's teammate and frequent punching bag Kevin Love injured his hand less than four minutes into a game against the Detroit Pistons, causing him to reportedly miss 6-to-8 weeks. The following day, Washington Wizards guard John Wall underwent surgery on his left knee, and will also miss 6-to-8 weeks.
On Tuesday, the "Team LeBron is cursed" narrative went from being somewhat of a joke/conspiracy theory to full-blown fact, as the New York Knicks unicorn went down with a season-ender, and what felt like a franchise-ender inside Madison Square Garden (full disclosure - I was there and I honestly think it's me that's cursed. MSG had the atmosphere of a funeral when he went down):
We still have 11 days until the All-Star game, which is a lot of time for a bunch of other bad things to happen. If commissioner Adam Silver were smart, he'd lock up Kyrie Irving, Russell Westbrook, Kevin Durant and Anthony Davis in a room together until this all blows over.