News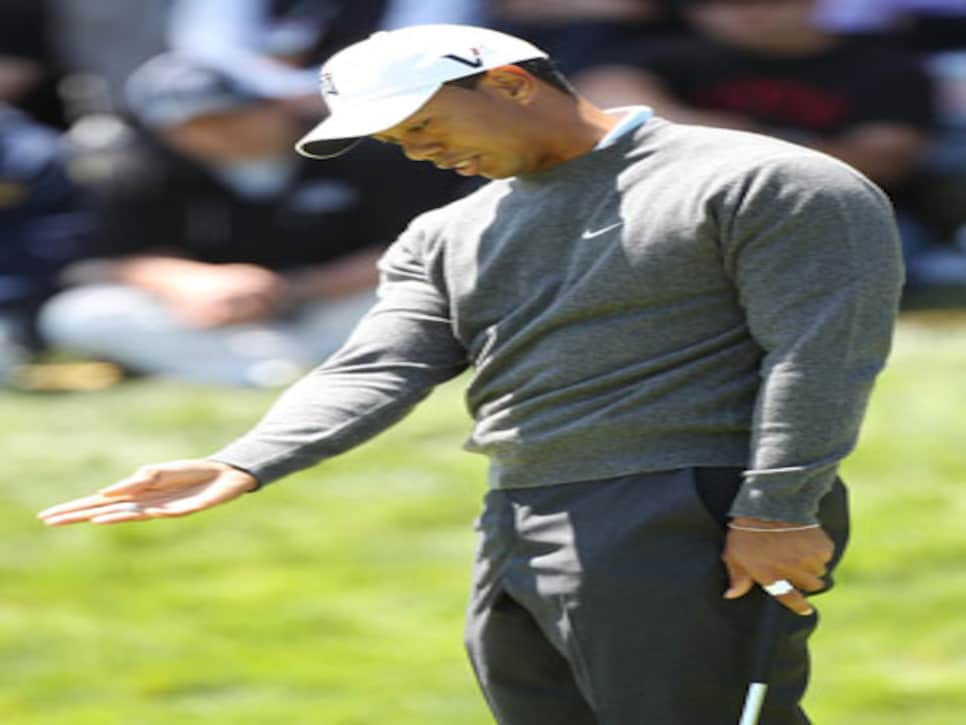 Woods wasn't the only player to struggle at Pebble Beach.
PEBBLE BEACH -- Sure, I like to see Tiger suffer, doesn't everybody?
On his first hole of this U.S. Open, his short-iron shot landed maybe 15 feet above the hole. As it spun back, it seemed about to find its way into the cup for an eagle. But it rolled an inch or two outside the hole and didn't stop until it was 18 feet below.
Such a look on Tiger's face then. Tight-lipped, eyes narrowed, grim, angry.
You'd have thought he'd seen Elin's lawyers.
Mortals love the U.S. Open because of these delightful moments when the world's greatest golfers are revealed as The Same as Us, only with courtesy cars. This is a full test of a player's game and mind. The most fun for Us is not in seeing a wayward shot; that happens at every Screen Door Classic Invitational Open. The fun is in seeing the look on Tiger's face when he believes the ratzenfratzing ball should've stopped closer to the expletive-deleted hole. That look is the why-me-God frustration with which most of Us are familiar.
The Masters is a Bobby Jones thrill ride with stops for impossible putts. The British Open is Old Tom Morris daring you to bounce 5-irons over dinosaur graves. The PGA is a Screen Door that wants to be an Open. Give me the U.S. Open with its fairways narrow, its rough up, and the greens granite-quick. It's also good that the stakes are nervous-making high, for it is America's national championship. Even better, it is the final proof of golfing immortality. "Bobby Jones, Jack Nicklaus, and Ben Hogan have won the Open four times," said Dan Jenkins, the sportswriting immortal. "No other major can say that."
Small wonder, then, that the U.S. Open is scarifying. In 1974, when the sponsoring U.S. Golf Association, in its aggressive defense of sacred par, was accused of tricking up Winged Foot Golf Club for the Open, the elegant competition chairman Sandy Tatum said he didn't think it was too much to ask players to drive into fairways 30 yards wide. Asked if the USGA wanted to embarrass players, Tatum said, "We're not trying to embarrass the best players in the world. We're trying to identify them." That's mostly fine with Jenkins, though the Ancient Twitterer admits to favoring even more penal conditions than any imposed by the USGA's sadists. He said, "I think the Open should be so tough that nobody can win it."
Thursday's conditions weren't visibly difficult; there was a chill in the air, and a day-long breeze dried and firmed up greens. The Englishman Luke Donald, at even-par 71, said, "I could have seen someone shooting five, maybe six under today, getting hot. It just didn't seem like it was playing too tough. Obviously, it's a U.S. Open. There's added pressure and sometimes that elevates scores."
Irishman Padraig Harrington, in with 73, concurred: "Our scores say a lot about the U.S. Open. You get good golf courses set up reasonable, in a regular event guys would shoot regular scores -- but in this event, everybody gets a bit more tense." In at 72, Soren Kjeldsen said, "This course increases the stress levels considerably compared to most weeks. On a scale of 10, it's a 10!" With the exception of K.J. Choi racking up five birdies in a 10-hole stretch en route to his one-under-par 70, no one did much of anything extraordinary.
"You have to grind, you have to stay patient, or you will be going home pretty quickly around this place," said the English star Ian Poulter, meaning that a man's mind must never stray lest the man commit a shot that ruins the man's day.
After his 70, Poulter said, "The majors -- the Masters less so because the fairways are so wide, as they are at our Open -- are all about grinding. They all are a test of the mind. " The English journalist John Hopkins, a graceful practitioner of the craft, searched for the right word to describe that test. Finally he had it. "Unremitting," he said. Yes, perfect. "This Open grabs you by the throat and doesn't let go."
And we love that about it. Such fun to see a fabulous player, a Phil Mickelson, bounce a shot off rocks into the ocean. Even more fun to hear him come off the 18th green and moan/whine/explain how his 75 should've/could've/would've been so much better if only he had made that 15-footer there, that 3-footer here, all those cursed little putts that just wouldn't fall. And he was no more optimistic about the rest of the week. "No way under par is going to win here," Mickelson said.
Here we pause in our celebration of pain to console poor, poor Morgan Hoffman. Really. He's just a kid, an amateur, 20 years old, a second-team All-American at Oklahoma State this year. In this, his first Open, he played the terrifying Cliffs of Doom -- the 8th, 9th, and 10th holes -- with two birdies and a par. At two-under-par he shared the tournament lead for a moment. Even with a bogey at the par-3 17th, the young guy from New Jersey was even par for the day -- until he played the famous, beautiful, perilous 18th with its stone wall all the way down the left side along the Pacific Ocean.
There he bounced one into the ocean.
Then, oh no, another in the ocean.
Finally, on the green, a 10-footer.