News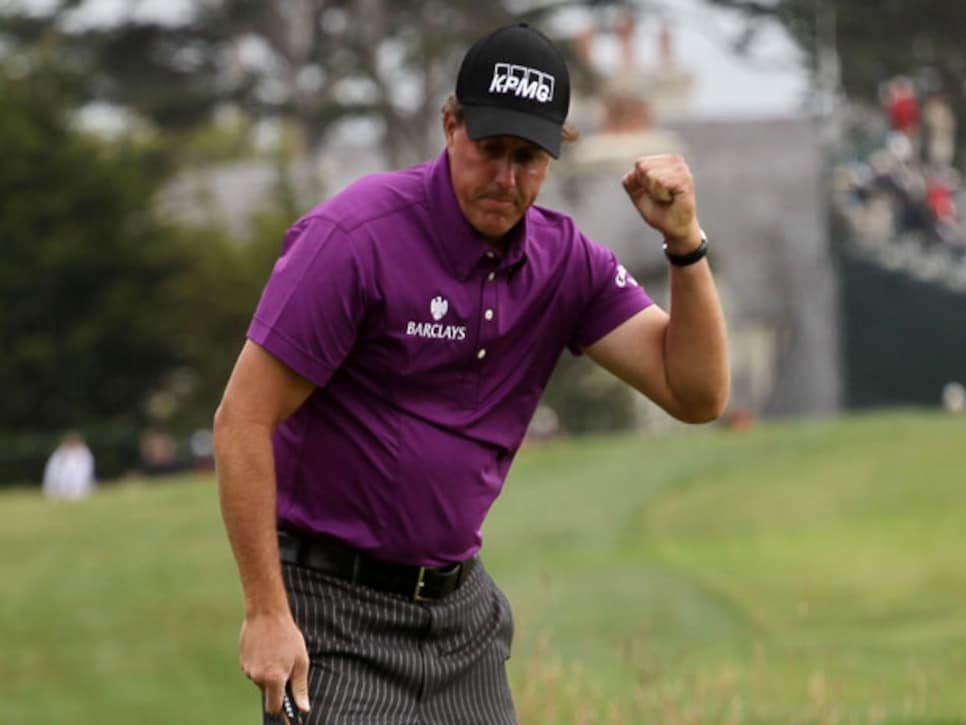 Mickelson's 31 on the front nine was the best nine-hole score at the U.S. Open in his career.
PEBBLE BEACH -- Here's how good Phil Mickelson was Friday. He made a two-putt par at the 14th.
The 14th is a par 5, 580 yards, dogleg right, with a burial bunker in front and a crowned green that has a dinner-plate landing area. Mickelson used something less than a driver off the tee, laid it up to about 100 yards, and wedged it to 18 feet below the hole.
Ask Y.E. Yang, ask Ian Poulter, ask Zach Johnson.
They went 8, 8, and 9. They kept running chips and pitches across and off the green. Roller-coaster golf. Those of us of a sadistic bent -- I blush in confession -- felt little shivers of pleasure at the poor fellows' embarrassments. When Mickelson's turn at bat came, it was entirely possible that his good day's work could be undone by the 14th. But the Masters champion made it look routine en route to the tournament's best round, a five-under-par 66, that reminded us -- hey, Tiger, you paying attention? -- that he could win the Grand Slam this year.
Maybe, in the wonderful, mysterious way that karma works -- yes, maybe Tiger's travails have arrived just when Mickelson has finally paid the full bill for his talent. Friends say the darkness of cancer that touched his wife and mother has lifted a shade, both women doing well after extended treatment. Two days past his 40th birthday, Mickelson now plays with a veteran's savvy and still plays with a youngster's passion. As ineffably thrilling as Tiger's brilliance has been, it might be more fun to hang with a great player who laughs about his next tee time -- it might be after 4 o'clock Saturday afternoon -- and says, "Usually I'm just driving home at that time, getting the kids ready for bed."
Here's how good Mickelson was Friday. After a miserable first-round 75, he said he needed a round in the 60s to stay in the tournament. He needed to make putts. He needed to make birdies on Pebble's early, accessible holes.
For his 66, he knocked in every uphill putt he saw and had made birdie on four of the first seven holes before coming to the eighth, that beautiful and terrifying hole. Its fairway ends at a cliff above the Pacific Ocean. Way over there, across an abyss, there is a tiny green hanging onto another cliffside. Should you miss even slightly right, the error condemns your Titleist to sleep with the fishes.
So here's how good Mickelson is. From the eighth tee, he sent a 5-iron to the cliff's edge, maybe three feet short of going over. As he set up for the second shot, it seemed possible that a hacker, asked to play that shot, might swing in such a way that he would lose his balance, take an awkward step, and discover -- oh, my. No hacker, Mickelson sent a wedge the 164 yards to a spot below the flagstick, 18 feet short. By then, one thing was already clear.
"Today I had the putter going," he said. "These greens, you can lose confidence on them, as I did yesterday, because the ball won't hold its line." And with a knowing chuckle: "They're not Augusta-smooth." (Blame that on Pebble's bumpy Poa annua grass, a type necessary to survive Northern California's range of weather.) "The biggest thing for me is that I had a lot of uphill putts" -- including the 18-footer at the eighth, good for his fifth birdie in eight holes.
He made only one more birdie, but was content with what he called "easy pars." Not that any Open par is easy, as the sainted Bobby Jones told us long ago.
"This is the only tournament, really, in professional golf that bring out Bobby Jones' old saying of 'playing against Old Man Par,'" Mickelson said, "because if you just can stay around par, you're going to be in the tournament on Sunday. And that's kind of the goal."
Somehow, with a 68, Graeme McDowell became the tournament leader. The Northern Ireland star, 30 years old, has never won a PGA Tour event. Maybe it was just me, but to these ears he sounded like a boy whistling past the graveyard when he said, "I'm probably as ready to go into the weekend of a major as I've ever been. Is this weekend my weekend? I have no idea, but I'll certainly be giving it my best shot ... If I get a sniff Sunday afternoon, I'll be ready for it."
Phil Mickelson ain't whistling nothin'. He's singing. Nowhere else on earth would he rather be this weekend than at Pebble Beach with the U.S. Open championship at stake. "I think this is the greatest place for a golfer to hold an Open, to be able to play one of the most beautiful golf courses and have it be in U.S. Open conditions. No, this is so much fun and I don't want the weekend to end. I want to keep playing. I can't wait to get out tomorrow..."