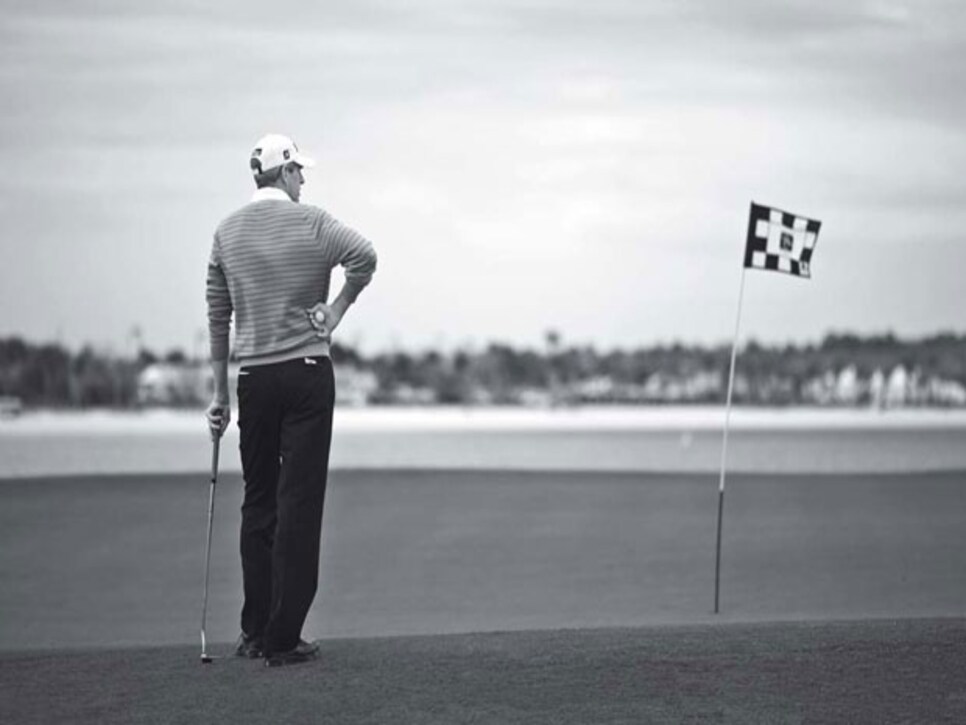 Jim Roy made his debut at the ACE Group Classic in February. The next week he finished T-34.
Maybe leader boards would light up with his name many more times.
So at 2:08 p.m. on Feb. 19, 2010, in Boca Raton, Fla., a woman who three minutes earlier had shouted Oh my God! flipped open her cell phone to take a picture of the names on a board near the sixth green.
"Lookeeee," Cheryl Roy said to her son Kyle and to a dozen friends who had escaped the snowfields of upstate New York.
The board showed the leaders.
This is Jim Roy's second time around, 27 years after his first dreamer's reach for golf's brass ring. He's now a rookie on the Champions Tour as he was once a kid on the PGA Tour. He had moved to six under par on the first day of the Allianz Championship with an eagle when his pitch up a greenside slope caught the cup's high side, spun clockwise half a turn, and disappeared. He didn't see it go in, but he heard the gallery's shoutings, among them his wife's OMG.
Because he'd chipped in for an eagle five holes earlier -- he's a short-game master -- Roy lifted his cap in celebration, turned his palms up and shrugged, as if helpless and grateful when fate decides it's time for good things to happen.
For Jim Roy, this is such a time. He has done one of this game's most difficult tricks: qualifying for the Champions Tour as an amateur. Only a dozen or so men have ever done it because the tour is designed to showcase PGA Tour veterans to a baby-boomers-grown-old crowd (thus, a diamond-jewelry concession stand near the 18th green).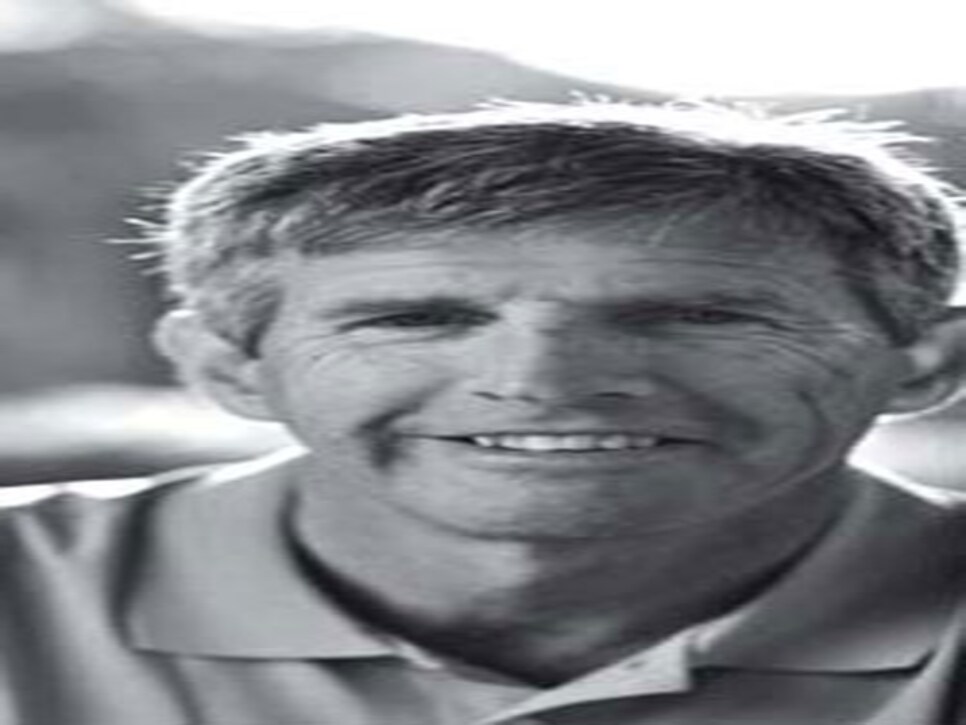 There must be thousands of aging dreamers who think they can play out there with the creaking old-timers who need a handrail to climb stairs. Of those thousands, 260 came to the 2009 Champions Tour Q school to compete for five spots. Of the 75 who reached the finals, 47 had been full-timers on pro tours. Only two had been amateurs the previous 13 years. The second was Jim Roy.
Except for his long, liquid swing that comes without a roller-coaster schematic, Roy has a Jim Furyk look about him, tall, lean, and this strong: He prepared for the old guys' tour by running in the knee-deep snow of Syracuse, N.Y., while carrying logs found on his home course, Bellevue Country Club. When bored with running, Roy and his workout buddies did sit-up competitions -- with the logs on their chests. "Forty pounds," he says. He plays basketball, too: "I can still shoot the rock." Made 112 straight free throws before leaving for Boca Raton.
At age 50, Jim Roy knows life is not a dress rehearsal. Five years ago, he underwent surgery for prostate cancer. His father, a retired judge now 81, was 23 when diagnosed with multiple sclerosis; as a boy, Roy picked up his father's legs so he could climb stairs. His mother, "an amazing spirit," survived breast cancer, and now, at 82, has Alzheimer's.
Just out of college and PGA Tour Q school, Roy played 27 events on the 1983 tour; he made nine cuts but didn't earn enough money to keep his card. The more he changed his game to get better, the less confidence he had. "At Doral, I found myself on the range between Jack Nicklaus and Tom Weiskopf," he says. "The only club I had the guts to hit was a wedge."
He then failed at tour Q school nine times. The beauty of that was, it seemed to matter less each year. He had married Cheryl Smith, his classmate from grade school on -- and did it memorably. Jeff Sluman, then just another New York kid, now a veteran tour star, says, "As the priest came to 'love, honor and obey,' I heard, 'Catch him! Catch him!' " In an airless church on a summer day, the groom fainted away.
The Roys now have three children: Kyle, 22; Kevin, 20; and Lauren, 15, all athletes in basketball, golf and lacrosse. Roy built a career in finance, dealing in mortgages, stocks and real-estate management. By 1996 he had regained his amateur status and become one of New York state's premier players. He had made a sweet life that would be the envy of some PGA Tour stars.
But there it was, 50 rushing toward him, the Champions Tour a temptation. Dare he think, after all these years, that he was good enough to hold his own, as he put it, "amongst the legends"? At every stage of his ambivalence, Roy says, "The kids were saying, 'Dad, come on. You gotta try it.' "
The first that most Syracuse folks knew of Roy's decision -- "I wanted to go under the radar" -- came when they read that he was in the finals. Next they saw him on Golf Channel in a three-man playoff for the last card.
Fast-forward three months to Boca Raton. The day before the Allianz. A lunch-room table at The Old Course. Jim Roy is replaying the playoff.
One opponent misses the green, the other has a long putt.
Here comes a booming voice, that of Tom Lehman, a 1983 rookie with Roy, later a British Open champion and Ryder Cup captain. "And the Royster swishes it!" When the putt went in, Roy slapped both hands to his head, as Ben Crenshaw did when fate decided it was time for him to win the Masters again. Roy dropped his putter and took two, three, four steps in no certain direction, just floating. "And I'm thinking, Did that just happen?"
He came to Boca Raton after his miserable Champions Tour debut at the ACE Group Classic, where 78-77-76 left him wondering if he'd ever get comfortable on golf's big stages. Nicklaus and Weiskopf might be out of sight, but now there's Fred Couples on the range, Crenshaw on the green. He sought advice from Mike Goodes, a lifelong amateur who won in his second full Champions Tour season.
"The golf courses are no different, the golf ball is no different, the golf clubs are no different," Goodes says. "I told him, 'Just play golf; don't worry about who you're playing with. You're good enough, or you wouldn't be out here.'"
The Slumans, Lehmans, Crenshaws -- they know it, they've proved it, they're no longer works in progress. They don't wake up the morning of a Champions Tour event wondering if they belong. "Cheryl will probably tell you I was grouchy this morning," Roy said before his first round in the Allianz. "I'm just not comfortable out here yet."
A 66 can fix that some. Roy finished the day with the six under that his wife photographed. It put him two shots off the lead. Closing rounds of 73 and 71 left him at T-34, 11 shots behind the winner, Bernhard Langer.
Near enough to dream, but far enough away to suspect reality.
"I know I can hit shots as good as anybody's out here," Roy says.
Then, with a smile: "But I don't know that I can hit as many of them."
The beauty is, after all these years, he has earned another chance to find out.