News & Tours
Social media stunt? Golfer who shot 108 at Korn Ferry qualifier is a YouTube personality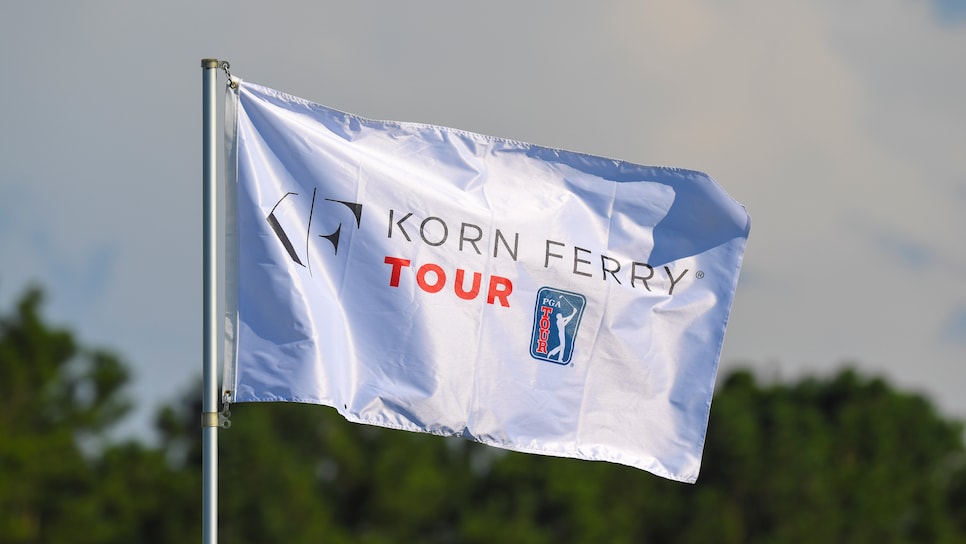 Monday qualifying is sport's purest form of meritocracy. No matter who you are or where you are from, if you can play, you can play yourself into a tournament. It sounds simple, and it is, which is its beauty and singularity; after all, one can't go from a beer league to the New York Yankees in a week (although given the current state of the Bronx Bombers, perhaps they should consider it).
However, those life-changing opportunities can occasionally be taken advantage of, which is what appears to be the case with a Korn Ferry Tour qualifier on Monday.
A man by the name of Connor Murphy turned in a 108 at the Bridges Golf Club in Gunter, Texas, which was serving as the qualifying site for the KFT's Veritex Bank Championship. For those of you scoring at home, that is 36 over par, a score that was last among the 139-player field by 16 shots. It was a bit of a rough start for Murphy, who opened with an 11. Wasn't a great finish, either, carding a 12 on his final hole. Murphy did manage to make a birdie and four pars on his day, which is one heck of a bounce-back effort. Conversely, there's a chance Murphy's performance was just that: a performance.
Murphy is listed from Encino, Calif. The only records of a person with that name from that city show a Connor Murphy of Connor Murphy Fitness, which points to several popular social media accounts. Murphy clearly has a following, boasting over 2.46 million YouTube subscribers and nearly 500,000 followers on Instagram. (Warning: Some of Murphy's content is not safe for work.) In his last YouTube video, titled "The Day I Realized I Was Going to Win the US Open," Murphy shares his belief that, yes, he's going to win the U.S. Open at Torrey Pines this summer. Whether this is Murphy's true aspiration or a stunt is up for interpretation, although several posts from Monday signal the latter.
The first post is from the popular Twitter account Monday Q Info, which documents various qualifiers across the sport, showing a man (believed to be Murphy) showing up to the first tee in a colorful outfit with entrance music and clubs in a wagon.
To be fair, Murphy is far from the first golfer to brandish questionable attire. But Murphy's Instagram page indicates the ensemble was part of the act, as there are videos of Murphy attempting a Happy Gilmore swing during the qualifier, along with a one-handed chip.
If any doubt remains that this is Murphy, Murphy's account posted a photo of the scorecard.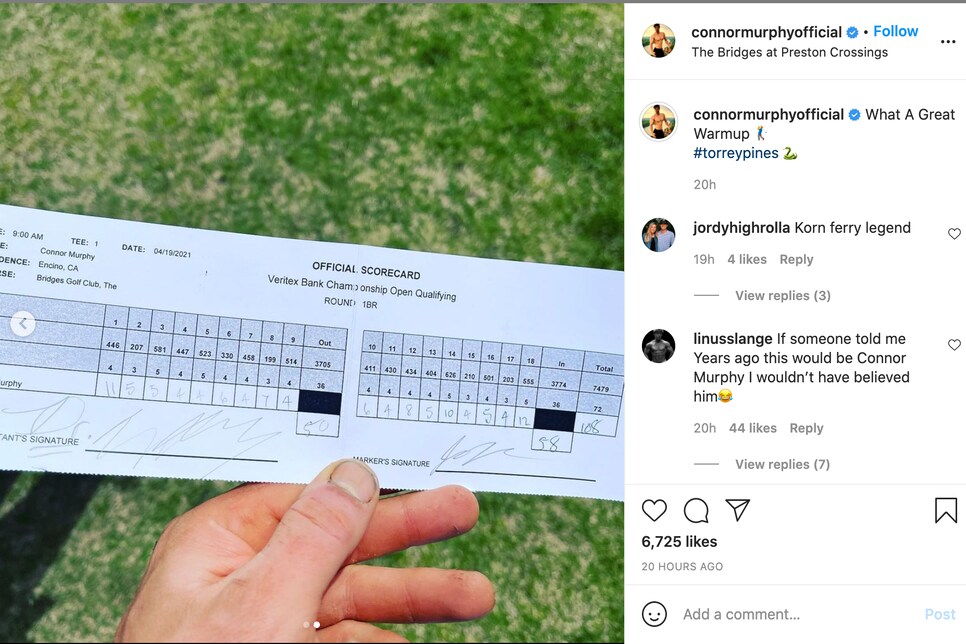 To his credit, there are a few videos that show the swing of a solid golfer, but it's safe to say Monday's test didn't demand Murphy's full attention. (Murphy did not respond to several messages from Golf Digest.) For those wondering how Murphy was able to play, while amateurs do need a handicap of 2.0 or less to enter, those declaring themselves as professional don't face a handicap prerequisite, according to a PGA Tour spokesperson. The tour does maintain the right to verify someone's handicap.
Josh Hart, a pro from Jupiter, Fla., was able to post a two-under 70 while playing with Murphy. The score was four shots out of earning a spot in the Veritex Bank Championship, but at least Hart has a heck of a story to tell.