News
Ken Tanigawa's 18th-hole eagle at Pebble Beach gives him first PGA Tour Champions win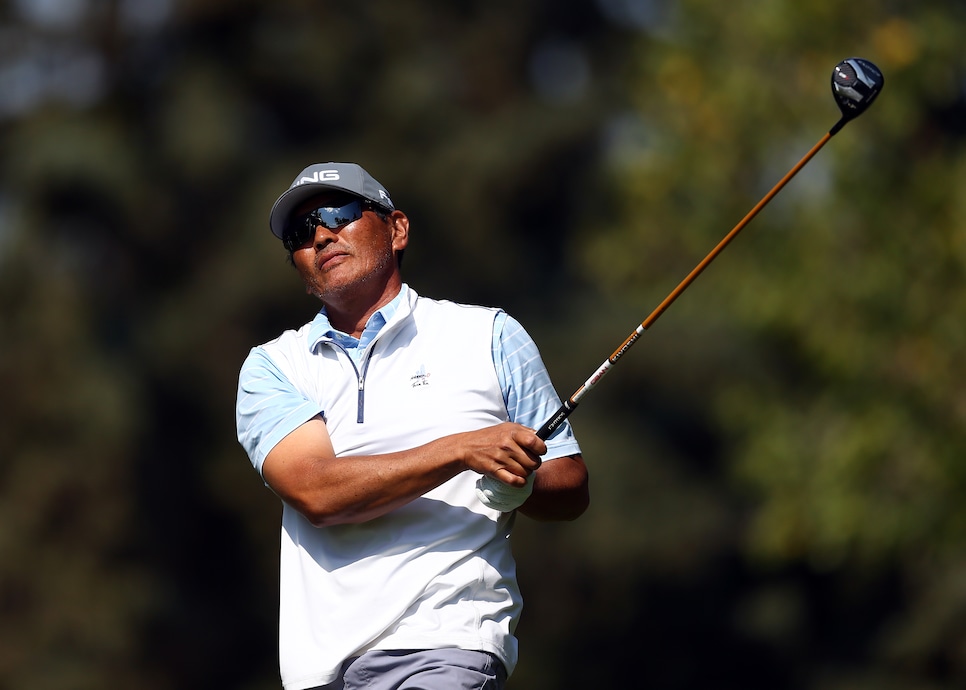 A year ago, Ken Tanigawa was playing amateur golf and winning the Arizona Amateur for the second time in three years. On Sunday, he won on the PGA Tour Champions, at Pebble Beach Golf Links, no less.
Tanigawa, a senior rookie, holed a 25-foot eagle putt from the front of the green at the iconic par-5 18th hole to defeat Kirk Triplett and Marco Dawson by one.
"Just wow," Tanigawa said. "I'm a little speechless right now. A lot going on. It was a hard round for me. But I fought back and to be able to eagle the last hole was unreal."
Tanigawa, who played college golf on the same UCLA team as Brandt Jobe and Scott McCarron, played professionally early in his career, but in his one year on the Web.com Tour, in 2003, he missed the cut in 18 of 22 events. A few years later, he decided to abandon professional golf and regain his amateur status.
"I pretty much fired myself because I was really bad," he said earlier this year.
A resident of the Phoenix area, Tanigawa was playing well and having success in amateur tournaments, and with the PGA Tour Champions qualifying tournament scheduled for the TPC Scottsdale, he decided to enter as an amateur.
"If it was held like in Florida like how it goes back and forth, there was probably a pretty good chance that I would not have," Tanigawa said earlier this year."
He was the medalist and as a result received a full senior exemption, so he elected to give professional golf a second try.
Tanigawa, 50, flirted with winning the Boeing Classic in August before tying for third. Here, he took a lead into the final round, stumbled early, notably with a double-bogey on the par-4 eighth hole, then made nine straight pars before his 18th hole heroics.
"I was just trying to hang in there," he said. "It was hard playing with the lead. I'd never done it out here. I doubled eight and I just kind of hung in there and it happened to work out."
Tanigawa shot an even-par 72 in the final round and completed 54 holes in 10-under par 205 (each player played a single round at Poppy Hills, which has a par of 71).
Triplett and Dawson, who each held the lead at various points on the back nine, tied for second.
The professionals in this tournament partner in a pro-junior with kids from the First Tee program from across the nation. The winners of the pro-junior were Kevin Sutherland and his nephew Matthew, who is the son of former PGA Tour pro David Sutherland.