Simplify Your Life
Japan Tour pro plays his way into British Open with only 11 clubs in his bag
Juvic Pagunsan needed only 11 clubs and no caddie to get his first win on the Japan Tour.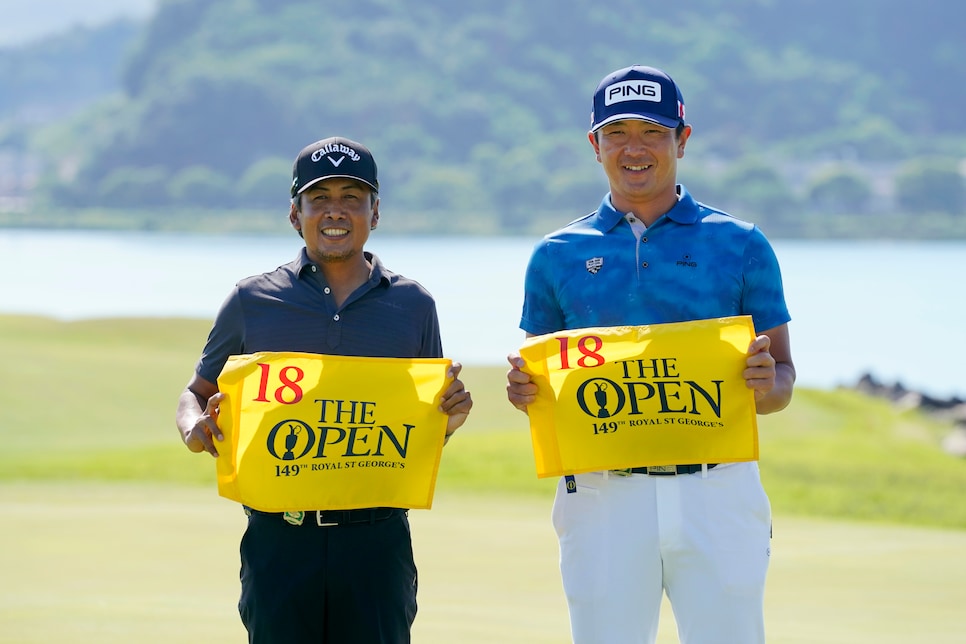 Juvic Pagunsan, on the left, and Ryutaro Nagano earned their way into the 2021 British Open with their finishes at the Japan Tour's Mizuno Open. Pagunsan won the event carrying his own bag with just 11 clubs in it.
Toru Hanai/R&A
Unlike Bryson DeChambeau, Juvic Pagunsan did not have a dew guy spritzing his ball on the range to simulate moisture conditions. He did not even have a caddie. And because he did not even have a caddie, he did not even have a full set of clubs, as he tried to lighten his load last week.
But none of that mattered for Pagunsan, who went out with just 11 clubs in his bag, slung over his own shoulder, and won the Mizuno Open on the Japan Tour. It was the third time he carried his own bag this year and his first ever win on the Japan Tour, which permitted caddies to only follow riding in carts for the event because of COVID-19 precautions. He cited the annoyance of having to navigate the carts around the greens as reason for walking and carrying his own bag. That sentiment and the limited set will undoubtedly make him a hero of the moment for golf traditionalists everywhere.
Pagunsan said he removed the clubs from his bag to make things lighter on the walk around JFE Setonaikai Golf Club, where he won by three shots.
"I am getting older and last 2 times with 14 clubs were really heavy," he said. "I don't like to use the electric carts, since you have to go all the way around the greens."
He took out his 8, 6, 4, and 3 irons, opting to keep four wedges and a 19-degree utility club in the bag. There were occasional gaps he had to confront. For example, with a 6 iron not available, he said he had to hit what he called a "stronger" 7 iron into the 16th hole to compensate. The limited set, however, seemed to simplify things more often than not for Pagunsan.
"Since there are fewer choices, I can save the trouble of choosing and play easily," he said. Ryan French of the Monday Q Info Twitter account added that, in addition to the 11 clubs, Pagunsan also used only four golf balls for the entire tournament.
The victory gets him into the Open Championship at Royal St. George's in July. While this was the 43-year-old's first ever win on the Japan Tour, it will be his third start in The Open, which prides itself on being "the world's major" with a variety of international avenues into the field. Pagunsan claimed one of those avenues at the Mizuno Open, but now the question is whether he'll play with a limited set and carry his own bag at the game's oldest major. It would certainly make him a story again on one of golf's largest stages.
Regardless of what happens at that major championship, this breakthrough on the Japan Tour seems to be a career defining moment of affirmation for the veteran. "It has been 10 years, 10 years," he said. "It took me 10 years to win. Now I am relieved."