Instruction
Justin Thomas: Score Your Best Ever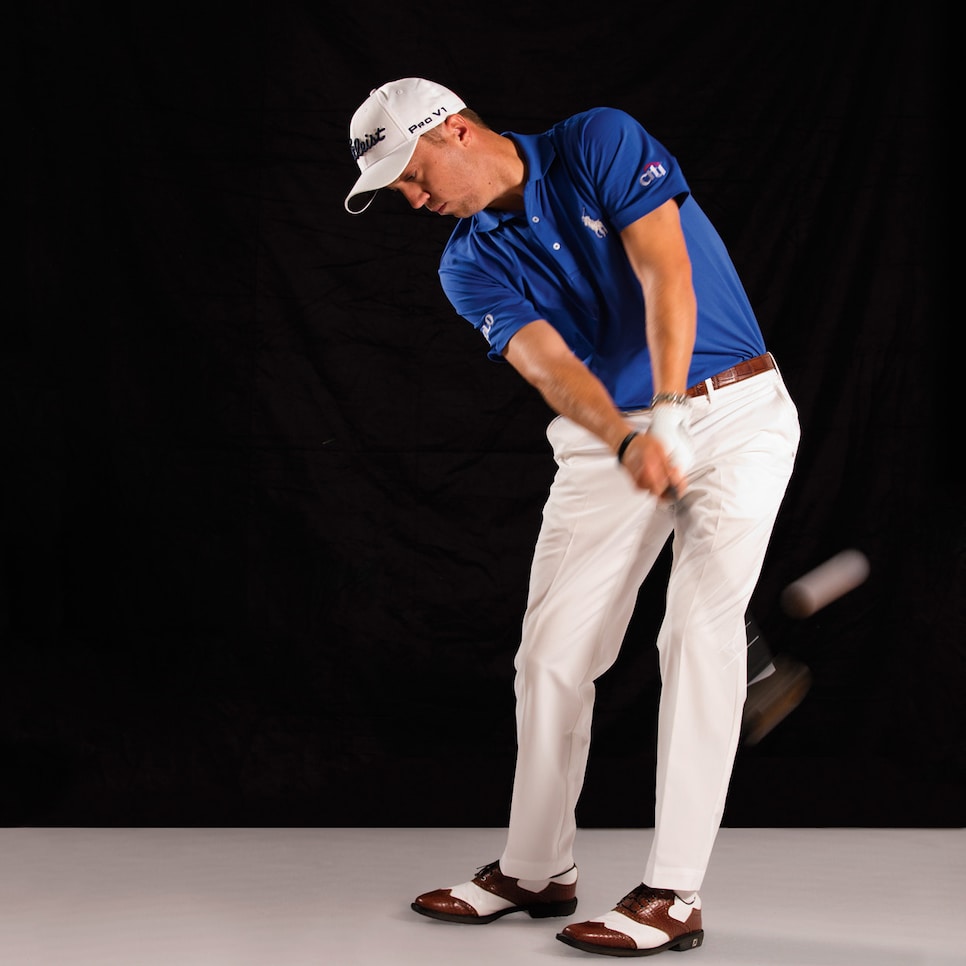 Photo by Walter Iooss Jr.
To put it mildly, I had a pretty awesome start to 2017. Winning in back-to-back weeks in Hawaii, shooting a 59 in the first round of the Sony Open, you couldn't ask for a happier new year. I'm playing well for a lot of reasons. First, it's confidence. I don't get riled as much when I bogey a hole. I know I can get the stroke back. Second, I've been working hard on my game, particularly from 150 yards and in. Now I'm really taking advantage of hitting my tee shots as far as I do. When I stand over a full short-iron shot, a pitch, a chip, even a longer putt, I feel like I'm either going to get it close or knock it in. It's a great feeling to have, believe me. If you'd like to improve your scoring, try some of the adjustments I've made, as well as some strategies I've learned over the past few years. Here's your first tip: When hitting a full short-iron shot, you might be able to fly a 9-iron 150 yards—if it's downhill, downwind and you blade it—but you're going to be a lot better from that distance if you take your 8-iron, make a smooth swing, and focus on hitting the ball solidly. Read below for more scoring tips. – With Ron Kaspriske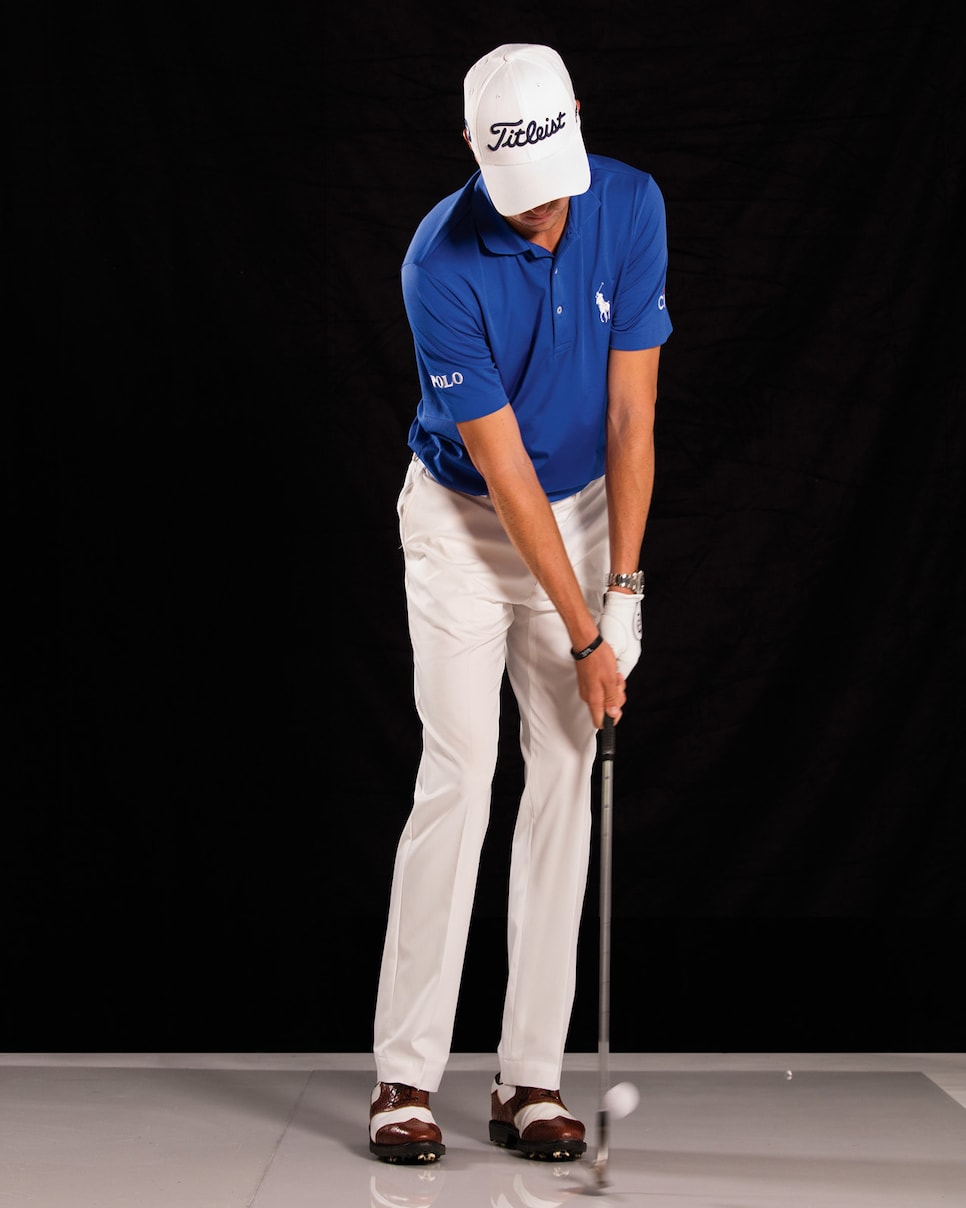 PITCHING & CHIPPING
Check your setup and lead with the hands
Setup is super important when hitting pitch or chip shots. A perfect example is what happened to me at the first event of 2017, the SBS Tournament of Champions. I was practicing these shots, and Patrick Reed saw me struggling. He came over, adjusted my feet and body, and then I started hitting them way better. What he noticed was my body was too open (aligned left of my target), and my lower body looked wobbly when I hit the shot. So he told me to keep my feet a little open, square up the rest of my body a little more, and make sure my legs felt stable when I swung.
As far as my technique, grip is key. I weaken my left-hand position on the club when I want to hit a higher pitch (meaning I rotate my hand so the thumb is more on top of the shaft). For a low checker, I strengthen my left-hand grip. And I'll even go to a putting grip for a bump-and-run shot. When swinging, remember two things: (1) Keep your body rotating toward the target well past impact; (2) Let your hands lead the clubhead. That means the shaft should be leaning toward the target or upright on contact (above).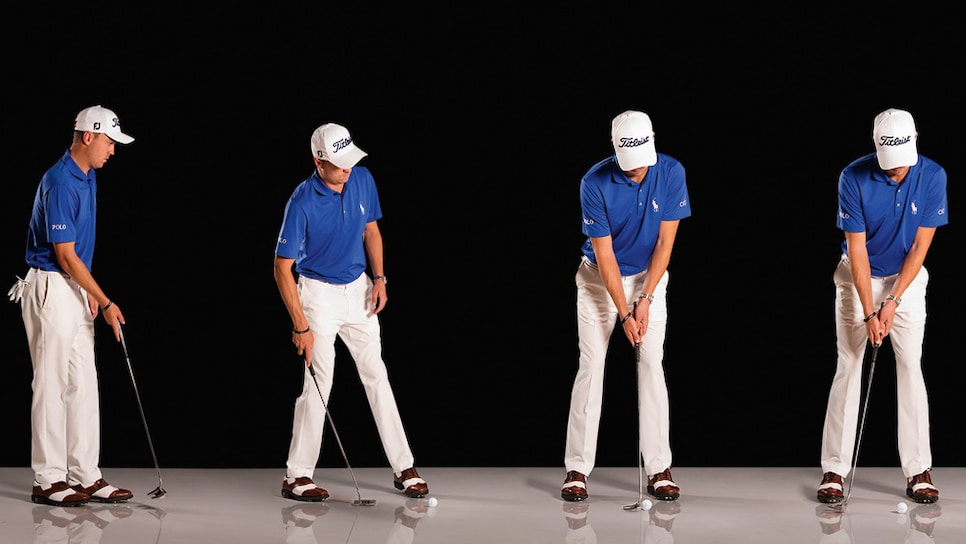 PUTTING
Set your eyes, quiet your body, roll the ball
I liked blade putters for the longest time, but I couldn't make anything late last year, so it was time for a change. At The Barclays tournament, I switched to a Scotty Cameron Futura X5 mallet just to try something different, and it has been in my bag ever since. It's really helping me keep the face square to my putting line. Another thing I changed was my routine. Unless it's a super-long putt, I don't take a practice stroke. I get a feel for the speed behind the ball, then I walk up, address the ball and make a stroke (above). When you don't spend too much time over the ball, your natural hand-eye coordination kicks in.
Mechanically, two areas that will help your accuracy are getting your eye line right, and quieting your body when you hit the putt. To get your eye line correct, it needs to be level—any head tilt can alter the putting path—and your left eye should over the ball. To check this, drop a ball from the bridge of your nose (below). It should land on the ball you're addressing (or really close to it). And when you make a stroke, everything but your shoulders and arms should stay very still.
To make putting practice less boring, I have all sorts of games and drills. Like I'll hit four putts using only one ball from five different spots between four and eight feet from the hole. The game ends when I make at least 16 out of 20. Give that game a try, and remember my other greenside tips to see if you can't get your scores down. Way down.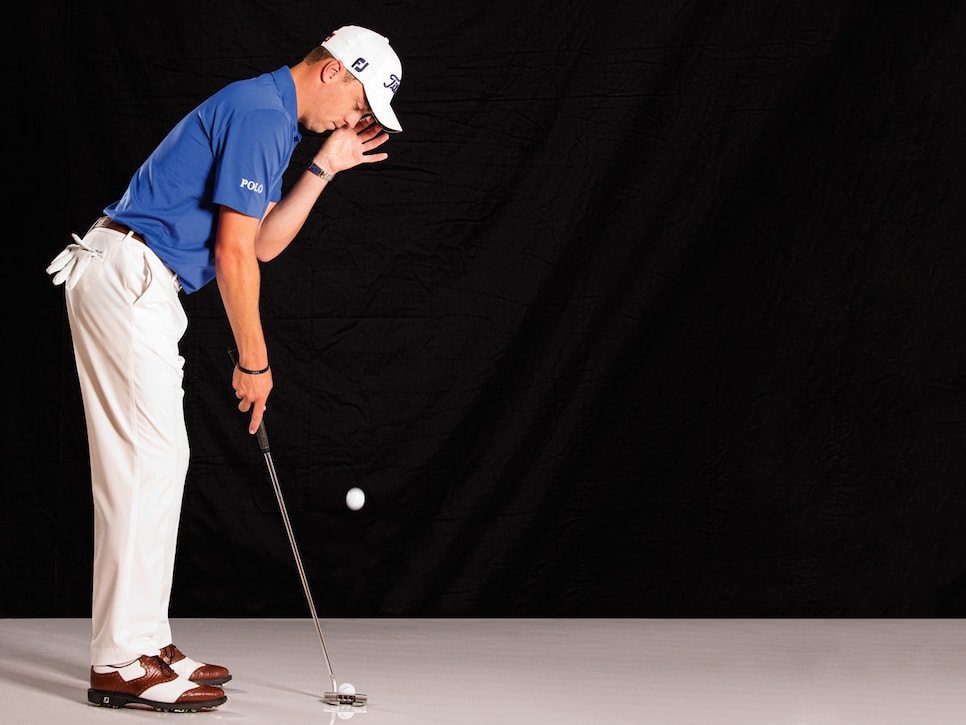 'Want to make more putts? Make sure your eye line is level.'