News
Justin Thomas opens with 63, takes three-shot lead in the CJ Cup @ Nine Bridges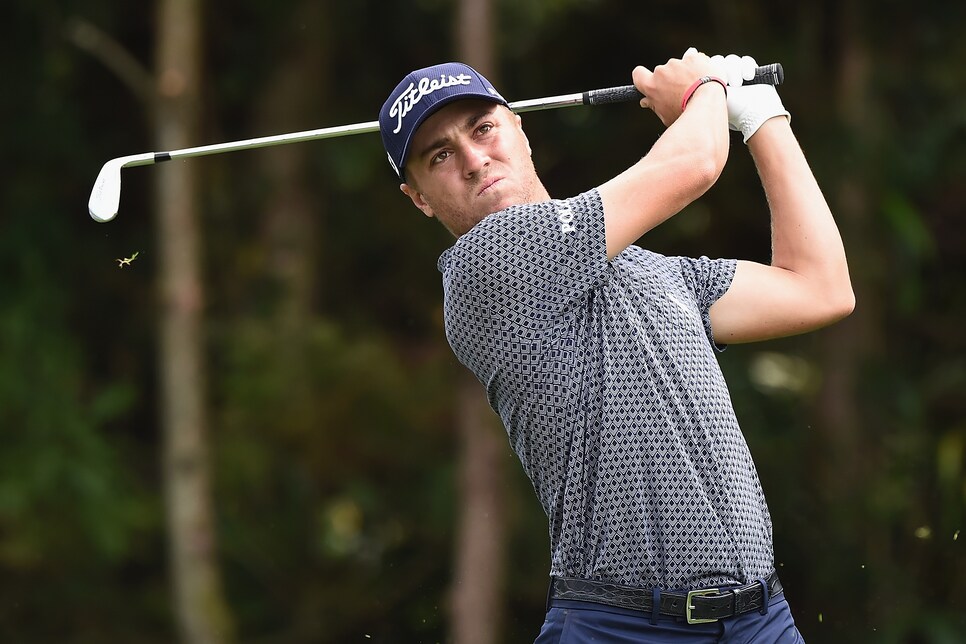 Last week, Justin Thomas' three-peat bid at the CIMB Classic in Malaysia got off to a slow start that he couldn't recover from, despite playing his final two rounds in eight under par. It was safe to assume the FedEx Cup champion may have been a little burnt out, coming off a nearly two-month stretch of golf that featured two victories, including his first major at the PGA Championship.
But clearly, something clicked in the last 36 holes of the CIMB and carried over into Thursday's opening round of the inaugural CJ Cup @ Nine Bridges. After making a bogey at the par-5 10th (his first hole), Thomas went seven under on the next eight holes to post a front-nine 29, eventually leading to a nine-under 63 that has given him a three-shot lead at Nine Bridges Golf Club in Jeju Island, South Korea.
"It was kind of a weird day," Thomas said. "It started off with a really, really bad bogey, and I had a seven-hole stretch there where I basically just went unconscious."
That stretch began with an eagle at the par-5 12th and a par at the par-3 13th before making four consecutive birdies and another eagle the par-5 18th, where Thomas had just a 142-yard pitching wedge left on his second shot after an enormous drive.
"To be able to hit wedge into a par 5 is a pretty big bonus," Thomas said.
He cooled off a bit on the home nine, if you can call a two-under 34 with three birdies "cooling off." It's Thomas' third 63 since June, when he went low on Saturday at the U.S. Open at Erin Hills and then did it again on Saturday of the Dell Technologies Championship in September.
Among a group three strokes back at six under are Patrick Reed and Marc Leishman, both making their first starts since the Presidents Cup and their first of the 2017-'18 season. Leishman had an eventful front nine, with three birdies and three bogeys, but had a damage-free home nine, making four birdies and an eagle at the par-5 18th. Reed's round featured eight birdies and two bogeys.
Chez Reavie, Scott Brown and Malaysia's Gavin Kyle Green are also at six under.
Sitting five back is Jason Day, who posted a four-under 68 that could have been lower had he not made a double bogey at the par-5 18th.