News
Justin Rose is one of the best players in golf. He might also be one of the most underrated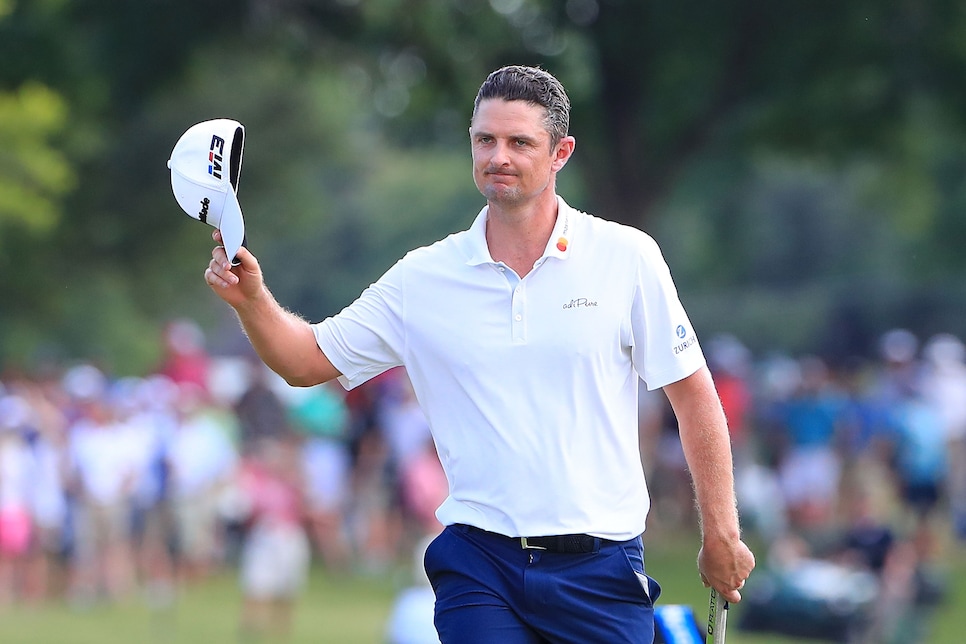 Tom Pennington/Getty Images
Justin Rose captured his second PGA Tour win of the season without much fuss or bother at the Fort Worth Invitational on Sunday. He grabbed the 36-hole lead with rounds of 66 and 64, then polished it off with two more ho-hum rounds 66 and 64, bogeying the last hole but still winning by a comfortable three strokes over Brooks Koepka without any real whiff of drama.
Clinical. Efficient. Ruthless. It's become routine for Rose. More than half of his PGA Tour wins have come by two strokes or more, and he deserves his spot among the game's current elite.
Yet why does it seem as though the conversation around his successes often feels muted? Drowned out by the noise other players make around him? It's not that golf fans don't recognize him as the very good player that he is, but is it possible that we're still underrating how good he truly is?
The numbers don't lie, so let's run through a few of them:
• Rose is the current World No. 3, and the highest-ranked European on the planet. He hasn't dropped outside of the top 20 on the World Ranking since 2012.
• Sunday marked his ninth PGA Tour win since the 37-year-old started playing full time in the U.S. in 2008—more victories than Henrik Stenson, Jimmy Walker and Matt Kuchar, who are all older than Rose.
• That tally includes his 2013 U.S. Open win, but not his Olympic Gold Medal, or his 11 other international victories.
• He boasts 19 top-15 finishes in majors, including eight top-fives and two runners-up (2015 and 2017 Masters).
• Rose has made four Ryder Cup teams and has an 11-6-2 record. He averages three points per tournament, finishing as Europe's top points-scorer in 2014 and second-highest points scorer in 2008 and 2012.
• Advanced metrics suggest Rose [is the best ball-striker in golf] (https://www.golfdigest.com/story/justin-rose-is-the-best-ball-striker-on-tour-heres-the-data), and strokes gained/tee-to-green tells a similar story: Since 2010, he's ranked 12th, 15th, 4th, 1st, 5th, 6th, 5th, 9th, and 7th so far in 2018.
• So far this year, Rose has won more money per start than anybody else on tour ($442,787 in 10 PGA Tour starts).
It's a resume that would be the envy of most golfers ever to grace the highest ranks of the game, and at just 37, presumably there's more to come.
It's hard to figure out why, exactly, Rose doesn't get more hype. He's been in the spotlight for quite a long time (20 years) coinciding with the rise of Tiger Woods, which doesn't help. Indeed, it's an unfortunate coincidence that Rose seems to keep finding himself in some tough popularity contests on the biggest stages: First against Mickelson at the 2013 U.S. Open, then Spieth at the 2015 Masters, Kuchar at the 2016 Olympics, and more recently, Sergio Garcia at the 2017 Masters.
Interestingly, too, the best golf of his career has come in the past five years, coinciding with the rise of a group of young guns who have hogged up much of the spotlight. It's fair to posit, too, if Rose is a man whose hype may be lost somewhere in the Atlantic; a South African-born Englishman plays most of his golf in the U.S. and lives in the Bahamas.
Whatever the reasons may be, Rose will just keep going about his business, not bothering what goes on around him, quietly amassing one of the best resumes in golf.