News
Just how do you put Tiger Woods' comeback into historical context? Here's a start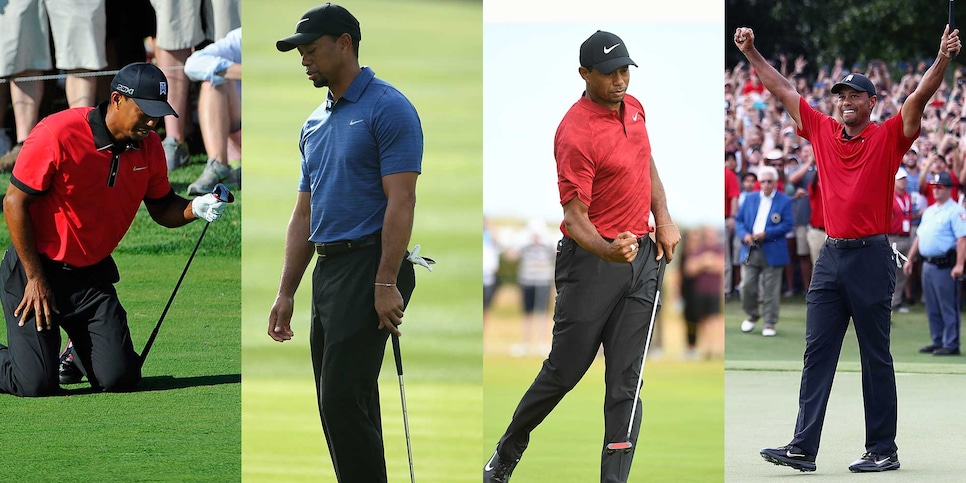 There was something exactly right about Tiger Woods finishing the tournament portion of the 2017-'18 PGA Tour season by winning the Tour Championship for his first win in more than five years. Brooks Koepka won two major titles, Patrick Reed won a taut Masters and Francesco Molinari was brilliant on Sunday at the Open Championship. Yet for many people in golf—notably TV executives, much of the media and certainly most fans—this year was about Woods.
From the Friday in San Diego—when he birdied the 18th hole at Torrey Pines North to make the cut on the number—to Sunday in Atlanta—when he led the final round from wire-to-wire—it felt as if the entire golf world was on the edge of its collective seat every time Woods teed it up. He failed to win a major championship, though he contended on Sunday both at Carnoustie and Bellerive. He didn't win the FedEx Cup, although his victory at East Lake jumped him from the 20th in the final standings to second, behind only Justin Rose—who had to birdie the 18th to hang on for dear life to the $10 million bonus.
Those facts make it awfully difficult for those screeching that Woods is "back" to prove their case. Is Woods back to being one of the best players in the world? Absolutely. For a 42-year-old player who has had seven surgeries, Woods had an absolutely extraordinary year: one victory; two seconds; seven top-10s; 12 top-25s and 15 cuts made in 17 events. That's stunning for a player who last won in 2013 and came into the year not having made a PGA Tour cut since August 2015.
Still, to compare that player in any way to the Tiger Woods who won 14 majors in his first 11½ seasons on tour and won his 79th tournament (in Akron) a little more than five years ago is like comparing that win in Akron to Woods' 12-shot win at the Masters in 1997. One was good—even very good. The other was historic.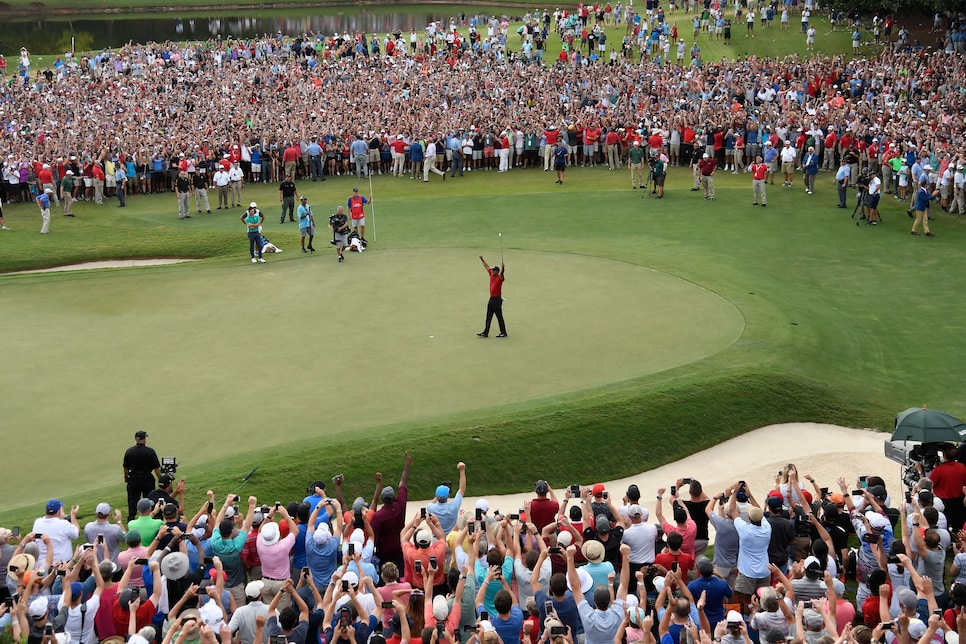 The historic Tiger Woods is gone and may not be seen again ever in golf. But don't take that as a slight. This Tiger Woods, the one who captivated the crowd at East Lake even with closing one-over 71, is still a sight to behold because of where he's been the last nine years.
He's fought injuries and he's fought his better instincts. He made a complete mess of his personal life and embarrassed himself on more than one occasion away from the golf course. He's gone through swing changes and swing coaches the way Mickey Rooney once went through wives. And even though he smiles more often now and deals with bad rounds much better, he remains someone who calls his yacht Privacy for a reason.
That said, it was nice to see the genuine emotion he showed after this victory. There were tears, and they were real. Clearly, it meant a lot to him, and the cheers from the crazed crowd brought a real smile to his face.
It will be fascinating now to see how he performs in the Ryder Cup this coming week outside of Paris. The old Tiger Woods—actually, more accurately, the young Woods—could barely bring himself to care about the matches. Woods has been part of one winning American team as a player—in 1999—in seven Ryder Cup appearances. His record is 13-17-1, remarkably poor when compared to what his career has been. Years ago, it was David Feherty who said, "When Tiger was in kindergarten, his teacher wrote, 'does not play well with others,' on his report card."
It was Phil Mickelson, Woods's new BFF (talk about how life can change) who pointed out that Woods evolved as a Ryder Cup teammate after the death of his father, who had always counseled him to keep his distance from all other players—even during weeks when they were teammates. That change was most evident at Hazeltine when Woods, in the role of vice captain, played a key role in helping the U.S. win the Cup for the first time since 2008—a year Woods didn't play because he was hurt.
If Woods plays as well in France as he has played during the tournament season, the U.S. should be a tough out—even on European soil, where it hasn't won since 1993. If there's one place where American captain Jim Furyk does not want to see the Tiger Woods of old, it is in Ryder Cup.
For the moment though, East Lake provided the perfect climax to this comeback year. It didn't put Woods any closer to the record he craves most—Jack Nicklaus's 18 major titles. But it did bring closure to the (correct) whispers about his ability to close that were heard during the year.
Every time Woods got close to a lead on Sunday this season (Tampa, Bay Hill, Washington, Carnoustie, Bellerive), something went awry and he ended up with a high finish but without a victory. This time, beginning the day with a three-shot lead on Rose and Rory McIlroy, Tiger birdied the first hole and never looked back. Certainly the fact that no one made any sort of move at him, helped. Rose shot a three-over-par 73 and McIlroy's Sunday miseries continued with a four-over-par 74. Woods could cruise along making pars without having to look over his shoulder very much, if at all.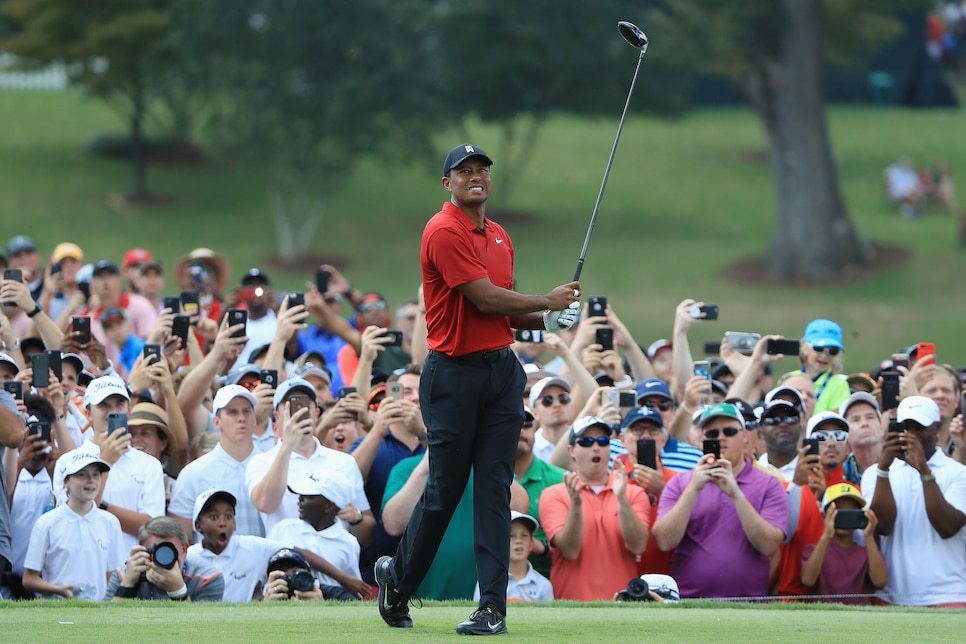 Even so, the fact is, Woods took control of the golf tournament on Saturday when he birdied six of the first seven holes on a steamy afternoon at East Lake to open up a big lead, and no one ever got within serious striking distance of him again.
Of course, Woods will now be installed as the favorite to win all four majors next year—three of them are on golf courses where he's won majors before. The Nicklaus watch will be on again, even though Woods is no closer to it at this moment than he was when he won No. 14 at Torrey Pines 10 years ago.
To focus on what Woods may or may not do next year or in the next few years is, at least at this moment, missing the point. The greatest comeback in golf history was Ben Hogan's return from a near-fatal car accident in February 1949 to win the U.S. Open 16 months later and five more major championships after that. Woods' comeback is more complex because a good deal of it was self-inflicted. But to come back from seven surgeries, including back-fusion surgery that was a last ditch attempt to get him back on the golf course, to play this well, is extraordinary.
One need not compare it to Hogan. Apples and oranges. Different circumstances; different time; different world. Both are worthy of great respect, perhaps even awe. Tom Watson almost won the Open Championship six weeks shy of turning 60—26 years after his last major victory. That surely should garner some attention.
Outside of golf, seven years after he had last won a major championship, Jimmy Connors made it to the U.S. Open tennis semifinals at age 39—which is considerably older in tennis than 42 is in golf. He didn't win, but like Woods this year, played well enough to make those two weeks memorable.
Watson and Connors made their stunning comebacks in one tournament, not over an entire year. Gordie Howe returned to the NHL at 51 when the Hartford Whalers of the defunct WHA joined the league, and he played in all 80 games, scoring 15 goals. He even played alongside a then-19-year-old Wayne Gretzky in the All-Star game.
Muhammad Ali was denied 3½ years of his peak as a boxer because he refused to be inducted into the U.S. Army and came back to beat George Foreman to win back the heavyweight championship at age 32.
There are, of course, other comeback stories across sports. But what Woods has accomplished this year certainly belongs high on any list of great comebacks.
Where it will lead in the future, no one knows. Woods would be the first to tell you he won't be all the way back until the day he wins another major title. That may or may not happen. Regardless, what he accomplished in 2018 was a sight for all to see.
In 2000, at Pebble Beach, when Woods put on the most dominating performance of his career, winning the U.S. Open by 15 shots, he asked then USGA president Trey Holland, for a drop on the second hole during the last round. Holland didn't allow it and, as a result, Woods only won by 15 shots instead of 16.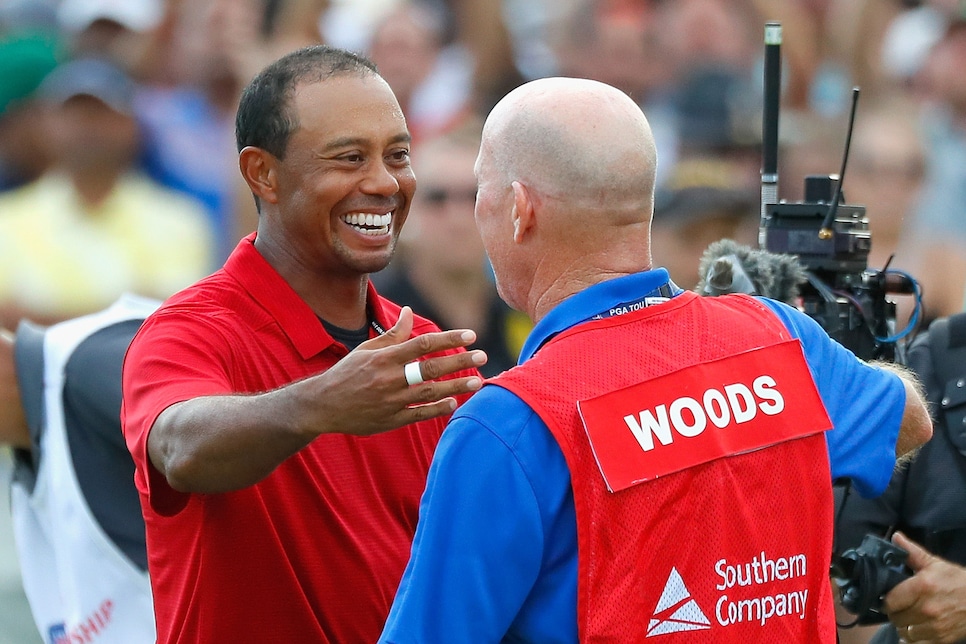 When Holland congratulated Woods on the 18th green that afternoon he said, "that was the greatest performance I've ever seen in golf. Congratulations."
Woods looked at Holland and said, "I wish you'd given me that drop on No. 2."
That was Woods then—never completely satisfied, always hungering for the next victory. Woods now may not win as often or as easily, but there's little doubt that he has finally learned to truly savor success. In that sense, he's light-years better and—perhaps more important, happier—than the virtually unbeatable Woods of yore.