Takeaways
Spieth shows signs of life, Stricker has a shot at history, and Scheffler bounces back from four-jack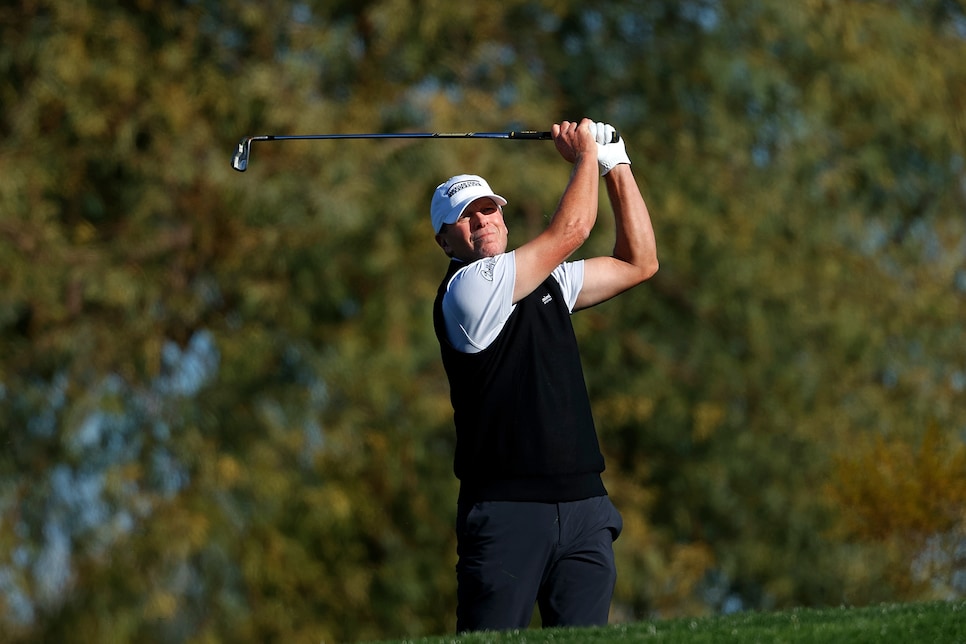 Steve Stricker hits his second shot on the second hole during the second round of the Waste Management Phoenix Open.
Christian Petersen
Riding a roller coaster has been a popular analog for following Jordan Spieth, albeit one that's not necessarily kindred. For if the Spieth Experience was an amusement ride, said ride would have been shut down long ago for slamming into banks and gliding off the tracks and ejecting its passengers mid-barrel roll. Of course, even when the going was good for Spieth, his rounds were never for the faint of heart. So in that sense … break out the Tums.
Spieth, whose struggles have been one of the sport's chief wonders and worries, is in contention through two days in Phoenix thanks to a 67-67 start.
"[My confidence is] probably higher than it's been in a long time," Spieth said on Friday afternoon at TPC Scottsdale. "Still certainly not at 100 percent, not feeling like I have my 'A' game, but I feel like it's trending that direction, which gives me a lot of confidence."
Despite a performance that was far from his best, the three-time major winner said he was disappointed with his four-under mark, and it wasn't a matter of hubris. Although he gained two shots on the field in approach, Spieth had negative strokes-gained figures in the around-the-green and putting categories, leaving a handful of birdie opportunities scattered across TPC Scottsdale.
Yet Spieth found solace in regret. "It really was a fantastic day where I started to tap in a little bit into those feels," Spieth said. "It felt like a six- or seven-under day, and this is one of the first times I've almost been disappointed shooting four under in a round in long time, and that's a good sign."
Conversely, Spieth's round was more than just misses. There was a three-jack at the par-3 16th, and his tee shot at the driveable par-4 17th was so bad it was left of the greenside lake. The ninth (Spieth's closing hole on Friday) is no pushover, but a closing bogey was a sour aftertaste on an otherwise sweet inward nine.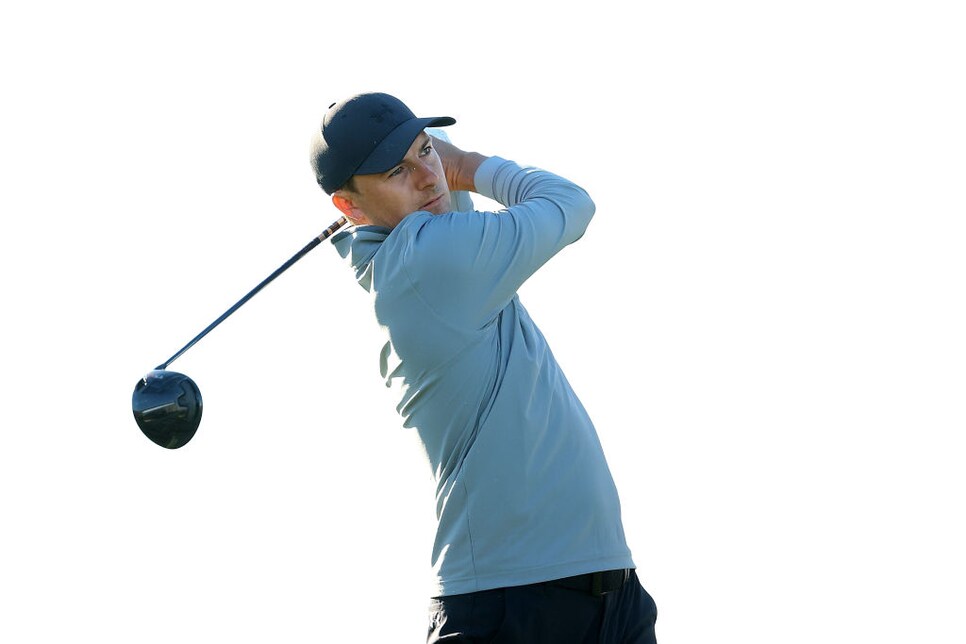 Jordan Spieth hits his tee shot on the 11th hole during the second round of the Waste Management Phoenix Open.
Abbie Parr
"I felt like I played three, four shots better than yesterday and shot the same score. That probably shows up just on the greens ... I can take a lot of confidence off that. I know exactly what I did to produce those. I know the difference in the bad ones yesterday to the good ones today. It's just about repping it in, continuing to trust it and just being okay with the fact that it's going to take time for it to be fully integrated with the stuff I've been working on."
In a way it explains why Spieth is golf's ever-changing Rubik's Cube. He is one who has total conviction in who he is and what he is doing and where he is going while simultaneously acknowledging the pressure he faces and vulnerability he feels. Those conflicting ideologies, coupled with the memories of what he once did, make him a fascinating study.
Spieth insisted that he doesn't need a good score on Saturday, that his focus is on progress and progress alone. But Saturdays have been a bugaboo for the Texan, ranking 194th in third-round scoring this season after finishing 165h in the category last year. Spieth's push will no doubt be enthralling. Just remember to buckle up for the ride.
Here are three other takeaways from Day 2 at the Waste Management Phoenix Open
The Strick Show has been extended
Steve Stricker's opening-round 65 was admirable. Also a round not given a second thought. Every few events an old-timer makes a cameo on the early week leader board (just like week 50-year-old K.J. Choi was T-4 at Torrey Pines) only to fade into the distance once the tournament hits the weekend.
Which is why we're happy to say Stricker proved us wrong by backing up that 65 with a Friday 66, one shot behind Xander Schauffele heading into the third round.
"Yeah, I haven't been in this position for quite some time out here, and obviously on the Champions Tour a few tournaments here and there where I've won or been in contention," said Stricker, who turns 54 at the end of the month. "But yeah, this is why we're here, to play at this stage, at this level. So it felt good to get in there and to start the way I did today."
It has been some time. Stricker's last top-10 on the PGA Tour came at the 2017 John Deere Classic, his last win in 2012. And these parts haven't been hospitable to him in the past, with Stricker posting a lone top-10 finish in 18 career WMPO appearances. However, Stricker is in contention thanks to a lights-out display on and around the dance floors, gaining more than five-and-a-half strokes over the field in putting and another two around the green. That is some "Old man at the Y" stick-and-ball genius. Should he win, he would clip Sam Snead as the oldest winner in PGA Tour history. That the Ryder Cup captain is beating nearly every prospective Ryder Cupper on both sides of the pond is an extra delight.
Of course, and not to rain on the parade, but this rodeo's only halfway through. Keeping the heater going through another 36 holes is a daunting ask. For his part, Stricker is under no delusion. In that same breath, his standing is more than ceremony.
"I mean, I know it's a long shot," Stricker said. "I've got to play my very best, just like anybody else does out here. But I've been there. I've won a few times out on this tour and I know what it takes, although it's been a while. It would be fun to see how I handle it if I do get that opportunity."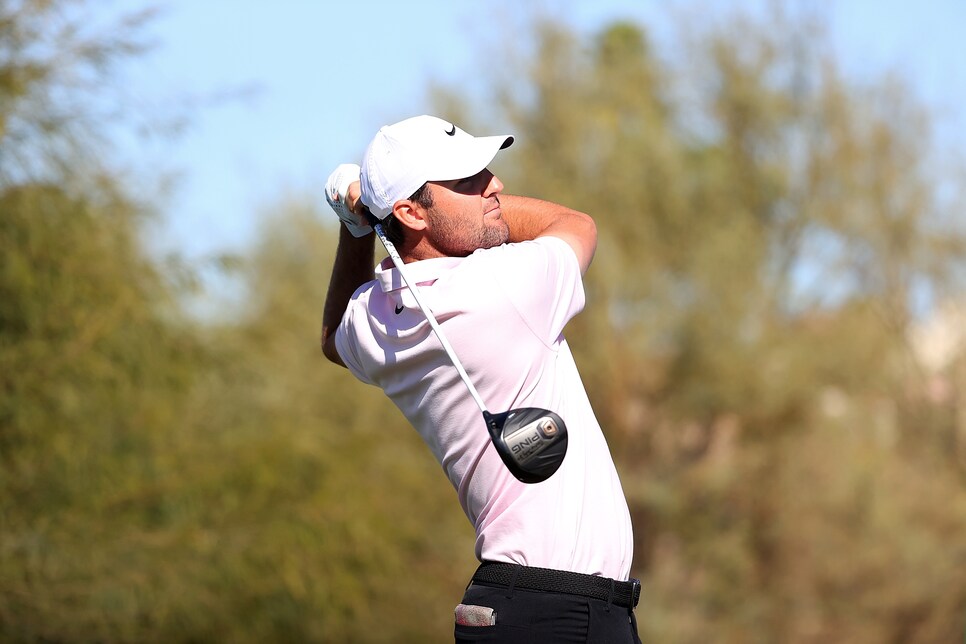 Scottie Scheffler hits his tee shot on the ninth hole during the second round of the Waste Management Phoenix Open.
Abbie Parr
Cracked club, four-putt, no worries
A month after his childhood 3-wood cracked, the same fate befell Scottie Scheffler's driver this week. Apparently, modern manufacturing is no match for Scheffler's swing speed.
While throwing a backup big stick in the bag spells trouble for most players, the reigning rookie of the year enters the weekend near the top of the board at 10 under.
"My driver cracked on Wednesday afternoon," Scheffler said. "I think the results speak for themselves. I had traveled with a backup most of the time and luckily the Ping guys were here when it broke Wednesday afternoon, and we put a little extra glue in the toe and started seeing the shot shape that I like, and it's been good."
Scheffler has gained nearly three shots on the field in SG/off-the-tee despite the last-second switch. Just as remarkable is Scheffler staying in contention after a four-putt early in his Friday round.
"Missed my first putt a little left and then misread the next two," Scheffler said. "What are you going to do about it? It happens and you move on, finish good after that."
He did, and, amazingly, has still gained four strokes on the field in putting. Clearly the man cannot be ruffled.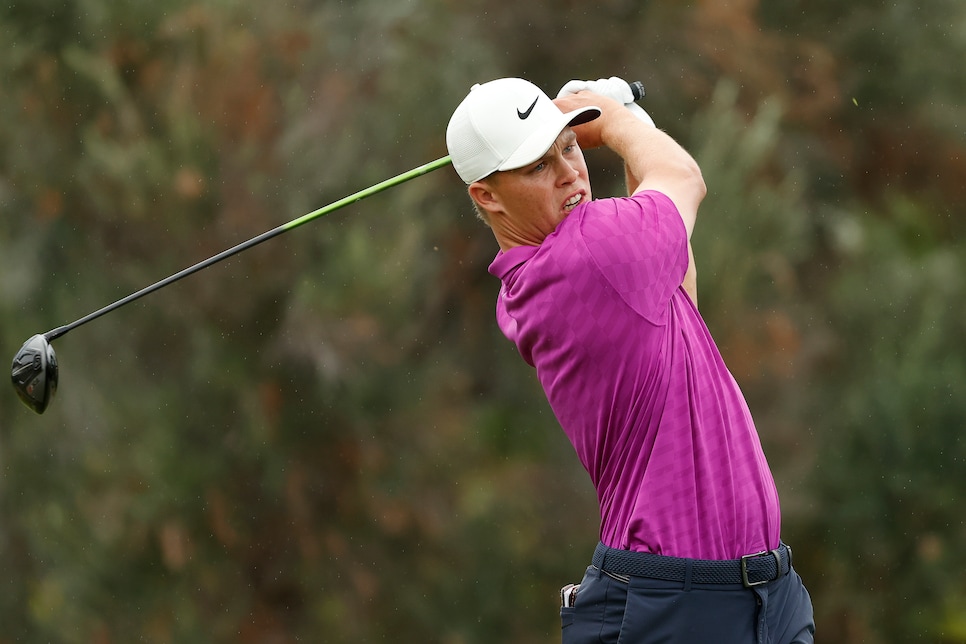 Nick Hardy, shown at the Sony Open, is contending on the weekend in the Phoenix Open after Monday qualifying.
Cliff Hawkins
From Monday qualifier to (hopeful) weekend warrior
Nick Hardy made news earlier this week when his furious fist pump during a Monday qualifier went viral. Expect that video to get some extra love on the weekend broadcast.
That's because Hardy, 25, is just outside the fire at seven under thanks to a Friday 67.
"It feels great," Hardy says. "I envision myself having a chance on the weekend. That's kind of what my goal was. I put myself in that position now. It's time to have a good Saturday round to catch up to those guys. We're going to get some good weather, so just going to go out there and try to be aggressive but patient with my mind and my game."
Touching as the video may be, Hardy is more than a cool highlight. The former All-American from Illinois finished 15th on the Korn Ferry Tour money list in 2020, building a reputation as one of the circuit's better second-shot players. Hardy also turned in a T-14 performance at the PGA Tour's Sony Open last month.
"You know, it was definitely a pretty crazy way to qualify for an event," Hardy said. "I've been playing well as of late, so I feel like maybe Hawaii was kind of the jump start for me. I feel like I've had a good winter or off-season of work since the Korn Ferry season ended, and I feel like what I've been working on is showing on the golf course, which is great."
If you think he unleashed the fury at a qualifying event, imagine the fireworks he has in store if he breaks through on Sunday.