Golf Digest Schools
Why Jordan Spieth hits it all over the place on the range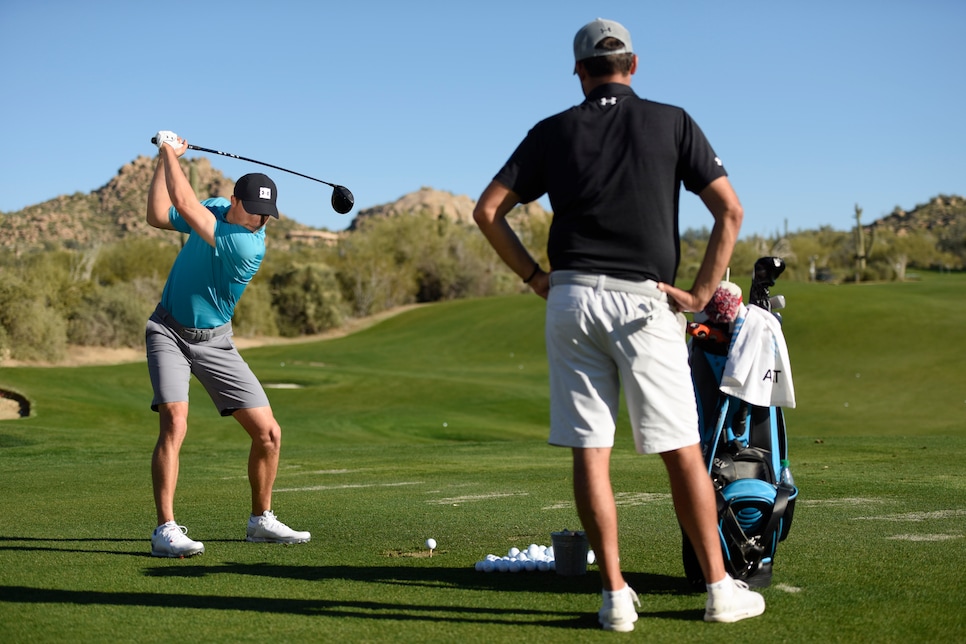 During the final round of the 2015 Masters, Jordan Spieth pushed his tee shot into the trees on the difficult par-4 11th hole. Most amateurs wouldn't know how to proceed from there, let alone get anywhere near the green, but Spieth executed a perfect punch-hook around the trees and went on to get up and down for par.
Spieth, who eventually won by four shots, wasn't flustered because he had practiced and prepared himself for that very same situation countless times. In this video clip from a practice tee in Scottsdale—3,000 miles from Augusta National—you'll hear Spieth's longtime caddie, Michael Greller, reference the 11th hole again, only this time Spieth demonstrates a punch cut through imaginary trees. Nailed it again.
This is a perfect example of how the pros practice. They don't hit driver after driver down the middle of the range. They mix things up. They vary their clubs and their targets, and they hit different shots because that's what you do when you play golf. No two shots are the same. One hole might call for a little fade off the tee followed by a high draw with a 7-iron to a back-left hole location. Or you might slice a ball into trouble and have to hit a recovery shot to get back in play. You never know what's coming.
That's why there's a purpose to every shot the pros hit in practice. In Spieth's case, he likes to recall different shots from tournaments or courses he has played. He doesn't need a fairway or a green—he visualizes them on the range. He pictures shots with different shapes and trajectories to prepare for on-course situations. Practice this way, and you can bet your game will transfer much better from the range to the course.
In this video, Jordan shows how to simulate playing when you practice:
Learn how to practice like the pros and have fun doing it in "My Shots with Jordan Spieth," now available in Golf Digest Schools. In this 19-minute, mic'd-up session with Spieth and Greller, they work through the bag and call on a variety of different shots, from a big hook to a bleeder fade to lows and highs. Follow along as Spieth demonstrates how to curve and alter the trajectory of shots to fit them under, over and around imaginary obstacles. It's a shotmaking clinic!
"My Shots with Jordan Spieth" is one of more than 130 video programs in Golf Digest Schools. Take your game to the next level with instruction from the top teachers and players. And with the new Golf Digest Schools app, you can bring it all with you anywhere you go.