News
Jordan Spieth begins title defense Down Under looking like it's been seven weeks since he last played in competition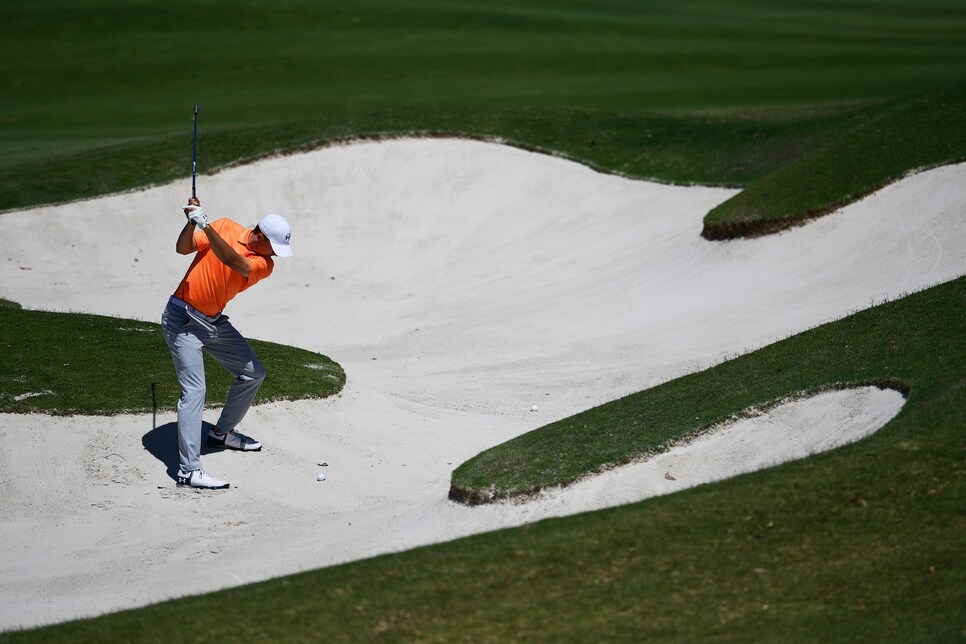 A bogey-bogey start to the first round of the Australian Open wasn't the way Jordan Spieth had hoped his return to competitive golf might go. Sure, the 24-year-old three-time major champion hadn't played in a tournament since Sunday at the President Cup, but, well, he is a three-time major champions as well as the winner at this event in 2014 and 2016.
Spieth eventually settled down, making five birdies including a 20-footer on the 18th, but his one-under 70 score at The Australian Golf Club puts him seven strokes back of Cameron Davis.
"I was a bit inconsistent," Spieth admitted afterward. "But to shoot under par with five bogeys on the card is really good. There was quite a bit of good after a rough start. This is actually the longest time I've had between tournaments since college. Even last year here was a week less. I was kinda anxious to get started."
Spieth's round also came in the afternoon, when windy conditions on the Sydney course led to higher scores for all those wrapping up the day.
Jason Day, however, teed off in the morning and took advantage of the easier scoring, posting a five-under 66 to be just three strokes off the lead.
It could have been even better as Day made a double bogey on this second to last hole.
"I made a couple of mistakes out there with some swings, but made, I think, eight birdies, which was nice and finished at five under, which is a good start to the week," Day said.
Also taking advantage of the calm morning conditions was Davis, a 22-year-old Australian, yet finished the first round with a eight-under 63 to take a two-stroke edge on countryman Taylor Macdonald. Sitting 1,809th on World Ranking, Davis got off to an incredible start. A chip-in birdie on the seventh hole left him six under for the round. He made bogey on the ninth hole but then finished his round with three more birdies on the back nine.
"To be able to play the back nine without any bogeys, just keep on making a couple of birdies, I felt like that kind of shows that I was able to not get too far ahead of myself, which has definitely happened in the past," Davis said. "That's one of the things I feel like is improving for me."