PGA Tour
The Jordan Spieth rollercoaster is one safe landing away from a slump-busting victory at Pebble Beach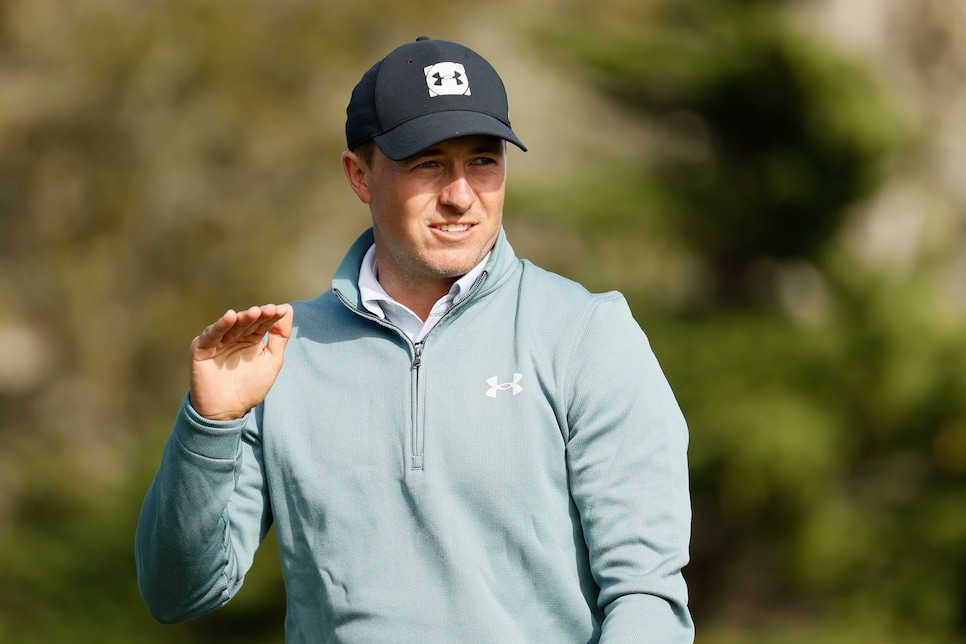 PEBBLE BEACH — Pebble Beach will take your breath away, but the first hole will not. It's a long iron off the tee, and you aim it just left of a bunker that you can't reach anyway. Nothing fancy, just make a decent swing and give yourself a wedge in. Jordan Spieth badly pulled his tee ball into the left rough, waited anxiously as his playing partners found the fairway, then made a bee-line for the clubhouse—somewhere between a jog and run, but definitely not a walk.
We cannot say for sure whether Spieth had to use the restroom, but that's the hypothesis. He emerged some 45 seconds later and managed to save par. He then made an absolute mess of 2, the easiest hole at Pebble Beach, and he managed to do so even after a perfect drive. From there, a toe-chunked 5-iron 46 yards short of the par-5 second green, a bump-and-run chip that didn't run, a heavy-handed putt from just off the green and a misread par effort.
Spieth had some choice words for himself as he walked across the road to the third tee, his caddie Michael Greller content to play sounding board. No word as to whether Joe Montana, who waited patiently in his car for the entire scene to play out, had any clue what was going on.
It was quite the eventful two holes. The rest of the round? Three birdies, three bogeys (including another on a par 5), and his second hole-out eagle of the week. All that for a one-under 71.
This, of course, is the Jordan Spieth experience. No other player takes you on a rollercoaster quite like he does. But we like rollercoasters. They're fun, and they're different, and the world is a better place with them around.
The Spieth-coaster will start in the lead for the second straight Sunday, as that 71—and an OB tee ball from fellow '93er Daniel Berger on the 18th—was good for a two-shot lead heading into the final round of the AT&T Pebble Beach Pro-Am. Spieth will, for the second straight week, have a great chance to finally punctuate one of the more curious slumps in golf history.
You know this by now, but Spieth has not won since the 2017 Open Championship. He was 23 then, and that victory was his third major, and he was this sport's present and future, and he hasn't won since. Go figure. He hasn't been particularly close, either—before last week in Phoenix, he hadn't carried a 54-hole lead since the 2018 Open Championship.
He didn't have his best stuff last Sunday, eventually serving as a B-character in the comeback of another struggling star, Brooks Koepka. Spieth felt the nerves that day, and it showed—he didn't make a birdie until the 13th hole. That was actually an improvement from his last round as the 54-hole leader, at the '18 Open, when he didn't make a single birdie all day.
With five guys entering Sunday two shots back and four more three behind, he will need to get the birdie count started earlier if he's to do the damn thing. An eagle or two wouldn't hurt, either. He's made one in each of the two round he's played at Pebble this week, and neither came on a par 5.
On Thursday, he canned a wedge from 113 on 10. Saturday's hole-out on 16 was a bit more Spiethian—a sweeping-draw 8-iron that rode the wind, landed eight feet right of the flag then trickled into the side door. From two back to co-leader.
"In the air I thought it was going to be really good, it was one of the only shots today that I kind of said 'Oh, be good.' And as it landed, it was just exactly where I was trying to hit it. Certainly a bonus for it to drop."
Berger summarized it perfectly: "That's what makes him special right there. He's a great player and I think there are many more wins in his career going forward."
Two more pars from there (boring!) plus that foul ball from Berger ensured a second straight Saturday night sleeping on the lead. Spieth felt the nerves last week in Phoenix, and he'll feel the nerves again on Sunday. But that's okay, because nerves mean you're in it. There are no nerves when you're tied for 38th.
"It's not going to be the most comfortable feeling to start out, but it never is—I can't speak to one time that I stood on the first tee on a Sunday with the lead and felt super, super comfortable. You know, you got to kind of get into the round and play into those kind of nerves and that adrenaline."
His nerves may dissipate as the day wears on, but his fans' likely will not, especially if their man is still leading as he makes the turn home. Spieth is no Patrick Cantlay. He is not a fairway-green machine, he constantly talks to himself, and he never stops moving. Some of his rounds would make the Buddha sweat bullets. Add in Pebble Beach, where eight holes hug the Pacific, and sprinkle in a forecast calling for 20-plus mph winds—the possibilities are endless.
One of those possibilities, of course, is a narrative-shifting, chapter-closing victory. He's managed to keep the rollercoaster on its tracks for three days. Time to strap up for Sunday.