PGA Tour Takeaways
Jordan Spieth tops a celebrity leader board in an AT&T Pro-Am without celebrity amateurs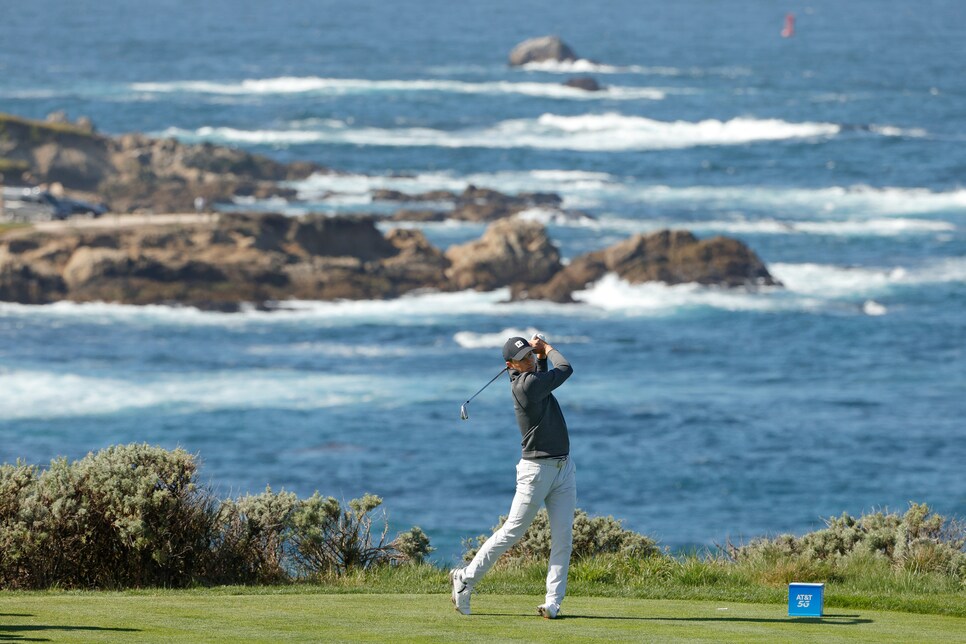 The lack of star power was one of the main storylines going into the week at the AT&T Pebble Beach Pro-Am, with no celebrity ams this year and worse yet with almost no big names teeing it up in one of the PGA Tour's most distinguished and storied events. Then, Jordan Spieth came to the rescue.
Spieth backed up his 65 at Pebble Beach Golf Links—the easier of the two venues—with a 67 at Spyglass Hill on Friday, giving him a one-stroke lead over Daniel Berger.
But Spieth is hardly the only notable name high on the board, with Patrick Cantlay, Paul Casey, Jason Day and Francesco Molinari all either playing well or hovering close to the lead.
Here are our takeaways from Friday at Pebble Beach.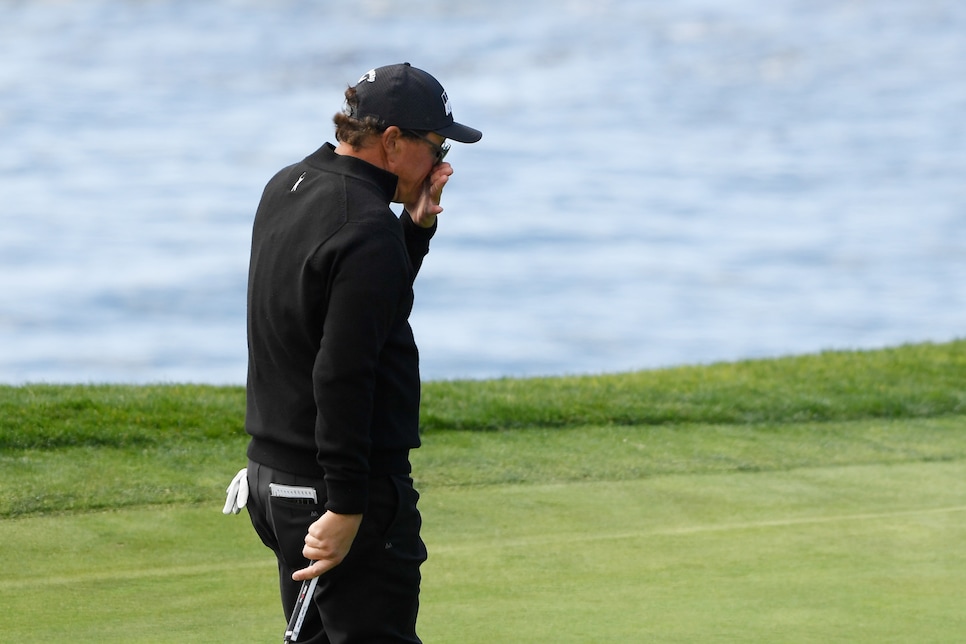 Phil Mickelson endures his worst day in years
One of the biggest names in the field who won't be around for the weekend is the five-time winner of the event. Mickelson, who just two years ago won at Pebble and last year finished third, bombed out of the tournament hard on Friday.
Already battling to make the cut, the round began to unravel with a double-bogey 7 on Pebble's par-5 14th, where Lefty pumped his tee shot right and over a boundary fence. He followed with sloppy bogeys on each of the next two holes—two of the easiest on the course—then fell apart at the end, sending two shots into the water on the 18th, where he made a 9.
In the end, it added up to an 80, Mickelson's worst score since a third-round 81 at the 2018 U.S. Open.
For all his success on the senior circuit, where he's won twice in two starts, the 50-year-old has been abominable elsewhere with five missed cuts and just one finish in the top 50 in his last 11 worldwide starts.
Spieth's comeback tour continues
In Jordan Spieth's last six rounds he is 29 under, the one bad round being, of course, the one-over 72 he shot last Sunday in Phoenix. Still, this is serious progress. The last time he led/co-led after a round in two straight starts was at the 2018 Travelers Championship (h/t stats guru Justin Ray of 15th Club). This week also marks the third time that he had been at least 12 under through 36 holes on tour. The other two? The 2015 Masters and 2016 Tournament of Champions, both of which he won.
How does Spieth view the progress? A little more calmly than the rest of Golf Twitter does or would, which is probably a good thing.
"They feel like they're progressions each day," he said. "Sunday was really good for me to just kind of be able to learn a little bit from the tendencies, especially as I go into the next two days. I'm just trying to kind of get more comfortable being towards the top of the leader board and kind of feeling those nerves. You start to get more comfortable the more often you're there, and these two days playing with or around the lead for at least the back nine [Thursday] through most of the round today, I felt a lot more comfortable than I did last week, which is a good sign."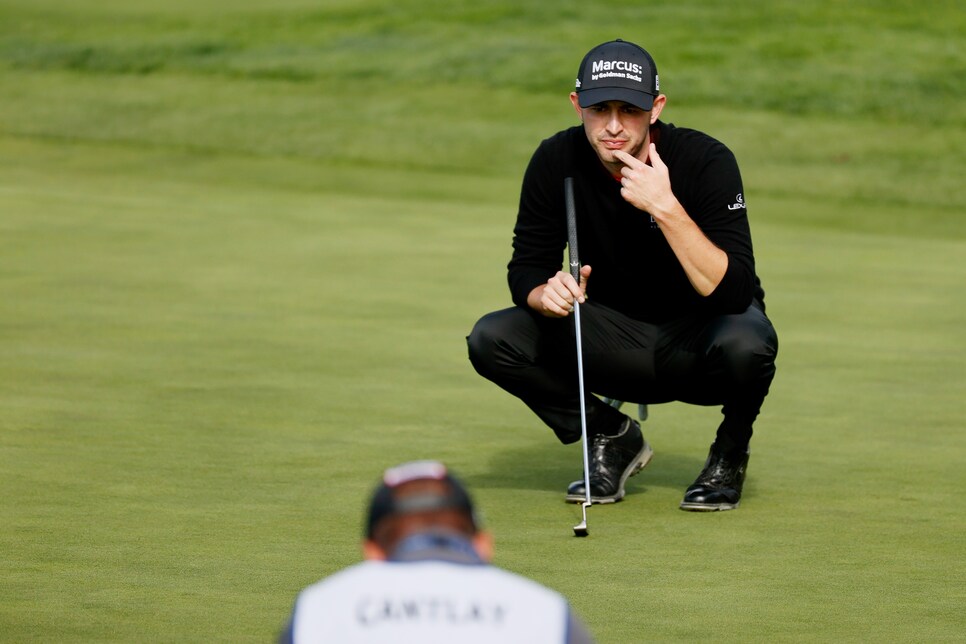 Cantlay recovers from brutal start
Patrick Cantlay has been on a mini-tear of his own in his last two starts at 31 under over his last six rounds. That included a course-record tying 62 at Pebble Beach on Thursday. A day later, things got off to a rough start.
Cantlay double-bogeyed his first hole of the day—the par-4 10th on Spyglass—after, inexplicably, no one could find his tee shot.
"Yeah, I hit not a bad drive," he said. "It would have just been in the left rough. And then not really sure where it went. It might have clipped a tree … so it's not a great way to start the day."
Leave it to Cantlay, who often shows about as much emotion as a rock, to not get bogged down. He sprinkled in three birdies and just two bogeys the rest of the day for a one-over 73 on a day when he wasn't sharp. Still, golf is so often about managing the bad days, and the 27-year-old who nearly won the American Express two weeks ago is just three back heading into the weekend, a margin that would certainly be closer if not for the mysterious lost ball.
Casey chips into contention
Paul Casey said it himself: It was the first time that he chipped in more than Phil Micklelson in all the rounds the two Arizona State alums have played together over the years on tour. Casey did so twice, for birdie on the par-4 eighth on Pebble Beach then again for birdie on the par-4 11th.
The former was the more impressive of the two with the slope running away from Casey.
"Eight is just brutal," he said. "I was cursing because I hit a glorious 6-iron from about 200 yards straight over the flag and I thought it was going to be perfect and it wasn't. And anytime you leave yourself anything downhill around here it can kind of put the fear of God into you. So luckily got away with it, but that's not always the case. Really happy with how it turned out."
Casey has a lot to be happy about these days after winning in Dubai two weeks ago.
"I'm in a really good place," he said after a 67 that has him just three off the lead. "In a weird way I felt like putting the calendar year of 2020 behind me was, I felt like there's light at the end of the tunnel. There's a vaccine. There are multiple vaccines. People are getting vaccinated. And I'm no different from anybody else, it kind of beats on you after awhile, and I came out this year thinking and feeling a little bit more optimistic and I think that's reflective in my golf."